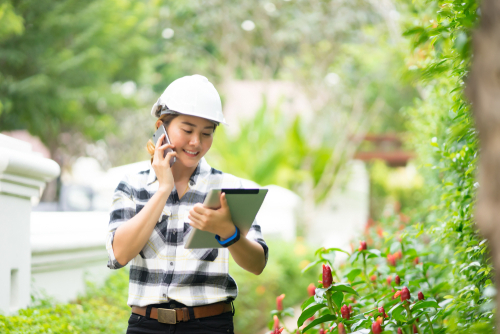 Landscape architects are responsible for designing lawns, yards landscapes and other outdoor spaces for clients. They work with those clients to identify their needs and wishes before coming up with their designs. Landscape architects are also the ones who order the construction and other materials for the project. These positions usually require some type of college degree, including either a bachelor's or a master's degree. As someone studying landscape architecture in school, you'll find that private employers and companies hire these professionals and that you can work for yourself.
How to Become a Landscape Architect
To become a landscape architect, you'll spend at least four to five years in school. You can earn a Bachelor of Science in Landscape Architecture or a Bachelor o Landscape Architecture. All programs have internship opportunities available for students that help them gain some experience working with plants and other materials as well as clients. You can spend up to three years in a Master of Landscape Architecture program, which will allow you to take advanced courses and get more training.
What Type of Classes Will You Take?
Each program can design its curriculum, but most schools offer classes that train students and get them ready for their architecture careers. Courses on landscape construction and design are common because you need to feel comfortable designing projects and creating prints for your clients. Those classes can also help you use tools to design those landscapes. You'll also take courses on plant ecology and soil science, which helps you determine which plants will grow in different types of soil and whether certain plants can grow together. Many college programs also include courses on drafting and designing with computer programs such as AutoCAD.
Training and Licenses for Landscape Architects
As a landscape architect, your prospective clients will often ask for examples of your work to see what you did before. You can use samples from your college projects in your portfolio. They may also ask if you belong to any specific organization in this field, including the Council of Landscape Architects Registration Board. Clients can check the online records of this board and see if you are a member. In addition to joining the board, you may find it helpful to take the Landscape Architect Registration Examination. This lets you show that you're a certified landscape architect.
Duties of a Landscape Architect
As a landscape architect, you will work both indoors and outside. During client meetings, you can meet with them in your office to go over what they need. Future meetings are when you'll bring out your designs and ask them for feedback, which you'll use to change those plans. Landscape architects also work in the field and with others who will lay soil, add new buildings, arrange and plant vegetation and handle other tasks relating to the plan. You may attend major conferences to learn about new developments in the industry too.
Where Do Landscape Architects Work?
Future landscape architects often wonder where they will work and what employers will hire them. According to the Bureau of Labor Statistics, landscape architects work for the government, construction companies, architectural firms and landscape companies. Those who perform landscape services are usually self-employed and do not work for a specific employer. The BLS found that those workers earn the least amount of around $56,700 a year. Those who work for the government earn the highest annual salary of more than $87,000. The amount that you make can vary based on your city and the overall need for landscape architects too.
Starting a Landscape Business
One thing you need to know about starting a landscape business is that customers may come to you with basic gardening needs. This can result in you spending more time planting flowers and designing gardens than creating the beautiful landscapes that you did in school. Depending on the codes and laws of your city and state, you'll likely need to register your business and pay taxes on how much you make each year after you deduct any business expenses. Mike Kappel of Forbes also recommends thinking about how your business would survive if you didn't have any incoming money.
Pros and Cons of Working for Others
Working for others as a landscape architect has some pros and cons. You'll receive a set salary based on the amount stated in your contract and work a specific number of hours every week. Most employers also offer paid time off and health insurance. The downside is that you cannot use all of your designs or ideas. You'll often need to follow the regulations that the company has. An employer may limit your choices to just a few types of plants or building materials too.
Pros and Cons of Being Self-Employed
As a self-employed landscape architect, no one can tell you what to do or when to do it. You can work for any client and only during the hours that you want to work. Self-employed workers also have the freedom to hire other contractors to do work for them and end a relationship with a client if something doesn't work. You're responsible for paying taxes on your earnings and making payments to the government/IRS every quarter. When you do not have a set employer, you may have a hard time finding and obtaining health insurance too.
Landscape architects work on gardens, parks and all other types of landscapes. They can work with the government to design outdoor spaces in state and national parks or to design smaller recreational parks for a city or county government. Landscape architects can also work with individual clients and design the outdoor spaces that they want for their homes. Though you have the option of working as a self-employed contractor or for a company, you'll find the pros and cons associated with all types of positions. Looking at those pros and cons is the easiest way to decide whether to work as a landscape architect for yourself or another.
Related Resources:
What Degree Do I Need To Become A Landscape Architect?
What Does a Landscape Architect Actually Do?
What Other Kinds of Jobs Can a Landscape Architect Do?
Are Landscape Architects in Demand These Days?
What is Landscape Architecture?
What is the Typical Salary for a Landscape Architect?
If I Want to Be a Landscape Architect, What Kind of Bachelor's Degree Should I Look For at a School?
What Skills Does a Landscape Architect Need?
Which Computer Programs Will I Need to Learn and Excel at as a Landscape Architect?
What Are the Pros and Cons of Pursuing a Degree in Interior Design?