"The limits of my language mean the limits of my world."- Ludwig Wittgenstein
Chances are if you are considering a foreign language and cultures degree then you are one curious soul. Other cultures don't scare you, they make you feel alive.  Perhaps you've been fortunate enough to travel and you have found yourself seeing past the tourist traps right into the heart and soul of a new place.  You found yourself dancing salsa in Latin America and supporting a soccer errr… football league in England.  You know how to immerse yourself into a place and learning a language for you is just par for the course. 
But studying a foreign language is different from simply enjoying your time on vacation.  So how do you know if this is the right path for you?  Ask yourself the following preliminary questions: 
When I'm out travelling am I seeking to understand the historic backdrop of a place? 

Do I regularly "geek out" about linguistics and find the differences in languages more of a fun puzzle to solve rather than a burden to bare? 

Am I an activist? Do I step up and add my voice to the chorus when something is going on that doesn't feel right and feels unfair? 

Do I find myself daydreaming about somewhere else a large portion of the time that I am awake? 

When I study a culture do I like to dive deep and really understand a culture including the social issues that are relevant to that culture as well as the nuances that make that culture unique? 

Am I respectful of people who are different from me? 

Can I be an advocate on behalf of others in need and provide space for people to use their own voice?

Am I respectful to other people's needs? Am I a good listener? 

Can I afford to travel and study abroad? If not do I have the tenacity to seek out resources for a study abroad program? 

Am I a leader in my community?  

Can I comfortably articulate my thoughts in written form? 

How good am I at learning languages? 

Do I have wide and varying interests?

Am I generally a curious person?
Table of Contents 
If you feel pretty confident of the above then we recommend reading on to learn a bit more about what you can do with a Foreign Language and Culture degree.  
Not quite what you're looking for? Check out these resources. 
What Is a Foreign Language and Culture Degree?  
Foreign Languages and Cultures is the study of a language other than English as well as the culture where this language/s is spoken. The purpose of this degree is to gain deeper understanding and access to a foreign culture.  
Foreign Languages and Cultures courses typically include course material that is wide ranging and may include courses that examine a place's history as well as social economic issues related to that place or courses that examine the literature and arts that specifically represent a place. 
Additionally the course requires that students learn a foreign language and will includes course material like reading and translation, speaking and listening, and grammar and writing.  Most of these program are bachelor's of arts (BA) degrees. 
What Will I Study in a Foreign Language and Culture Degree? 
These courses have a wide range of focuses and include   One should expect to find all or some of the following as part of their theater arts degree: 
Anthropology and Blackness
Race, Religion and Popular Culture in America
Native American Cultures
German Fairy Tales 
Italian Literature
French Culture
Historic Traditions of East Asia 
Modern Japan
African-American Thought and Ideology
Some schools offer additional teaching certifications to individuals looking to puruse a teaching career. Some certifications courses include: 
Bilingual Education
French Teaching
Spanish Teaching
Global Leaderships
Many students choose to focus on linguistics which is the science of languages themselves.  If you are interested in learning more on how languages are structured and how the rules of phonetic language in different cultures then you may be more interested in focusing on linguistics. 
Interested in Linguistics? Check Out These: 
Let's take a closer look at linguistics and what to expect in a linguistics degree. 
Linguistics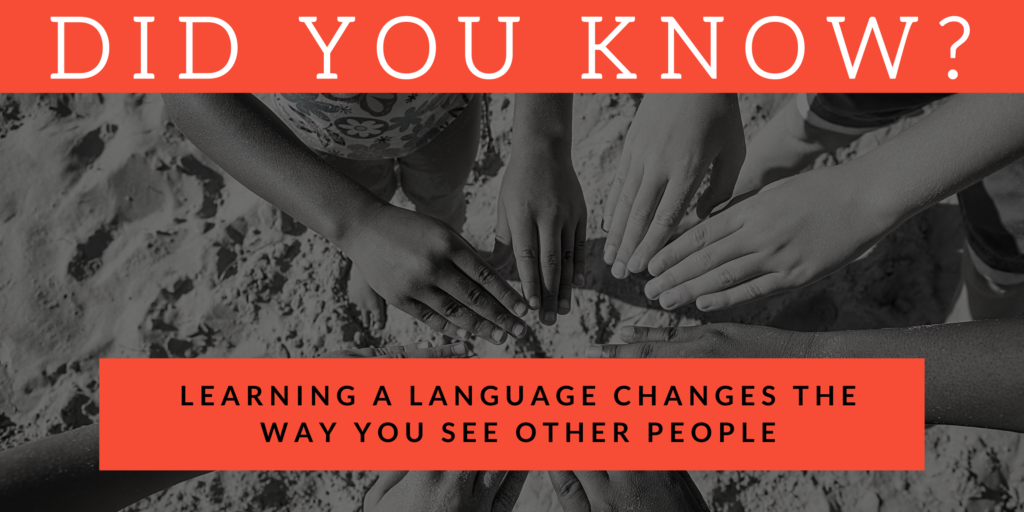 The Bachelor's of Linguistics is the entry level degree required for entrance into the field. This degree typically requires 120 credit hours to complete or 4 academic years.  Like with most bachelor's degree programs, to complete the degree you must take both general education courses as well as courses that are specific to the major. 
Here is just a sample of some of the courses you may take as part of the linguistics major: 
Dialects and Accents
Semantics
Sociolinguistics
Language and Music 
The Mind and Language 
Klingon 
Comparative Ethics Studies 
In recent years many universities have shifted their focus to include more programming on socially significant issues including those related to African Americans in the United States.  If you are looking to study the African American culture or other communities of color then this may be the program for you. 
Here are some example classes: 
Race and Racism in US Popular Culture
Comparative Ethics Studies 
Racism in a Global Context 
Foreign Language 
This degree leads to numerous careers including: 
Teaching
Social Work
Counseling 
Community Development 
Nonprofits 
Local, state, or federal government 
Human resources 
Law school 
Internships and Study Abroad 
Internships and study abroad experiences are necessary and in many cases required of students who are taking a foreign languages and cultures course. Experiences abroad can not be replicated at home and even the best foreign language instructor can't quite capture the way language is used in a cultures home country. 
You will need to locate funding for your study abroad experience and many schools offer scholarships to students who are looking to study abroad.  Additionally, we have ranked the 50 best scholarships for study abroad programs.  Take a look at some of our resources.  
Not finding what you're looking for?  Check out these related programs: 
 What is a Language Education Degree?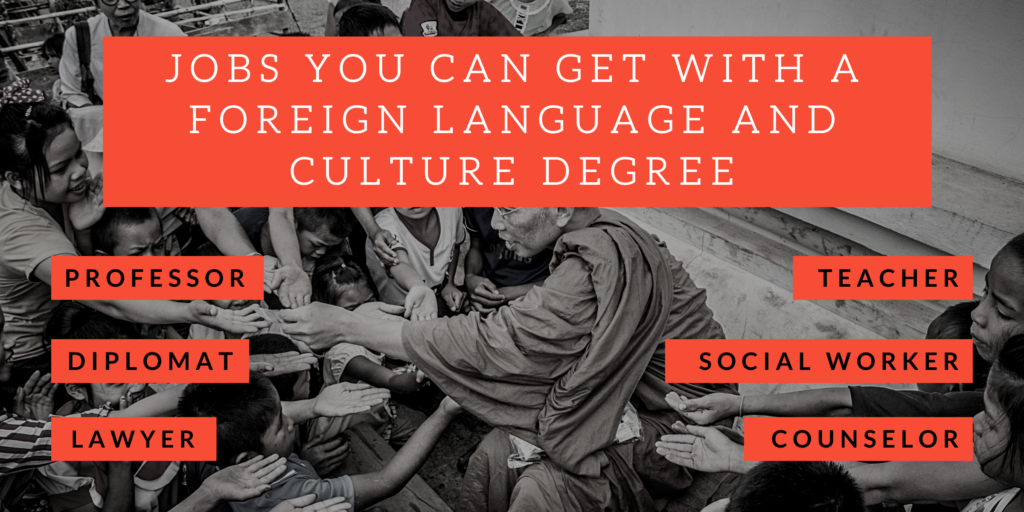 Are you looking for a good job opportunity upon completion? Do you love languages so much that you enjoy teaching others about them? Then you may want to pursue a career as an educator.  
First look to see that your program is accredited and approved by your state's department of education. Next you will need to find a program that offers a Spanish teacher certification course.  You can add on certification to your foreign languages and cultures class or you can head back to school for an additional certification degree. 
Here's a look at a curriculum from NYU for a foreign language teacher of Spanish:
Linguistic Analysis
Applied Linguistics
Spanish Syntax
Field Work in Schools
Teaching Second Language Across Content Areas
Student Teaching
Theory and Practice of Teaching Foreign Languages
And More!
This is an example from a Master's level degree.  Teaching is a great way to pursue a passion in a foreign language while also getting paid. 
Additionally, most of the students pursuing a foreign language are doing so for reasons that go beyond a foreign language requirement (though that is a big motivator among high school students) and foreign language teachers are often a student's favorite.  There are even exciting opportunities to do some field trips abroad. 
If you enjoy mentoring others then this may be the way to go for you. 
Not finding what you're looking for?  Check out these related programs: 
What Jobs Can I Get With a Foreign Languages and Cultural Studies Degree? 
We have discussed a few degrees available to individuals pursuing a foreign languages and cultural studies degree but let's take a closer look at a more comprehensive list:
College professor
Diplomat
Lawyer
Teacher
Social Worker
Counselor
Writer
Interpreter 
Political Scientist 
Foreign language business owner
Government employee
NPO/NPG 
Professor
To become a college professor it is necessary to pursue an advanced degree. College professors may also hold the tile of "linguist" and are generally highly specialized in a specific language or language department (for example classics). 
Generally speaking you should expect to complete a Master's, Ed.D. or Ph.D. to gain employment as a college professor in foreign languages.
Diplomat
To become a diplomat you should earn a master's degree in foreign relations, political science, international diplomacy, cultural anthropology or sociology.  A master's degree is the point of entry degree for most diplomats and in fact it is very common for a diplomat to have a PhD. 
Additionally to become a diplomat you must complete an internship and pass a three-part foreign service exam, a medical exam, and a background check. 
Lawyer
Most individuals who become lawyers start off with an undergraduate degree in a liberal arts area then head to pursue a juris doctorate at a professional law school.  Upon completion, individuals looking to become a lawyer then must pass the bar exam for the state in which they plan to practice. 
Check out the top 20 non-law firm jobs with a law degree.
Teachers
We discussed teaching above.  To become a teacher, enroll and pass an accredited teacher certification program and the necessary background checks for your state's department of education.  Those without a teacher certification may still gain employment in the private sector. 
 Social Worker
The social worker certification is a master's course (MSW) and offers a lot of opportunities for those who hold this certification.  You can work for an organization and advocate for your community or you can hold a private practice and work one-to-one with clients. 
Counselor
Counselor's typically complete a Master's degree or PHD and work in private practice or in public settings including public schools. The course material is similar to that of a LCSW but with a few more job restrictions. Those with a PHD typically are paid a much higher rate and are usually called psychologists. 
Writer
Writing online can be a very lucrative job and having the skills to write in a couple of languages increases your opportunities to gain employment. Additionally expect to have to utilize some editing skills along with this job. 
Interpreter 
This is another lucrative job and is a great one if you enjoy interacting with people, traveling and being helpful.  Most interpreters need a bachelor's degree but it is even more important that the individual be fluent in two languages.
Those with a degree or a certification in American Sign Language have even more opportunities to provide translation. You may also wish to work for a federal agency as an interpreter. These agencies rely on critical languages for interpretation. 
In short your foreign language and cultures degree is just the start to your career path.  Many people upon completing their foreign languages and cultures degree find another path through furthering their education, internships, and through jobs that help them to hone their career path. 
Can I Gain a Foreign Languages and Cultures Degree Online?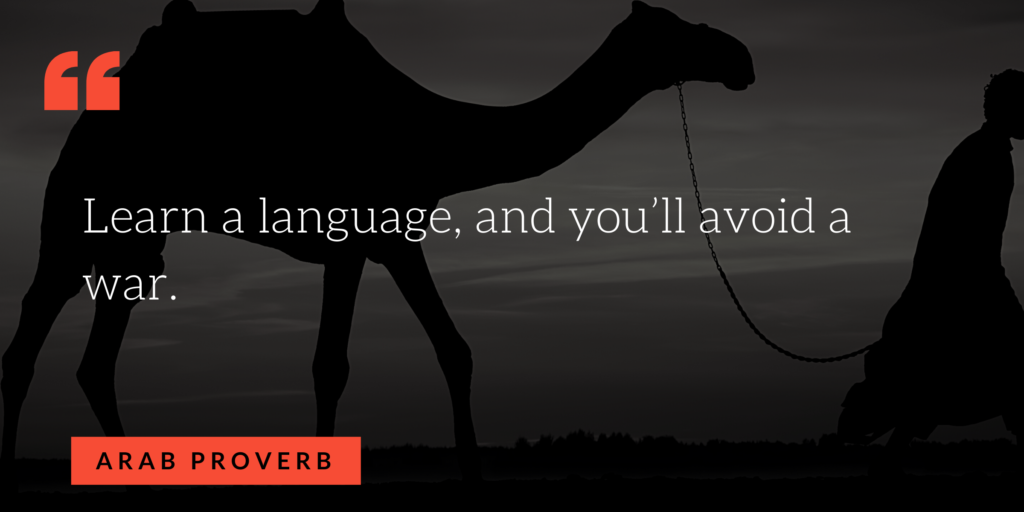 It's 2020 and nearly everything has moved online.  In short, it is not difficult to find a curriculum that offers a foreign languages and cultures degree online. Many people choose to study a foreign language undergraduate degree online or take a single class in a foreign language.  Let's take a look at the online bachelor's degree in French curriculum: 
General Education Classes
French Culture and Society 
Francophile Studies 
Modern-Day France 
French Conversation 
The online French language courses teach students about the spoken and written language of French. Not only that but students will gain exposure to French cinema, French literature, French music and all things French. Short of going to France, these online courses are as immersive as possible.  
Note that most foreign language degree courses require that students partake in a study abroad program as well as in an internship program.
However, online education is not for everyone. Is it really for you? Let's take a look at the pros and cons of pursuing a foreign language degree online: 
Pros
More Affordable- studying online typically means that the student does not have to pay the additional costs of room and board and this offers a significant savings.  Additional savings come through the form of things that you won't have to give up. Many adult students choose to work while pursuing an online degree part-time. 
Convenient- As we mentioned earlier, this is a convenient way for professionals to continue working.  Parents find this more convenient as well as they find that the online format provides them with the flexibility they need to fulfill their duties as parents. 
Flexibility- This is linked to convenience but means that instead of showing up to a specific set schedule many individuals take classes on their own time and work their school schedule around their available schedule. 
Cons
No Face Time- This is now being mitigated with technology but many people don't find that the technological solution is a true replacement. If you are the type of person who really is a tactile learner than you may find the online format a bit more difficult to navigate. 
Peer Groups are Online- You know the college years are some of the best years of your life and for nothing else it's because of your cohort or peer group.  This aspect of education is lost online. That being said many people make quality connections with peers through the online format. 
How Do I Gain Admission to a Foreign Language Degree Program? 
Admissions to a foreign language degree program depend on the level of degree you are hoping to pursue and the general admissions standards of those colleges or universiteis. 
For an associate degree you need to have a high school diploma or the equivalency of this.  Additionally you may come across open admissions policies wherein you are eligible for admission with a high school diploma or the equivalence of that. Students are able to hang on to their admission status with a specified grade point average (GPA). 
To gain admission to a bachelor's program you are likely going to need to take either the ACT or the SAT upon completing high school and then you must be able to provide a transcript with your grades as well as your admissions essays. 
Summary
As you can see there is a lot that can be accomplished with a foreign language and culture degree. Most people cherish their foreign language education and say that it has enhanced their lives tremendously. 
You can find a career with an associate's degree or a certification as an interpreter.  Or you can pursue a career in academia with an advanced degree. 
Many people choose to focus on the culture of a place and there has been a growing interest in academic settings with regards to the study of a place and the social constructs that shape it. 
Black Studies, Gender Studies, and Disability Studies continue to draw in increasing interest as social justice issues become a focus in society.  
Learning a language and crossing a culture are a sign of respect and appreciation of that culture.  In this changing globalized world there are likely to be more opportunities for individuals who are bi-lingual.  
If you are not sure we have you covered. At DegreeQuery we have created informational guides to help you navigate your way to a career path that you are passionate about. 
Don't see what you're looking for? Check out DegreeQuery's related content below: