If you have a love for both language and learning, you might consider a career as a foreign language teacher. Students often believe that the only way to be a successful teacher of a language is to be a native speaker of that language, but fortunately, researchers have learned that this is a misconception, not the reality. Students who wish to become foreign language teachers but are not a native speaker of the language should be prepared to study both language and education in college. If possible, traveling to a country where that language is spoken can be a valuable experience. For non-native speakers who don't realize until later that they have a passion for teaching, an alternate route education certification can aid in making a career change.
DegreeQuery.com is an advertising-supported site. Featured or trusted partner programs and all school search, finder, or match results are for schools that compensate us. This compensation does not influence our school rankings, resource guides, or other editorially-independent information published on this site.
Study Your Language and Education
Students who want to teach a foreign language may wonder whether to major in that language or in education when they pursue a degree. Those who complete coursework in both are best prepared for this career path. Some colleges offer interdisciplinary teaching majors in foreign languages. At other schools, you may have to complete these requirements as two separate majors – an education major and, as your content area, a foreign language major.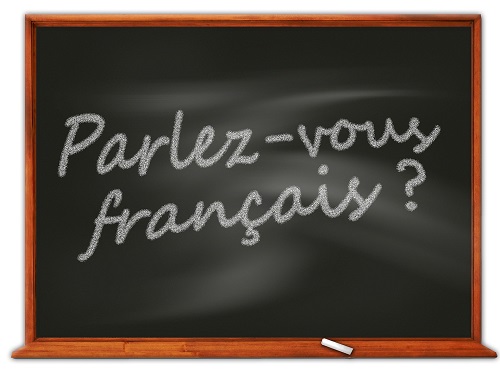 IMAGE SOURCE: Pixabay, public domain
In either case, you should take numerous courses in your chosen language, from introductory to advanced levels, as well as some coursework on the history, literature and culture related to that language. In your education studies, your coursework may include classes in educational psychology or human development, instruction and teaching strategies, education at the elementary or secondary school level, reading and literacy and strategies for teaching exceptional children.
For your education major, you should expect to complete a semester of student teaching that includes lesson plans, leading classroom instruction and grading assignments and assessments.
Travel Abroad
If you want to be as proficient in your chosen language as a native speaker, immersing yourself in the language and culture by traveling to that country is an excellent way to enhance your skills. Depending on which language you are studying and your school's programs, you may be able to study abroad for the same or a similar price as you would pay at your home institution. Some students take quick trips abroad that last for a number of weeks, others a full semester or an entire year.
You could also seek funding for educational travels abroad through a variety of government and scholarship programs, the United States Department of State reported. Some of these programs, like the Boren Award for International Study, award funding for studies in preferred countries in exchange for an agreement to work in public service for a minimum term following the trip abroad. Others, like the Fulbright English Teaching Assistant Program, provide funding so that the student can live and teach English in another country.
Your preference may be to teach a foreign language, but in many school districts across the United States, there is a shortage of English as a second language (ESL) teachers as well as foreign language teachers. This makes experience teaching English particularly valuable.
Alternative Route Certification for Foreign Language Teachers
Although some foreign language enthusiasts realize early on that they want to teach the language in an elementary or secondary school setting, not all of them do. If you majored in your chosen language in college but didn't discover an interest in teaching until later, you may wonder if it's too late. Every state in the U.S. offers other options, sometimes called "alternative route" certification programs, that will allow people with a bachelor's degree but no teaching coursework to acquire a teaching certification, according to the Bureau of Labor Statistics.
While you can pursue a generic alternative route certification program, you might also find a school that offers specialized coursework for foreign language instructors. Some programs are teaching certificate programs in foreign language instruction, while others culminate in a master's degree in teaching modern foreign language education. Although these programs usually include a lengthy student teaching experience much like undergraduate programs in education, they often can be completed in one year or less. They may award a particular certification or endorsement that adds to your qualifications as a foreign language teacher.
Although you may not need a master's degree to attain alternative route certification, it may be beneficial to have one. Most school districts award higher wages to teachers with a graduate education.
Additional Resources
Do I Need to Be Able to Speak Both Languages in a Bilingual School?
How Much More Can I Expect to Earn With a Master's Degree Over a Teaching Certificate?
Which Areas of the Country Have the Greatest Need for Teachers?