Across the country, bilingual schools and bilingual programs within schools are becoming more popular and more prevalent. As an aspiring teacher, you might wonder if it is possible to break into this job market even without knowing multiple languages yourself. Due to the nature of bilingual programs, most teacher roles in these schools do require at least minimal proficiency in two languages. However, it's never too late for established monolingual teachers to learn a new language and develop the skills to teach in these exciting settings.
DegreeQuery.com is an advertising-supported site. Featured or trusted partner programs and all school search, finder, or match results are for schools that compensate us. This compensation does not influence our school rankings, resource guides, or other editorially-independent information published on this site.
How Bilingual Schools Work
A designated bilingual school operates differently from a school that merely offers a foreign language course for native English speakers as one part of the larger curriculum. A truly bilingual education involves regular instruction in two languages, not merely a class in Spanish or another popular language shoehorned into an otherwise English-only curriculum. These programs immerse students in both of the languages spoken at the school throughout their coursework in at least some, if not all, subject areas, according to the Association for Supervision and Curriculum Development.
In some of the most effective bilingual schools and programs, the student population consists of relatively even numbers of native speakers of both languages, which adds to the immersive nature of the program, according to The Atlantic. Courses in the same subject may be taught in English one day and the foreign language the next day. This practice makes the playing field more even for all students, regardless of which language is their native language, and more fully integrates the language-learning component into the curriculum. As a result, teachers generally need to be able to communicate in both languages in order to effectively teach at the school.
Bilingual education programs established exclusively for English-Language Learner (ELL) students also require the instructors of all subjects to be proficient in speaking both English and the native language, which makes it different from previous ESL programs.
Qualifications for Working in a Bilingual School
To teach in a bilingual school, you need to be proficient in speaking both of the languages in which the school offers instruction. You also need to meet all applicable state and local teaching requirements, such as holding a teaching license or certification. In some states, you might need to meet specific requirements to earn a bilingual certification, according to The Houston Chronicle. To attain this endorsement or certification, you may need to earn a passing score on a bilingual proficiency examination or meet specialized coursework requirements besides what would be required of a monolingual teacher.
In a college program that offers a bilingual certification or endorsement option, you might take specialized courses such as Teaching a Second Language, Literacy and the Bilingual/Bicultural Child and Educating and Evaluating the Bilingual Child. Classes in multicultural studies and linguistics and psycholinguistics complement these courses, which fit into a broader curriculum of studies in general teaching strategies, learning mechanisms, methods of classroom management and language studies. While some students in bilingual certification programs are undergraduates incorporating this endorsement into their major in education, others are established teachers expanding their repertoire of skills. Which category you fit into will make a big difference in what your curriculum will look like and how long it will take you to finish the program.
Practicing teachers may only need to take a few courses to complete a certificate. New undergraduates who are starting from scratch usually take four years to complete the program – but they graduate with both their initial teaching and bilingual certifications.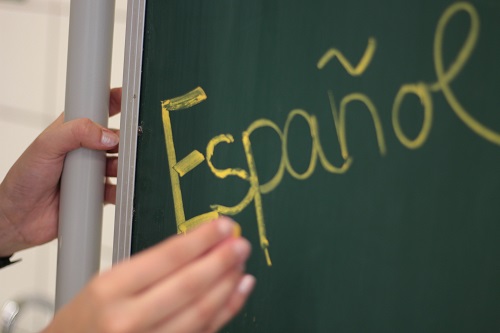 IMAGE SOURCE: Pixabay, public domain
The Best Languages for Jobs in Bilingual Schools
The term "bilingual" only signifies two languages, without specifying which two. However, having proficiency in certain languages will give you a better chance of attaining a teaching role at a bilingual school. Across the United States, most bilingual schools include English as one of the two languages used.
In many regions of America, Spanish is the most common second language taught in a bilingual school, but it's far from the only option. In areas where there is a large population of speakers of other languages, local bilingual schools are more likely to offer instruction in that language. Some other languages taught in bilingual schools include Korean, French, Japanese, Mandarin, German, Arabic and Italian.
This location-specific variation can make it difficult for aspiring bilingual teachers to choose the best second language to learn for their profession, but it also allows for greater diversity of language learning and for more local relevance in communities.
Additional Resources
How Do I Become a Teacher of a Foreign Language If I'm Not a Native Speaker in That Language?
What Can I Do With a Degree in Spanish?
What Can I Do With a French Degree?