There are a lot of reasons to consider going to graduate school for human-computer interaction, which happens to be one of the highest-paying master's degrees. First, though, you need to complete your undergraduate studies. If you want to make sure your bachelor's degree provides a strong foundation for studies in human-computer interaction, you might consider majoring in engineering, the field that applies science and math concepts to design, development and practical application. Some engineering majors for aspiring HCI students include electrical and electronics engineering, computer engineering, human factors engineering and mechanical engineering.
Electrical and Electronics Engineering
Many master's degree programs in human-computer interaction don't require a specific major or even specific technical prerequisite courses, which means that you have options as an undergraduate. A natural major to consider is electrical engineering, the branch within the four main categories of engineering that most closely pertains to the computer systems and technology that human-computer interaction revolves around.
When you major in electrical engineering, expect to learn the basics of electronics, computing, computer engineering and digital systems. You will likely take coursework in the electronics side of the field, including studies in electronic circuits, semiconductors and systems design. Undergraduate students of electrical engineering can often choose an area of concentration to pursue, which may include computer engineering. In this specialization, you're likely to learn about microprocessors and other hardware and learn how to use computer-aided design skills (CAD) to develop the integrated circuits used in computer memory hardware.
The difference between electrical and electronics engineering is that electrical engineering is a broader field that extends beyond the design and development of electronics to include electrical systems used for communications, power generation and signal processing.
Computer Engineering
You could choose to narrow down your undergraduate engineering studies even more by earning a bachelor's degree in computer engineering. While computer engineering majors will still take some coursework in electrical engineering more generally, they tend to have more opportunities to explore computer-specific areas. Some of those areas include the topics of operating systems concepts, software engineering, data structures, operating systems concepts and algorithmic analysis.
The field of computer engineering combines studies in electrical engineering with an emphasis on computer science topics and skills. As a computer engineering major, you would delve deeper into the foundations and skills of both software engineering and computer hardware engineering. Considering that both of these components matter in the study of human-computer interaction, gaining knowledge of both areas is valuable.
If you're less interested in the hardware aspect of computer engineering, you could also look for a bachelor's degree program in software engineering or software development.
Human Factors Engineering
If you want to specialize your education even further at the undergraduate level, consider a bachelor's degree in human factors engineering. In these interdisciplinary engineering programs, students develop foundational knowledge not only of engineering but also of statistics, general life and physical sciences and psychology, emphasizing the intersection between social factors and technology. Coursework encompasses everything from experimental design to introductory mechanics.
Aside from its interdisciplinary nature, what makes this major so relevant to students who intend to go to graduate school for human-computer interaction is its emphasis on computer technology. Some of the HCI-oriented coursework you might encounter as a human factors engineering major includes human factors in product design, human factors in human-machine systems and the design of human-computer interfaces.
A similar field of study is engineering psychology. Generally, engineering psychology programs are more entrenched in the study of psychology – and based out of psychology departments – than human factors engineering programs based in engineering schools.  
Mechanical Engineering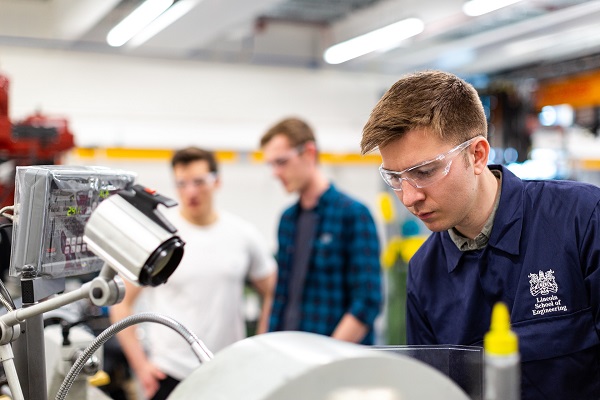 IMAGE SOURCE: Pixabay, public domain
Having prior coursework in computer science-related topics is valuable for aspiring human-computer interaction graduate students, but it's not an absolute requirement. If you want to keep your options open but the possibility of earning a master's in HCI is in the back of your mind, a degree in mechanical engineering may be the right choice. Although computer engineering and similar branches of engineering may be more immediately apparent in the field of human-computer interaction, mechanical engineering is one of the broadest areas of engineering study.
Students trained in mechanical engineering go on to design and develop technological innovations found in computers, robotics and automation, electronics, manufacturing and microelectromechanical systems, all of which may overlap with HCI. What are computers, after all, if not machines? In particular, mechanical engineers draw from, contribute to and ultimately benefit from knowledge of human-computer interaction related to the physical interface used in computer technology, according to the Association for Computing Machinery's student magazine XRDS.
Within mechanical engineering is an area of research dedicated to human-machine interaction, which addresses topics like learning through virtual reality, robots in healthcare and adapting the functionality of computer systems to match human behavior.
Additional Resources
I See a Lot of Material Connecting HCI and Psychology.  How Will Psychology Help Me?
What Are Some Long-Term Goals in the Field Of Human-Computer Interaction?
I Saw That a Degree in Human-Computer Interaction Would Be Good for a Job as a Human Factors Engineer. What Is That?