"The genius of the French language, descended from its single Latin stock, has triumphed most in the contrary direction – in simplicity, in unity, in clarity, and in restraint."

— Lytton Strachey
Charm is subjective, right? Perhaps it's unfair to claim that one language sounds more beautiful than others, but it's difficult to argue against the elegance, charm, and sophistication of the French language. French is universally known as the language of love, and it could well be said to be the language of culture. Some of the world's most famous poets, artists, philosophers, and authors, from Jean-Paul Sartre to René Descartes, wrote and spoke in French.
French is not only beautiful but useful. The French language spans four continents and ten centuries, and is the sixth most widely spoken language worldwide. And the influence of the French language is only increasing, as it is also one of the world's fastest-growing languages.
French is currently spoken by about 300 million people worldwide, and a study by the investment bank Nataxis projects that 750 million people will be speaking French by 2050.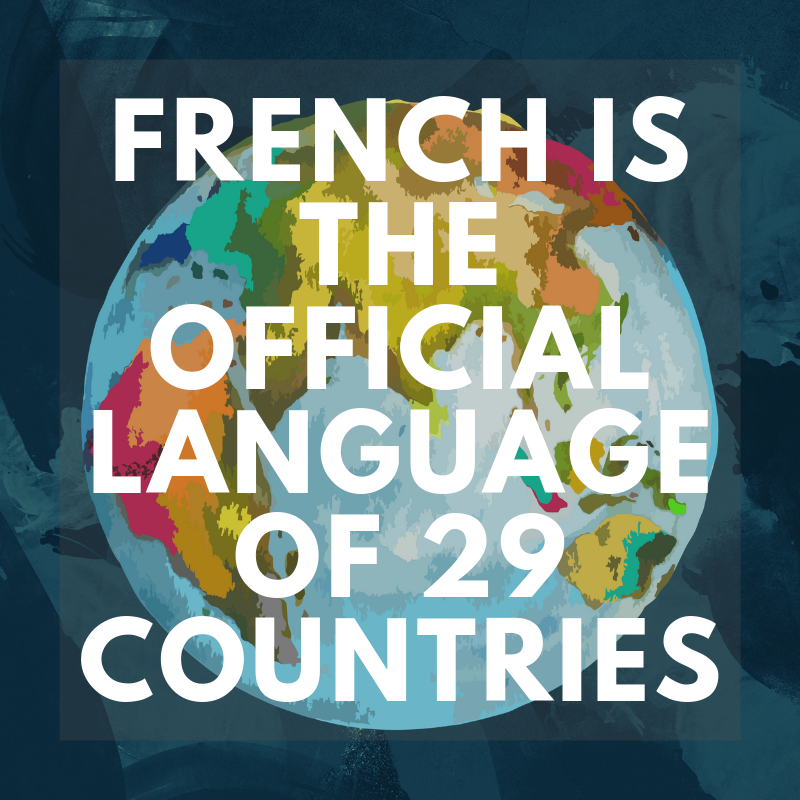 If you've fallen in love with French, you may be considering a degree in French Language and Culture. A major in French prepares graduates for careers in academia, teaching, and translation, as well as broader professions like international aid, diplomacy, journalism, hospitality, and the creative arts. But before you say oui, oui to a degree in French, read our guide to What Can I Do with a Degree in French? to learn about this area of study and its applications.
DegreeQuery.com is an advertising-supported site. Featured or trusted partner programs and all school search, finder, or match results are for schools that compensate us. This compensation does not influence our school rankings, resource guides, or other editorially-independent information published on this site.
Jump To:
What is French?
We all know what French is, right? Actually, perhaps we really don't. Defining and describing what makes up this language is a bit tricky, given the complex dialects and distributions of a language like French. So, what isis the story behind the French language and the people who speak it?
French, along with Portuguese, Italian, Romanian and Spanish, is a Romance language. All Romance languages are derived from Common (Vulgar) Latin, the everyday Latin spoken by the majority of Romans. The French dialect evolved in what is now northern France, and became the nation's official language in 1539 under King François I. Thanks to French colonialism and diaspora, the language is now spoken in many countries worldwide. In fact, less than half of French speakers live in Europe. French is an official language in 29 nations, including:
Belgium
Cameroon
Haiti
Burkina Faso
Canada
Madagascar
Luxembourg
Switzerland
The wide distribution and large number of French speakers mean this language is as practical as it is beautiful. The phrase "lingua franca" means, "a language which is widely used to provide a means of communication between speakers of other languages." The French language once served this role exclusively, as the language spoken by international aristocrats, academics, and intellectuals, reflecting France's role as the center of the Western cultural world. Today's political landscape, of course, is quite different. Nowadays, English serves the role of international "common tongue," but the language of French is once again a lingua franca thanks to growing populations in Sub-Saharan Africa. As Francophone African countries grow and develop, Forbes has claimed that the French language "could be the language of the future."
What Types of Degrees in French Are There?
If you want to speak, read, write, and converse in French, a degree in French can get you there. You can earn a degree in French at any level, from an associate's in French to a PhD. You can expect to study more than the French language in a degree program- you'll also cover French civilization, history, culture, literature, and the arts. At the level of associate's and bachelor's degrees, becoming deeply familiar with the French language takes center stage, while those pursuing a master's or PhD in French are assumed to be fluent, and can expect to focus more deeply on French literature.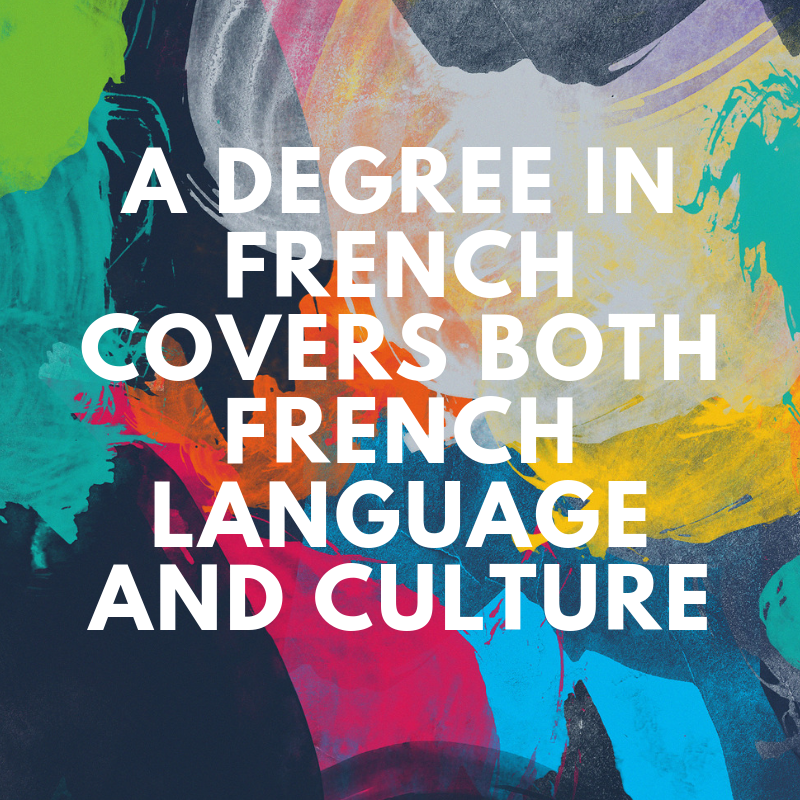 Many French degree programs offer a unique blended focus in order to stand out. The University of Wisconsin-Madison has a master's in French that includes professional internships in international businesses like wineries and eco-tourism destinations. The University of Michigan offers a major in "Romances Languages and Literatures," which allows students to major in two Romance Languages (e.g., Spanish, Italian, Portuguese, and French) under the same degree. And Louisiana State University offers a French major that includes coursework in Cajun French (a Southeastern US regional dialect).
Many students pursuing a French degree opt for a second major or a minor in a complementary area. This allows them to apply their language skills and cultural competency to a related professional area. Examples of double majors or minors often combined with a French degree include Film Studies, Art History, Political Science, Global Affairs, Philosophy, or Business.
What Classes Will I take for a Degree in French?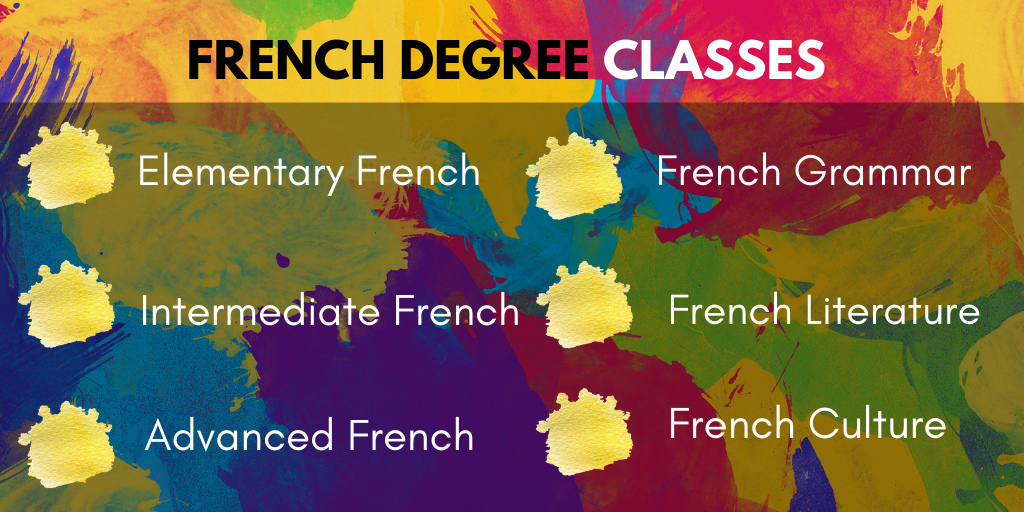 Every school has its own curriculum, and many schools offer classes with comparable content under different course titles. But in general, you can expect to see similar course offerings listed for degrees in French Language and Culture. These can include classes such as:
17th and 18th Century French Literature
Basic French
Contemporary French Culture
Advanced Business French
Advanced Spoken and Written French
Classical and Modern French Poetry
Analysis of Literary and Cultural Texts
Revolutionary France
French African Literature
Intermediate French Composition
Intermediate French Conversation
Modern French Grammar and Syntax
Will I Study Abroad for a Degree in French?
Studying abroad is the best way to learn about another culture firsthand. In a complete immersion, you'll gain a grasp of the everyday use of the language, cultural norms, local customs, and new perspectives. Living abroad can teach you valuable soft skills as well, as you'll have to be resourceful, flexible, and open-minded to navigate an unfamiliar setting. Living abroad can be an asset in professional life, demonstrating your ability to think on your feet and adapt to a new environment, as well as cultural competence and a global mindset.
The American Council on Education reports that as many as 75% of US undergrads express an interest in studying abroad. According to Forbes, France is one of the most popular places for international students to study abroad, and Paris is the most popular study abroad destination in the country. Those studying abroad in France include plenty of students earning degrees in French language and culture, as well as students of art history, philosophy, film studies, culinary arts, and theater.
But just as not all of those studying abroad in France are French degree students, not all French degrees require study abroad. Many schools do require students to pursue one or more semesters studying in France in an approved program. But studying abroad is costly, and difficult for those with families, work, or relationships to manage. With this in mind, many schools allow French degree-seeking students to decide for themselves if study abroad is right for them.
What Can I do with an Associate's in French?
An associate's degree in French is a great foundation for those interested in French language and culture. Associates degrees are usually 60 credit programs which take two years to complete on a full time basis. An associate's degree can stand on its own or serve as a step on the path towards a bachelor's degree in the same area of emphasis or a related major. If you choose to earn an associate's degree in French language and culture, you may go on to earn a bachelor's in French, or in a field where a foreign language is useful, such as Art History, International Studies, Pre-Law, Business, or Film Studies.
With an associate's degree in French, you'll be eligible for entry-level jobs where knowing French is an asset. You may wish to pursue an entry-level job with a cruise line, hotel, import company, airline, or the state department. If you'd like to advance your career prospects in any of these fields, you can continue to work while pursuing an online bachelor's degree on a part-time basis.
What Can I do with a Bachelor's in French?
A bachelor's degree is the most popular degree level in the nation. A bachelor's degree typically takes four years to earn on a full-time basis, and consists of 120 credits, or 40 courses. Some schools offer an accelerated bachelor's degree, which can be earned in as few as three years.
A degree in French Language and Culture is awarded as a Bachelor of Arts Degree, meaning it will have a general education requirement. A bachelor of arts degree is designed to produce graduates who are well-rounded critical thinkers, and half of the coursework required will consist of classes in topics like humanities, life and physical sciences, math, psychology, and English. The remaining half of classes for a bachelor's degree will be in the French major, such as Intermediate French, French Civilization, and French Literature. Many schools also require students in their final semester to complete a senior portfolio in order to demonstrate French language fluency.
With a bachelor's degree in French, you'll be a fluent speaker, and able to take on jobs that require you to speak and write in French or translate between the two languages. You'll be eligible for jobs in international banking, trade, international publishing, diplomacy, hospitality, and, of course, translation and language instruction. You may also be interested in teaching English abroad or working with international students, for instance, as a Foreign Exchange Program Officer.
What Can I do with a Master's in French?
To get a master's in French language and culture, you'll need to have a bachelors in French, or in a related liberal arts field like political science, English, or art history. If your bachelor's degree is not in French, you'll need to take additional prerequisite coursework so that you'll start off the program at the same level of fluency and cultural competence as your peers. A master's typically takes two years to complete when taking classes on a full-time basis, although an Accelerated Master's Degree can be as short as just 18 months, while a part-time program takes longer.
With a master's in French, you'll be able to perform any other the jobs discussed above, such as translation, language tutoring, editing, or interpreting, but will be eligible for roles in supervision and oversight of projects. You'll also be qualified to teach French as an adjunct professor, or at the elementary or secondary school level. Beyond the classroom, a master's in French can lead to jobs like International Aid Director, Curator, Cultural Interpreter, Sommelier, International Development Worker, and International Business Advisor.
What Can I do with a PhD in French?
A PhD in French denotes the highest mastery of knowledge about French literature, culture, and about the French-speaking world. According to the National Center for Education Statistics, only 96 PhDs in French language and literature were awarded in 2012. That means that, with this terminal degree in French, you'll be in an elite class of individuals with the highest level of expertise.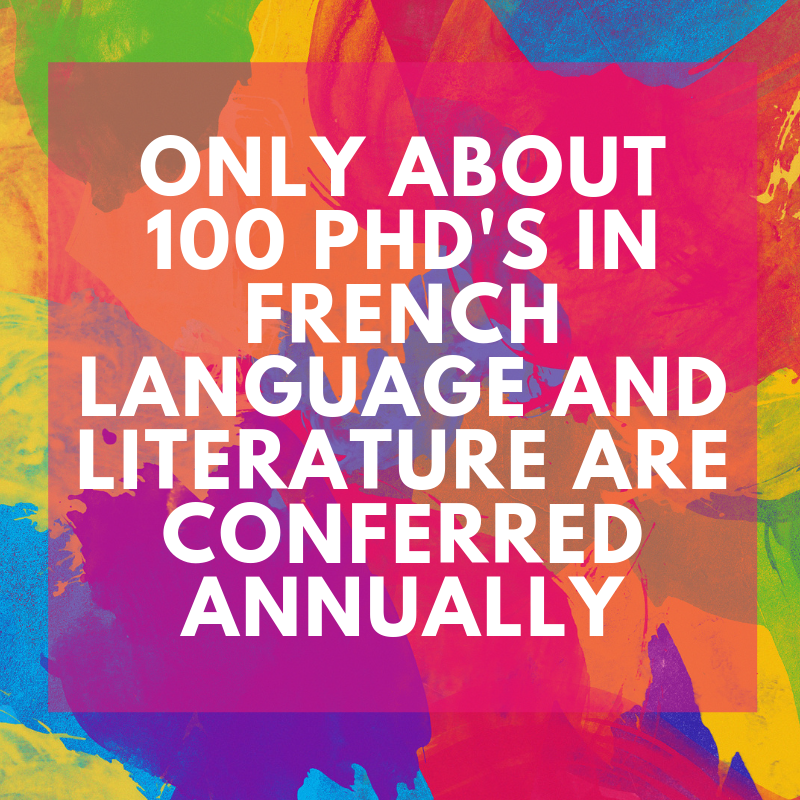 To earn a PhD in French, you'll need to conduct original research into an area of historical or modern French Literature, which will form the basis for a comprehensive dissertation. You will work closely with a thesis advisor over a period of 2-7 years to research, write, and defend your dissertation. This process is rigorous and challenging by design; universities reserve the designation of "doctor of philosophy" for only the most accomplished academics.
With a PhD in French language and literature, you'll be qualified for tenure-track positions teaching at the university level. For such jobs, you'll be expected to continue researching, reviewing, and publishing, as well as instructing and mentoring university students in French. You will likely have the opportunity to travel for your work, attending international professional conferences and leading student groups in study abroad programs. Or instead of leading American students abroad, you may work with international students who are native French speakers learning in America.
Can I Earn a Degree in French Online?
Almost any degree can be earned online these days, from archaeology to nursing. For many of these, distance learners need to make a bit of compromise between the accessibility of distance learning and the limitations of a virtual classroom for hands-on learning (such as in labs and fieldwork). But in the case of an online degree in French, your virtual classroom experience will closely mirror the experience of an on-campus program. Online courses for a degree in French will usually be tight through a combination of text-based readings, recorded lectures, group assignments, video conferences, live chats, and message boards. In order to develop your fluency and comfort with conversation, you'll likely do more video chats for an online French degree than would be required for other distance-based degrees. That means an online degree in French may not be quite as flexible in schedule as other non-language degrees, since you'll need to virtually meet with peers and professors at set times to converse or present in French.
An online degree is an excellent choice for students who are balancing higher education with the demands of work and family obligations. For those who are very busy with existing jobs and families, maximizing their available learning time is critical. The hours on-campus students spend on their commute can be used for learning by online students, and a large proportion of course content for online classes can be accessed on-demand. On-demand content allows distance learners to study from any location at any time, and means an online French degree is well-suited for frequent travelers as well.
What Jobs Can I Get with a Degree in French?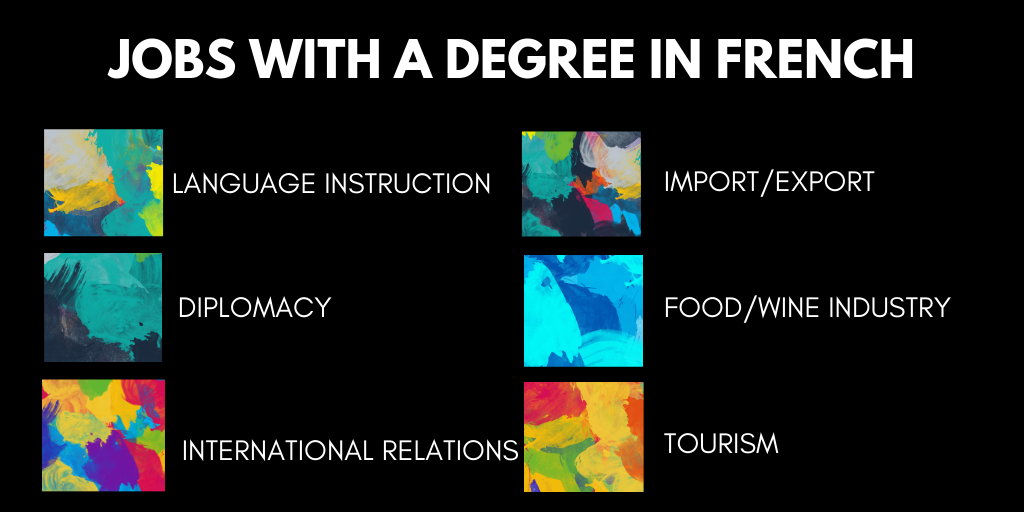 With any foreign language, jobs are available directly helping those who don't have foreign language fluency, through translating and teaching. Examples of such jobs include:
translation
editing
subtitling/voice-overs
travel services
immigration services
teaching English to native French speakers
teaching French to native English speakers
Of course, any foreign language degree can lead to work in translation and instruction. But a degree in French, in particular offers the opportunity to pursue jobs in other fields thanks to this language's particular history and distribution. French is one of the most influential languages in the world thanks to its geographical distribution and widespread use in literature and the arts, jurisprudence, diplomacy, and journalism. That means that in addition to work as, say, a French language translator for a book publisher, you might also have to option to do branding for a winery in Bordeaux, develop a micro-loans program in Haiti, or organize a film festival in Quebec.
In diplomacy, French is an official language of powerful and influential bodies such as:
the United Nations
NATO
the International Olympic Committee
the Council of Europe
the European Space Agency
the World Trade Organization
In nonprofit work, French is important as a "lingua franca," because the French have founded a number of international nonprofits, and because of the widespread use of French in Africa, where many aid organizations work. French is a working language for top NGOs such as:
the Red Cross
Amnesty International
Doctors without Borders
Perhaps the most important commodity in France is culture. Honoré de Balzac famously claimed that "whoever does not visit Paris regularly will never really be elegant." The French have been renowned for centuries for their refined and sophisticated food, fashion, literature. From cheeses to poetry, from ballet to couture, France has the final word for any number of cultural commodities, and those interested in one or more of these could make use of a degree in French. Cultural industries and fields where French is important include:
Wines and spirits
Food and dining
Literature
Fashion
Visual and performing arts
Art history
Related to France's cultural status is its popularity as a tourist destination. And while they may not be quite as iconic as Paris, cities in other French-speaking countries draw thousands of visitors annually as well. That means jobs for people with a French degree exist in sectors like:
Museums and cultural centers
Air and train travel
Cruises
Hotels and hospitality
Travel writing
Tour guiding
Exactly how much you can earn with a degree in French can vary widely. Your choice of industry will make the biggest difference in this respect- you can anticipate a high salary working for an import/export company, and a modest salary working for a ballet company. But while many people assume that degrees in the humanities in general are not great for your earning potential, there's reason for optimism. Princeton surveyed graduates and found that those with STEM degrees, such as engineering and math earned significantly more than their peers in the humanities right after graduation, but that these differences diminished over the course of ten years in the work force.
What are the Pros and Cons of a Degree in French?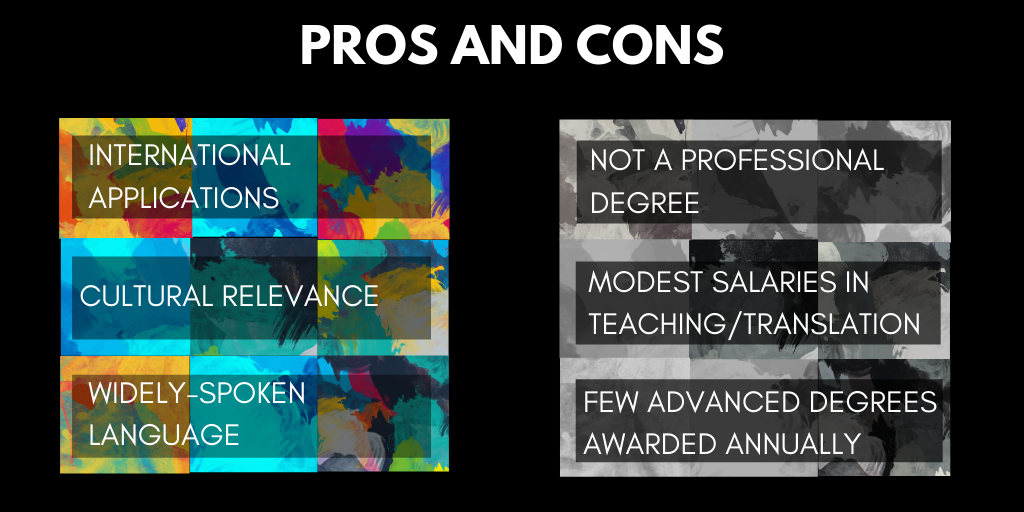 Just because you love the French language, doesn't mean you should necessarily pursue a degree in French. There are a few reasons this degree is not the best fit for everyone. In terms of drawbacks, a French degree does not offer a clear career path in the same way a professional degree, such as nursing, counseling, or engineering does. Jobs in translation or elementary/secondary school language instruction, are a natural fit, of course, but these jobs are not known to be highly lucrative. That means that if making a high salary is important to you, you'll need to consider going for at least a master's degree in French, which will qualify you to teach at the college level. Another option for earning a higher salary with a degree in French is to look for work in a related field such as international diplomacy or hospitality, which will likely require additional skills and training.
On the other hand, there are plenty of reasons that a degree in French is attractive to both students and employers. On the plus side, the French language is important for international culture, commerce, and diplomacy, thanks to the historical influence of the nation of France and the growing number of French speakers outside of Europe. For these reasons, learning French is an excellent idea for those interested in foreign relations, international trade, relief work, literature, and art history. If your interests lie in any of these areas, and you have a passion for the French language, a degree in French may be right for you.
Further Reading: