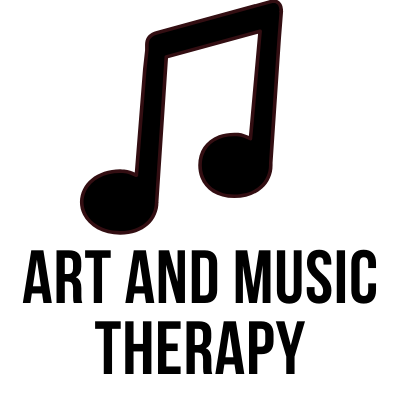 If you've ever leaned on the power of creativity to see you through a difficult time, you know firsthand how healing the experience of creativity can be. Maybe you painted during a period of loneliness. Maybe you banged on the drums to release stress during a difficult work week. Maybe you processed your worries by writing poetry. Whatever your outlet, you probably quickly discovered that it didn't matter whether your creation was "good" or not- just the act of expressing yourself helped you understand and manage your feelings. That's the healing power of music and art.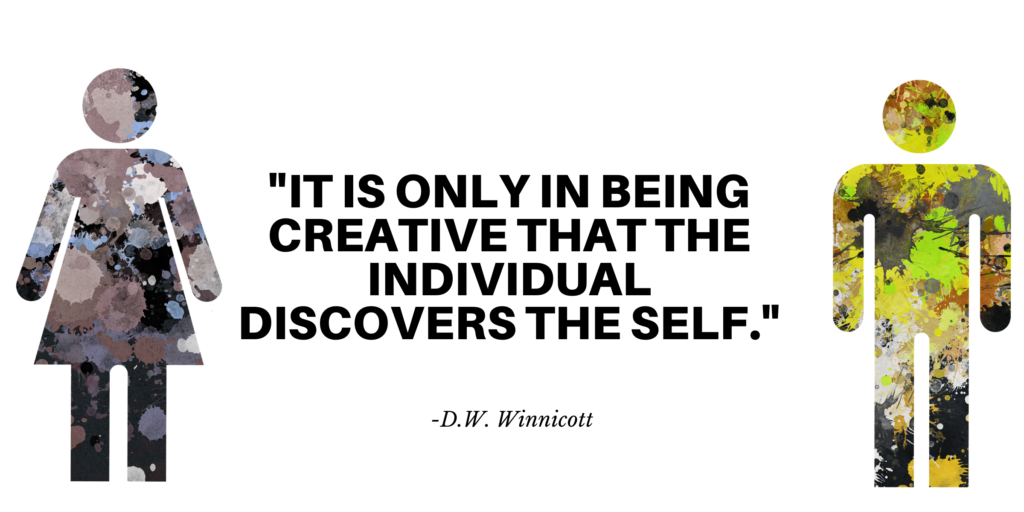 It's hard enough to talk about our everyday feelings. But some things are simply too big, too painful, or too complicated to put into words. When it comes to therapy, many people find themselves stuck in their own heads, unable to move past their habitual thinking patterns, inhibitions, or fear of facing major issues. Music therapy and art therapy offer a way to break past the boundaries of traditional talk therapy by giving clients a way to act out their feelings and thoughts through creativity. Art therapy and Music Therapy can even give a voice to those who struggle with everyday communication because of challenges like language delays, dementia, and social anxiety.
If you're empathic and creative, you may naturally be drawn to the field of art and music therapy. You may even picture a future helping people solve problems and improve their lives through creative expression. But you may not know how the particulars of degrees, licenses, and careers in this field. Read on to learn about how music therapy and art therapy work, what art and music therapy degrees and certifications are required, and what you can do with an art or music therapy degree.
Jump To:
What is Creative Therapy?
Both art therapy and music therapy fall within the larger spectrum of creative arts therapies (aka or creative therapies"). Other forms of creative arts therapies include dance/movement therapy, drama therapy, and psychodrama). All the creative arts therapies are based on the idea that expressing oneself creatively is inherently healing, and that reflecting on a piece of music, art, dance, etc. can lead to greater insights and therapeutic gains than talking alone. Experiencing and examining art, music, and other creative arts forms allows people to gain a different perspective on their habitual thought processes, feelings, and behaviors.
Each discipline in the creative arts therapies aims to engage the client(s) in a creative process, either active or receptive, with the goal of improving their mood, functionality, health, or some other therapeutic outcome. As you can probably determine from their names, each of these disciplines focuses on a different art form, such as music, visual art, or drama. Overlap exists in each of these forms, of course. For instance, a drama therapist might lead hearing-impaired students in painting sets for a play (incorporating visual art), while a music therapist might encourage a stroke survivor to dance along to a song (incorporating movement). In every discipline of creative arts therapies, the process is emphasized rather than the end product. Clients are encouraged to focus on their experience rather than the artistic quality of their music, dance, or visual art.
It's important to note that creative arts therapies (including music therapy and art therapy) are separate and distinct from expressive arts therapy. Many people use these terms interchangeably, but they are actually separate approaches to applying creativity to psychotherapeutic work. In Expressive Arts Therapy, multiple forms of creative expression (such as poetry, music, dreamwork, horticulture, and visual art) are used together in an integrative way. Credentialing, research, advocacy in Expressive Arts Therapy is governed by the International Association of Expressive Arts Therapy (IAEAT).
What is Art Therapy?
Art therapy is the use of creative visual expression as a psychotherapeutic approach. Art therapists involve clients in creative processes, active art-making, and reflection on art products within a therapeutic relationship. Art therapy taps into the sensory, kinesthetic, perceptual, and symbolic content of art-making to invite alternative modes of expressive and receptive communication. These alternative forms of self-expression effectively circumvent or transcend the limitations of language.
Art therapy has its roots in the work of several patients, doctors, and psychoanalysts in the mid-20th century, who experienced or witnessed the healing potential of art-making in institutions and hospitals, and spread the practice. Margaret Naumburg and Edith Kramer pioneered art therapy in the United States beginning in the 1940s. Naumberg stated that art-making could perform a psychoanalytic function by allowing patients to externalize and better understand their thought processes. Kramer proposed that art-making could contain feelings such as rage and shame that might otherwise be overwhelming.
The field grew as more and more people sought out psychotherapy, and art therapy gained special attention as an effective tool for addressing childhood trauma. The American Art Therapy Association was founded in 1969, and continues to provide professional and educational services and advocacy for the art therapy profession in the US.
Since art therapy became a separate discipline from talk-based psychotherapy, several different art therapy approaches have evolved, and new ones continue to be developed. Some of the different art therapy approaches include:
person-centered
humanistic
cognitive
behavioral
narrative
Gestalt
Adlerian
group/family
What is Music Therapy?
Humans have used music for healing purposes across virtually all cultures and throughout recorded history. The ancient Greeks, including Aristotle and Plato, wrote about music as a treatment for the sick. The field of music therapy grew out of work done by professional and amateur musicians in hospitals following World Wars II and II. Music was found to be effective in improving the recovery of veterans who had been injured and/or affected by PTSD.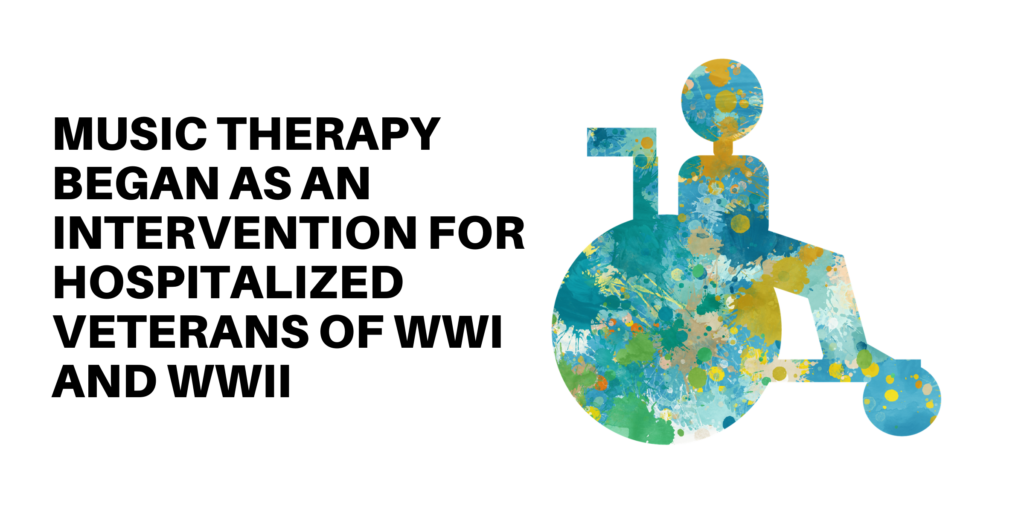 Formal training and clinical associations began to form in the early 1900s, and college-level programs began to be offered in the 1940s. The "father of music therapy," E. Thayer Gaston, did much to develop the professional and educational organization and standards of music therapy during this time. The field of music therapy has since grown to cover the clinical treatment of a wide range of populations. In the US, the largest professional organization for music therapists is the American Music Therapy Association (AMTA), which provides advocacy, oversees professional and educational standards, and publishes peer-reviewed journals.
Like art therapy, music therapy is a clinical psychotherapeutic modality that goes beyond language to access alternative modes of communication. This makes it especially well-suited for those who find it difficult to express themselves in words, or who have trouble accessing their emotions and physically-grounded senses. Music Therapy is well-researched and is an evidence-based treatment, which is well-established as a health profession. Music therapists have a strong formal knowledge of music, medicine, and psychology, and use music to assess and address the emotional, physical, social, and cognitive needs of different client populations.
Music therapy involves music improvisation, songwriting, receptive music listening, lyric discussion, combining music and imagery, movement to music, and music performance. Like art therapists, music therapists perform evaluations, monitor progress, design interventions, and collaborate with other members of treatment teams.
How Can I become a Music Therapist or Art Therapist?
Music therapy and art therapy go way beyond creative education or recreation; they provide evidence-based clinical therapy That means those who want to become an art therapist or much therapist will need to go through a rigorous education, professional training, and credentialing process in order to deliver clinical services. Exactly what that involves will depend on the state where you plan to practice and the field you want to work in.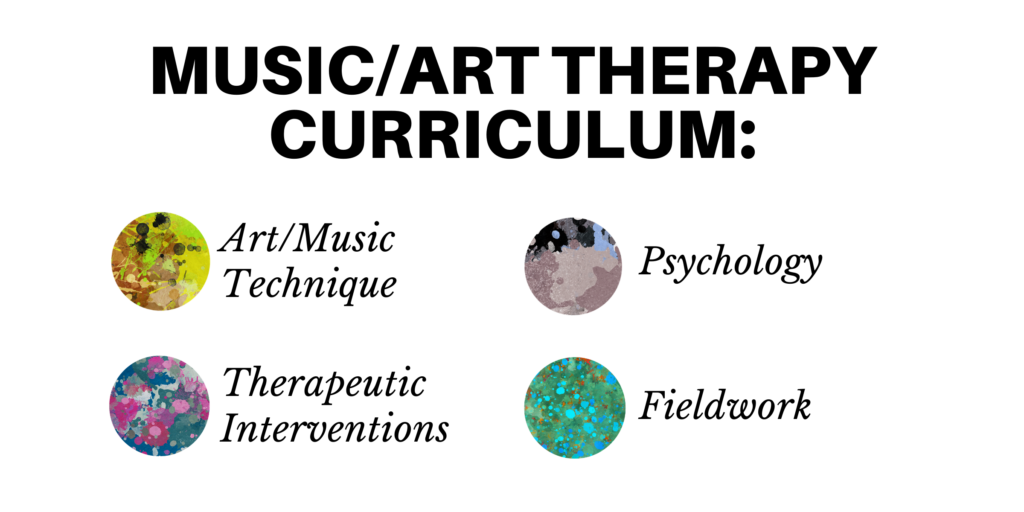 To become a music therapist, you'll need to complete the following steps:
a bachelor's in music therapy from one of the 70+ AMTA-approved music therapy degree programs
alternatively, completing one of a few AMTA-approved equivalency degrees (which combine music and education)
1200 hours of clinical training, including a supervised internship (included in the bachelor's in music therapy curriculum)
passing the national examination administered by the Certification Board for Music Therapists
applying for state licensure as either a professional counselor/psychotherapist or as a music therapist. Requirements vary by state
The process required to become an art therapist is a bit longer since art therapy is a master's-level clinical field of practice. To become an art therapist, you'll need to complete the following steps:
a master's in art therapy from one of the AATA-approved art therapy degree programs (your bachelor's can be in any field, provided you've met certain prerequisites in psychology, art, and other topics)
complete and present a research-based graduate thesis
700 hours in a supervised internship or practicum (included in the master's in art therapy curriculum)
applying to be designated as a registered art therapist (ATR) by the Art Therapy Credentials Board (ATCB)
passing the board certification (ATR-BC) examination administered by the ATCB (optional but highly recommended for professional advancement)
applying for state licensure as either a professional counselor/psychotherapist or as an art therapist (optional but highly recommended). Requirements vary by state
What Jobs Can I get as a Music Therapist or Art Therapist?
Anyone, including healthy individuals, can use art therapy or music therapy to improve their well-being, including social, emotional and spiritual growth. But music therapy and art therapy are most often used by individuals facing physical, mental, and emotional challenges, especially those who have difficulty using words to express themselves. Conversely, those who find themselves too much involved with their habitual verbal communication can use art therapy or music therapy to get in better touch with their physically-grounded and emotional selves.
Some of the populations that art therapists and music therapists might work with include:
people in rehabilitation recovering from strokes
children in hospitals with acute illness
people in hospice
people in community centers with chronic mental illness
women in domestic violence shelters
families in immigration centers
veterans in residencies affected by PTSD
children in schools with autism
Music therapists and art therapists assess the needs of clients, set treatment goals, design interventions, monitor progress, and conduct evaluations on an ongoing basis. Art therapy or music therapy can be used to treat short-term goals or long-term goals, or a combination of the two. Some of the goals of music therapy and art therapy include:
improve cognitive function
enhance sensorimotor function
foster self-esteem
enhance social skills
develop self-awareness
alleviate stress
support the grieving process
cultivate emotional resilience
promote insight
resolve conflicts
Art and music are often used in clinical settings by people who are not music therapists or art therapists. For instance, most assisted living facilities have arts and crafts programs, and most special needs classrooms do music activities. These uses of art and music education and activities are different from clinical art therapy and music therapy. One important role of art and music therapists is to advocate for the profession, including clarifying the distinct purpose of clinical music therapy and art therapy for legislators, administrators, health professionals, and the general public. Art therapists and music therapists also conduct research to advance the profession, and adhere to a specific set of ethical standards laid out by their professional organization.
The Bureau of Labor Statistics (BLS) estimates that the average salary for a music therapist is about $47,860 per year (based on the broader category of recreation therapists). The BLS estimates the average salary for an art therapist to be $55,900 (based win the broader category of "all other therapists"). Those with a degree in music therapy or art therapy may find themselves working in roles outside of simply "art therapist" or "music therapist," while still applying their education in creative arts and psychotherapy. Many people with an art therapy degree or music therapy degree perform jobs like "substance abuse counselor," "director of therapeutic programming," or "clinical activities coordinator." As the healthcare and psychotherapy field continues to grow in the US, more positions within the broader category of therapeutic treatments should continue to open. Being able to apply your art therapy degree or music therapy degree flexibly should make it easer to find work within the field.
Further Reading: