In a field where you can get credentialed and often work in clinical practice with just an undergraduate degree, going to graduate school is a big decision. Music therapists don't need a master's degree to practice, but this optional advanced education can hold potential benefits. A master's degree program in music therapy also offers a path into the profession for students who didn't major in music therapy the first time around. Whether a master's degree in music therapy is a smart investment for you depends on factors such as what you want out of a graduate education, but all students considering a master's in music therapy should understand what to expect from the curriculum and make a point to choose a program that meets them where they are.
Who Needs a Master's Degree in Music Therapy?
Although a bachelor's degree in music therapy is the most popular program of study for this career, the American Music Therapy Association recognizes six possible educational paths and options into the field. A traditional or online master's degree program in music therapy can qualify you for the Music Therapist – Board Certified (MT-BC) credential, a nationally recognized designation awarded by the Certification Board for Music Therapists (CBMT).
However, a bachelor's degree also meets CBMT requirements. Generally, a master's degree is only required to become a music therapist if the state in which you plan to work includes a graduate education as part of its licensing requirements or if you chose a different program of study for your undergraduate studies.
Only 13 percent of music therapists report having a master's degree. The most popular level of education, a bachelor's degree, accounts for three-quarters of music therapists' educations.
How Can a Master's Degree in Music Therapy Help Me?
There's a big difference between the situations in which a master's degree is absolutely essential and one in which it can offer extra value. Established music therapists in many situations can benefit from enhancing their knowledge and skills in musical performance and in the clinical practice of music therapy. Generally, a higher level of education correlates to an increase in salary, with music therapists who hold a master's degree reporting an average annual wage of $57,141, according to the Houston Chronicle.
Ambitious music therapists may harbor hopes of moving up into senior-level roles or managerial roles. Roles with titles such as Senior Music Therapist, Director of Music Therapy, Clinical Director of Therapy or Music Therapy Service Coordinator are more likely to expect candidates to hold a master's degree than entry-level and mid-level direct-service roles in music therapy. In these positions, you may hold additional responsibilities in supervising and training therapists and coordinating with other members of the patient's collaborative care team.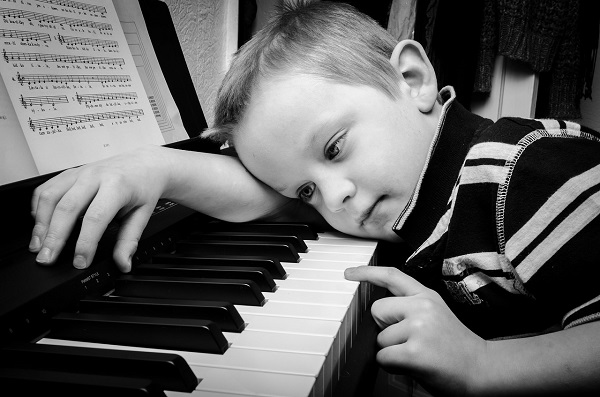 IMAGE SOURCE: Pixabay, public domain
A graduate education can be especially valuable for music therapists in private practice, because the advanced degree sets them apart as experts in their field. Developing a greater breadth and depth of knowledge in the field of music therapy can only help you achieve your full potential as a therapist, enabling you to work with a more diverse pool of clients and employ more complex strategies for helping your clients. Students of these graduate programs also may have the opportunity to take classes that address the needs of music therapists in private practice specifically, including the business operations aspects of music therapy and matters involving billing and insurance reimbursements.
Music therapists with an eye toward the future may consider pursuing a master's degree for their peace of mind, thanks to a movement toward raising the minimum level of education for entry-level music therapist jobs to a master's degree.
Coursework in a Master's in Music Therapy Program
Generally, master's degree programs in this field include studies in advanced clinical practice and in music therapy research, according to the American Music Therapy Association. Coursework in a master's in music therapy program may include graduate-level studies in clinical musicianship, clinical improvisation, group dynamics in counseling and music therapy, music therapy theories and methods and foundations in counseling, music therapy and the creative art therapies. Students often take two to three years to complete their master's degree studies in music therapy.
Just as undergraduate programs do, master's degree programs in music therapy require clinical fieldwork in the form of supervised practicum and internship experiences.
Additional Resources
Are There 2-Year Degrees in Music Therapy? Are They Worth Getting?
What Can I Do With a Bachelor's Degree in Music Therapy?
Who Should Consider a Post-Master's Certificate in Music Therapy?