As an aspiring art therapist, you may have a good idea of what you will do in your future career: use the creative arts, especially visual arts, as a therapeutic tool to help people. What might surprise you is what your coursework needed to prepare for this career path entails. It takes much more than a passion for art to become a qualified art therapist. In fact, subjects of study in approved or accredited programs include everything from psychological development and research methods to the creative process and art therapy assessment, according to the American Art Therapy Association. Generally, these master's-level programs require classes in counseling and psychology, studio art, core art therapy topics and practical experience opportunities.
A Graduate-Level Curriculum
To be eligible for professional registration, board certification or state licensure, you will need to go to graduate school. Just as professional therapists and counselors in most other fields need a master's degree, so do art therapists. At this level of education, even your introductory and foundational courses will be challenging, as they are graduate-level subjects of study.
This advanced level of coursework can seem daunting to students, particularly if they majored in art or psychology, but not both, as undergraduates. Often, art therapy programs don't require a specific major, but they do require the prerequisites that are needed so that students have enough of an academic foundation to succeed in their graduate studies. If you didn't take at least a handful of courses in both art and psychology, you might have some work you need to do at the undergraduate level before you can gain admission to a master's degree program.
Many art therapy programs don't require students to take standardized tests such as the GRE, but they may require a portfolio of your own artistic work.
Counseling and Psychology Coursework
Art therapists are clinicians, so they must be trained in counseling and psychology to be able to use evidence-based and research-backed therapeutic interventions. Topics in counseling and psychology often make up a great deal of your curriculum as an art therapy student. Examples of the counseling and psychology coursework you may take include psychological assessment, psychopathology, personality structure, career counseling and counseling theories. Without knowing how to assess and treat mental health concerns through counseling, you wouldn't be able to effectively apply art as a form of therapy.
Although you might not think of making art as being a form of therapy that lends itself well to experiments and statistical analysis, research methods and interpretation are part of both the study and practice of art therapy.
Studio Art Training
Technical art skills are among the requirements needed to succeed as an art therapist. Although you can certainly develop your abilities on your own to some degree, within the confines of an academic program, the best way to cultivate these skills is through studio classes that involve considerable hands-on practice. Studio coursework may focus on creating art in different media, such as drawing, painting and sculpting or ceramics. Different programs may handle studio art requirements in different ways. Some require a single studio art class, while others might require more. Your studio art class may be tailored specifically toward art therapy applications or may be a general studio art course.
Accreditation standards for the studio art aspect of art therapy programs include working in 2- and 3-dimensional media, developing familiarity with the personal creative process and personal symbolic language and learning about art materials, processes and skills.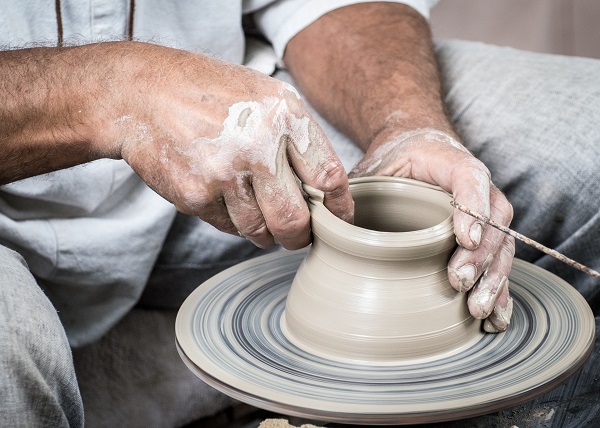 IMAGE SOURCE: Pixabay, public domain
Foundations of Art Therapy Practice
Ultimately, although you're completing coursework in both counseling and studio arts, the field you're going into is more than the sum of these two parts. What brings together your studies in counseling techniques and art-marking is foundational coursework in the theory of therapeutic creation and how to apply theory to real clinical settings. In an introductory course, art therapy students often learn about the history and theoretical foundations of art therapy as a clinical practice as well as the client populations served and techniques used in the field. Students might also take courses in specific counseling techniques for art therapists, human development in the context of art therapy, program development, multicultural perspectives in the field and the use of art therapy in specialized areas such as trauma treatment and marriage and family therapy.
Art therapists work with individuals as well as groups, so your education both inside and outside the classroom should equip you with the skills to do one-on-one and group therapy.
Practicum and Internship Experience
Therapists and counselors can only learn so much in the classroom and laboratory or studio settings. Learning to apply this academic knowledge requires exposure to real-world clinical environments. As a student, you begin gaining this experience first through a supervised practicum, which encompasses at least 100 hours of work, and then through a 600-hour clinical internship, the American Art Therapy Association reported. As an intern, you will do much more than observe. You will put into practice the theories, processes and techniques you have learned through your education to work with real clients in a supervised clinical capacity.
Clinical experiences may take place in medical and psychiatric settings, rehabilitation facilities, educational institutions and other clinical or community-based environments.
Additional Resources
What Degree Should I Get to Become an Art Therapist?
What Does an Art Therapist Do?