"The German language speaks Being, while all the others merely speak of Being."

— Martin Heidegger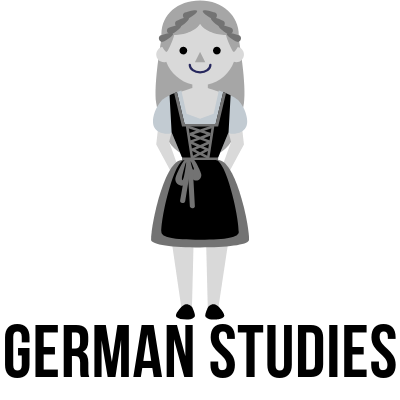 Featured Programs
The German language is full of contradictions. With its guttural intonation, it's widely considered to be a rich and beautiful spoken language. Yet its also widely said to be harsh-sounding, or even abrasive. German is said to be a challenging language, with its many grammatical rules and many exceptions to the rules. Yet German shares more than half its vocabulary with English, with remarkably similar words like Apfel (apple), Banane (banana), Kaffee, and Milch giving English-speaking learners a big head start. German doesn't have a wide geographic distribution, being confined mostly to Germany and Austria, with some presence in neighboring European countries. Yet German is one of the top languages in some of the most important global spheres, such as scientific texts, book publication, web pages, and finance. If you're a lover of German, you know and embrace the many contractions that make this such a unique and rich language.
And if you're a lover of the German language, you probably also love the culture of German-speaking Europe. You're likely fascinated by the thousands of years of German civilization and history, arts, and ideas. You've read philosophers like Heidegger, Hegel, and Nietzsche. You've heard the music of Bach, Mozart, and Beethoven. You've seen the art of Klimt, Ernst, and Klee. You've watched the films of Herzog, lang, and Petersen. You've read the novels of Kafka, Goethe, and Hesse. You may even have developed a taste for wines like Gewurztraminer and beers like Hefeweizen.
If you appreciate the unique qualities of both German culture and German language, you may be considering a degree in German. A German degree can give you the chance to dive deep into these areas of interest, but is not the right fit for everyone. Our guide to What Can I Do with a Degree in German? can help you understand some background on the German language, German degree programs, study abroad options, and job prospects.
Jump To:
What is German?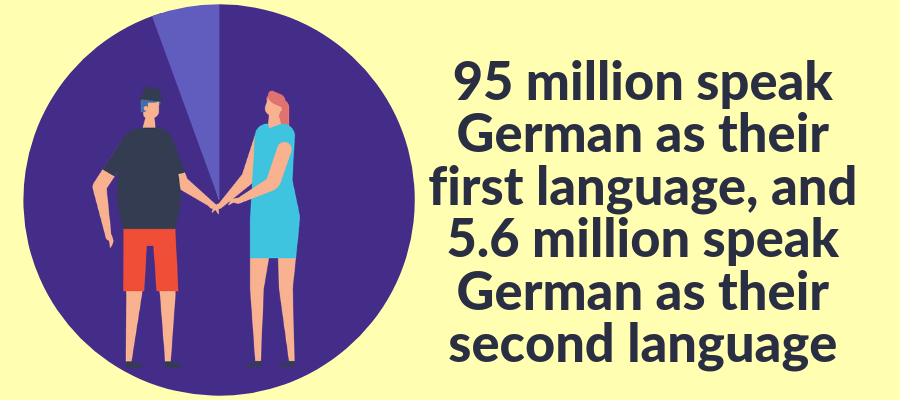 German is a widely spoken language within Europe. After Russian, it's the language most spoken in the EU, and is also spoken by many in places like Namibia and Argentina. Many people are aware that English is a Germanic language, but few can say what that means, or where the modern German language comes from. As it turns out, the modern language we call German (or "standard German") dates back to the 6th century and derives from Germanic branch of the Indo-European languages. Of the Germanic languages, there are three branches:
North Germanic (from which Danish, Swedish, Norwegian, Faroese, and Icelandic are descended)
East Germanic (now extinct, included the Gothic language)
West Germanic (from which German, Afrikaans, Dutch, English, Luxembourgish, and Yiddish are descended)
As a written language, German is highly standardized. It follows almost exactly the same alphabet as English (with one additional letter). As a spoken language, however, German has a wide range of dialects compared to other languages. Some of these are so different from one another that people speaking, for instance, Alsatian and Low Franconian, would probably have trouble understanding one another.
Like English, German is known for its many grammatical rules, and many the exceptions to each of these rules. In German, there are four cases for nouns, pronouns, and adjectives (the nominative, the accusative, the dative, and the genitive), three genders (masculine, feminine, neuter), and two numbers (the singular and the plural). German is famous for its many compound words, many of which convey a colorful meaning which is difficult to concisely express in other languages. For instance, the German word "Ohrwurm" literally means "ear-worm," and describes a song that gets easily stuck in the listener's head.
German and English share more than half of their vocabulary. By comparison, French and English have only 27% of their vocabulary in common. Native English speakers studying German will have to learn plenty of grammar, of course, but will already be familiar with half the language's vocabulary.
Where is German Spoken?
German is not a language with wide distribution; the overwhelming majority of German speakers live in Germany. According to World Population Review, more than 78% of the total German speakers in the world live in Germany.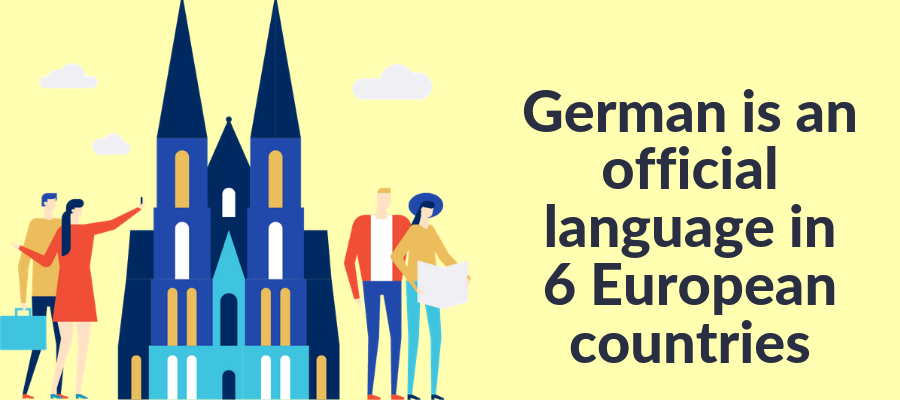 German is an official language of 6 nations, all located in Europe, including:
Austria
Belgium
Germany
Liechtenstein
Luxembourg
Switzerland
German is also a minority language in a number of European countries, including Czech Republic, Denmark, Hungary, Slovakia, and Ukraine. It's also spoken by a minority of people in parts of Africa, such as Namibia and South Africa, and parts of South America, such as Argentina and Brazil.
Beyond geographic locations, German is used extensively across several fields. German is widely used in scientific texts, and is the second most commonly used scientific language according to the Goethe Institute. It is also used extensively on the internet, and is the third most-prevalent language on websites. In schools, German is commonly taught, and the Goethe Institute reports that rates of students choosing German as a second language are on the rise. After English, German is the second most commonly taught foreign language in the EU at the primary school level, and in the US it is the fourth most popular choice.
What Types of Degrees in German Are There?
There are plenty of ways to learn a foreign language, from being raised in a bilingual household, to living abroad, to continuing education classes. Today, many people learn foreign languages through apps like Doulingo, software like Rosetta Stone, and even language MOOCs. But if you want to deeply understand the German language and culture, a German degree offers a more comprehensive approach.
Degrees in German are available at every level, from an associate's in German to a PhD. These degrees typically blend studies in both German language and German history/culture. At the undergraduate (associate's and bachelor's) level, the German language tends to be the main focus of study. At the graduate level (master's and PhD), students are assumed to be fluent, and in-depth study of language instruction, linguistics, and literature take center stage.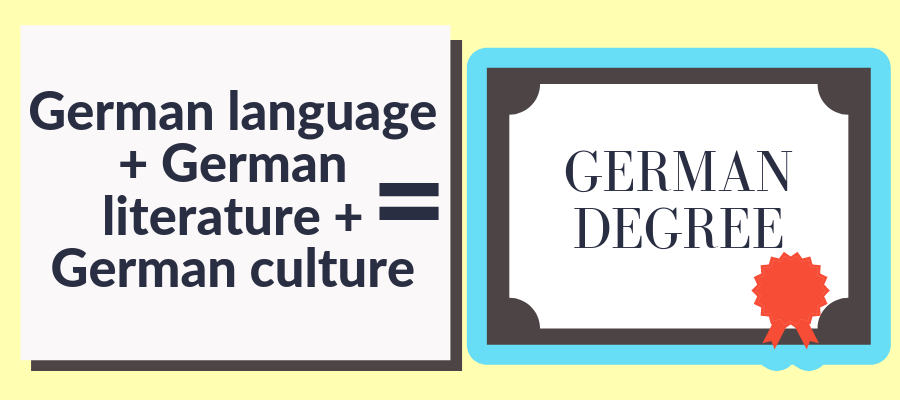 Online degrees in German are available, and a Bachelor of Arts (BA) in German is the most common offered. While some degrees rely on static, self-paced modules, language degree programs build in opportunities for students to hear and speak German in live exchanges. An online German degree follows the same format as an on-campus program, and generally blends on-demand course modules with live distance learning content like video chats to practice conversation skills.
In order to broaden their job prospects and strengthen their resumes, many students choose a dual major, earning a degree in German alongside a complimentary major (or a minor), such as:
global affairs
international business
philosophy
art history
economics
linguistics
What Classes Will I take for a Degree in German?
Every school aims to make its students fluent in German and give them a grasp of German culture and customs. Yet no two schools offer the same German degree or curriculum. Some schools emphasize language, and even teach multiple dialects, while others place greater emphasis on the culture and history of Germany and the German-speaking world. Some other schools aim to stand out by offering classes in German politics and business. Regardless of your choice in schools, you can expect your degree in German to cover courses in both German language and German Studies.
Common course titles for a degree in German include:
Modern German Literature
Basic German
German Structure and Syntax
Contemporary German Culture
German for Business
German Conversation and Writing
German History and Civilization
German Thought and Philosophy
Cinema of German-Speaking Europe
Intermediate German Conversation
Intermediate German Composition
Will I Study Abroad for a Degree in German?
It's entirely possible to earn a degree in German without ever setting foot outside US soil. But many students value the opportunity to study abroad; according to The American Council on Education, three quarters of undergrads in the US say they'd like to study abroad. And most schools strongly recommend that students in German language degree programs spend at least one semester studying in Austria or Germany, while some schools even require it. The US State Department reports that 325,339 American students studied abroad in 2016.
Studying abroad is popular for good reasons; it's the best way to understand a culture firsthand and to gain fast fluency. Students fully immersed in German quickly learn to speak, live and even think in their second language by hearing and speaking only German all day every day. They also get to hear the language used outside of the classroom in everyday contexts, and begin to grasp nuances like different dialects, accents, and idioms.
Studying abroad is also the best way to understand German history, culture, and contemporary society. Students studying abroad visit historical and cultural sites like the Berlin wall, Dachau, and Cologne Cathedral. They attend festivals, performances, and concerts. They navigate public transportation, purchase meals, and interact with locals. In addition to learning firsthand about the German character and world, students gain important life skills through these experiences, including flexibility, resourcefulness, and problem-solving. These can be useful soft skills for future jobs, and having lived abroad is an asset in most professional settings.
What Can I do with an Associate's in German?
An associate's in German provides a solid foundation in German language, also with an introduction to German culture. An associates degree typically takes two years to complete, and covers 60 credits. Those who graduate with an associate's in German can go directly into the workforce or go on to earn a bachelor's in German or a related field, like linguistics.
An associate's is considered an entry-level degree, and an associate's degree in German can lead to a number of jobs where knowledge of German is important. With this degree, you'll be eligible for entry-level positions in hospitality, tourism, and translation. Cruise lines, import/export companies, airlines, and publishers are good places to start a job search.
What Can I do with a Bachelor's in German?
A bachelor's degree in German provides a well-rounded understanding of the German language and culture. Most programs consist of 40 courses (120 credits) and take four years to complete, though many schools offer accelerated bachelor's degrees that can be completed in only three years.
A bachelor of Arts in German Language and Culture includes a required general education core. This means that students will complete classes for the German major (such as Conversational German, and German History) as well as a large number of classes in the liberal arts (such as biology, psychology, and sociology). Many schools also require German degree major students to complete a culminating experience in their final semester, such as a senior portfolio or project, in order to demonstrate their fluency.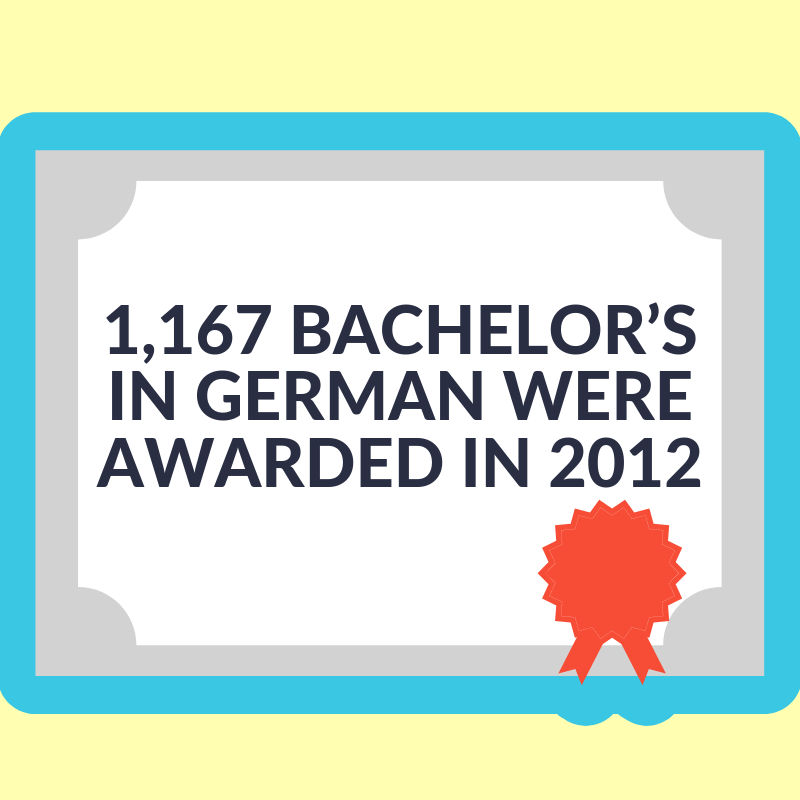 By the time students graduate with a German degree at the bachelor's level, they are expected to be fluent speakers. This makes german bachelor's grads eligible for jobs that require translating from English to German or German to English, either written or spoken. With this degree, you'll be qualified for teaching in primary and secondary schools or translating for publishers.
Fluency in German and cross-cultural awareness can be useful in fields like international banking, trade, hospitality, or diplomacy.
What Can I do with a Master's in German?
A bachelor's degree is a prerequisite for a master's degree in German. If your undergraduate degree is in a related liberal arts field like linguistics or philosophy, rather than a bachelor's in German, you'll likely have to complete some program prerequisite classes. A masters degree traditionally takes two years, though some schools offer Accelerated Master's Degrees that can be completed in as few as 18 months.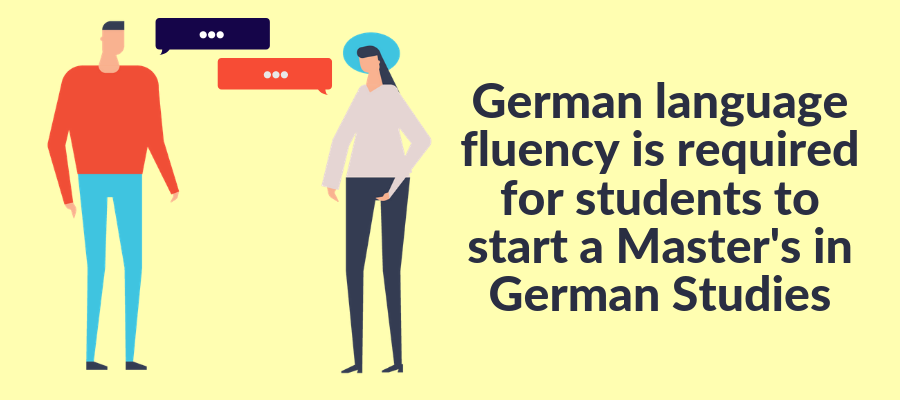 Fluency in the German language is the baseline for entry into a masters in german degree program, and most schools require students to prove their fluency in their first semester by passing a comprehensive oral and written exam. Instead of learning the German language, the curriculum for a master's in German will focus on advanced topics in German Studies within both language and culture, from history to linguistics. Some schools even offer master's students specialized tracks in German, such as:
German Language Pedagogy
German/Jewish Studies
German Literature
German Civilization
German Language Philology
For a master's in German, you can expect to complete not only advanced coursework but also a project-based senior thesis. Many schools require study abroad as part of a master's in German, and a few offer internship placements, where students can gain professional experience abroad in a field of their career interest, such as nonprofits, business, or arts organizations.
A master's in German will give students the language fluency and pedagogy needed to teach at the university level, either helping English speakers learn German or helping German speakers learn English. A master's in German is also good preparation for other jobs in international affairs, business, and management, such as Curator, Cultural Interpreter, Arts Administrator, or International Business Advisor.
What Can I do with a PhD in German?
A PhD in German is a terminal degree- the highest credential possible to earn in the field. PhDs indicate the highest possible level of mastery, and the process of earning one is long and difficult by design, creating a distinction between accomplished professionals and the most elite experts. In fact, less than 2% of Americans hold a PhD.
For a PhD in German, you'll take graduate level courses and propose, research, and write a theses, original research into an area of your choosing related to Germanic Studies. Because a thesis must represent entirely new research in the field, your topic will be highly specific. Theses in a German PhD program might be related to German philology, literature, or linguistics. A thesis advisor will provide support and guidance throughout the process, and you'll need to defend your findings before an expert panel before your thesis is approved and published. The entire PhD process can take between 2-7 years.
The overwhelming reason that people choose to earn a PhD in German is to gain a tenure-track job as a university professor. These positions are few and far between, since turnover is low and each school only retains a few tenured professors in German (if any). That means competition for these roles is high, and you'll generally need to be willing to take on other roles (such as associate professor or foreign exchange program administrator) until one opens up, and be willing to relocate when one does, if necessary.
What Jobs Can I Get with a Degree in German?
Any foreign language degree can lead to careers helping those who don't have fluency in this language: providing translation and providing foreign language and culture instruction to students. Examples of these types of jobs include:
subtitling/voice-overs
travel services
translation and interpretation
editing
immigration services
teaching German to native English speakers
teaching English to native German speakers
Thanks to their long and unique history, culture, and arts, Germany, Austria, Liechtenstein, and Switzerland are all popular tourist destinations. Visitors from within the EU and around the world come to visit these German-speaking countries, and a great number of these do not speak German. Many of these are Americans; Germany is the second most popular destination in Europe for tourists from the United States. In addition, a full 25% of tourists visiting the US are native German speakers. That means jobs for bilingual professionals with a German degree exist in sectors like:
Museums and cultural centers
Cruises
Air and train travel
Hospitality
Tour guide service
Travel writing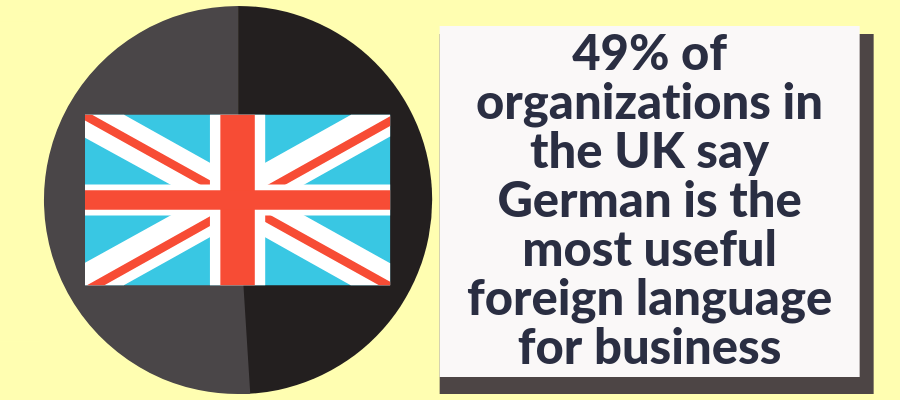 Germany is a small country with a big economy- the world's fourth-largest GDP, right behind the US, China and Japan. It's projected to have a GDP of $4.2 trillion in 2019, far exceeding that of other European countries. Because Germany is the considered the economic powerhouse of the EU, german is widely known as the "money language."
A degree in both German and international business can be an excellent entry into a lucrative career. Jobs in business with a degree in German can include a range of positions in:
Accounting
Management
Marketing
Finance
German isn't only the language of money, it's also the language of literature. That's true historically, of course; famous German-speaking writers like Thomas Mann, Johann Wolfgang von Goethe, Franz Kafka, and Michael Ende have literally changed the way we think. Contemporary German language writers include luminaries like Gunter Grass, Ingeborg Bachmann, and Kathrin Schmidt. German-language authors have taken home the Nobel Prize in Literature thirteen times. This German language bibliophilia isn't just limited to academics. Germany has a 99% literacy rate, and German speakers are voracious readers, and support a thriving literary festival and publication industry. The German-speaking nations rank fifth in terms of annual publication of new books. Incredibly, a full 10% of all the world's paper and digital books are published in the German language, though less than 1% of the world's population speaks German.
Jobs with a degree in German in the books and media field can include:
Translation
Publication
Distribution
Editing
Publicity
German is also the language of the web, or at least one of the most common web languages. After English and Russian, German is the most widely used language on websites. Anyone who has ever used the "translate page" knows that a webpage's original language matters, since web translation software is seriously limited. That means the online prevalence of German makes this an important language for everything from e-commerce to media and culture to social connections.
Jobs in the web writing field can include a number of positions with high flexibility, including fully-remote work. Such positions include:
Content writing
Web design
Translation
Just like French and Italian, German is a language of the arts. Famous classical musicians like Beethoven, Mozart, Bach, Stockhausen, Schubert, and Schumann were German speakers. And while classical German operas and chamber music are certainly well-known, the country is also famous for leading the wave in more current movements like electronica. Likewise, German speaking artists like Albrecht Dürer, Max Ernst, Gustav Klimt, and Caspar David Friedrich shaped art history, but contemporary German and Austrian visual artists are also leading the scene in new mediums like street art and sequential art.
Those who earn a German degree alongside a degree in art history, music, or a relate field can find jobs such as:
Doscent
Gallery management
Festival organization
Music performance
Art or music instruction
Further Reading: