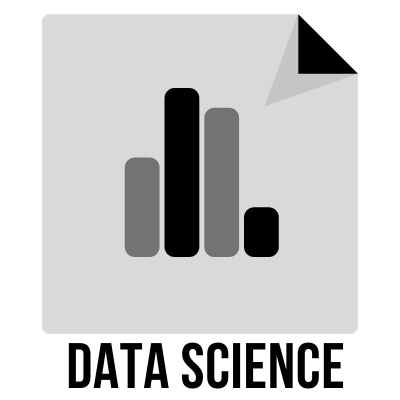 You've probably heard that data is the "new oil." And how about the other over-the-top stat noting that humans have created more data in the last two years than all of human history before that combined. They're both true. But both muddled by the fact that even with data on that scale, data in-and-of-itself is worthless until an individual can interpret it.
This means that there's a world of opportunity for workers highly skilled at organizing and deriving meaning from data. Through the use of programming languages (like Python and R) that are good at manipulating large sets of data, knowledge of statistically-valid analysis tools, and knowledge of how best to visualize data and utilize it for organizational outcome, data scientists are a nexus of organizational intelligence.


What's more is that while you can earn a great living within data science, you can also perform meaningful work. The introduction of "big data" into decision making has reached a variety of fields, many of which aren't just about eaking out every last cent from a business operation. Socially-significant roles within data science perform tasks such as:
Helping pharmaceuticals to prioritize the most impactful research to make new drugs
Helping large school districts to locate overlooked factors in student performance
Helping city planners to look at the effects of climate change on their neighborhoods
And many more
If you feel like you may be interested in a degree (and career) in data science, be sure to look through out guide below. We've answered many of the most common questions asked by students seeking a degree in data science including the following:
Skip To:
Don't see what you're looking for? Check out DegreeQuery's resources related to this data science career and degree guide below.
What Data Science Degrees Are Available?
Courses in data literacy and computing are available at the associates through doctoral levels of study. Most data science-specific degrees are professional degrees at the master's level. Though students at the associates and bachelor's degree levels can take the foundational courses that can lead to a job in data science. Additionally, some students are able to obtain jobs in data science relying 100% on applied skills. That is to say, if you can get good enough at the technical skills required of a data science job, you don't necessarily need a degree in the subject matter.


At the bachelor's level a handful of academic programs in data science are available. Typically these degrees err on the side of foundational computing or business programs with a concentration in data science. Some sample degree types that you may be able to specialize in data science in at the bachelor's level include:
Bachelor's in Computer Science With a Data Science Concentration
Bachelor's in Applied Computing With a Data Science Concentration
And a Bachelor's in Business Administration With a Data Science Concentration
Additionally, some academic programs in business, marketing, and related degrees may offer specializations within "analytics." While this degree track is likelier to prepare students for business analyst job titles than data scientist, they may be used to enter the data science field in some instances.
As with all bachelor's degrees, bachelor's degrees that focus on data science will expect students to complete a range of general education requirements. These requirements are generally put in place to ensure that students have achieved a level of general understanding and a skill set commensurate with what is expected of a graduate. Typical courses required within general education courses at the bachelor's level include:
English language and literature
Data Literacy
A Foreign Language
Calculus or College-Level Math
Natural Science Courses
Social Science Courses
Humanities Courses
Courses in the Arts
Physical Education
Among Others
Once students have worked through some of their general education requirements, they will typically be able to pursue courses within their major. While most undergraduate data science degrees will also focus on another foundational discipline such as computer science or business, students are likely to take some of the following courses that are entirely within the scope of data science as well:
Business Statistics
Bioinformatics
Intro to Machine Learning
Data Visualization
Data Science Tools and Techniques
Computer Vision Algorithms
And More

At the master's level many students are able to jump into coursework that fully focuses on data science. Many students may pursue other (related) academic disciplines as undergraduates, work for several years as data analysts, programmers, or managers, and then return to school for data science.
Master's degrees in data science come in a few different flavors, with the following degree titles seen most regularly:
Master of Science in Data Science
Master of Applied Data Science
Master of Science in Analytics
Master of Business Administration in Analytics
Master of Science in Computer Science – Data Science
Courses commonly offered within master's in data science degree programs include:
Data Science Toolkit
Data Wrangling
Data Warehousing / Data Management
Data Standardization
Data Visualization
Advanced Scripting Languages
Statistics
Applied Statistics
Cloud Computing
Machine Learning
Natural Language Processing
Data Security
Courses in Python and R
Among Others
Concentrations may also be offered within a master's degree program. Typically concentrations allow students to take 3-5 topically-related courses. In the case of data science, these topical clusters may focus on business intelligence, business analytics, machine learning, or natural language processing.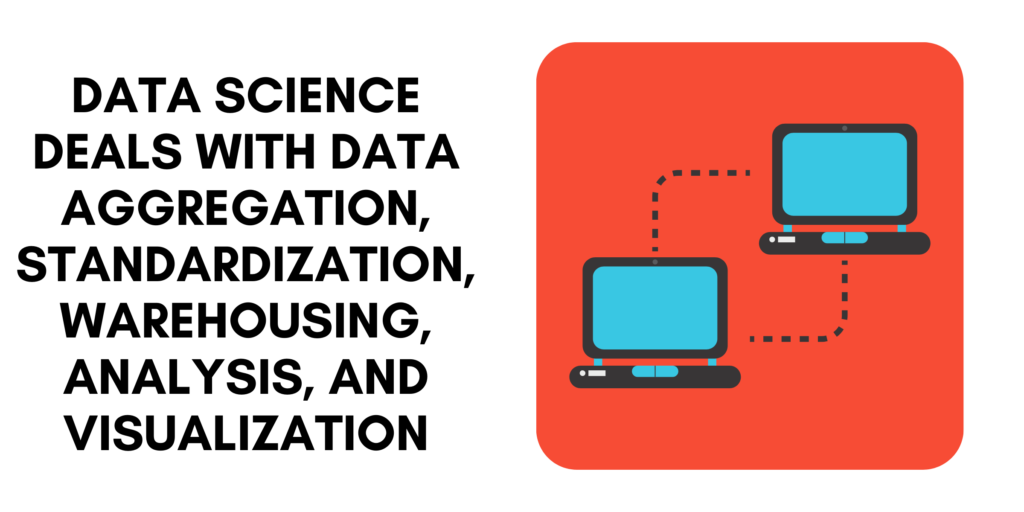 Students within master's programs should also expect to either work on an applied capstone project, or to write a master's thesis. An applied capstone project may be a hands-on project with an employer while a master's thesis is typically a 100+ page argument constructed from interpretations of recent academic literature in your field.
Finally, the doctoral level allows students to focus in a very in-depth manner on one aspect of data science. The two most common degree types through which one can focus on data science at the doctoral level include doctor of philosophy (Ph.D.) programs in computer science or data science.
Ph.D. programs are research doctorates, meaning two primary aims of the course of study include supporting students in performing original research, as well as preparing the next generation of educators and scholars within a discipline. While you by no means have to enter into academia with a Ph.D. in data science, it may open doors to do so if you so wish.
Ph.D. programs will include coursework similar to that of a master's degree as well as a dissertation. Dissertations are several hundred-page documents of original research. By the time you have finished a dissertation, they should be of a high enough quality to be published in a peer reviewed journal (though they do not have to be published). You will in all likelihood continue to take courses that support your research for your dissertation throughout your program. Additionally, if you are attending an in-person program, you will more than likely help instruct courses as a teaching assistant (TA).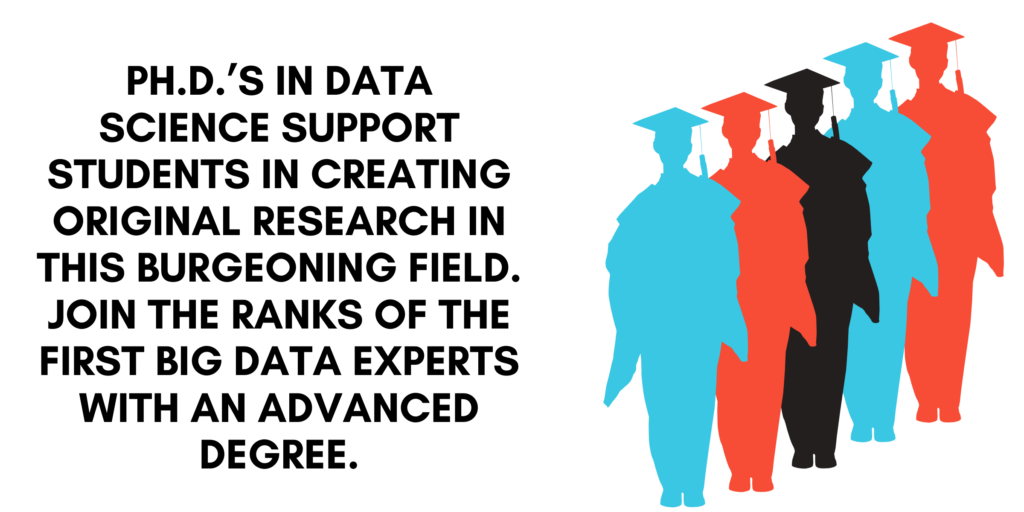 Upon "defending" your dissertation — a process in which a jury of peers question you on your methods and findings — and completing a comprehensive exam on all of the major subjects you have taken in graduate school, you will be awarded a doctorate in data science.
Can I Get a Data Science Degree Online?
It should come as no surprise that data science degrees have fully embraced online degree delivery models. The internet is the true stomping ground of data science, and individuals should be able to learn all that they need to to perform at very high levels within data science online.


With that said, potential students who have never taken any courses online (or who have and did not perform as well as they wished) should make sure to think hard about what delivery method is really right for them.
There are a number of pros and cons of online education. And while degrees delivered online have been a great option for millions of students before you, they aren't the right choice for everyone. Below are some of the most commonly listed trade-offs between online and in-person degrees that we hear about here at DegreeQuery.
Students Love The Following About Online Degrees
Lower Fees
No Need to Quit Your Job or Move
Access to the Same Degree
A Degree Program Built For Adults
Many of the Same Support Services As In-Person Degrees
Students Don't Love the Following About Online Degrees
Difficulty Meeting Classmates or Professors
Need to be More of a Self-Starter
Lack of Access to Networking and On-Campus Events
Lack of Access to as many Support Services
With that said, millions of students have excelled with online degrees and many data science degree programs have fully embraced online delivery. If you think that you may be a good fit for an online program in data science, be sure to inquire today!
How Do I Gain Admissions To a Data Science Degree?
Data science degree programs typically follow the same admissions procedures with other degrees of the same degree levels, with some differentiation with master's-level admissions.
At the bachelor's level, students should be prepared to provide high school transcripts, letters or recommendation, a resume (if applicable), a statement of purpose (and other admissions essays), and a standardized test score from the SAT or ACT (for some programs).
Students typically gain admission to the undergraduate college of a university, the college of business, or the college of computing, depending on which "houses" the bachelor's-level data science program.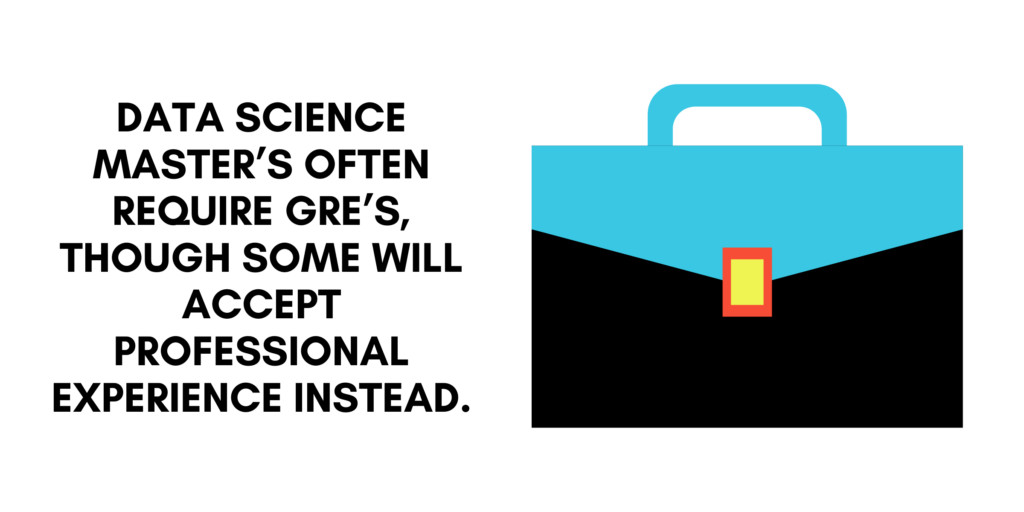 At the master's level, students have two options for gaining entrance to a program. Students may pursue what is referred to as a "terminal master's" which is a master's degree that "ends" before getting into doctoral-level work. Or students may apply directly to Ph.D. programs in computer science or data science. If these students only hold a bachelor's degree, hey will be awarded a master's degree "en route" to a doctoral degree if they successfully pass the requirements.
Master's degrees in data science will typically all require a resume, letters of recommendation, undergraduate transcripts, a statement of purpose, and standardized test scores. If a student is pursuing a degree in computer science or data science, a GRE is typically acceptable. If a student is pursuing an MBA or business program with a data science or analytics focus, a GMAT standardized test is more likely to be required.
At the doctoral level, students should have graduated from their undergraduate course of study (or hold a master's). For those with only an undergraduate degree, competition for admissions will likely be more fierce. And students should potentially think about gaining a few years of work experience to bolster their application if needed.
Required documents for doctoral admissions in data science (or computer science) include a GRE standardized test score result, undergraduate or master's-level transcripts, letters of recommendation, a resume, and a statement of purpose.
Additionally, potential doctoral candidates should ensure that faculty within a Ph.D. program are performing research that is interesting to the applicant. And potential students should reach out to faculty to see if they are willing to mentor them in their own research. Reach out early to ensure you gain a mentorship, which is often an important part of a doctoral degree program.
What Can I Do With a Data Science Degree?
First and foremost, a data science degree can help prepare you to work in data science (duh)! And for many seeking education in this field, this is the end goal. Data science positions have been called the "hottest job" of the 21st century, and boast some of the top salaries for all jobs that often just require a bachelor's or master's-level degree.
Additionally, as a burgeoning data scientist you'll open yourself up to future management positions within data science teams, or over all information systems disciplines within an organization.
As far as data scientist roles are concerned, individuals will likely grow to focus on one aspect of data science, including:
Market Intelligence
Machine Learning / Machine Vision
Competitive Analysis
Product Analysis
News Mentions and Public Relations
Bioinformatics
And So Forth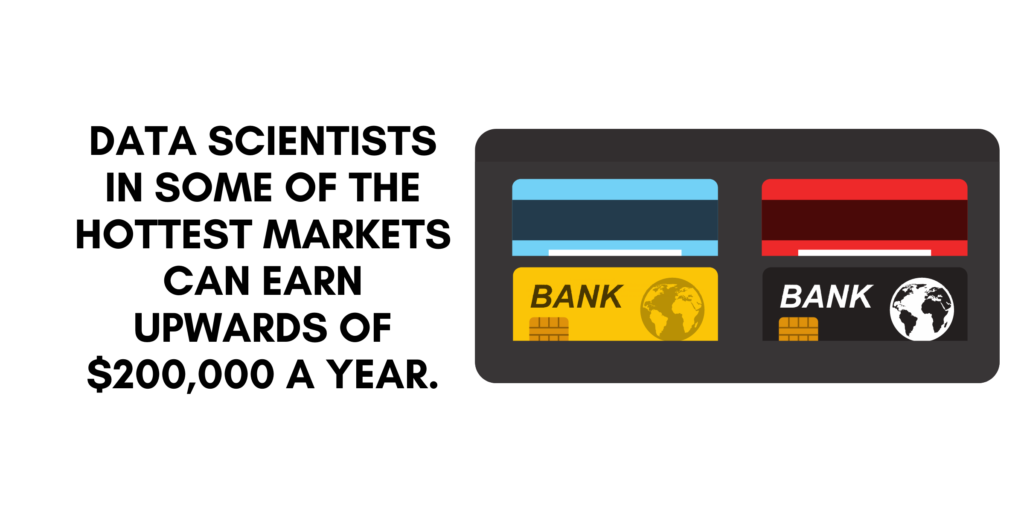 Early in data science careers, individuals will work to establish some collection of the following skills:
Establishing statistically valid analysis methods for organizationally-important data sets
Work with product, sales, marketing, and engineering teams to understand organizational data hold-ups, what data is valuable, and what teams need what data when
Stay up-to-date with key advances in data science, machine learning, and data warehousing and processing
Communicate analysis of data experiments to key decision makers
Fine-tune statistical models and data aggregation, warehousing, and visualization processes
Play integral roles in building data-centered products or services
And much more
Data scientists are in great demand in a wide variety of fields, and potential data science students can make themselves more desirable by concentrating on applied courses within given disciplines.
Some areas in which data scientists are most in-demand include:
Bioinformatics
Health Care
Finance
Ecommerce and Consumer Goods
Technological Products
Machine Learning Research
The average salary of data scientists within the U.S. is presently around $113,000 a year. These number may vary heavily depending on education, years of experience, and location in which one is working.
Don't see what you're looking for? Check out DegreeQuery's resources related to this data science career and degree guide below.