Do you love working with numbers? Are math, computers and the physical and social sciences some of your favorite classes? If so, a major in statistics might appeal to you.
However, you might wonder if a statistics degree is a marketable choice for career preparation. Outsiders to the field may ask you what kind of job you could do with a statistics degree. The answer is, virtually any analytical job in any industry. Statistics jobs don't always confer the job title of "statistician." Instead, they may go by other job titles but draw upon your expertise in analyzing data.
What Can I Do With a Statistics Degree?
If you've been wondering what can you do with a statistics degree, you're in the right place. It's a good idea to explore the variety of statistics major jobs available.
Do All Statistics Majors Become Statisticians?
Is a degree in the field of statistics automatically a statistician degree? Many students assume that statistics majors always go on to become statisticians. You're not exactly off base if you believe this, but the full range of career options is broader.
Many statistics students will pursue jobs with the title "statistician." After all, this job role is clearly linked to their field of study. There are good reasons – including a high median pay rate and a rapid rate of job growth – to become a statistician.
Working Outside the Statistician Job Title
However, statistician roles aren't the only jobs for statistics majors. Prospective students of statistics have a much broader range of job titles to consider. Most jobs that use statistics are analytical job roles of some kind. The reality is that many different industries and job roles require skills in data collection, manipulation and analysis. Earning a degree in statistics can prepare you for any number of roles that require these skills.
Whether you go on to work in a job that includes "statistician" in the title or use your education in a different analytical position, you will find that a statistics degree qualifies you for numerous jobs. In general, these jobs tend to correspond to high rates of pay and faster-than-average rates of career growth.
How Popular Is Statistics as a Major?
Is statistics a good major? While no one major is the right choice for every student, this major has a lot to offer. The number of statistics degrees conferred annually is still not on par with the most popular disciplines, which award tens of thousands of bachelor's degrees each year. Still, it's a solid subject in which colleges grant thousands of degrees annually.
During the 2019 through 2020 school year, 3,262 students earned a bachelor's degree in general statistics, the National Center for Education Statistics reported. Master's degrees in general statistics were even more common, with 3,423 awarded that same academic year. Further, 470 students earned a doctoral-level statistics degree. These figures represent an increase in degrees in statistics from a couple of years earlier. This fact indicates that the field of statistics may be gaining more popularity. Keep in mind, too, that this data reported for the "general statistics" category doesn't include degrees award in applied general statistics, biostatistics, business statistics, educational statistics and research or "other" statistics majors.
If you, too, are contemplating statistics as a potential field of study, you're probably curious about the most common – and best – jobs for stats majors.
RELATED: If I have a Master's in Statistics, what kind of jobs am I looking at in the business world?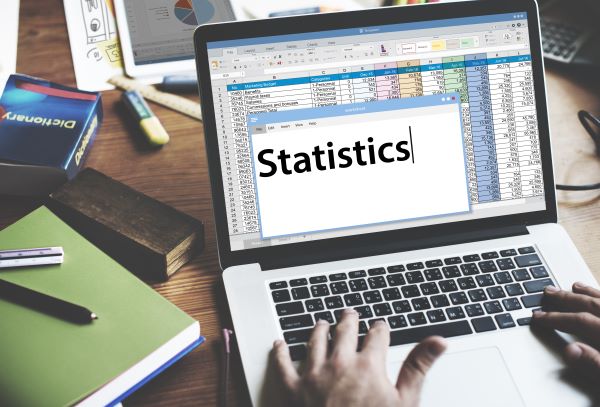 What Is Statistics?
Statistics is the mathematical science discipline that revolves around the collection, analysis and interpretation of quantitative data. While math can be either theoretical or applied, statistics is typically applied.
The Work of a Statistician
What do statisticians do? They gather, organize and make meaning of real numerical data.
Statisticians use their skills to choose the appropriate sampling or survey methodology for collecting data in the lab or through surveys of human respondents. They need to use care in this selection so that the data they acquire is as accurate as possible. They input, organize and arrange that data in ways that are useful. Through calculations known as statistical analyses, statisticians manipulate this data to gain insights about the matter they are studying. A statistician may develop models or otherwise project future quantities or events based on past trends.
The concepts, methods and applications of statistics can be applied to many different fields, including:
Research in the physical and social sciences
Government recordkeeping
Healthcare
Business
Marketing
Finance
These numerous and diverse fields rely on the work of professionals with a background in statistics. This means they are all potential areas of employment that students with a statistics degree should consider.
When Should Aspiring Statisticians Start Thinking About a Field of Expertise?
You should begin thinking about how you want to use your statistics degree early in your education. Many schools encourage statistics students to pursue studies in an additional area of interest. Doing so can help them gain interdisciplinary knowledge that will be useful in their career in statistics. You might meet this expectation through any of the following methods:
A second major
A minor
A formal concentration or academic track within your major
Informally through your electives
The possible fields of study are almost endless. If you want to work in medical research, a background in biology, chemistry or health sciences may be helpful. You are likely to work closely with colleagues in these fields. Aspiring statisticians whose interests align more with human rights and public policymaking may be drawn to social science subjects. Devoting some of your studies to English, writing or communications can help you build strong communication skills that help you better express your findings in any subject area.
RELATED: Top 10 Highest Paying Social Science Jobs
The Statistician Career Path
One of the most obvious statistic major jobs is statistician. About 34,200 workers across the United States were statisticians as of 2021, according to the Bureau of Labor Statistics (BLS).
Statisticians apply the principles and techniques of statistical analysis to understand and interpret numerical data. The work of statisticians helps us identify numerical trends in all kinds of fields and understand phenomena in the life, physical, and social sciences. All of these fields may employ statisticians.
RELATED: What Degree Do I Need to Become a Statistician?
One of the most remarkable aspects of the statistician career, at least as of 2021, is its exceptional rate of job growth. The BLS expected job opportunities for statisticians to grow by a much faster-than-average rate of 31% between 2021 and 2031. Growth at the predicted rate would yield 11,200 new jobs for statisticians.
The Top-Employing Industries for Statisticians
Statisticians work in a surprisingly wide array of industries.
Government Statistician Jobs
The single largest employer of statisticians in 2021 was the federal government. This industry employed 15% of statisticians in America, the BLS reported. Government statisticians often gather and analyze data that is relevant to matters of public policy. These subjects may range from unemployment rates that indicate the health of the economy to pollution rates that reflect impacts on the natural environment.
The Bureau of the Census, part of the federal Department of Commerce, is one of the many examples of government agencies that employ statisticians. The Constitutionally mandated decennial Population and Housing Census is only conducted every 10 years. Still, that doesn't mean the statisticians who work for this department aren't active in the intervening years. Gathering new Census data is just the first step. Statisticians organize it into manageable and logical data sets. Then they can analyze and interpret this data to produce meaningful insights with actionable results, such as:
Updating population maps
Influencing political representation counts
Informing public policy efforts and priorities
As the next Census year approaches, the Bureau of the Census must plan for the upcoming data collection. This work includes researching and planning for effective and efficient data collection practices. The Bureau of the Census also conducts other surveys and studies, including:
The housing- and workforce-oriented American Community Survey (ACS)
The Economic Census
The Census of Governments
Statistician Jobs in R&D
Not far behind the government was the research and development industry – specific to the physical, engineering and life sciences. This industry accounted for 14% of jobs in this occupation in 2021.
One example of a role in this industry is lead statistician in a company that produces therapeutic treatments and therapies. Another example is biostatistician or clinical research statistician at a pharmaceutical company.
Careers for Statisticians Academia
Nearly one in ten statisticians worked for colleges and universities in 2021. This makes academia the third-largest employer of statisticians. When you work for a college – whether a community college, four-year state college or private university – your work will include teaching as well as research.
Healthcare Roles for Statisticians
The healthcare and social assistance industry made up 8 percent of the field in 2021. Statisticians in these roles might work for hospital systems and health-related organizations and associations.
Insurance, Finance and Business
Rounding out the five largest industries of employment for this job is the insurance industry. Another 6% of statisticians worked for insurance carriers in 2021. Statisticians also work for related industries, like finance and business.
Sports Statistician Careers
One popular role within this occupation is sports statistician. Do you love sports and enjoy the mathematical science of statistics? Sports statistics jobs may well represent your dream job.
Sports statisticians apply statistical methods of compiling and analyzing data to sporting events. Baseball, football, basketball and hockey enthusiasts are often drawn to this career path. There are typically two kinds of roles in sports statistician jobs: academic sports statistician and recorder. A recorder is also known as a scorer.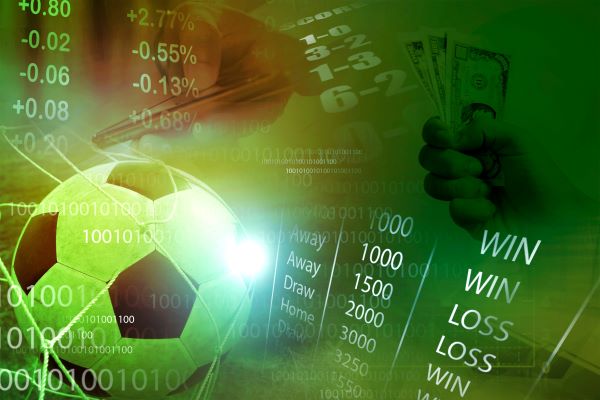 What Do Sports Statisticians Do?
Academic sports statisticians apply statistical methods to analyze data in sports. They look for trends, patterns and other interesting findings that improve the game or our understanding of it.
Calculating batting averages is only the tip of the iceberg that is the statistical analysis of sports. Academic sports statisticians, for example, may be able to shed light on whether fastballs in baseball are getting even faster. Today's sports analytics data trends are even affecting how sports are played. The application of data science to sports has allowed coaches to adjust playing strategies based on the probability of success and even the likelihood of injuries to players.
These statistical analyses are complex. To perform them, academic sports statisticians often need an advanced education.
You don't need such an extensive academic background to be a scorer. Recording sports statisticians watch the game and record scoring and other data in real-time.
The competition for this job, however, is often fierce. Full-time employment opportunities for scorers are hard to come by. Even organizations that do employ these professionals may only need one of them. Of course, if you're going to watch games and report their scores live, your work schedule will revolve around game schedules.
Biostatistician Careers
What else can you do with a career in statistic analysis? When you apply your statistical knowledge to the healthcare field, you might have the job title of biostatistician. These specialized statisticians work in settings like the following, according to the BLS:
Hospitals
Medical clinics
Pharmaceutical companies
RELATED: What Is a Typical Day for a Biostatistician?
What Do Biostatisticians Do?
Biostatisticians conduct a variety of work analyzing data in the fields of biology, healthcare and medicine. The work of biostatisticians helps the medical community understand the causes of and contributing factors to diseases. Applying statistical methods can also reveal the efficacy of new treatment methods. Statistics are critical for life scientists and medical scientists who conduct research in these areas.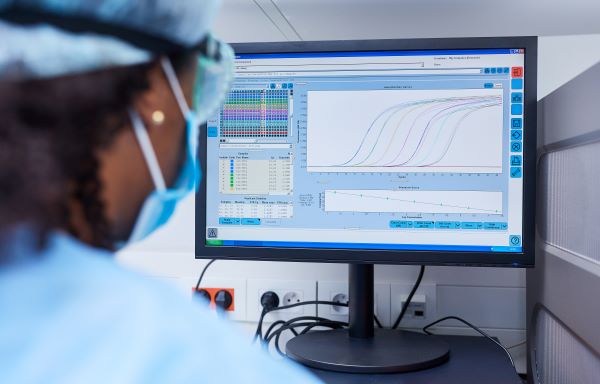 Statisticians earned a median salary of $95,570 in 2021. Those working in research and development roles earned the most. For this industry, the BLS reported a statistician median salary of $114,770. Statisticians working for the federal government reported median earnings of $114,050.
Analytical Career Paths With a Statistics Degree
If none of these statistician career options sounds quite right for you, don't worry. A statistics degree has far more applications beyond statistician. There are many different opportunities for candidates with strong analytical, logical and reasoning skills.
Making a Career Out of Statistical Analysis
Statistics majors are excellent at analyzing data. This skill holds a lot of value in the real world. The answer to the common question "What kind of job should I have with a statistics degree?" depends in part on your interests outside of data science. Are you interested in risk and insurance? What about business operations and analytics? Could you imagine getting excited about applying your skills to the field of finance?
You should also think about the day-to-day activities you would prefer to focus on in potential careers in statistics.
How do you want to spend your time in your career in statistics? Depending on your precise role, some job duties you might have could include:
Develop models
Use computer programming language to run analyses in statistical software programs
Draw upon your communication skills to put your findings into context in visual media, written reports and oral presentations
Some of the analytical job roles you might pursue as a statistics major include actuary, operations research analyst, data analyst or data scientist, quantitative analyst and computer systems analyst.
Actuary Jobs With a Statistics Degree
For statistics majors who want to stay in math-related occupations, one excellent job you can get with your degree is actuary. In this role, you would apply your mathematical skills and your familiarity with statistical analysis software to compute the financial costs of risk, most likely for an insurance company or a bank or finance company.
Actuaries make a six-figure median salary. They also don't need a graduate degree. However, they must pass a grueling series of professional certification exams that can take up to a decade to complete, the BLS reported.
Between 2021 and 2031, job opportunities for actuaries should increase by a much faster than average rate of 21%, or 5,900 new jobs, according to BLS predictions. As of 2021, the median salary for actuaries was $105,900 per year. This median salary puts your earning potential in this career path even higher than that of a statistician.
Operations Research Analyst Jobs for Stats Majors
Operations research analyst is another math-related profession to consider with your statistics degree. Organizations ranging from private corporations to the Department of Defense depend on operations research analysts. Operations research analysts apply their mathematical and statistical skills to evaluate companies' operations. They look for ways to solve problems, streamline processes and make the organization work better.
The 2021 median wage for operations research analysts was somewhat below that of statisticians, at $82,360. However, this larger occupation that employed 104,200 workers as of 2021 offers far more opportunities, the BLS reported. The BLS predicte a 23% rate of job growth between 2021 and 2031. Based on that projection, this profession is likely to keep growing by as many as 24,200 new opportunities.
Data Analyst Roles for Statistics Majors
Beyond the field of mathematics, graduates of statistics degree programs find work in all kinds of industries. Often, they hold job titles such as data analyst or data scientist.
As the job title suggests, data scientists apply the scientific method of inquiry to the examination of data. Methods used in the interdisciplinary field of data science can be applied to many fields. Data scientists may work in business, computer and information technology or other fields.
Quantitative Analyst Jobs With a Degree in Statistics
In the field of finance, you might encounter the role of quantitative analyst. This role involves applying statistical modeling to the markets of business and finance. Quantitative analyst roles are often, though not always, masters in statistics jobs. Employers in this field tend to prefer candidates with a master's degree.
Computer Systems Analyst Jobs With a Statistics Degree
Tech-savvy students may be interested in a computer systems analyst role. These statistics careers require information technology (IT) knowledge as well as analytical skills. Computer systems analysts evaluate computer systems and devise technological solutions to problems.
The demand for these non-statistician roles is high. Experts projected that three million new jobs would open up for candidates who have data science and analytical skills in the year 2020 alone. Many of these statistics-related careers offer high wages.
The Curriculum and Concentration Options of a Statistics Degree
If you've decided that a career in statistics is for you, the next step is to learn more about the degree itself.
Undergraduate Degrees in Statistics
When you major in statistics, you should expect to take classes in subjects like the following:
Probability
Statistical concepts and applications
Inferential statistics
Statistical programming
Analysis plays a big part in studying statistics. The best undergraduate statistics programs often include multiple types of courses in analysis, including:
Multivariate analysis
Regression analysis
Analysis of categorical data
Analysis of forecasting systems
Some coursework is intended to help students learn the specifics of important areas of application. For example, a course in experimental design methods is valuable for statisticians and analysts who work closely with other scientists conducting research. A class on survey sampling in business equips students with the knowledge they need for business applications of statistics.
Statistics majors will also take coursework in other branches of the mathematical sciences. After all, there's a reason a statistician may also be called a mathematical statistician. Statistics is closely related to math, and a mathematical statistician has competence in other areas of math as well as extensive knowledge of the principles and methods of statistical analysis.
Common math coursework includes:
Linear algebra
Abstract algebra
Differential equations
Topology
RELATED: What Is the Benefit of a Mathematics Degree Vs a Statistics Degree?
At the undergraduate level, colleges may offer either (or both) Bachelor of Arts and Bachelor of Science degrees in statistics. According to U.S. News & World Report, Bachelor of Arts programs tend to emphasize the practical application of statistical methods more. Bachelor of Science programs in statistics focus more on the intensive math coursework that prepares students for graduate study in this field. As such, aspiring graduate students may be better off choosing a science-oriented bachelor's degree program.
Should You Earn a Master's Degree in Statistics?
In many industries, a bachelor's degree is sufficient to get started in an entry-level role as an analyst. Suppose, however, that you want to rise to the level of senior statistician. Perhaps you want to work in academia at a state university or private college. Maybe you want to develop more specialized skills, like a stronger background in survey methodology or a deeper understanding of machine learning and other computer tools and applications. It might be in your best interests to consider advancing your education. Many statisticians have a master's degree or higher. It's not unusual to see a senior statistician working in private industry or in academia to hold a doctorate.
Related Resources:
Top 10 Paying Jobs That Involve Math
What Are the Highest Paying Jobs With a Degree in Statistics?
What Is the Difference Between a Mathematics Degree and a Statistics Degree?
How Do I Prepare for a Statistics Degree While in High School?
If I Have a Master's in Statistics, What Kind of Jobs Am I Looking at in the Business World?
What Are Some of the Subtopics I Will Study in a Master's Program for Statistics?
What Kind of Things Should I Look for in a Graduate Program in Statistics?
What Is the Difference Between Biostatistics and Statistics?
How Much Writing Will I Do in a Job as a Biostatistician?
Will I Need a Ph.D. in Biostatistics to Be Able to Get a Good Job in the Field?
How Many Jobs Are Available in Finance?
What Degree Do I Need to Be a Policy Analyst?
For Further Reading:
What Are the 5 Best Careers in Environmental Science?