Working as a commercial airline pilot may seem like a dream career. Who – other than, perhaps, those with a fear of heights – wouldn't love to take to the skies, swoop through puffs of clouds, and enjoy a bird's-eye view as you travel the world? Aspiring pilots, especially airline pilots, must be willing to work their way up through levels of licensure if they want to fly for a living.
For a prospective pilot, it's important to know that this isn't a career you can just jump into quickly. Although they don't necessarily need a college degree, most commercial pilots, airline pilots, copilots and flight engineers have some level of education beyond a high school diploma. Additionally, to become an airline pilot, you need to complete flight training under the guidance of a certified flight instructor that includes a minimum required number of flying hours so that you can acquire a pilot license.
What Prospective Pilots Need to Know About a Career in the Aviation Industry
If you long to be a pilot, one of the first things you need to know is the difference between commercial pilot and airline pilot roles. Although the terms "airline pilots" and "commercial pilots" may sound interchangeable, they actually denote different positions, employers, and responsibilities. Your prospective employers and the requirements you are likely to face to become a pilot depend on what kind of pilot you want to be. It takes a more advanced certification and, often, a higher level of education to become an airline pilot than other types of pilot.
Airline Pilots
What exactly is an airline pilot? In most areas, airline pilots are the most visible type of professional pilot career. This job encompasses pilot roles for the airline industry that primarily transports human passengers – as opposed to cargo – on a predetermined schedule, according to the United States Bureau of Labor Statistics (BLS).
Airline pilots are the types of pilots most civilians are most familiar with: the ones that fly for regional airlines. If you have ever flown on one of the major airlines on a flight that was scheduled to leave the airport at a specific time, airline pilots would have been the kind of pilots in the cockpit. When people say that they want to become a pilot in a professional sense, what they usually mean is that they want to become an airline pilot. An airplane pilot is part of the flight crew and serves as the flight crew leader.
You can think of major airline pilot roles as sort of the "big leagues" of aviation. Aspiring airline pilots are expected to have some professional piloting experience already, not to mention their airline transport pilot license. The minimum requirements for a regional airline pilot job are usually more stringent than for non-airline commercial pilot jobs. For example, to become an airline pilot, you're likely to need a bachelor's degree, the Bureau of Labor Statistics reported. Of course, you need a pilot's license to work as a regional airline pilot. The license required to become an airline pilot is the highest level of pilot license awarded by the FAA.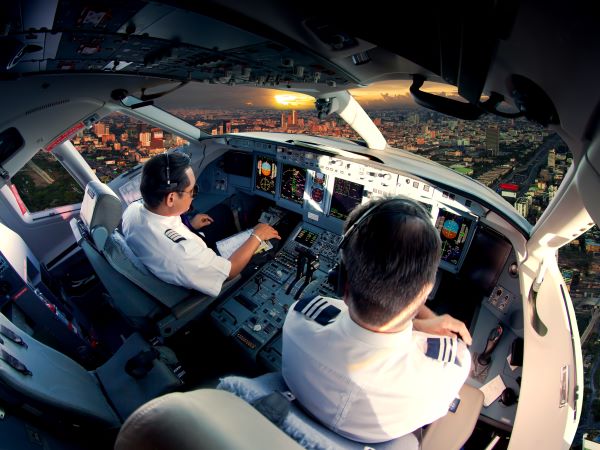 Why do you need so much more in terms of credentials to become an airline pilot compared to other pilots? Flying aircraft for major airlines can be a stressful job. The fate of dozens – potentially, hundreds – of passengers are in airline pilots' hands during each flight, so these pilots must have plenty of experience to make sure things go smoothly. Airline pilots transport an average of 2,900,000 passengers to and from airports in the United States every day, according to the FAA. The tens of thousands of daily scheduled flights require skilled, well-educated and well-practiced airline pilots, as well as steadfast support from flight crews.
Airline pilot is generally the most lucrative role in air transportation, with a six-figure median annual wage. Airline pilots, along with copilots and flight engineers, reported earning a median annual wage of $160,970 as of 2020, according to the BLS.
Commercial Pilots
The vast majority of airline pilots don't start out their professional pilot career as airline pilots. Instead, an aspiring airline pilot must work their way up to this high-pressure role, often starting in a role as a commercial pilot.
Commercial pilots are still responsible for flying aircraft, and they still have to complete flight training programs to acquire a commercial pilot's license. Instead of leading scheduled flights of large groups of passengers, they undertake what the BLS refers to as "unscheduled flight activities." These activities may range from taking a small number of passengers on private charter flights and aerial tours of an area to sowing seeds and applying fertilizers and pesticides to crops by plane. Commercial pilots may also perform nonflight duties that an airline pilot typically won't do, such as loading luggage onto the plane and booking requests for charter flights, according to the BLS.
The FAA license needed to become a commercial pilot – fittingly referred to as a commercial pilot license – is easier to get than an airline pilot license. In fact, earning a commercial pilot license is a prerequisite to earning a license as an airline pilot.
For commercial pilots, the BLS reported a median annual salary of $93,300 in 2020. Although the salary reported for commercial pilots was well below that of airline pilots, it's still more than double the $41,950 median salary the BLS reported for all occupations during the same year.
What Is a Commercial Airline Pilot?
Given the differences between an airline pilot and a commercial pilot, the commonly used phrase "commercial airline pilot" can quickly get confusing. Officially, the licenses are Commerical Pilot, for the pilot job described above as a commercial pilot, and Airline Transport Pilot, for the career described as an airline pilot.
The phrase commercial airline pilot means, simply, an airline pilot who works for the commercial airline industry, or for regional airlines. This classification pretty much applies to airline pilots in general. Further, the word "commercial" used in this sense means that the pilot flies aircraft for monetary or financial gain, as a professional rather than a hobbyist. Commercial airliners require an Airline Transport Pilot license; a Commercial Pilot license won't suffice.
Agricultural Pilots
Agricultural pilots are a type of commercial pilot that operates aircraft for agricultural purposes like crop dusting. Planes that are used to plant seeds from the skies or apply chemicals to help crops grow are usually either built for agricultural purposes or converted to this purpose with the use of spraying systems and pumps.
Corporate Pilots
Another type of commercial pilot is a corporate pilot. These pilots transport passengers in small numbers – most commonly, high-level executives – for work purposes on private flights rather than scheduled flights on a regional airline where there are other passengers onboard.
Military Pilots
Aircraft play crucial roles in the military. The functions of a military pilot may include not only engaging in offensive attacks but also patrolling areas to monitor situations, bringing troops and supplies to their destinations and performing search and rescue functions.
A civilian pilot will often get their start as a military pilot and transition to the world of civilian aviation careers after they are discharged.
Helicopter Pilots
Pilots don't only operate airplanes. The term also applies to operators of other types of aircraft, including helicopters.
Flying a helicopter is different from, and widely considered more difficult than, flying an airplane. Helicopter pilots may fly their craft for a variety of reasons, ranging from providing tourism experiences to ferrying severely ill or injured patients to a distant hospital.
Levels of Command in the Pilot Career
Did you know that even civilian airline pilots follow a chain of command? Generally, the primary airline pilot serves as captain or "pilot in command," leading the flight crew, according to the BLS. Next highest-ranked is the copilot, who, in addition to being second in command of the aircraft, is known as the first officer and who works with the pilot performing flight duties.
There is also a role called flight engineer. This role as the third pilot is most commonly found on older aircraft, since the technology used on new planes makes this third pilot unnecessary.
What Do You Need to Become a Pilot?
Working in the field of air transportation, particularly as a pilot, brings a lot of challenges. To meet these challenges, you need significant aptitude in using control equipment and systems, continuous operations monitoring, taking corrective actions when required and thinking critically about safe and feasible solutions to potential problems that could put large amounts of people at risk.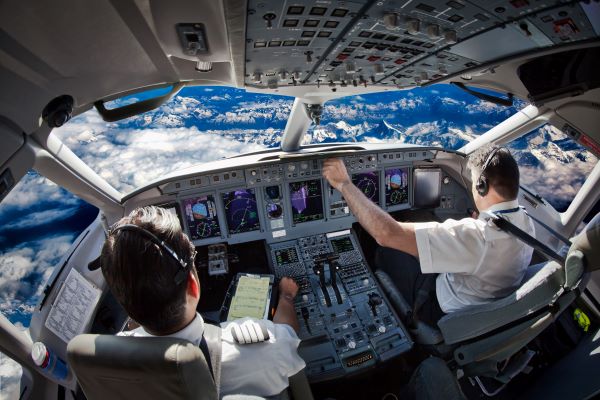 Some of the requirements for becoming a pilot include:
Flight experience gained through an approved flight school or program
The appropriate pilot license for the pilot role you aspire to attain
An understanding of how airplanes work and how to safely fly them
Strong situational awareness, which refers to your ability to observe and be aware of your surroundings, including weather and flying conditions
Higher education beyond a high school diploma
Pilot is a highly regulated occupation. As such, the minimum levels of flight experience and pilot certification needed for a particular role are established by law.
However, different prospective employers might look for slightly different qualifications in other areas, depending on the pilot role you're seeking and their unique needs. For example, bachelor's degrees are common among airline pilots, even though the FAA doesn't legally require airline pilots to have a degree. Many pilots who want to work in a role in aviation administration or management decide to pursue master's degrees in or adjacent to aviation science or aviation safety.
What Degree Do You Need to Be a Pilot?
Technically, pilots in general don't need a college degree. As long as you go through flight training and FAA certification, you could become a pilot with only a high school diploma. However, not having a degree can hold you back, particularly in roles like airline pilot. You also generally need some level of college degree to work as an air traffic controller or in aeronautical engineering.
RELATED: How to Become an Air Traffic Controller: What Degree Do I Need?
For both commercial pilots and airline pilots, a bachelor's degree is the most commonly reported level of education, according to O*NET. More than 60 percent of airline pilots, copilots and flight engineers had a bachelor's degree as of 2022. Among commercial pilots, 28 percent of the workforce had a bachelor's degree, and 25 percent had some sort of postsecondary certificate.
A bachelor's degree in aviation or a related program is a great educational path because it is versatile. The air transportation industry is huge and encompasses many roles, from flying the plane as a pilot to building and maintaining planes as an engineer and even coordinating regional airlines flights and managing airports in administration roles. Earning a bachelor's degree in a relevant field can help you become a pilot and so much more, especially if you select a program that pairs academic instruction with flight training by a certified flight instructor in preparation for licensure.
Bachelor's Degrees for Aspiring Pilots
A bachelor's degree is a degree offered at the undergraduate level, usually at a four-year college or university. Some students begin their studies by earning an associate's degree at a community college or junior college before transferring to a four-year institution.
RELATED: Associate Degrees: Bang for Your Education Buck
Typically, bachelor's degree programs consist of at least 120 credits of college coursework. Students in aviation programs typically complete courses in both general education classes in a variety of subjects and introductory through intermediate or advanced coursework in the student's chosen major.
Expect to spend at least four years earning a bachelor's degree to become a pilot unless you have prior college credits or other competencies that can count toward your degree.
Other Education Options for a Pilot Career
A postsecondary certificate program is a shorter and more focused education at the undergraduate level. Students pursuing a postsecondary certificate in aviation may complete their coursework in just one to two years, often taking only a couple of courses at a time.
Aviation and other relevant programs of study are also offered at other levels of education, including associate's degrees, master's degrees and graduate certificates.
The Best Bachelor's Degree for an Airline Pilot or Commercial Pilot
Although airlines in the scheduled air transportation industry often prefer to hire pilots with a degree, there isn't one specific undergraduate degree program needed to prepare for this career path. Naturally, many aspiring airline pilots choose a major related to their intended career, but other pilots may opt for a major that isn't directly related to a flight career.
Prospective pilots' most relevant options for undergraduate study include majors like aviation, aeronautical science, aerospace engineering and air traffic management. Pilots may also come to the field from other academic backgrounds, including computer science degrees, business degrees and degrees in the sciences.
Aviation
Many higher education institutions offer aviation education options today. In fact, students interested in earning a college degree that will prepare them to become an airplane pilot can choose from any number of undergraduate programs. The coursework that makes up an aviation degree program learn how to operate aircraft systems and much more.
RELATED: What Can I Do With an Aviation Degree? 
An undergraduate program in the field of aviation may include practical pilot training in its curriculum, covering instruction in ground training, the preparation of flight plans and other experiential flight skills required to become a pilot. This degree could also prepare you to be part of the flight crew or to work in the aviation industry in another capacity.
Aviation Technology
The focus on technology, over purely preparation to become an airline pilot, makes this program appealing for those interested in aircraft maintenance and in working as part of a flight crew. In a degree program in aviation technology, a significant portion of your curriculum will involve studies in aircraft maintenance.
Aviation Management
Aviation management is the area of aviation that focuses on the business and leadership aspects of the airline industry. After all, airline pilots need strong technical skills, but they also have to lead the flight crew and, ultimately, provide passengers with an experience that constitutes good customer service. Coursework may include aviation law, airport design, aviation planning, air transportation management, airport management and aviation operations.
Aviation Meteorology
Aviation meteorology is the intersection of the aviation industry and meteorology, the scientific study of weather phenomena and forecasting. A student seeking a college degree in aviation meteorology might study the physics of the atmosphere, atmospheric dynamics, synoptic meteorology, remote sensing for meteorology and aeronautics.
Aeronautical Science
Majoring in aeronautical science doesn't just prepare you to become an airline pilot. This field of study would allow you to learn how to construct entire aircraft. As an undergraduate studying aeronautical science, you can expect to take classes in pilot operations, aerodynamics, flight physiology, aircraft performance, aircraft engines, aircraft systems and components, jet transport systems, electric flight management systems and more.
Aerospace Engineering
If you're as interested in the technical and scientific principles of how an airplane flies are you are in the act of operating an aircraft, consider pursuing aerospace engineering as a major. The focus of an aerospace engineering degree isn't directly on flying but instead on the engineering design skills, based on scientific and mathematical principles, that are applied to the development of aircraft and spacecraft.
In a full aerospace engineering degree, students take classes in aerodynamics, flight dynamics, aerospace structures, aerospace systems, aerospace propulsion, orbital mechanics and aerospace design.
Air Traffic Management
Some students hoping to become an airline pilot choose to pursue air traffic management degrees. These degree programs prepare students to work not as pilots but as air traffic controllers.
The specialized career path of air traffic controllers doesn't directly involve flying, since these workers coordinate the comings and goings of planes from the ground. However, choosing a college degree in air traffic management will give you plenty of insight into the aviation industry and how major airlines operate, while you can complete the formal flight instruction that prepares you to become a pilot outside of your college education. You usually need a college degree if you want to work as an air traffic controller.
Flight Training Programs and FAA Certificates
Although having a college degree is important, what really makes or breaks your ability to become a pilot is your flight training. Pilots in the United States must undergo flight training and earn a series of pilot licenses or certificates from the Federal Aviation Administration (FAA) in order to qualify to work as a professional pilot.
Generally, for each level of pilot license they pursue, pilots must complete flight training in certain aviation topics and meet the required number of flying hours, as well as passing both a written test that measures your knowledge of what pilots should do and a practical test in which you put that knowledge to use in the cockpit. Candidates can pursue the different levels of certificates involved in earning their pilot license in the following order.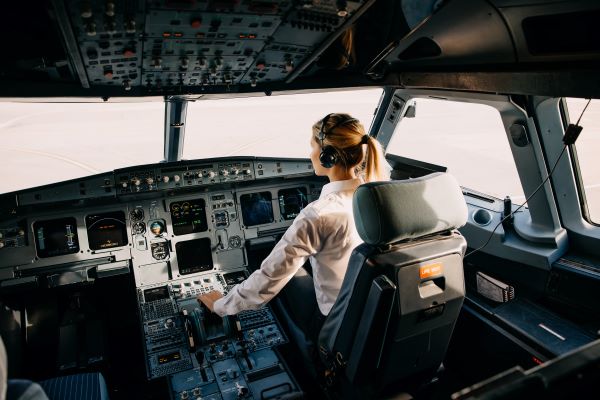 Student Pilot Certificate
The first step to become a pilot is working toward a student pilot certificate. Student pilots can begin to take flying lessons, but they don't need to complete a minimum number of flying hours prior to applying for the student pilot license. However, they must be able to read and speak English to get their student pilot certificate. To get a student pilot certificate, you generally must be at least 16 years old,
To get a student pilot certificate, you must submit a printed FAA form 8710-1 or an application on the Integrated Airman Certification and Rating Application (IACRA) website to an authorized individual with the Airmen Certification Branch. Certificated flight instructors count as authorized individuals for this purpose, as do FAA-designated pilot examiners, Flight Standards District Offices (FSDOs) and airmen certification representatives from Part 141 flight schools.
Private Pilot Certificate
Under Part 61 of the federal aviation regulations, it takes a minimum of 40 hours of flight time to qualify for a private pilot license. At least 20 hours of the training required for a private pilot license must be given by a certified flight instructor. To qualify for a private pilot license, at least 10 hours must be solo flight training.
A private pilot license includes several limitations that a commercial pilot license does not. For example, with a private pilot license, you're not authorized to transport passengers or property for pay or other forms of compensation, as a commercial airline pilot is. However, in certain, limited instances, you could use your private pilot license to be hired as the pilot in command of a plane or aircraft if the flight is considered "only incidental" to the business.
Commercial Pilot Certificate
To become licensed as a commercial pilot, you need 250 flying hours. For full commercial pilot certification, these flight training hours include at least 100 hours training in powered aircraft, a minimum of 50 hours of which must have been in an airplane. During at least 100 of the 250 total hours required for a commercial pilot's license, the person seeking a license must have served as the pilot-in-command.
Only once you have completed these flight hours and earned your license can you become a commercial pilot. Commercial pilot certification isn't easy to get, but the opportunities are worth the work, since most of the ways you can earn an income as a professional pilot require a commercial license.
Airline Transport Pilot Certificate
The license needed to become an airline pilot is the Airline Transport Pilot certificate.
To become an airline pilot, you need a minimum of 1,500 total hours of flight experience. At least 500 of these hours must have been cross-country flight time, and 100 hours must have been completed at night. A minimum of 50 hours must have been completed in the class of airplane for which the pilot is seeking a rating. At least 250 of these hours must have involved serving as pilot-in-command, and at least 75 hours must have constituted instrument flight time.
In addition to these levels of pilot license, the FAA also awards ratings, including the instrument rating and multi-engine rating.
Only once you finish acquiring the credentials listed above can you expect to get hired by one of the regional airlines to a role like flight engineer, copilot or pilot.
Starting Your Flight School Search
Where can a prospective airline pilot find the flight training they need to become an airline pilot?
The military: Many air transportation professionals start their careers serving in the military. While the U.S. Air Force obviously has a need for skilled pilots, so do other branches of the military, including the U.S. Army, the U.S. Navy, the U.S. Coast Guard and the U.S. Marine Corps.
Civilian flight school: Besides enlisting in a branch of the United States military, your best option is to seek out a civilian flight school certified by the FAA.
Not all flight schools award degrees, but some programs offered through colleges and universities can facilitate both an academic education and flight training. Having an accredited degree will make it easier for you to become a pilot, especially if you hope to work for one of the major airlines.
How Do You Find an FAA-Approved Flight School?
Fortunately, there are hundreds of FAA-approved schools to choose from for students who want to become a pilot. The chances are good that students can find a flight school that fits their needs and goals. To check whether a school's flight program is approved or search approved schools by state, check out the FAA Flight School Search tool.
Narrowing down your flight school search to FAA-approved schools is a good first step toward a career in air transportation, but you still have decisions to make. If you want to work toward a college degree in conjunction with your flight training, it may make the most sense to choose a school that offers a two-year or four-year degree program – because not all FAA-approved flight schools confer formal college degrees.
Factors to Consider in Choosing a Flight School
Throughout your flight school search, be aware that the requirements and outcomes for these different aviation degree programs can vary considerably. Some aviation programs award a college degree but may not fulfill all of the flight training needed for an FAA-issued pilot license, while other college flight school programs require students to have already completed some flight instruction before they enroll.
Another factor to consider when choosing a program for becoming a pilot is location. In a transportation-focused career role like pilot, your location has a major impact on your job – especially for commercial pilots, who may not travel as far on a regular basis as airline pilots do. The FAA urges candidates to choose a general location in which to search for the flight school that's the right fit for them.
Like college, the flight training needed to become an airline pilot can be completed on a full-time or part-time basis. How much of your time you're willing and able to devote to flight school is another factor to consider as you plan your pilot career path.
Related Resources 
What Can I Do With an Aviation Degree?
What Degree Do I Need to Become an Air Traffic Controller?
What Degree Do I Need to Become an Aircraft Mechanic?
The 20 Best Online Master's in Aeronautical and Manufacturing Engineering Degrees