When you are good with numbers, pursuing a college degree in math may seem like an obvious choice. What you might not know yet is how important other skills, like computer skills, are for success in math occupations. As you work toward finishing your bachelor's degree in mathematics, don't be surprised to find that you need to take at least one computer class – or that you are encouraged to take several courses in computer science and programming.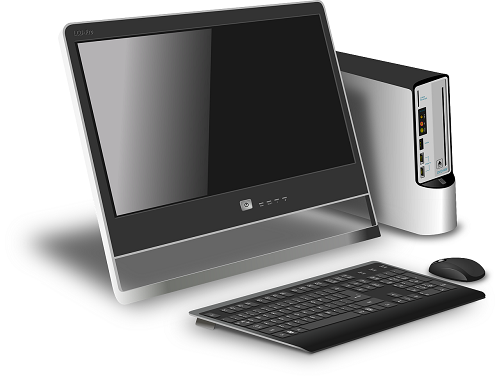 IMAGE SOURCE: Pixabay, public domain
The Connection Between Computer Science and Math
does not necessarily seem like a lot of overlap between core courses in math disciplines and those in computer science or programming. The major courses you take, such as calculus, linear algebra, abstract algebra, differential equations and geometry, might appear to have very little to do with writing the code for computer programs. However, the connection between computer science and mathematics is a deep one that has been around as long as the discipline of computer science has. At many colleges and universities, today's computer science departments originally started as an offshoot of established mathematics departments. In fact, that's the reason many colleges and universities still combine mathematics and computer science into a single department.
How important are computer science and programming classes for success in a math degree or career? Is being technologically literate, or able to complete basic computer tasks, sufficient? According to experts in mathematics, the answer is no. The Chronicle of Higher Education goes so far as to suggest that "computing is an essential facet of any legitimate Mathematics degree program," and that the earlier math professionals are exposed to computing, the better. When possible, math majors should study computer programming and learn coding languages such as R, Python or Java, as well as how to use mathematical software applications for analyzing data, solving problems and modeling solutions.
These computation skills can obviously be helpful when it comes to using technological tools such as database and statistical modeling and simulation software. However, having a solid understanding of computer science, especially as it relates to the theory of computation and computer programming, is useful in its own right. The similarities between computing and non-technological reasoning for the purposes of solving mathematical issues and proving theorems are considerable, according to The Chronicle of Higher Education.
Just as math majors find they need to take computer programming classes, students majoring in computer science are often surprised at how math-intensive their curriculum is.
Computer Science Coursework for a Math Major
As a math major, you might expect to start building your computer science foundation with an introductory class such as Core Concepts in Computer Science. Mathematics majors can also benefit from taking courses that cover mathematical algorithms, such as Applied Graph Theory. Learning about data encryption through a course in Cryptography can also be valuable, as can the study of Coding Theory.
Some undergraduate math degree programs require students to complete a concentration or sequence of courses in a career-related subject adjacent to the study of mathematics. Students who choose a concentration such as mathematical computing may take classes like Computer Science I and II, Data Structures, Programming, and Introduction to Scientific Computing.
If you choose to pursue a minor in computer science, you may need to take courses beyond what is required for the concentration, such as Computers and Society.
How Math Occupations Use Computers
It is difficult to think of any math-related career in which computer science knowledge would not be valuable. Mathematicians use database analysis software for a great deal of their work, the United States Bureau of Labor Statistics (BLS) reported. Operations research analysts, too, employ computers in their work on data analysis and simulation. Computers play a role in "most actuarial work," including compiling data, predicting the likelihood of an event and calculating the financial risks, according to the BLS.
Taking plenty of computer science and programming courses during college doesn't only increase your skills using database software and enhance your mathematical reasoning abilities. It can also impress prospective employers. The BLS reported that aspiring mathematicians who have programming knowledge have the best job outlook.
Today's math occupations, as well as related roles in business, finance and physical science, require workers to be computer-savvy in addition to knowing the theories and equations of mathematical sciences.
Related Resources: 
What Classes Will I Have to Take for a Degree in Math?
Are There Any Science Classes Required for a Degree in Math? 
Are There Any Business Classes Required for a Degree in Math?