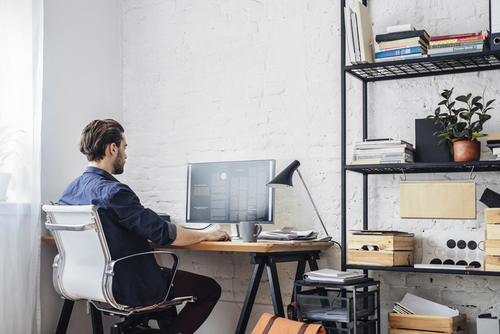 The answer to how often companies allow their web developers to work from home is that the practice is gaining steam. Most job opportunities are highly dependent on location, which is a problem if someone likes where they live but the best job opportunities are elsewhere. Fortunately, the remote work revolution is in full swing thanks to a combination of technology, employers seeing its benefits and employees wanting to work from the comfort of their own homes. Because web design is an occupation that easily allows remote work, employees will be allowed to work remotely in many cases.
How Common are Remote Web Design Jobs?
Web design is a career that lends itself very well to remote work. Web designers spend much of their time alone, working on their assignments and projects, with varying frequency of communication needed for teams. Because they work on websites, almost all of their work is done online and on computers. For these reasons, employers are often more willing to allow web developers to work remotely than other employees. Due to the nature of these services and how spontaneously they can be needed, most companies outsource web design work to design firms or freelancers anyway. This can make it difficult to find full-time work as a web developer at a company, but opens up a lot of opportunities to work at design firms and as a freelancer.
Job Outlook for Web Designers
Web designers, or developers as they are called at the Bureau of Labor Statistics, are expected to have significant job opportunities going into the future. This demand is likely to impact how often companies allow their web developers to work from home. The demand will be driven by the need for organizations of all sizes and functions to have an attractive, functioning website. This is especially true as more businesses and customers turn to eCommerce and mobile device usage. Websites of the future will need to be tailored for mobile use considering the sheer amount of users who now access web pages from mobile devices. This will increase the need for skilled web developers to not only design a site initially but also to convert existing sites to be mobile-friendly.
Landing a Remote Position
Getting a remote job is not much different than getting a traditional job except the competition is likely to be stiffer because many more people can vie for the position. Job seekers will need to look for job postings that state the position is remote or be prepared to attempt to negotiate remote work options with the employer. It is best to frequent job boards that cater specifically to remote work, such as FlexJobs, Remote.co and others. Upon finding a listing that seems like a good opportunity, start preparing to apply. An individual should tailor their resume and write a custom cover letter for each job application. For remote jobs, interviews are usually done over the phone or over video chat services like Skype. Depending on the job and whether it is fully or partially remote, an in-person interview at the company may be required as well.
Convincing an Employer to Allow Remote Work
Even in the era where working from home occasionally or even all of the time is common, some employers may be hesitant to allow an employee to do it. They may have legitimate concerns about productivity, communication and collaboration. If this is the case, be prepared to sit down with a supervisor to explain why allowing remote work is beneficial and to assuage their concerns. Some of the biggest pros to remote work include employee happiness and cost savings. Be prepared to make concessions to ultimately arrive at an arrangement that works for everyone. According to FlexJobs, a good compromise is to propose a test period for remote work. Gather data during that time, such as what tasks were worked on and for how long. This information can convince an employer to allow remote work.
Working Remotely as a Web Designer
Once someone manages to land a remote job as a web developer, they must be prepared to work effectively from a remote location, as noted by Forbes. This will include setting up a home office that is secluded and quiet enough in which to work. Remote web designers will need to remain in contact with other team members such as through traditional e-mail and chat apps such as Slack. Time management will be essential to productivity and remote web designers will need all the necessary software tools installed and accessible at home. Finally, they will need to be open with their families about their work and likely establish regular working hours where they are not to be disturbed.
Freelancing or Building a Small Business as a Web Designer
For web designers who have been unable to land a traditional position or would prefer to work for themselves, this is a good alternative. This option gives web designers much more freedom. They get to be their own boss and set their own hours, working directly with their clients and keeping all of the profits after expenses. The downside is that it doesn't guarantee a steady paycheck, and freelancers must handle all other aspects of running a business such as customer relations, accounting, client invoicing, marketing and more. Even for a small freelance operation, the business must pay all required taxes and be registered both with the state and the federal Internal Revenue Service. Freelance web designers need to build a strong brand within a niche of their choice and grow a client base to have their best chance of being successful.
Remote work is generally quite common for web developers, so finding an employer who will allow it is not likely to be especially difficult. Web designers have a few options for the remote work they can pursue from where they currently live. Before deciding on this position, it is important to understand how often companies allow their web developers to work from home.
Related Resources:
What Can I Do with a Graphic Design Degree?
Am I Likely to Be Hired as a Graphic Designer Without a Degree if My Portfolio is Good?
What is The Best Way to Prepare For Applying To Undergraduate Programs in Graphic Design?
What Kind of Things Will I Learn in a Bachelor Program of Graphic Design?
Do I Need to Provide a Portfolio of My Work When Applying To a Bachelor Program in Graphic Design?
Am I More Likely to Find Independent Contract Work or a Full-Time Position as a Graphic Designer?
What is The Difference Between a Web Developer and a Graphic Designer?
Are There Any Certifications Available for Graphic Design?
Is Actual Drawing Related At All to Graphic Design?
What Will a Person Getting a Bachelor's Degree in Game Design Typically Learn in Their Classes?