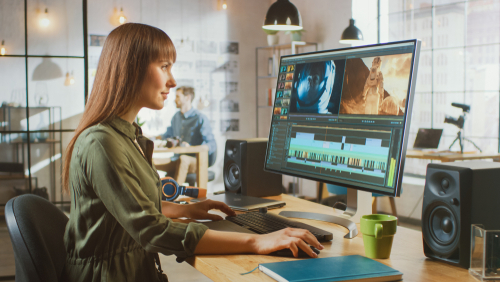 Once upon a time, designers studied graphic design. This course of study allowed them to create print documents, such as newspapers, books and brochures. However, the digital age changed the designer's required skill sets, and along with them, the university degree requirements that trained these aspiring designers.
These days, multimedia designers still study graphic design, which makes them good candidates for an art degree and art school. However, due to the complex nature of multimedia design, these students have plenty of other degree options as well. This article looks at multimedia design in general, as well as providing a look at the different types of degrees that will get the future designer a job.
What Is Multimedia Design?
Multimedia design is like graphic design 2.0. While many of the jobs that multimedia designers do involve graphic design tasks, like designing documents and webpages, it also involves so much more. According to an article on the Freemont College website, a multimedia designer also has skills in web development, video or audio production and film. Additionally, some multimedia designers learn animation programs. Finally, this designer must also have a grasp on content creation.
How or When It's Used
Most businesses now use multimedia design in their collateral. However, multimedia design is a broad topic, and the nature of the designer's job can change from organization to organization. For example, some companies' marketing materials still require printed documents, which means that the designer hired to do this job must know both traditional and digital skills.
Other multimedia jobs deal more with animation, simulation, film, video and audio. As such, the designer who gets hired for this job must possess these skills. Print production skills may not be as important for the position.
Skills Required for Multimedia Design
The multimedia designer possesses many skills, including traditional art skills, as well as computer science knowledge, according to the Bureau of Labor Statistics. These designers usually get their skills from a bachelor's degree program. Depending on the requirements of the program, students take coursework in drawing and painting, as well as three-dimensional art forms, such as sculpture. Drawing and painting classes can include life drawing with models. Learning color theory is also important.
Students will likely take classes in art history, as well as visual communication classes. Students in these programs can also learn computer science and programming language. Additionally, students in these programs learn design software programs, usually in the Adobe Suite. These programs can include Illustrator, Photoshop, InDesign, After Effects, DreamWeaver and Premier.
Finally, these students will learn about interactive storytelling, theater and other related subjects. As such, students may take classes in play- or screenwriting or creative writing.
Example
Here's why learning all these diverse skills is important. A modern multimedia designer might be tasked with building a landing page for a website. The purpose of the landing page is to collect leads for the business.
To encourage people to give the business their email addresses, the business is offering a 20-page informational document to anyone who signs up for the business's newsletter. This document is a PDF (portable document file) that the landing page visitors can download once they input their emails.
Here's where the designer comes in. If one designer creates the landing page from start to finish, he or she might need the following skills:
Web development skills to make the landing page
Animation or film production skills to create a welcome video
Writing skills to write the copy on the landing page
Adobe InDesign skills to create the downloadable PDF
More web design skills to design the welcome email that gets sent to the people who signed up for the PDF
This is only one example. Because multimedia designers work in a multitude of industries from the video game industry to waste management, their day-to-day job requirements vary from job to job.
The best degree programs will prepare them for a number of multimedia design jobs. However, not all of these degrees are in fine arts nor are they all offered by art schools exclusively.
Multimedia Degrees
Because this is such a multifaceted job, it is important to highlight some of the degree programs that could prepare a student for a career in the field.
The Savannah College of Art and Design (SCAD) offers several related degrees. These include degrees in graphic design, interactive design and game development, animation and motion media design. It's also important to note that many of SCAD's degrees require "overlap," meaning that students in these programs must take coursework outside of their department. For example, most of the design degrees require their students to take classes in the film or theater departments. SCAD is an art school.
On the other hand, there is a media arts degree at Boise State University. Students who go through this program graduate with a communication degree. Students in BSU's program can take classes in advertising, film production, multimedia journalism, public relations and more.
Yet another school, Full Sail University, offers many digital degrees. The school's degree in digital arts and design culminates in a Bachelor of Science degree, despite requiring students to take many art-related classes, including art history.
The schools on this list represent only a fraction of the types of schools and degrees there are that provide training in this field. While the Savannah College of Art and Design and Full Sail University are art schools, Boise State is a state university that offers many other types of degrees as well.
There are many paths that aspiring multimedia designers can take on their career paths, including pursuing degrees in art. However, the demands of this job differ from workplace to workplace. While getting a design degree is helpful, so, too, is getting a computer science degree or a film and television degree. It all depends on where specifically the would-be multimedia designer wants to work once college is over.
Related Resources:
What Can I Do With a Graphic Design Degree?
Are There Bachelor's Degrees in Multimedia Design?
What are Some Majors to Consider that Will Prepare Me for a Career in Multimedia Design?
What are Some Good Skills to Have When Considering a Career in Multimedia Design?
Are There Two Year Degrees Available in Multimedia Design?
What Are Some Careers a Person with a Degree in Multimedia Could Consider?
What are Some Good High School Classes to Take if I Want to get into Multimedia Design?
What is the Difference Between Multimedia Design and Graphic Design?