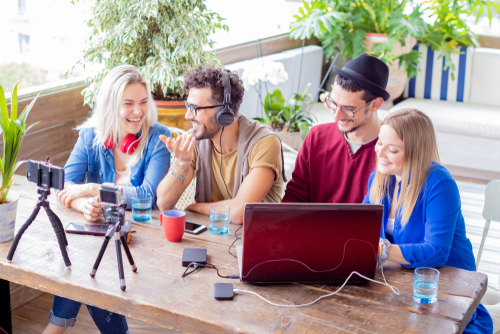 There are many exciting career options for multimedia degree holders to pursue after graduation. The options run the full range from design positions to careers in web applications. One of the best things about pursuing this type of degree is knowing how many choices await.
DegreeQuery.com is an advertising-supported site. Featured or trusted partner programs and all school search, finder, or match results are for schools that compensate us. This compensation does not influence our school rankings, resource guides, or other editorially-independent information published on this site.
The Difference Degrees in Multimedia Make
Many have had concerns that a decline in magazines and newspapers makes media an unsustainable industry. However, innovations in Internet technology have increased the range of products that there is a demand for, increasing over job demand. Even though many of these positions are relatively new, they offer great salary prospects and excellent career outlooks.
Some of these jobs have been around for a long time, such as translation, editing, and production positions. Others, such as blogging and social media-related jobs, are made possible through the use of current technology. Programs with a multimedia focus can help give students the tools to perform a variety of tasks efficiently.
The Importance of Technical Writing
Technical writing is important enough to be an elective option in many college media programs. Graduates with Multimedia degrees have good chances of well-paying positions, according to the Bureau of Labor Statistics. Technical writing positions enjoy average salaries of over $70,000.
The demand for these positions is expected to grow by 11% by 2026. Experience working with technology and being able to explain concepts in great detail adequately are essential skills for those seeking jobs in the field. Most of the degree programs that give students the tools they need for these positions are offered at the Bachelor's level.
Blogging's Impact
Blogs play a crucial role in many companies' marketing strategies. One of the major reasons that companies employ the use of blogs is to help increase their Google search rankings, a critical part of the success of a company. Professionals who work as bloggers will need to have a good grasp of SEO skills, as well as social media.
Job growth rates for these types of positions are somewhat modest, averaging around 8% when combined with all writing-related jobs. Median salaries average over $62,000 a year for these positions, with an even higher potential for bloggers working for larger corporations.
Specializing in Social Media
Social media specialist positions rank among public relations specialist jobs, with which they share a 9% growth rate. Although social media specialization positions are relatively new in the job market, they rank with other public relations jobs in offering salaries of or over $60,000. The majority of job-seekers who get one of these positions have a Bachelor's degree.
Employees who specialize in social media need to have skills ranging from storytelling to time management, according to Medium. Effective content strategy is a crucial part of one of these types of positions, and those who specialize in content strategy can look forward to a 10% job growth rate. Professionals who use the skills acquired in Multimedia degree programs to specialize in both social media management and content strategy often enjoy overage salaries of over $100,000 a year.
A degree in multimedia opens up new possibilities in some of the fastest-growing industries. Because these are positions with such high demand, graduates have excellent career prospects.
Related Resources:
Are There Two Year Degrees Available in Multimedia Design?
Are There Bachelor's Degrees in Multimedia Design?
What are Some Majors to Consider that Will Prepare Me for a Career in Multimedia Design?