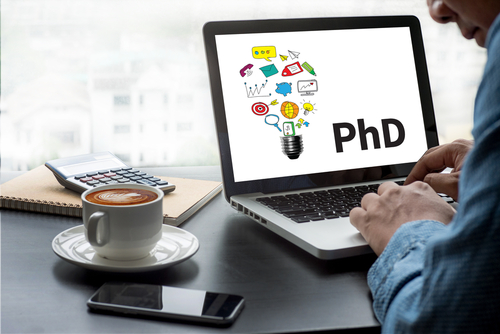 For those interested in earning their doctorate in information technology completely online, there is great news for you. Numerous great schools provide an online IT Ph.D. program, or information systems, its equivalent major, today. Which are some of the most notable choices in this growing field right now? The following represents some of the online IT Ph.D. programs open to students at this time.
DegreeQuery.com is an advertising-supported site. Featured or trusted partner programs and all school search, finder, or match results are for schools that compensate us. This compensation does not influence our school rankings, resource guides, or other editorially-independent information published on this site.
Walden University
Walden University's online Doctorate in Information Technology, or DIT, is well-respected and full of the industry's most important learning points. As coursework progresses in Walden's IT program, students can expect to become very familiar with topics such as system analysis and design, enterprise systems and their architecture, and all of the varying principles of programming in today's world. Walden's program also allows for several course tracks based on any prior education or experience possessed by the student already.
Northcentral University
The Ph.D. in Information Systems at Northcentral University is another great choice for those seeking a highly relevant, all-online programming degree program. Here, students are exposed to coursework that particularly emphasizes computer science research and information management throughout the entirety of the program. As to specific courses of requirement, the student can expect a valuable lineup including classes in programming, computer science theory, research models in information systems, and even digital ethics.
University of the Cumberlands
Students of the University of the Cumberlands online Ph.D. in Information Technology will follow a robust course schedule that will lead to absolute, real-world competency. Courses on topics like emerging IT threats and countermeasures, general data science, big data and its analysis, and enterprise risk management compose this doctorate lineup. Toward the end of this program, students must also complete several, weighty research courses along with a formal dissertation.
Liberty University
Liberty University is a top-ranked Christian college in many scholastic areas, and the school's online DBA in Information Systems is of no exception to that respected reputation. While this degree is built around teaching mastery in information systems, it is also geared toward the business management angle of the discipline which is a perfect skill combination for many grads. Students here can expect a 60-credit graduation requirement and a relatively light, 3.5 year approximate completion time.
Dakota State University
Finally, Dakota State University's online Ph.D. in Information Systems combines noteworthy affordability with wide applicability for a great, all-around choice among the schools offering online programming doctorates today. In this school's degree program, students also get to choose among three, final research paths in their program which creates an even more individualized educational experience. A previously earned bachelor's degree with at least a 3.0 GPA, however, is needed to gain entry to Dakota State University's online programming doctorate.
For anyone wondering, there are certainly numerous, excellent online Ph.D. programs for information technology right now. These five, above-mentioned schools and programs offer exactly that. For those seeking additional resources on today's online Ph.D. in IT, the always-respected, college-ranking and journalism organization US News and World Report features a very helpful guide that's packed with great info and additional pro resource links.
Related Resources:
What is the Difference Between Cybersecurity and Information Security?
What is a Computer Science MBA?
Are There Degrees to Become a Teacher/Professor in IT Fields?
For Further Reading: