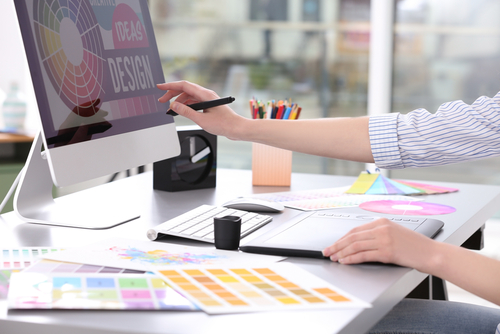 In recent years, there has been an explosion of design jobs. This is partly due to the advances in technology and the jobs that these advances in technology have created. The sheer number of job types can make defining design jobs difficult. This leads to some confusion about the differences between the various kinds of design jobs, like graphic design and multimedia design.
There are differences between these design jobs, at least sometimes. However, due to business budgets and individual job demands, the differences are sometimes small or non-existent, despite the job title. To clear up some of the possible confusion surrounding this issue, this post will look specifically at two different design jobs: graphic design and multimedia design. It will explain each and show where these design worlds will sometimes collide.
What Is Graphic Design?
According to AIGA, the professional association for graphic design, the function of graphic design is to convey a message via pictures and text. Graphic design can also enhance the visual appearance of information.
The graphic designer will use his or her skills to create numerous printed documents. These could include:
Books, newspapers and magazines
Product labels
Signs and banners
Business cards, brochures and flyers
T-Shirts, sweatshirts, mugs, mousepads, etc.
Logos
Graphic design usually requires that a designer combine text, photos and illustrations to create collateral. The designer could create the collateral for a business, a college, a museum, a local restaurant or another type of business. The purpose of graphic design, aside from creating compelling messages using visual design skills, is to create messages and information that stays in the mind of the target audience.
It's also important to note that the output for these types of jobs is physical, meaning that the graphic designer will make something that customers can hold in their hands, like brochures or T-shirts. In other words, it is a print industry.
What Is Multimedia Design?
Multimedia design entails the use of visual effects that explain a concept, entertain an audience or excite a consumer target market, according to Sessions College. The people who hold multimedia design jobs, multimedia designers, work in numerous industries, like video games, TV, movies or corporate or non-profit environments. Their skill levels in many respects are much broader than those of the graphic designer.
The Bureau of Labor Statistics website explains that multimedia design entails the use of computers to create animations or graphics. It can also require the designer to create audio or video for a project. Some multimedia designers also possess computer science skills, which allow them to build websites and phone apps.
Additionally, some multimedia jobs require the designer to have what are considered traditional art skills. That is to say that these designers may know how to draw or paint. They may use traditional media, like charcoal, colored pencils or oil paints.
However, due to the advances in graphics programs, like Adobe Illustrator or Photoshop, they may also know how to create illustrations using digital tools, too.
Finally, unlike the products that a graphic designer creates, the multimedia designer doesn't traditionally create printed products. Instead, this designer's work is seen primarily on the web or digital tablets or phones.
Is There Overlap?
As has been alluded to, there is an overlap between the job of the graphic designer and the multimedia designer. A look at the job requirements reveals design jobs that straddle these two worlds.
In other words, the designer working these jobs might know something about creating print products, like business cards, brochures or books. However, this designer may receive requests from his or her employer to create a video for the company website, to build a landing page for the site or create an audio download for the company's customers.
This happens for a couple of reasons. Sometimes, a company doesn't have the budget to hire two or three people to do the job, nor is there enough work to sustain any one person in a single job. For example, the company may require the skills of a graphic designer at least half the time and the skills of a multimedia designer the other half of the time. One way to solve this problem is to hire someone with the skills of both. Sometimes, a designer needs multiple skills for continuity. The designer who has more than one skill set can create collateral that is more streamlined because he or she is creating all of the steps.
A designer may need to learn additional skills to advance in his or her career. For example, this designer may have started as a junior graphic designer for a company. Over time, he or she becomes the head graphic designer. Finally, after several years, a designer may have the opportunity to become the art director. This higher-level job often requires more skills. While the art director may not make videos or create brochures daily, he or she must learn these skills. Knowing how all of the jobs in the studio work allows the art director to better communicate with his or her team. It also allows him or her to step in when the demands of a project require more hands.
These days, designers hold several different titles from graphic designers to multimedia designers to UX/ UI designers. Their titles do point toward the types of work the designers typically do in the course of their day. However, many designers are finding that they must possess several different design skills to do their jobs. That's why the differences between multimedia design and graphic design continue to grow smaller and smaller.
Related Resources:
What Can I Do With a Graphic Design Degree?
Are There Bachelor's Degrees in Multimedia Design?
What are Some Majors to Consider that Will Prepare Me for a Career in Multimedia Design?
What are Some Good Skills to Have When Considering a Career in Multimedia Design?
Are There Two Year Degrees Available in Multimedia Design?
What Are Some Careers a Person with a Degree in Multimedia Could Consider?
What are Some Good High School Classes to Take if I Want to get into Multimedia Design?