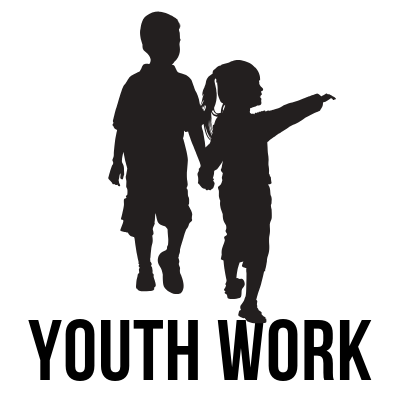 What's the single most impactful way that you can change the future for the better?
You could seek out a career that will make you wealthy, and then use that money to enact change.
You can create a device that solves a problem for a time.
You can create a medicine, or work in medicine.
Or you can do a little bit of all three, by preparing many, many members of a younger generation to change the world.


That final option is what youth work is all about. Our youth are our future, and youth workers realize that formative positive formative experiences can make the difference between a person with well being, and great potential, and one with neither.
Youth workers also realize that not all meaningful and supportive activities can happen in any one location including home, or school. This is why youth workers are often centered around other important meeting places for children, including within the foster care system, within psychiatric facilities for the youth, within libraries, churches, and non-profit settings.
If you feel the calling to enhance the lives, health, and futures of youth through creative and non-traditional programming, youth work may be a great degree (and career) for you!
Here at DegreeQuery we've covered a wide range of degrees as well as the careers that come from those careers. We've encountered many questions about youth work degrees over our time as higher education researchers. We're proud to present some of the most common questions about becoming a youth worker in our guide below.
Table of Contents
What Youth Work Degrees Are Available?
Youth work degrees are primarily available at the associates through master's levels of study. The "entry-level" degree for a career in youth work is often an associates or bachelor's degree. Though specialization through a master's or doctoral degree can help those seeking to move up the career ladder, start their own organization, or perform research around youth work settings.


At the associates degree level, youth work-related degrees require 60 credit hours for completion. These degree programs most commonly require 2 years of full-time study to complete.
While there aren't many degrees titled "youth work" at the associates level, there are closely related degrees that can lead to work as a youth worker. These degrees include:
Associates degrees in youth ministry
Associates degrees in youth services
Associates degree in pre-social work
Associates degree in human services
While any one of these degrees may be slightly more suitable to your personal goals based on whether you would like to work in secular or religious settings, or whether you would like to further your education as a social worker in the future, many courses in the above degrees are actually the same.


Some of the most commonly required courses in the three above degree types include:
Youth Programming</li.
Human Biology
Developmental Stages
Family Topics
Methods of Casework
Marriage Topics
Community Health
Additionally, students pursuing an associates in a youth work-related degree will be required to complete a range of general education requirement courses. These courses are meant to ensure that graduates are exposed to a wide range of college-level subjects. These requirements are similar to general education requirements among bachelor's degrees and include:

College-Level Composition and English
College-Level Data Literacy
College-Level Computing
College-Level Social Sciences
College-Level Humanities
College-Level Natural Sciences
Physical Education
Among Others

At the bachelor's level students can begin to major directly in youth work, or pursue a career in youth work through related degrees including social work, counseling, and other degrees.

Degrees related to youth work at the bachelor's level include:

Bachelor's in Human Development
Bachelor's in Social Work
Bachelor's in Youth Ministry
Bachelor's in Human Services
Among Others

Within a bachelor's in youth work degree, students will begin their study with general education courses similar to those listed above in the associate's-degree category. Once students have completed some general education courses, they may start taking youth work major courses such as the following:

Intro to the Criminal Justice System
Social Issues
Developmental Psychology
Ministry in Kids and Teens
Crisis Prevention and Intervention
Justice System for Juveniles
Sociology
Domestic Violence
Child Welfare
Case Management
Designing Proposals for Human Services
Ethical Issues in Youth Work
Among Others


At the master's level students may specialize in one area of youth work. Areas of specialization and licensure related to youth work include the following:

Social Work
Youth Development
Youth Development Leadership
Youth Ministry
Youth Studies
Human Studies
Family Studies
And More

While some youth workers who pursue a master's degree are seeking to become more knowledgeable in their role, many are looking to move into roles related to youth work and that require more education. Perhaps the most common degree routes for youth workers to advance their education and career in include youth ministry and social work.

For master's in youth work-related degrees, students at the master's level are likely to take some selection of the following courses.

Adolescent and Child Development
Contemporary Youth Programming Development
Ethical and Creative Leadership in Programming
Youth Development in Families
Diversity and Childhood
Methods and Data Analysis
Grant Writing
Global Youth
Non-Profit and Volunteer Management
Youth Development Leadership
Case Work
Domestic Violence
Professionalism in Youth Programming
Thesis

Unlike doctoral programs, master's degrees related to youth work require a thesis. A thesis is a hundred plus page document that summarizes a recent subsection of a field's research. Students summarize recent scholarship and arrange their summaries into an argument, showing an ability to interact with the highest levels of scholarship in their field.

Other master's programs in youth work are more applied, and allow for capstone projects that are enacted and documented in the field.

At the doctoral level degrees that are most closely related to youth work include doctor of philosophy (PHD) programs in social work or family, youth, and community studies.

Students in both of these degree types should be aware that they are pursuing research doctorates. That means that central goals within the program include preparing students to become university-level teachers (if they so choose), as well as helping to support doctoral candidates in the performance of original research. Original research within a Ph.D. program often culminates in the form of a dissertation, or several hundred page document comprised of original research.

While there are no doctoral-level degrees that we found with the title of youth work, a wide variety of fields can be used to supplement youth work-related skills or to advance in youth work work places. These fields include psychology, education, social work, ministry, non-profit management, leadership in youth programming, youth development, family studies, and others.

Can I Gain a Youth Work Degree Online?

While the practice of youth work is hands-on, many of the courses taken to prepare for a career in youth work are available fully online. Most commonly, associates and bachelor's degrees in youth work and related disciplines are offered fully online. A solid minority of social work programs are available fully online at the master's level. While education-centered youth work degrees are offered online more often than not.

Online degrees have provided a valid and exalted path towards a higher degree for millions of students. With this said, online degrees aren't always the best options for all students. If you find yourself considering an online degree, and have never taken online courses before, be sure to consider the following:
Pros of Online Education

Online degrees allow you to work from where you want
No need to quit your job or move for education
Programs often build for working adults
You get the same degree
Often lower fees than in-person academic programs
Most employers see online degrees as no different than in-person degrees

Cons of Online Education

Often harder to "get to know" fellow classmates and professors
Most networking events are in-person
Some universities have support services only available in person
Many students report that you need to be a self-starter to excel online

How Do I Gain Admission to a Youth Work Degree Program?

Youth work degrees are primarily offered at the associates and bachelor's levels. For these degree levels, admissions are often similar. For associates degrees that are not "open admission" as well as most bachelor's degrees, students should expect to be able to provide the following information during the application process:

High school transcript (or notice of GED)
Standardized test scores like the ACT or SAT
Recommendation Letters
Admissions Essays
FAFSA
Occasionally an Interview

For associates degree programs at community colleges, many programs offer "open admission" for in-district or in-state students. Open admission typically means that students who have obtained a high school diploma or equivalent are automatically allowed to enroll. Students may typically remain enrolled as long as their grades stay above a certain level.

"Transfer" programs at the associates level typically allow students who have successfully complete an associates degree in a field with above a minimum GPA to gain automatic entrance into a partner four-year program that they will complete the final two years of. This can be a great route towards lowering your total educaitonal costs as many two year programs are substantially less expensive than traditional four year programs.

At the master's level, students should have obtained a degree in a field related to the field they wish to study in, or at least covered the noted prerequisite courses. For most degrees related to youth work, students should endeavor to take the GRE standardized test. Additional documentation needed to gain entrance into master's level programs includes letters of recommendation, a resume, transcripts from undergraduate study, and admissions letters.

At the doctoral level, students may enter into a program directly out of undergraduate study or after completing a master's. For students who have not completed a masters, doctoral programs will take longer and they will recieve their master's degree "en route" to a doctorate. As with Ph.D. and research doctorates in other fields, students should look for programs where faculty share their research interests. When applicants have found a program that fits the bill, they should contact professors they would like to work with on research in advance. After striking up a conversation, applicants should enquire as to whether the professor is willing to oversee their research. Many professors only accept a handful of students to oversee the research of every year, so applicants should reach out in advance.

What Can I Do With a Degree in Youth Work?


"It takes a village" to properly raise a child. And youth workers play a consequential role in many parts of that village for many children. This is to say that there are many locations in which you can apply a youth work (or related) degree.

Some of the most common areas where those with youth work degrees end up working include:

Youth Worker
Youth Pastor
Case Manager
Or Social Worker

Youth worker positions are the most direct application of youth work degrees at the associates or bachelor's levels. Youth workers are employed in a variety of settings including non-profits, libraries, governmental organizations, churches, and others. Put succinctly, the responsibility of a youth worker is to oversee, plan, and find funding for community programs for youth and adolescents. These programs are centered around the social, emotional, and developmental needs of children.

While youth work positions have varying levels of responsibility, and work on different scales, the average earnings across all roles are presently $34,489.

Religious organizations play a key role in the upbringing of many children. And for those with a religious bent, working as a youth worker or youth pastor in a religious setting may be the best route towards enacting change in the youth. While those with personal knowledge of a given denomination or religion may be able to move into youth pastor roles without formal training in theology or religion, there are many associates, bachelor's and master's level degrees in youth ministry. Many of these degrees overlap with youth work to a great degree, and provide coursework in developmental psychology, courses on domestic violence and other issues that may be facing children, and knowledge of the role communities play in solid outcomes for children.

Job descriptions of youth workers or youth pastors are similar to those of youth workers in secular or governmental organizations. The main difference is a religious component to programming. Though many events and support services may appear similar in both settings and include counseling, tutoring, social events, and the teaching of developmentally-appropriate skills.

The average salary of a youth pastor is presently $38,800, though this number varies based on the size of the church in question and the number of youth programs being run.

One of the largest segments of advocates for children within governmental and support organizations are those of social workers (otherwise known as case workers). While a youth work degree in-and-of-itself will not prepare you for a career in social work, youth work degrees provide many of the foundational courses needed to pursue licensure in social work. And due to the overlap in subject areas, many youth workers do go on to become licensed social workers in time.

Social workers can find employment in a variety of settings. Though the largest segments that come into contact with youth find employment in child protective services, the public education system, and hospital settings.

The role of social workers is to be an advocate for individuals within the youth by seeking out governmental or private opportunities, providing a conduit for communication between other care professionals within the child's life, providing counseling, and providing communication aid between youth and those who affect them. Social workers often have different focus areas, with some focusing on domestic violance, others on educational outcomes, others on incarcerated youth, and still others on health care issues.

While pay varies based on education, experience, and location, the average salary for social workers nationwide is presently $45,941.

Didn't find what you were looking for in our guide? Be sure to check out DegreeQuery's related degree and job coverage areas below!