Have you ever wondered if you would make a good dentist?
Do you have an aptitude for science? How about the physical ability to work with your hands on a daily basis? Have you been told you have good communication skills? Can you imagine yourself organizing and running a business? Then you just might be ready for a career in dentistry.
You might also be wondering about the best major for dentist degree programs and the process to become a dentist. Although it typically takes eight years of schooling to make it into the dentist occupation, many students decide that the payoff – like a six-figure annual salary – is worth the investment in education.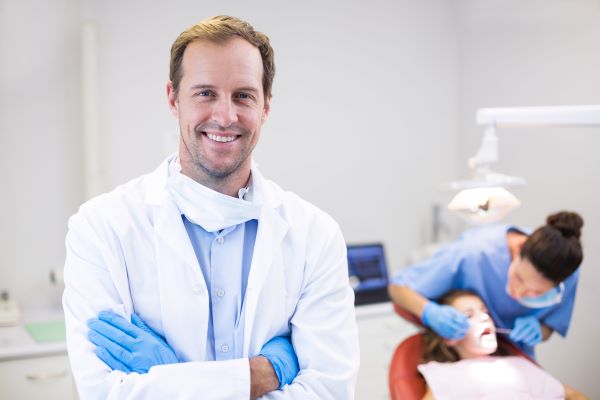 What to Know About Majors for Dentists
First things first: whatever major you choose as an undergraduate student, it won't qualify you for a career in dental practice. As such, the major you choose to earn a bachelor's degree isn't as important for succeeding in your career dreams as you might think.
Your undergraduate degree is only the first step toward a career in dentistry. The subject of your doctoral coursework is what equips you with the skills and knowledge needed to become a licensed dentist. These advanced programs of study are offered through dental schools. Dental schools specialize in preparing students for a career in dental care.
That said, you need a bachelor's degree to get started on the path to becoming a dentist. Aspiring dentists need to take coursework that will meet dental school prerequisites. Prospective dental students have to develop the foundation of knowledge – particularly in the sciences – needed to understand the advanced coursework in a doctoral program for dentistry.
Earning an undergraduate degree isn't just about satisfying dental school requirements for prerequisite courses or even gaining knowledge of basic sciences. The coursework you complete and the experiences you have as an undergraduate make you a competitive candidate for dental school.
Dental schools require a great deal from their applicants: strong scores on the Dental Admissions Test, good grades and, potentially, health care experience.
The major you choose and how you approach your schoolwork will affect your grades and how well you perform on dental school admissions exams. The more impressive your score on these standardized tests and the better you keep your grade point average up throughout your undergraduate coursework, the better your chances of getting into your preferred dental schools.
It's not that your undergraduate studies don't matter for becoming a dentist – they absolutely do! However, many diverse programs of study could lead you to a dental career. Which major you choose matters less than the effort you put into it and the learning outcomes of your studies.
RELATED: The 20 Best Jobs Without a 9-to-5 Work Schedule
What Major Is Dentistry?
Is dentistry a major? Generally, no – not at the undergraduate level. Rather, dentistry is a field of doctoral study. The study of dentistry is a long-term goal that undergraduate students should keep in mind. At most undergraduate schools, though, there is no specialized dentist major.
Doctorates in Dental Medicine
Dentistry isn't so much a major, at least not at the undergraduate level, as it is a long-term goal.
What degree do you need to be a dentist? Dentists need a doctoral degree. The typical degree options to become a dentist in the United States are:
The Doctor of Dental Surgery (DDS) degree
The Doctor of Dental Medicine (DMD)
In either case, dental students will be spending considerably more time in school beyond the bachelor's degree level to prepare for a career in dentistry. Most of their dentistry studies will be part of their doctoral program curriculum rather than any undergraduate major they may choose.
The Pre-Dentistry Track
The closest thing to dentistry majors at most schools is the possibility of following a pre-dentistry track.
Not all colleges and universities offer a pre-dentistry program. At schools that offer pre-dentistry studies, this academic track may not be a formal major. Rather, a program in pre-dentistry often exists as a sort of specialization or concentration within an established major. For this reason, students wondering what to major in to become a dentist should consider the following options and, particularly, whether one or more of these programs offers a pre-dentistry track:
Biological sciences
Chemistry
Biochemistry
Biomedical science
Biomedical engineering
Physiological sciences
The purpose of a pre-dentistry track in any of these preferred is dental majors to help aspiring dentists prepare to work in dental practice. Primarily, a pre-dentistry curriculum makes sure that students complete the prerequisite courses most dental schools require.
Some universities that have their own dental school offer accelerated dual-degree programs. Students begin their bachelor's level studies at the school but work toward completing these degree requirements faster. The program culminates in a dental school degree. Often, these work-intensive programs can cut a year off of the time it takes to become a dentist. One example of a university that offers this sort of accelerated option through its own dental school is Marquette University.
The Process of Becoming a Dentist
If you want to be a dentist, you should start as early as high school. Taking the right high school classes provides a strong foundation for college-level studies. Ultimately, the doctoral coursework taught at dental schools builds upon this same foundation. The courses high school students should take if they want to become a dentist include:
Biology
Chemistry
Physics
Math
Health
Before you graduate high school, you should start applying to colleges. For that reason, students often begin asking "what major do you need to be a dentist?" before they even have a high school diploma in hand.
A bachelor's degree is a requirement for pursuing doctoral study. Some pre-dental students start out at a four-year school. Other pre-dental students spend their first two years of undergraduate study earning an associate's degree at a community college. In either case, pre-dental students need to work toward their graduate degree.
Aspiring dentists must choose a reputable college or university. This step is important to make sure that your undergraduate background will meet the requirements when applying for dental school. Ideally, students will pursue their undergraduate degree from a college or university that has attained regional accreditation from a Council for Higher Education Accreditation (CHEA)-recognized accrediting body.
The next step after receiving your bachelor's degree is to take and pass the Dental Admissions Test, or DAT. This test is used for admissions into dental school programs that are accredited by the American Dental Association Commission on Dental Accreditation.
The other criteria on which dental school applications are commonly judged include the following:
Undergraduate grades
Recommendations from former professors
Personal statements
Involvement in research and extracurricular activities
Performance in admissions interviews
Once you're off to dental school, you're in for four years of preparation for this career.
At most dental schools, students take doctoral-level classroom and laboratory coursework during the first two years of the dental school curriculum. In this way, what to expect when you enter dental school is similar to what new medical students experience when they start medical school.
– The classes you take during these preclinical years include both classroom and laboratory work in basic science subjects like the following:
Biochemistry
Physiology
Microbiology
Anatomy
Pharmacology
These early years of dental school also encompass specialized coursework in dental-oriented sciences like oral anatomy, oral histology and oral pathology, according to the American Dental Education Association.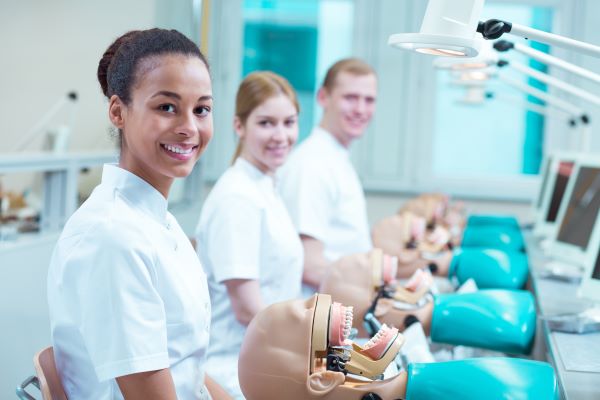 For most dental students, the second half of the dental school curriculum is the most exciting part of an education in dental health. During the final two years of dental school, the dental student will work under the supervision of an accredited dentist to give the student actual experience working with patients.
These later years of a dental school program typically emphasize clinical practice and providing direct patient care. As such, they are commonly referred to as the clinical years of study.
RELATED: What Can I Do With a Dentistry Degree?
At the end of this difficult doctoral degree program, the dental student will graduate with their DDS or DMD degree. Despite the differences in degree titles, accredited DDS and DMD programs must meet the same curriculum standards and are considered equivalent degrees. This is different from medical school, in which students in Doctor of Osteopathic Medicine (DO) programs approach the field from different types of medical training, complete a different curriculum and take different licensing exams compared to Doctor of Medicine (MD) students.
One more step is needed before obtaining the license to allow the graduate to practice in his or her state. Most states require anyone applying for a license to practice dentistry to pass practical tests as well as the written National Board Dental Examinations.
Each state has its own requirements for licensure. Aspiring dentists should explore the latest licensing requirements and processes in their state as early as possible. This advanced preparation ensures that detail-oriented dentists are fully prepared to attain their dental licenses as quickly after graduating from dental school as possible.
After obtaining a license, the dental graduate is ready to set up his or her practice to provide a valuable service to the community. Keeping abreast of new methods and procedures in dentistry is one way the dentist can continue to grow.
Obtaining a dental license takes many years of hard work. However, the outcome is very rewarding. Dentistry is an essential profession that is necessary for achieving proper oral health. The importance of providing oral health care and promoting dental public health within the community is immeasurable.
What Major Do You Need to Be a Dentist?
The above overview of the process of preparing to be a dentist may help prospective students better understand what to expect from dental school. Before they can become dental students, though, undergraduate college applicants still have to make the more immediate decision of what their major should be. So, what do dentists major in?
Generally, the best majors for dental school are degree programs in the life and physical sciences. An undergraduate major in science is the norm for applying for dental school.
The most popular dental majors in college are natural and physical sciences like biology and chemistry, according to the American Dental Education Association. Other STEM (science, technology, engineering and mathematics) programs of study are also popular undergraduate degree options for dental career preparation. For example, many dental students major in math or engineering if they aren't pursuing science majors.
Here's an important point to know: your completion of prerequisites matters more than a specific degree program name. Of course, dental schools tend to expect candidates to have a background in biology, chemistry or another STEM subject. Most dentists have earned their undergraduate degree in one of these fields.
Still, having chosen a less pertinent major won't disqualify an applicant for consideration. Technically, dentist majors at the undergraduate level can encompass any field of study. That's true even if pursuing certain majors for dentistry may raise a few eyebrows among dental school admissions staff.
Prospective dental school students do need to meet all prerequisites for doctoral coursework, however. These prerequisites generally include sequences (at least two semesters) of studies in the following areas:
Biology
Chemistry
Physics
Meeting these criteria probably won't be a problem for science majors. It might be an obstacle for students who chose non-science majors, though, unless they took extra science coursework.
That's why, when students ask "what undergraduate degree is best for dental school?", they're often advised to pursue a degree in the sciences.
Biology
The most popular major for dentist career paths is biology. Biology is the study of life and living organisms.
Of course, the human body – including the mouth, teeth, gums and tongue – is one of these living organisms. So are the types of bacteria that can cause or contribute to dental issues such as oral infections, dental diseases and gum disease. Preventing and treating gum disease, tooth decay and other oral health conditions requires a foundation in biology.
The field of biology also encompasses subfields like genetics. Genetics is a particularly useful area of study for dentists. Many dental and oral conditions have a genetic component.
Another reason so many dental students major in biology is because pre-dental and pre-health tracks are often offered as part of biology degree programs. At some schools, these programs may be available to students in any major. From a purely practical viewpoint, completing extensive biology coursework at the undergraduate level provides a strong foundation for the advanced biology coursework dental students encounter at the doctoral level of study. Taking these courses as a biology major makes it easy to check off all of your science-related degree requirements as part of your major coursework. The same might not be true for non-science majors who have to use up their free electives to fit courses in the life and biomedical sciences into their schedule.
The undergraduate curriculum for biology majors typically includes studies in various aspects of biological sciences. These areas of study commonly include the following:
Cell and developmental biology
Evolutionary biology
Molecular biology
Biochemistry
Genetics and genomics
Ecology
Human anatomy and physiology.
Coursework in general chemistry, organic chemistry, inorganic chemistry, physics, calculus and statistics are also common requirements for biology majors. Fortunately, these courses do double-duty to prepare students to work in dental health. They are some of the same classes that are frequently listed as prerequisite courses for admission to dental school programs.
Chemistry
Another popular major for aspiring dentists is chemistry. Chemistry is the scientific study of the properties that make up matter and the behaviors and reactions of chemical substances.
Chemistry is a common prerequisite for dental school. The reason for this requirement is the influence of chemistry in making many modern advances in dental and oral care possible, according to the Royal Society of Chemistry.
Chemistry majors should be prepared to study the field from many different angles. They commonly take courses in the following aspects of the field:
General chemistry
Physical chemistry
Organic chemistry
Inorganic chemistry
Analytical chemistry
Nuclear chemistry
Mathematics
Dentists don't sit around doing math problems all day. Still, prospective dental school students should have a decent aptitude for math. Mathematics is part of the sciences whose underlying concepts make the clinical practice of dentistry possible.
If you enjoy the study of math, consider majoring in this subject as an undergraduate. Doing so will give you a strong background for the calculations involved in your science coursework at both the undergraduate and doctoral levels. You will also have the opportunity to develop practical skills in analysis, problem-solving and logic and reasoning. These are skills that any successful dentist needs.
If you do major in math, though, be prepared to take plenty of challenging coursework in the mathematical sciences. Math majors typically take classes in areas like the following:
A full sequence of calculus courses
Linear algebra
Abstract algebra
Differential equations
Geometry
Numerical analysis
Probability and statistics
Topology
Data analysis
Engineering
Dentists apply the concepts of science to the clinical practice of dentistry. Engineers apply the concepts of science to the work of designing solutions to problems. Given the similarities between the careers, it makes sense why an undergraduate major in engineering might appeal to an aspiring dentist.
One particular area of engineering that is most likely to intrigue prospective dental school students is biomedical engineering. Biomedical engineering is an interdisciplinary branch of engineering. Biomedical engineers design devices, processes and chemical substances used in the healthcare field.
An undergraduate curriculum in biomedical engineering should cover the electrical, biological, mechanical, material and chemical foundations of biomedical engineering. Students majoring in biomedical engineering will take basic science courses in general chemistry and physics. They will also study the electronics of medical devices, the principles of medical imaging, medical instrumentation and engineering models of physiological systems.
Art, the Liberal Arts, and More
You can major in a non-science area of study and still become a dentist. However, you will have to take the science courses required for dental school admission, regardless of whether they're required courses for your major.
Your freedom as a non-science major to take more courses from the liberal arts and humanities will help you develop a more well-rounded base of college-level knowledge. Studying these subjects also allows you to cultivate new non-technical skills and get exposed to new perspectives. If your passions besides dentistry lie in one of these areas, just make sure that you plan your course schedule to include sufficient science and math coursework.
Choosing a major can be stressful, but dentists majors in college aren't limited to one opportunity to pick the "right" major. Many different majors get you into dental school. If a potential dentist doesn't meet the prerequisites to get into a dental school program, taking the missing science courses later can bridge that gap. This means it's never too late to decide the dental school is in your future.
Additional Resources
What Degree Do I Need to Become a Dental Hygienist?
15 Degrees That Are Perfect for Becoming Your Own Boss