If a degree in supply chain management has already caught your interest, then you probably know that the task of coordinating the logistics of supplies and materials can be a full-time job. here are many reasons to consider a supply chain management degree. The constant need for supplies across all industries means that millions of Americans work in this field of business. High median wages and many opportunities for career advancement make supply chain management a great choice for ambitious students. The challenge of analyzing, overseeing and solving problems in the transport of materials and goods will keep you from becoming bored with your work.
You Have Plenty of Career Options
With a degree in supply chain management, you'll always be in demand. Every industry includes some sort of supply chain, according to the United States Bureau of Labor Statistics (BLS). Some industries, like manufacturing and retail, depend almost fully on their supply chains to operate and make money. For other industries and organizations, the supply chain takes a less central role – but it is still crucial to productivity. Whether the economy is strong or weak, employees simply can't work without supplies.
Although supply chain management is one of the more specialized business degree paths – compared to majors such as general business administration, management and marketing – the degree is surprisingly versatile. There are numerous jobs you can do with a degree in supply chain management. Senior-level supply chain manager roles go by an array of different names, from the prestigious, like Global Supply Chain Vice President, to the esoteric, like Solution Design and Analysis Manager and Material Requirements Planning Manager. Under their various job titles, supply chain managers collectively account for 992,000 jobs in the United States.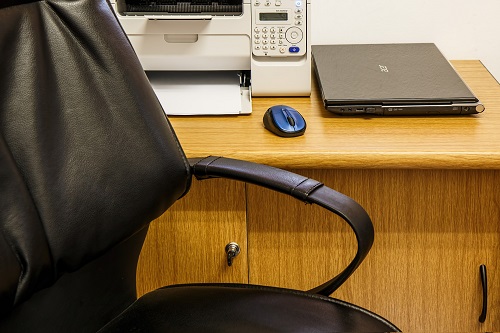 IMAGE SOURCE: Pixabay, public domain
Beyond supply chain manager, you will find opportunities in logistics, purchasing and management available to you with a supply chain management degree. Non-managerial roles involved in analyzing and coordinating the supply chain include logistician and logistics analyst, while supervisory roles in this area include logistics manager. Logisticians make up 148,700 American workers, according to the BLS. Purchasing agents, purchasing managers and buyers are all responsible for selecting goods to be purchased and negotiating the contracts for acquisition, which are necessary parts of coordinating the supply chain. Jobs in purchasing account for 520,400 roles. Graduates of supply chain management degree programs may also go on to hold management roles. Storage and distribution manager may seem like natural promotions for supply chain management personnel. Some workers with a degree and experience in supply chain management become general and operations managers, which combined account for 2,263,100 jobs.
Although jobs in supply chain management and related functions are seeing only average rates of growth, the sheer size of these occupations means that graduates have a lot of opportunities to consider. Purchasing jobs are declining somewhat, the BLS reported.
You Have Great Earning and Advancement Potential
Jobs in supply chain management and logistics require a great deal of organization and attention to detail, not to mention the technical knowledge needed to use complex logistical software. As a result, these jobs tend to lead to high wages. A logistician earns a median wage of $74,590. For those who advance to supply chain manager positions, the median wage jumps up to $105,610. Of course, the more senior-level your role, the higher your income potential will be.
How do you go from an entry-level logistical support role to a job title like Global Supply Chain Director? The answer is often a combination of education and experience. A bachelor's degree is sufficient for most logistician jobs. Two-thirds of supply chain managers also have a bachelor's degree, but 19 percent go on to attain a master's degree and 10 percent pursue a post-baccalaureate certificate. Supply chain managers must also have several years of work experience in logistics, and they must develop a history of strong performance to be promoted to supervisory roles.
Professional certification available from the International Society of Logistics (SOLE), APICS and the Defense Acquisition University (DAU) can also prove valuable as you advance your career in logistics, the BLS reported.
You Get to Use Your Skills Daily
Logisticians and supply chain managers are natural problem-solvers and critical thinkers. While other business professionals might look at managing logistics as one big hassle or headache, you see it as a great challenge that allows you to stretch and grow your skills. In a less analytical role, workers with these qualities and personality traits might feel bored or unfulfilled, but working in logistics and supply chain management, they often enjoy the problem-solving nature of the work as well as their independence, good working conditions and support from management.
Despite its analytical, behind-the-scenes nature, jobs in supply chain management are often socially oriented and collaborative and require innovation, adaptability, persistence, leadership and cooperation.
Additional Resources
What Is the Demand for a Degree in Supply Chain Management?
What Is the Salary Potential for Someone With a Supply Chain Management Degree?
How Long Does It Take to Get a Degree in Supply Chain Management?
What Is the Difference Between a Business Administration Degree and a Supply Chain Management Degree?