Do you want to work with people who have stutters, various speech impediments, trouble communicating after a traumatic brain injury and other types of communication disorders? Speech therapist could be the perfect fit for you. A master's degree, supervised clinical experience and state licensure are the most important requirements to become a speech-language pathologist.
What Do Speech Therapists Do?
Speech-language pathologists, commonly referred to as speech therapists, are a type of healthcare provider that specializes in communication disorders. They assess patients' speech and communication, diagnose disorders and develop and implement treatment plans to help patients communicate more clearly.
Some of the techniques speech pathologists use to treat communication disorders include teaching the patient to do tongue exercises, pucker their lips, practice reading out loud and, especially for people who struggle with the cognitive aspects of communication, doing word puzzles and games.
Where Do Speech Therapists Work?
Speech-language pathologists work primarily in the healthcare and education industries.
Educational services – including state, local and private learning institutions – made up 40% of all speech therapist jobs in 2021, according to the United States Bureau of Labor Statistics (BLS) Occupational Outlook Handbook. The next largest employment industry for speech-language pathologists was offices of specific healthcare professionals: physical therapists, occupational therapists, speech therapists and audiologists.
RELATED: What is the Right Path to Becoming a Speech Therapist?
Hospitals accounted for another 14% of the speech pathologist occupation, and jobs in skilled nursing facilities and residential care facilities made up 4% of the speech therapist occupation. Around 6% of speech-language pathologists were self-employed.
All in all, there were 159,800 speech-language pathologists working in the United States in 2021, the Bureau of Labor Statistics reported.
Who Benefits From Speech Therapy?
Speech pathologists work with a variety of patients, including:
Children who are struggling to produce developmentally appropriate sounds
People of all ages who are affected by hearing loss
Patients of all ages whose speech and communication have been affected by medical conditions like traumatic brain injury (TBI), stroke, Parkinson's disease, autism spectrum disorder, cleft palate and surgeries and other treatments for cancer
Speech-language pathology encompasses the diagnosis and treatment of speech impediments and issues in both children and adults. Through early intervention, a speech-language pathologist can help patients or clients improve communication techniques.
RELATED: What Are Some Issues a Speech Therapist Might Help Someone With?
How Much Money Do Speech Therapists Earn?
Speech-language pathology is a career that requires an advanced education, supervised clinical training and a license, so you would expect the opportunity to earn a significant income to go along with the occupation. The median annual salary reported for speech therapists in 2021 was $79,060, according to the Bureau of Labor Statistics.
RELATED: How Much Money Does A Speech Pathologist Make?
Among speech-language pathologists who work in nursing and residential care facilities, the median salary was approaching $100,000 per year as of 2021. Salaries for speech therapists working in hospitals and healthcare providers' offices weren't far behind, at $95,620 and $93,510, respectively.
What drags down the overall median salary for the speech pathologist profession is the comparably low amount of $75,270 that represents the median salary for the 40% of the field working in educational services.
What Types of Disorders Do Speech-Language Pathologists Treat?
Speech pathologists diagnose and treat an array of communication and swallowing disorders, according to the Cleveland Clinic.
Some of the speech disorders a speech-language pathologist may treat include:
Rhythm or fluency problems, like stuttering
Voice disorders, including problems with pitch or a harsh-sounding voice
Inability to speak
Language comprehension difficulties (an inability to understand language)
Cognitive-communication disorders that affect listening and speaking
Articulation disorders that prevent people from forming certain sounds
Aphasia, difficulty speaking or understanding language because of damage sustained to the brain
Apraxia, trouble forming the sounds (or written shapes) of the words they want to say
Dysarthria, or weakness of the muscles necessary for speech due to conditions like strokes or disorders of the nervous system
Expressive disorders, or trouble expressing thoughts in words
Resonance disorders that affect the structure of the body parts used to produce sounds
Receptive disorders that can make listening to and processing language difficult
Although you may not have guessed so from the job title, speech therapists also work with patients who suffer from swallowing and feeding disorders. Swallowing disorders often result from conditions like stroke, spinal cord injury, TBI or progressive neurological disorders, the American Speech-Language-Hearing Association (ASHA) reported. Injuries or surgeries that affect the mouth, head and neck can also cause a person to develop a swallowing disorder.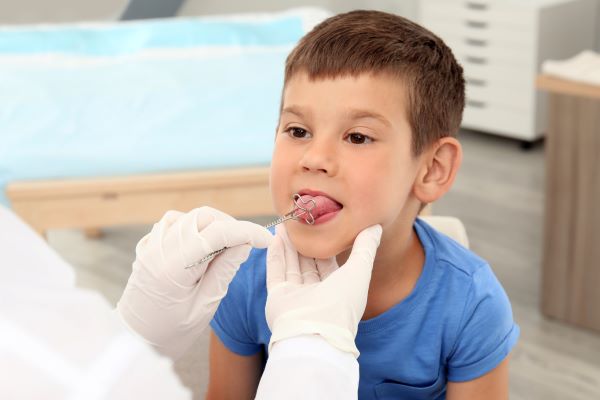 How to Become a Speech-Language Pathologist
The path to becoming a speech-language pathologist includes a college education at both the undergraduate and graduate level, supervised training in clinical practice, a national exam, a state license and professional certification.
1. Earn a Bachelor's Degree.
Although a speech pathologist must possess a master's degree, you have to start with your undergraduate studies first. Most bachelor's degree programs include a minimum of 120 credit hours of study and take at least four years of full-time study to complete. Bachelor's degree holders and those anticipating graduating in the near future can start applying to graduate degree programs in speech pathology.
RELATED: What You Need To Know When Applying To A Speech-Language Pathology Program
2. Earn a Master's Degree.
A specialized speech pathology graduate degree is essential for prospective speech-language pathologists. Without going to graduate school, you simply cannot work in this career.
RELATED: What Master's Degree Should a Speech Therapist Have?
It's important that an aspiring speech therapist chooses a speech-language pathology program accredited by the American Speech-Language-Hearing Association (ASHA)'s Council on Academic Accreditation. Otherwise, you may not be able to qualify for state licensure or professional certification. Earning your master's degree in speech-language pathology will typically take you two years if studying full-time.
3. Undergo Your Clinical Fellowship Training.
After they complete their graduate programs, aspiring speech-language pathologists need to practice working in clinical settings under the supervision of an experienced, licensed speech therapist. This part of your career training that is devoted to supervised clinical experience is known as a clinical fellowship.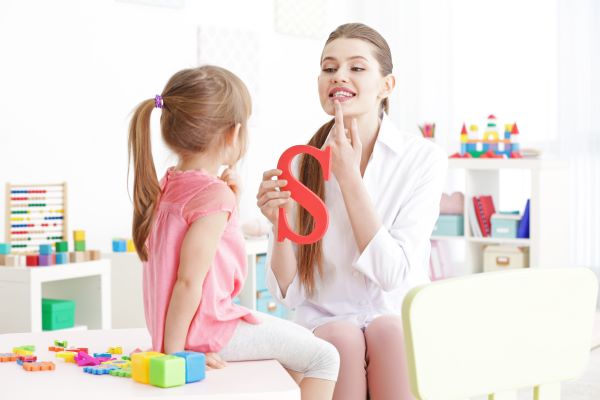 Post-Graduate Clinical Fellowship Requirements
Most aspiring speech pathologists can complete their clinical fellowship in one year. A clinical fellowship requires at least 1,260 hours of supervised experience gained over a period of at least 36 weeks. If you are working part-time rather than full-time to complete clinical experience requirements, finishing your clinical fellowship will take longer.
4. Take the Speech-Language Pathology Praxis Exam.
The Praxis Subject Exam in Speech-Language Pathology includes questions that cover the causes and development of communication disorders and professional methods of screening for, assessing, evaluating, diagnosing and treatment planning for a variety of communication, speech, language, feeding and swallowing disorders.
You should plan to take the Praxis Exam in Speech-Language Pathology before beginning the licensure process, according to U.S. News & World Report.
5. Secure a Professional License or Registration.
If you want to become a speech pathologist, you're going to need to attain a state license or registration to practice. Although each state issues its own licenses or registrations and sets its own regulations and requirements, most states require applicants to have a master's degree from an accredited program, complete a supervised clinical fellowship and pass an exam.
Generally, you can't get licensed as a fully qualified speech-language therapist until after you complete your clinical fellowship. However, in some states, part of the process of completing a fellowship is attaining a temporary license, known as an intern license or limited license, that qualifies you to begin working with patients in a clinical training capacity under the supervision of a licensed speech pathologist.
Acquiring state licensure for speech-language pathologists isn't something you do at the beginning of your career and never have to worry about again. An aspiring speech therapist should be prepared to take steps throughout their career to maintain licensure, including completing continuing education credits.
Through periodically undertaking formal learning opportunities, speech therapists continue to develop their skills and benefit from new research findings in the field.
6. Attain American Speech-Language-Hearing Association (ASHA) Certification.
If you want to be a Certified Speech-Language Pathologist, acquiring a state license isn't the end of your career preparation. You need to qualify for the Certificate of Clinical Competence (CCC) in Speech-Language Pathology credential awarded by the American Speech-Language Hearing Association.
Although the CCC credential isn't technically required for becoming a speech-language pathologist, some states and even individual employers may require speech pathologists working in certain environments to be certified. You will have more job opportunities as a Certified Speech-Language Pathologist than you would have without earning ASHA's speech-language pathology certificate.
RELATED: What Are Some Possible Career Options For A Speech-Language Pathologist?
The Best Undergraduate Majors for Aspiring Speech-Language Pathologists
Generally, you don't need a specific undergraduate major to apply to master's degree programs in speech-language pathology. Some individual schools, however, may have more stringent admission requirements regarding college majors than other institutions.
RELATED: What is the Best Bachelor's Degree to Get if You Want to Be a Speech Therapist?
The most common majors for aspiring speech pathologists include speech-language pathology and audiology (where offered), communication sciences and disorders (CSD), linguistics, psychology and education.
Prerequisite Courses Needed for a Master's Program in Speech-Language Pathology
Although students may apply to graduate school for speech-language pathology with a bachelor's degree in any subject, they will need to meet prerequisite courses.
RELATED: Can I Get a Graduate Degree in Speech Therapy if My Undergraduate Degree is Totally Unrelated?
In addition to basic prerequisite undergraduate courses in subjects like statistics, biology, chemistry, physics and social or behavioral science, aspiring graduate students may need to complete speech-language pathology leveling courses, according to the University of St. Augustine for Health Sciences.
Leveling courses may include studies in the introductory concepts of audiology, aural rehabilitation methods and technology, speech anatomy and physiology, communication sciences and disorders, phonetics and normal speech and language development.
If you don't take these courses in pursuit of your undergraduate degree, you will need to take them to bridge the gaps in your knowledge of the field before you can undertake graduate coursework. For that reason, students who already know they want to become a speech-language pathologist typically choose a more specialized major that helps them meet these requirements from the get-go.
Speech-Language Pathology and Audiology
Naturally, a bachelor's degree in the field of speech-language pathology can help you become a speech pathologist. Although speech-language pathology isn't as widely offered as an undergraduate degree as communicative sciences and similar programs of study, the curriculum of this program aligns with the prerequisites of a graduate program in speech pathology.
RELATED: What Degree Do I Need to Be an Audiologist?
Students take classes in language acquisition, phonetics, speech science, hearing science, anatomy and physiology of the speech system, audiology, neurological bases of communication and speech and language disorders across the lifespan.
Communication Sciences and Disorders
Communication sciences and disorders, also called communicative sciences, is the most popular major for future speech language pathologists, according to the University of St. Augustine for Health Sciences. More than 270 schools nationwide offer a CSD major, ASHA reported.
In a communication disorders degree program, undergraduate students will study both normal speech and language development and speech disorders. Coursework may include speech science, the fundamentals of hearing sciences, anatomy and physiology of speech, applied phonetics, speech and language development, cognitive neuroscience of speech and language, clinical audiology and clinical methods in speech-language pathology.
Undergraduate programs in CSD often allow students to begin gaining some hands-on experience through a practicum in a clinical or classroom setting.
Linguistics
As the scientific study of language, linguistics is closely related to language development and acquisition. Students majoring in linguistics study phonetics, phonology, syntax, semantics, sentence structure, word structure and morphology, language variation and change, accents and dialects, sociolinguistics and interrupted acquisition and language attrition.
Psychology
There are psychological concepts involved in learning and language acquisition, as well as the disorders that affect language development. Undergraduate programs in psychology are usually general in nature, providing an overview of many different areas of psychology, including developmental psychology, abnormal psychology, biological psychology, social psychology and cognitive psychology.
Education
Education is closely related to the development of language. Some speech pathologists begin their studies focusing on education but find themselves drawn toward the healthcare-oriented role of addressing communication disorders. An education major will typically study the principles and methods of teaching and learning and how to apply those principles in the classroom.
An Accredited Speech-Language Pathology Curriculum
A master's degree program in speech-language pathology accredited by the Council on Academic Accreditation (CAA) will include both graduate-level coursework and hands-on experience working in clinical settings. Accredited master's programs require at least 36 credit hours of coursework. Some graduate programs in speech pathology culminate in a comprehensive exam, research thesis or capstone project.
Students must complete at least 400 hours of supervised experience in a clinical setting. Of those hours, 375 hours must be devoted to direct patient or client contact and 25 hours must be devoted to guided clinical observation, ASHA reported.
Through their coursework in master's programs, students learn the concepts and skills for speech pathology evaluation and diagnosis, augmentative and alternate communication methods, research methods for conducting research in the field and counseling and clinical reasoning in speech pathology.
The coursework students are likely to take in a speech-language pathology graduate program includes studies of numerous types of disorders, including:
Speech sound disorders
Voice and resonance disorders
Fluency disorders
Motor speech disorders
Aphasia
Dysphagia
Craniofacial disorders
Disorders of preschool and school-age children
Language disorders related to acquired cognitive disorders
Communication and language problems related to aging and dementia
Communication issues related to autism spectrum disorders
For most speech-language pathologists, a master's program represents the end of their formal education, with the exception of continuing education coursework. Earning a doctoral degree in speech-language therapy is possible, but going for your doctorate isn't required to become a speech pathologist. In fact, most PhD holders in the field work in research, academia or advocacy.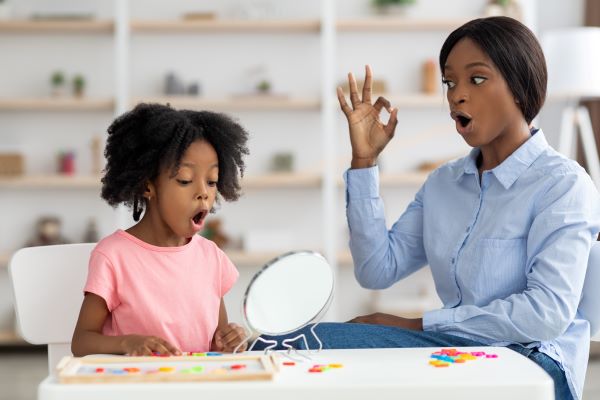 What Qualities Do You Need to Become a Speech-Language Pathologist?
To become a speech pathologist, you need to have strong critical-thinking skills, a great deal of compassion for the struggles your patients or clients face and, of course, excellent listing and communication skills. On a daily basis, you will be modeling speech sounds and the movements that produce them in speech therapy.
RELATED: What are Important Characteristics for a Person to Have to Become a Speech Therapist?
A good speech pathologist is able to connect with patients or clients and help them improve their communication, even when their speech difficulties leave them feeling frustrated. Different clients may respond better to different approaches, so thinking critically about how to help each individual client is important.