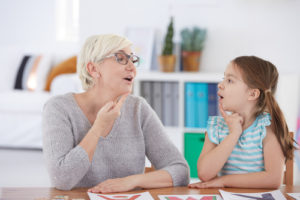 Think about how tough life would be if you had difficulty speaking. For some people, this is their daily reality. Speech-language pathologists (also called speech pathologists, speech therapists, or SLPs) have a valuable job. They assess and treat children and adults who have communication and swallowing issues. You might be wondering how much money someone can make for such an important job. Let's explore the salary of speech-language pathologists.
SLP Salary
The median annual wage for speech pathologists in 2018 was $77,510. As a comparison, they make less than an occupational therapist, more than a social worker, and about the same as a school psychologist. The highest-paid 25 percent make more than $97,000 a year and the least paid 25 percent make less than $60,000 annually. You can expect an hourly wage of almost $40 on average. SLPs make considerably more than the national average for all occupations.
SLP Salary by Location
The salary of a speech-language pathologist varies according to their location. In general, the best region to work in for speech pathologists is the west coast and northeast, whereas SLPs make the least money in the south on average.
Best and Worst States for SLP Salary
If you are a speech-language pathologist, you want to live in New Jersey, Connecticut, California or Alaska. You may want to avoid Arkansas, Alabama, and Montana. States with a low population may be a double-edged sword. Although they are probably underserved by speech pathologists, there are also fewer people that need their services. One can surmise that the lack of professionals in Alaska increase demand to the point where they can charge more for their services. Montana, on the other hand, has so little population that they may have little need for speech and language specialists.
Best and Worst Cities for SLP Salary
The best metropolitan areas for making money as a speech pathologist are in northern California. SLPs working in the San-Francisco-Oakland area average $105,000 annually. Other high paying cities are Fairbanks, Alaska and Tulsa, Oklahoma. One thing you have to consider when looking at salary is the cost of living. You might make more money in San Francisco but the cost of living is tremendously high, negating some of that salary. In Jackson, Mississippi, for example, you may only make $63,000 a year but you can live comfortably for less money. Same goes for Charleston, WV. at $55,000. After taking into account the cost of living, working in a city such as Tulsa, which pays a high salary with decent cost of living expenses, would allow you to save more money.
SLP Salary By Work Setting
The type of work setting has a large impact on how much money you make as an SLP. Most people find work in the field of education. Unfortunately, the pay for a job in an education setting, such as an elementary school, is lower than most other settings. For example, the average salary for an SLP working in a residential or nursing care setting is almost $95,000. Working in an office with other health care practitioners you can make approximately $85,000. Working in education, you can expect to make about $70,000 annually.
Experience Matters
As with most professions, the amount of time you have spent working in the field affects your salary. Those newly entering the workforce can expect to make from $60,000-65,000 per year. Speech-language pathologists with over 15 years of experience are the top gainers, frequently making $90,000 or more.
Growing Demand for SLPs
According to the Bureau of Labor Statistics, employment of speech-language pathologists is expected to increase by 27 percent over the next 10 years, far outpacing the average growth for other occupations. One factor in the increase appears to be the large Baby Boomer population. As they enter old age, they will have more need for speech and language services. There is also an increasing awareness of speech and language disorders in children, especially in the area of autism, contributing to the need for SLPs. Finally, medical advances have led to more people surviving premature birth and medical trauma, increasing the need for experts in developing and rehabilitating language. Finding employment in the future as an SLP should not be overly difficult, especially if an individual is willing to relocate for a job.
Increasing Salary
Over the past 10 years, there has been a steady increase in the salary of SLPs. Their salary has grown an average of 15,000 in the past 10 years. With the estimated increase in demand for the position, salary will likely continue on a steady upward trajectory.
Will A Career in Speech Pathology Leave Me In Debt?
As the price of higher education soars, one question you have to ask is whether the salary of  a speech-language pathologist is high enough to make up for the amount of money spent on becoming one. Depending on the school you attend, you will likely end up paying between $50,000-$125,000 each year for the tuition at a  two-year master's degree program. That is on top of the four years you spent on undergraduate education. For example, a public school for an in-state student might cost $25,000 a year whereas a private university may be twice that amount. Take into account room and board, as well as books and miscellaneous expenses and you have an additional $30,000-40,000. Some schools may offer graduate assistantships to defray tuition costs but that is not available at all schools. As a graduate student, you are eligible for loans but remember, loans must be paid back. In addition, most programs require full-time attendance, which does not leave much time for a part-time job. In the end, you must consider that you will probably spend more for graduate education than you will make in the entire two to three years after you receive your license to practice (which of course costs money as well). Only when you weigh those costs, can you make an educated decision as to whether you can afford a career as a speech-language pathologist.
Is Speech-Language Pathology The Right Career For You?
There is no doubt that speech-language pathology is a worthwhile and rewarding career. It is also a growing field with good prospects for employment. Although the salary is not as much as some other professions, it is well above the national average and is steadily increasing. If you choose to live in an area with lower expenses, it is possible to live comfortably and (after you erase any debt) put away money for retirement. If you are passionate about the speech and language field, salary should not be an obstacle that is impossible to overcome.
DQ Staff
December 2019
More Articles of Interest: