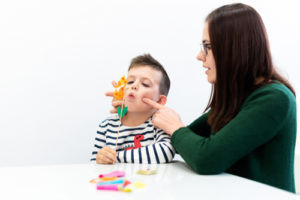 Speech therapists are in-demand across the United States and have a projected job growth rate of 27% by 2028.  Their median annual salary of $77,510 per year is enticing for many students who are thinking about entering the field.
However, the steps to becoming a speech therapist are more involved than many students realize. Before you find a degree program, you should understand that it will require a great deal of commitment to earn your certification and land your dream job. Read on to learn how to achieve your goals and set off on the best path to becoming a speech therapist.
How long does it take to become a speech pathologist?
The requirements to become a speech pathologist vary from state-to-state. However, most states require prospective speech therapists to earn a master's degree before allowing them to practice. Your learning speed will come into play as well: Some programs allow students to complete their programs at an accelerated pace, and you may be able to make things move along faster by taking an extra course or two each semester.
Let's take a look at all the steps you'll have to complete before landing your dream job as a speech pathologist. Generally, if you choose to meet all the following requirements at an average pace, it will take around seven years of education to become a speech pathologist.
Step 1: Earn your bachelor's degree.
Earning your bachelor's degree is the first step to becoming a speech therapist. Many students choose to major in Communication Sciences and Disorders, but this isn't required. As long as the program you choose is related to speech therapy in some way, most master's programs will accept your credits.
During your bachelor's program, you'll learn all the basics of working with clients and preparing individualized exercises. You'll also be required to take many math, science, and language courses to prepare yourself for graduate school.
If you've already chosen some graduate schools that appeal to you, it's a good idea to contact the schools about their speech therapist degree requirements. The best time to prepare for your master's in speech pathology is during your undergraduate program.
Step 2: Earn a Master's in Speech Pathology.
The next step to becoming a speech therapist is to earn your Master's in Speech Pathology. To earn your license, you must choose a program that's accredited by the Council on Academic Accreditation in Audiology and Speech-Language Pathology (also known as the CAA). Be sure to check with all potential schools to see if they're CAA verified.
Your master's program will focus on more advanced concepts, such as specific techniques and complex phonology. You'll expand on everything you learned during your bachelor's program, and become an expert on everything related to speech pathology. Some students choose to focus on a specialty, such as Resonance or Feeding and Swallowing, during their master's program as well.
At the end of your master's program, you should know how to treat a wide variety of speech disorders and how to effectively communicate with clients and caregivers. To graduate, you'll be required to complete a certain amount of clinical hours as well.
Step 3: Complete all required clinical hours. 
All accredited SLP graduate programs require you to complete a minimum of 400 clinical hours to graduate. You'll work closely with experienced speech therapists and learn to address specific issues in a clinical environment.
Your clinical hours will include:
25 hours of clinical observation
375 hours of client/patient contact
Your clinical hours will allow you to apply everything you've learned in school to the real world. This invaluable learning experience will ensure that you'll be able to give your patients the specialized treatments they need when you land your first speech therapy job.
Step 4: Complete your Clinical Fellowship Year.
Once you've reached your Clinical Fellowship Year, you'll know that your long journey to becoming a speech therapist is almost at its end! The Clinical Fellowship Year (also known at the CFY) is an intensive-yet-rewarding experience that requires students to complete 36 weeks of full-time practice. This comes out to 1260 hours of clinical time!
Some students choose to complete their CFY in a matter of months, while others space it out over several years. The speed at which you complete your CFY depends entirely on your work requirements and other commitments.
Step 5: Pass all exams required for your state license.
 All states require aspiring speech pathologists to complete a variety of exams before earning their license. The exams you'll be required to take depend entirely on your state of residence, so be sure to research your state's specific requirements.
However, you'll most likely encounter a combination of the following exam and certification requirements:
Praxis Exam: To earn your teaching certificate, you must pass the Praxis Exam. ASHA requires you to pass this test before earning your Certificate of Clinical Competence in Speech-Language Pathology as well.
Teaching Certificate: A large number of speech language pathologists find work in elementary and secondary schools. Many schools will ask you to earn a teaching certificate before practicing speech therapy with their students. This means you should earn a teaching certificate if you plan on working in schools.
Step 6: Earn your state Speech Language Pathology Certification.
After you've completed your CFY and passed all necessary exams, it's time to apply for your state Speech Language Pathology Certification! If you've kept up with all your educational requirements from the beginning, this should be the easiest step of all.
Most states will allow you to fill out all necessary forms online, but you may be required to submit copies of your certifications by mail. After all your paperwork is submitted, it's time to wait for your license to arrive. For more information on this step, you should visit the webpage of your state's SLP licensing board.
Step 7: Pursue additional certifications.
If you thought your education was over after you earned your certification, think again. Some states require you to earn a certain amount of continuing education credits in order to keep a valid license. But even if your state doesn't require it by law, it's a good idea to keep up on new developments in the field so you can better serve your clients. ASHA has a great directory of CEUs on their website that will help you get started.
Erica Ciko Campbell
Bachelor of Science (B.S.), Biology| Utica College
Associate of Science (A.S.)| Herkimer County Community College
December 2019
More Articles of Interest: