If you're interested in designing infrastructure projects that range from bridges and roadways to mass transit systems, civil engineering may be the career path for you. Professional designers and problem-solvers with a background in math and science are called engineers. Civil engineers must have a college education, and some workers in this field require a professional license, too.
Whether you decide to jump straight into the workforce with your bachelor's degree in civil engineering or continue your education into graduate school, you have to start with your undergraduate coursework first.
What Is a Civil Engineer?
Designing, planning and overseeing the completion of infrastructure projects are the main focuses of the field of civil engineering. Becoming a civil engineer means you will spend your workdays performing job roles such as conduct research into problems and challenges in the built environment and develop solutions to real-world issues.
Where Do Civil Engineers Work?
Most civil engineers work in either the engineering services industry or some level of government agencies. The engineering services industry is the single largest employment industry for civil engineers, accounting for 50% of the workforce in 2020, according to the Bureau of Labor Statistics Occupational Outlook Handbook. All told, 25 percent of civil engineers are employed by the government – 12% by state governments, 10% by local governments and 3% by the federal government.
RELATED: What Kind of Job Can You Get With a Degree in Civil Engineering?
According to the BLS, Other civil engineers work for industries such as:
Nonresidential building construction
Pipeline transportation of natural gas
Oil and gas extraction
Petroleum and coal products manufacturing
Semiconductor manufacturing
Aerospace parts manufacturing
Highway, street and bridge construction
Civil engineers go by many job titles, including design engineer, project engineer, structural engineer, geotechnical engineer, railroad design consultant and city or county engineer, according to O*NET.
Not all civil engineering jobs necessarily have the words "civil engineer" in the job title. Construction managers aren't necessarily civil engineers, since some workers in these roles come to the field with years of construction work experience and knowledge of the construction business. However, a civil engineering degree is one path you could pursue to get into a construction management role.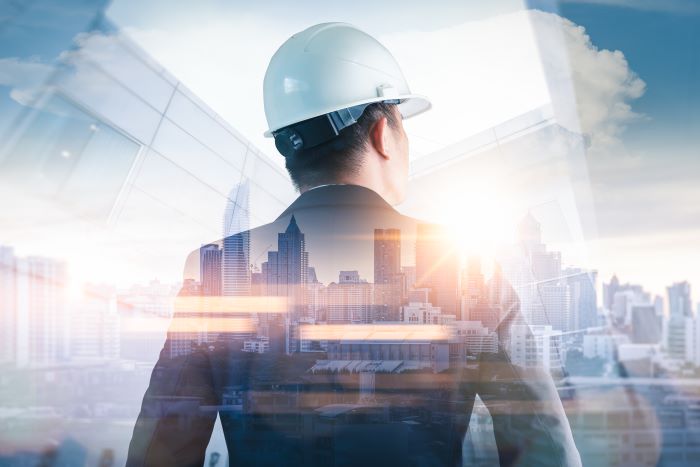 How to Become a Civil Engineer: The Basics
The path to a career as a civil engineer involves formal education and hands-on learning. As such, students who are intent on becoming a civil engineer should expect to spend time in the laboratory and conducting fieldwork as well as undertaking traditional classroom learning.
The basic steps needed to become a civil engineer include:
Prepare for a science- and mathematics-heavy college curriculum by taking college preparatory courses in these subjects in high school.
Earn a civil engineering degree from an ABET-accredited engineering program.
Develop your real-world skills through internships, co-op experiences, design courses and involvement in faculty research projects.
Start preparing for licensure by taking the Fundamentals of Engineering (FE) exam.
Begin working in your first full-time engineering job after graduation.
Finish the licensure process once you have met the required number of years of experience in entry-level positions in civil engineering. Not every civil engineer needs a license for the work they perform, but keeping open your options to attain a license is a wise move, since there are some tasks that only licensed civil engineers are authorized to do.
The path to a career in civil engineering is fairly straightforward, but that doesn't mean it's easy to become a civil engineer. You will need to be good enough at math and basic science to have a firm grasp of the underlying concepts of engineering design. The coursework in a civil engineering program will be difficult in the sense that it is math-heavy and science-heavy. Still, if you have an aptitude for these subjects and are willing to put in the hard work, a civil engineering program is not only manageable but also very rewarding.
Levels of Study in Civil Engineering
Civil engineering degrees are available at undergraduate, graduate and doctoral levels of study.
A bachelor's degree is generally the minimum level of education needed to attain a entry-level positions in civil engineering, according to the United States Bureau of Labor Statistics (BLS). O*NET reported that most employers expect new hires to enter the field with a bachelor's degree in civil engineering. However, one in ten industry experts surveyed said that newly hired civil engineers should have a master's degree, according to O*NET.
Associate's Degree
If you need at least a bachelor's degree to get started working as a civil engineer, why bother pursuing an associate's degree in civil engineering? This lower level of study that requires two years of full-time study at a community college or junior college won't qualify you to work as an engineer, but associate degrees can prepare you for related roles like engineering surveyor or design technician.
More commonly, students who pursue a civil engineering degree at the associate's level of study do so to save money on their first two years of undergraduate coursework. After completing their associate degrees, these students plan to transfer to a four-year school to complete a bachelor's degree.
Students should be aware that there are differences between associate's degrees in civil engineering and associate's degrees in civil engineering technology. Engineering technology degrees at this level may fully prepare students for engineering technician roles, which are not the same as engineer roles. It's worth noting that ABET, the Accreditation Board for Engineering and Technology, Inc., does not accredit associate's degree programs in engineering, although it does accredit associate's degrees in engineering technology.
Bachelor's Degree
Only civil engineering degree programs offered at the bachelor's degree level cover the extent of basic science and mathematics coursework, core coursework in general engineering subjects and classes specific to the discipline of civil engineering that is necessary to get started in this field. An associate's degree alone won't cut it, but with a bachelor's degree in civil engineering, you're ready to break into this career path.
Students are encouraged to look for ABET-accredited engineering bachelor's degrees.
Bachelor's degrees are usually awarded through four-year colleges and universities. However, not all students complete their bachelor's degrees in four years, especially when they study difficult subjects like science, math and engineering.
Further, engineering degree programs sometimes offer co-op experience opportunities through which students can gain substantial hands-on work experience in the field as they pursue their bachelor's degrees. Participating in a co-op can increase the time it takes to earn your degree by six months or even a year, but you graduate with considerable work experience under your belt already.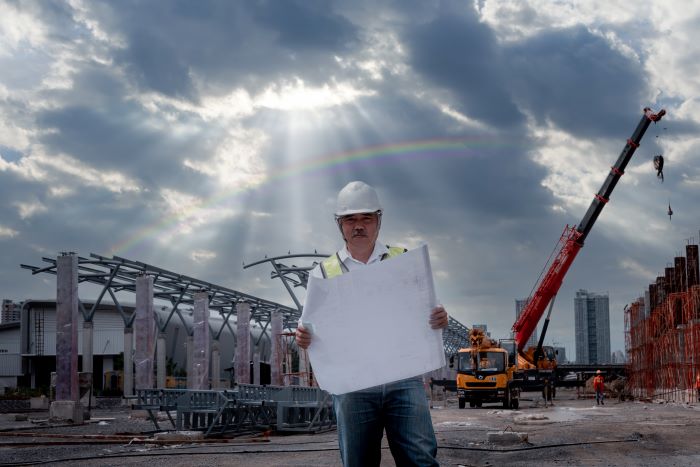 Master's Degree
After earning their bachelor's degrees, students might also consider earning a graduate degree in civil engineering. You might need a more advanced education beyond a bachelor's degree if you want to develop the skills to work in more specialized areas of civil engineering. ABET accredits master's in civil engineering programs as well as bachelor's degree programs.
ABET-accredited master's programs in engineering must include a minimum of 30 credits of college study, although some programs require students to complete more credits. Two years is the typical timeframe for completing a Master of Science degree, although some graduate engineering programs can be completed in just one year and others, especially those with more extensive credit requirements, may take three years of study. There are both thesis and non-thesis options for a master's in civil engineering degree.
Doctoral Degree
Civil engineers sometimes go on to earn a doctorate, like a Doctor of Philosophy (PhD) or a Doctor of Engineering (DEng or EngD). Generally, you only need a doctorate in engineering if you want to work in academia or in senior positions in engineering practice and industry.
A PhD is a traditionally research-focused degree and is generally the best choice if you want to work as an instructor and researcher at a research university. A Doctor of Engineering program typically has more of an industry work or applied engineering focus and may be a smart choice for a civil engineer who wants to develop his or her expertise in a highly specialized or advanced area.
Coursework for Civil Engineers
Becoming a successful engineer means developing your technical knowledge, as well as non-technical skillsets. During college, civil engineers complete a combination of general education courses, basic science and math courses, core engineering courses and specialized major coursework.
RELATED: What Classes Will I Have to Take for a Degree in Civil Engineering?
General Education Courses
Like students majoring in other subjects, civil engineering majors must complete courses in a variety of subject areas to meet their college's general education requirements. Although each institution has its own unique general education requirements, most schools ask students to complete at least some coursework in writing, public speaking, literature, history, art, psychology or human behavior, laboratory science and mathematics.
Students often ask why they need to take gen ed courses. Although these classes may not be in a student's particular area of interest, taking them can help expand a student's knowledge and perspective and develop essential skills in communication, critical thinking and problem-solving. For aspiring civil engineers, these skills can help you learn to think through the full scope of an infrastructure project's specifications and complexities, calculate cost estimates, put together reports for clients and construction teams and prepare to solve the problems that arise during the construction process.
Basic Science and Math Courses
While some basic college-level science and math coursework is part of most schools' general education requirements, students majoring in engineering should expect to devote a lot more time to studies in these subjects. Students of civil engineering should expect to take a series of courses in calculus as well as classes in probability and statistics and differential equations. Laboratory coursework in physics and chemistry is also common, and students may take some classes in geology or environmental chemistry and microbiology.
General Engineering Core
No matter which branch of engineering you choose to pursue, you need to understand the fundamentals of engineering. Students from all engineering majors commonly take general engineering core courses, such as Introduction to Engineering, along with coursework in engineering graphics, engineering statics, engineering dynamics, thermodynamics, engineering mechanics, mechanics of solids and fluid dynamics and mechanics.
It's important that engineering students of all majors develop hands-on skills in engineering design. Most engineering students will take at least one design studio course as a senior project, but some schools integrate hands-on design projects into the earlier years of the curriculum, as well.
Civil Engineering Major Coursework
Students who graduate from an ABET-accredited civil engineering bachelor's degree program should learn how to conduct experiments and sustainably design systems, processes and components in different areas of civil engineering. They develop skills in analyzing civil engineering problems and interpreting data produced by experiments. Since civil engineers also act as project managers and leaders of large construction projects, the coursework found in ABET-accredited programs also includes project management duties, leadership skills, business principles and practices, professional ethics and matters of public policy that deal with infrastructure projects.
Some of the major coursework that might be required of civil engineering students include the principles and applications of surveying, civil engineering materials, steel and concrete design, soil mechanics and structural analysis. Students majoring in civil engineering typically take at least one course in the major subdisciplines of civil engineering.
Electives, Concentrations and Specialization Courses
Because the field of civil engineering is so broad, many engineering schools leave room in the curriculum for students to tailor their education to their own interests. They may do this through formal tracks and concentrations in civil engineering subdisciplines or through the strategic use of their elective courses.
Generally, concentration areas for undergraduate civil engineering students include construction management, geotechnical engineering, materials engineering, hydraulic engineering and environmental engineering. Electives usually fit into these general areas, but the individual courses students can choose from may be highly specific – for example, students may take coursework on pre-stressed concrete or hydrometeorology.
Civil Engineering Specialty Areas
Civil engineering encompasses the design, development, construction and maintenance of the built environment. This longstanding and broad discipline of engineering includes the construction of everything from roads and bridges to dams, airports, railroad systems, water supply systems and more.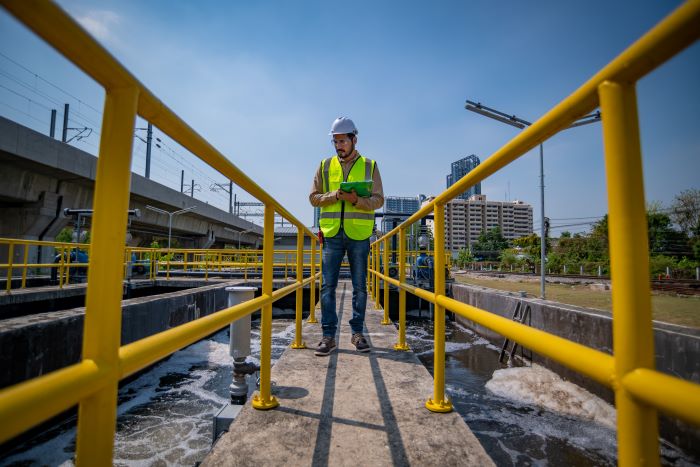 Because civil engineering is such a broad and complex branch of engineering, it is divided into many different areas of civil engineering specialty. The major subdisciplines of civil engineering include construction engineering, structural engineering, transportation engineering, geotechnical engineering, water resources engineering and environmental engineering.
Construction Engineering
Some civil engineers focus on leading construction projects. Through studies in civil engineering and construction management, aspiring construction engineers learn the skills they need to manage projects and problems on construction sites.
RELATED: What Is the Difference Between a Degree in Civil Engineering and a Degree in Architecture?
Coursework in this engineering specialty may cover everything from construction specifications to the types and use of construction equipment to areas of construction management like construction contract documents, the logistics of planning and scheduling construction projects, developing construction cost estimates and managing cash flows. Electives for construction managers may include construction estimating and bidding, construction scheduling and control, land development engineering, project business planning, the use of Building Information Modeling software and sustainability systems in the built environment.
Structural Engineering
Structural engineers design and oversee the construction of major and large-scale buildings and infrastructure, particularly in projects that bear, reinforce or counteract heavy loads. For example, bridges, dams, large (and especially tall) buildings and parking garages are among the types of projects that may fit under this subdiscipline of civil engineering work.
Studies in this subdiscipline typically cover the methods of analyzing structural force, stresses and deflections. The elective coursework that students may complete in structural engineering includes structural mechanics, structural analysis, fatigue and fracture, structural design using pre-stressed and reinforced concrete, bridge engineering and the design of structures using steel, cement, masonry and wood.
Transportation Engineering
Transportation engineers plan and design transportation infrastructure of all kinds. These civil engineers design everything from roads and highways to mass transit systems and airports.
Coursework in transportation engineering includes the study and analysis of the technology used in various transportation systems and the skills for planning, developing and maintaining these systems. Elective courses for aspiring transportation engineers include pavement analysis and evaluation, transportation systems modeling and data analysis for transportation planning.
Geotechnical Engineering
Geotechnical engineers are concerned with the rock and soil of the earth as it functions as a foundation for built structures such as buildings, tunnels, bridges, dams and roadways. Geotechnical engineers typically take classes in soil mechanics and rock mechanics, as well as foundation engineering and earth retaining systems.
Water Resources Engineering
The systems used to access clean water and dispose of dirty water are also part of the infrastructure developed by civil engineers. Some civil engineers focus on this area of water resources engineering specifically. Civil engineers interested in water resources engineering might study the principles and practices of water resources planning and design as well as river engineering principles, watershed engineering principles, surface hydrology and the principles of hydraulic design.
Environmental Engineering
Environmental engineering is the branch of engineering that is concerned with addressing environmental challenges and environmental effects of human activity. Renewable energy projects, hazardous waste management processes and methods of mitigating pollution are some of the areas of focus in environmental engineering. Civil engineers who focus on environmental engineering may take classes in environmental science as well as the principles and processes of environmental treatments and site remediation, sustainable methods of engineering and waste management and the design of waste treatment plants.
RELATED: What Is the Benefit of a Civil Engineering Degree Vs. an Environmental Engineering Degree?
Degrees in Civil Engineering Technology
Civil engineering technology is a separate field of study from civil engineering, although the two fields are closely related.
The Difference Between a Civil Engineer and a Civil Engineering Technologist
Basically, an engineer is the one responsible for designing civil engineering projects. An engineering technician or engineering technologist serves in a support role that, according to the Bureau of Labor Statistics, often includes installing, maintaining, troubleshooting and assisting with the planning of an engineer's designs.
Civil engineering technicians and civil engineering technologists work alongside and under the guidance of civil engineers, the BLS reported. Generally, civil engineering technologists are more highly qualified than technicians through formal education or professional certification.
Civil Engineering Technology Degree Levels and ABET Accreditation
ABET accredits civil engineering technology programs, but the organization uses a separate set of accreditation criteria for engineering technology programs than for engineering programs. ABET accredits civil engineering technology programs at both the associate's and bachelor's degree levels.
Nearly 80 percent of industry expert respondents reported that new hires in the civil engineering technician and technologist occupation need at least some amount of college education, according to O*NET. Post-secondary certificates were the most commonly reported level of study, with 30% of respondents reporting this answer. Another 28% of respondents reported that some college study was required but a degree was not, and 21% of respondents said that civil engineering technicians and technologists should have an associate's degree.
Civil Engineering Technology Curriculum
ABET-accredited associate's degree programs cover the principles of generating civil engineering documents like drawings and reports and the computer software and hardware equipment needed to create these documents. Students of these programs learn to use civil engineering surveying methods and to apply analytical techniques and computational methods to field and laboratory tests.
At the bachelor's degree level, civil engineering technologist students will also learn how to prepare design and construction documents, choose the right materials and practices for engineering designs and analyze designs in at least three of the subdisciplines of civil engineering.
Getting Licensed as a Professional Engineer
There are certain job duties in civil engineering that only licensed engineers, called professional engineers, are authorized to perform. For example, only licensed engineers can sell their services to the public, approve engineering design plans and officially sign off on projects involving the building and construction of infrastructure.
State licensure generally requires civil engineers to possess a degree in civil engineering, complete two licensing exams at different points in their career and acquire a minimum amount of work experience.
The Fundamentals of Engineering Licensing Test
Attaining your professional engineering license requires passing two exams as well as meeting education and experience eligibility requirements. First, engineers pursuing licensure take the Fundamentals of Engineering (FE) exam after graduating with their bachelor's degree in civil engineering. Passing this exam qualifies civil engineers as engineer interns or engineers in training.
The Professional Engineering Licensing Test
Once a civil engineer intern gains enough experience to qualify for licensure in their state – typically four years, according to the BLS – they take a second licensing exam, the Professional Engineering (PE) or Principles and Practice of Engineering (P&P or P&PE) exam. Only after earning a passing score on the Professional Engineering test are candidates able to attain a state license as a professional engineer.
Both engineering licensing exams are developed, administered and scored by the National Council of Examiners for Engineering and Surveying (NCEES). The Civil Engineering FE Exam includes questions in the categories of mathematics and statistics, ethics and professional practice, engineering economics, statics, fluid dynamics, materials and their mechanics, fluid mechanics, surveying and the different subdisciplines of civil engineering. Professional engineers in this discipline must choose one of five subdisciplines in which the PE exam is offered.
Important Qualities for Civil Engineers
When preparing for a career as a civil engineer, a lot of the focus is on gaining technical knowledge of subjects like engineering mechanics, the specifications of building projects and materials and the computer systems used to model and analyze designs and create construction drawings and documents. An engineer's technical knowledge and skills are paramount, but the reality is that the best civil engineers have more than technical skills.
Decisionmaking and Problem-Solving Skills for Civil Engineers
Many types of skills are needed to manage infrastructure projects and construction processes. For civil engineers, one of the most important qualities, decisionmaking skills, is critical. Civil engineering project managers rely on these skills to effectively allocate resources such as funding and manpower.
Throughout the construction process, organizational skills and problem-solving skills are in high demand. Having strong organizational skills helps keep even complex projects on task, while cultivating problem-solving skills can help civil engineers deal with issues that arise – and, as anyone who was worked in the construction management field knows, issues and delays are common.
Communication and Leadership Skills for Civil Engineers
Communication skills, too, are especially important for civil engineers. You might think of engineering as having more to do with math and science than with interpersonal communication, but civil engineers work with many other people, both on their engineering and construction teams and outside these teams.
As such, civil engineers need to master the skills of technical writing. They must also be able to explain projects and translate engineering and scientific information into plain, understandable language for clients, urban and regional planners, elected officials, private citizens and others without a science background, according to the Bureau of Labor Statistics.
Engineering managers often manage projects, and some manage teams, as well. Leadership skills are important for project managers and especially for engineering managers. Good leadership can help even complex projects run more smoothly and help teams overcome challenges, while poor leadership practices can set projects up for failure from the start.
Advancement in the Civil Engineering Industry
When it comes to seeking opportunities for career advancement, civil engineers have plenty of options for reaching senior positions and leadership roles like engineering managers. Through experience, licensing and education, civil engineers can improve their marketability in the field and their earning potential.
Some civil engineers move up in the field by pursuing further education – most commonly, a graduate degree. Graduate certificate programs may also count as further education that can help engineers move up in their career path. In leadership roles, more civil engineers held advanced degrees than in non-managerial engineering practice roles. Earning their Professional Engineer license can also boost civil engineers' careers. Some senior positions are only available to licensed engineers due to the nature of the job requirements.
Finally, acquiring years of experience can help your career, especially if you play key roles in highly successful and well-known projects or if you develop specialized or highly advanced technical skills.