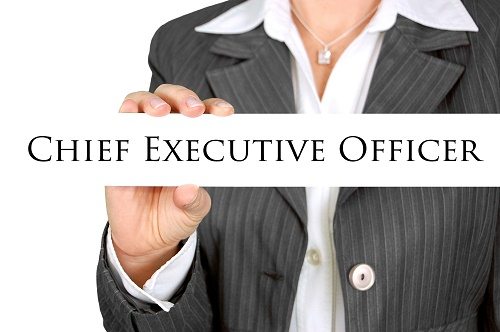 IMAGE SOURCE: Pixabay, public domain.
Overview
At the highest level of leadership, companies in industries like computer systems design, financial investment activities and transportation employ managers known as chief executives. These business professionals handle the immense responsibility of developing and implementing the business policies and practices of their entire organizations, according to the United States Bureau of Labor Statistics (BLS).
There are a number of job titles that fit into a chief executive role. Perhaps the most common are chief executive officers (CEOs), who oversee general company operations and performance. CEOs sometimes go by titles such as president, executive director and managing director, the BLS reported.
Some chief executives work in more specialized capacities, managing particular aspects of a company's business operations. A chief operating officer (COO) focuses on administration and works hard to keep all of the distinct departments within the company on task and profitable. Then there's the chief financial officer (CFO), whose job is to oversee the company's finances. The CFO does everything from establishing budgets to managing investments. There are also chief information officers (CIOs), who manage the company's computer networks and information technology systems.
Education
A college degree is essential if you want to make it to a senior-level role like chief executive. Some top executives have a bachelor's degree, but a master's degree might be required to advance into some chief executive roles.
Which degree you will need to attain a chief executive position depends quite a bit on which role you're eyeing. If you want to become a CEO or a COO, a degree in business administration, such as an MBA, will help you achieve your career goals. Aspiring CFOs would benefit from studying accounting or finance, The Houston Chronicle reported. Likewise, if you want to become a CIO, it's important to have a strong background in computers science or IT.
Of course, a degree alone won't get you a chief executive job. To make it to these top leaderships positions, you will need plenty of experience in your field. They might work hard to move from entry-level roles in administration, finance or IT to mid-level supervisory roles like operations manager before rising to a chief executive position.
Employment
Chief executives earn a median salary of $175,110 per year, making this role by far one of the highest-paying business careers, according to the BLS. In fact, chief executives earn five times the median salary for all occupations, the BLS reported. CEOs, CFOs, CIOs and other chief executives make significantly more than even other top executives in management and leadership roles. They also enjoy benefits like bonuses and profit-sharing payments. However, the life of a CEO isn't all perks and profits. Chief executives often work long hours, and the competition for the limited number of these high-level management roles available can be fierce.
Conclusion
Chief executives need a strong business education or a degree in a field like accounting, finance or IT. They also need a great deal of work experience and particularly management experience. CEOs and other chief executives have to handle a lot of responsibility and at times, a lot of stress, but the high pay and other benefits often make the challenges worthwhile.