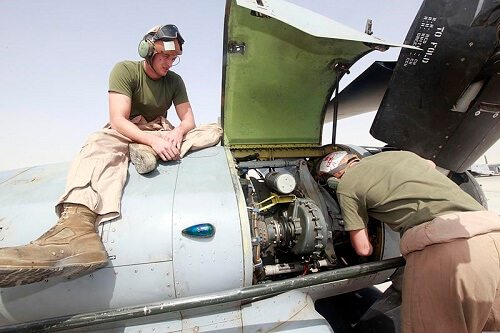 IMAGE SOURCE: Wikimedia Commons, public domain
Overview
Aircraft mechanics are the maintenance and repair specialists who inspect and work on airplanes, jets and helicopters. These professionals play an integral part in the safety of the aviation industry. Aircraft mechanics work primarily in support services for air transportation, scheduled air travel, aerospace parts manufacturing and the federal government.
When a plane malfunctions or performs poorly, aircraft mechanics evaluate mechanical and electrical problems to determine the cause and the solution. To figure out the root of a problem with the aircraft, these technicians use diagnostic equipment such as gauges. They use hand and power tools to fix or replace damaged or defective parts of the plane, ranging from brakes to wings and electrical systems to the engine. When working on a plane, aircraft mechanics must always check replacement parts to make sure they are free of defects and follow the proper repair procedures. In addition to fixing aircraft problems, these professionals also perform scheduled maintenance to keep planes running reliably and safely. Aircraft mechanics also test the safety of aircraft and keep written records the maintenance work performed on an individual plane.
Education
Aircraft mechanics don't necessarily need a college degree to enter the field, though having an associate's or bachelor's degree in a field such as aviation flight instruments can certainly be an advantage when it comes to attaining a position in a competitive job market. However, at least some post-secondary education is important. The most typical path to preparing for a career as an aircraft mechanic is enrolling in a Part 147 FAA-approved Aviation Maintenance Technician School. Here, students will learn the construction and maintenance of aircraft. Additionally, many aircraft mechanics begin their career paths by gaining experience through military service.
At the end of the education and training program, students will receive a certificate of completion and be eligible to take the necessary exams to earn their Airframe and Powerplant (A&P) certificates. A & P ratings are important because they qualify aircraft mechanics to work independently on engines, brakes, air conditioning systems, landing gear and other essential parts of the aircraft. While an aircraft mechanic can hold just one of these ratings, earning both certificates qualifies him or her to work on more parts of an aircraft, making a candidate more appealing to employers.
Employment
Aircraft mechanics earn a median salary of $55,210 per year, the United States Bureau of Labor Statistics (BLS) reported. Forbes has ranked this career among the top 10 highest paying blue-collar occupations. The BLS predicted little job growth over a ten-year period in 2012, but more recently, publications like Forbes have reported a shortage of qualified aircraft mechanics. This means that the job outlook for this career may be more positive than previously expected.
Conclusion
Aircraft mechanics inspect, maintain and work on essential parts of an airplane or helicopter, including the wings, engines, landing gear and brakes. These repair specialists need special training from FAA-approved Aviation Maintenance Technician Schools to develop the skills to work on a plane's body and engine. The work of skilled aircraft mechanics keeps planes and jets flying safely.
Related Resources: