If the notion of exhuming and examining human skeletal remains ignites in you curiosity rather than squeamishness, forensic anthropologist could be your ideal career. The field of forensic anthropology applies a practitioner's advanced knowledge of the natural and social science of anthropology to the objective of solving mysteries, particularly those that involve violent crime. Forensic anthropology is a highly competitive field that requires a great deal of advanced education. If you're up for the challenges, though, this career path can be uniquely fulfilling.
What Do Forensic Anthropologists Do?
The main focus of the field of forensic anthropology is to apply the principles and methods of the science of anthropology to the identification and analysis of human remains. Anthropology refers to the scientific study of humanity and the biological, physiological, social, cultural and linguistic aspects of humans across the world and throughout history.
RELATED: What Can I Do With An Anthropology Degree?
Usually, work in forensic anthropology is concerned with matters of criminal justice – namely, identifying human remains discovered at crime scenes. However, A forensic anthropologist also may work to determine whether deaths or injuries appear to be accidental or intentional, as well as to assist with human rights investigations and mass disaster response efforts, according to the American Board of Forensic Anthropology (ABFA).
When federal agencies and other law enforcement agencies bring on forensic anthropologists to assist with a criminal investigation, the anthropologist will typically visit the crime scene to collect evidence. Although forensic anthropologists may examine exhumed bones or photos of crime scenes in some instances, visiting crime scenes in person is preferable in most cases, the American Board of Forensic Anthropology reported. The benefit of being able to visit crime scenes in their entirety is that forensic anthropologists are able to process and document the scene, including recovering any suspected human remains, in accordance with proper methods used in forensic archeology.
Initially, a forensic anthropologist's work may focus on figuring out whether recovered remains are, in fact, human remains. After determining that the remains constitute a human skeleton (or at least, part of one), a forensic anthropologist will analyze the remains to learn more about them.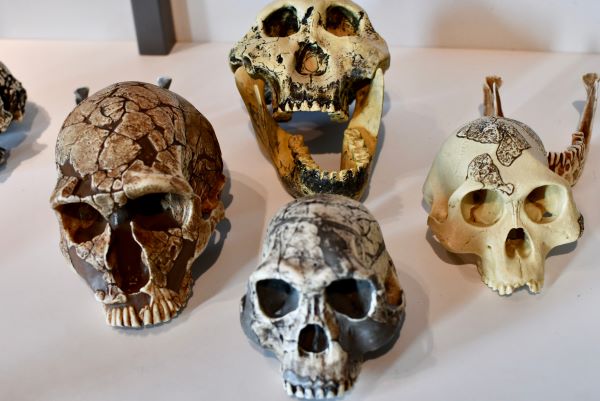 The goals of analyzing human skeletons are often to identify victims and determine what happened to them. Forensic anthropologists with a background in physical anthropology can often determine several biological characteristics of the remains, including age, biological sex, stature and any pathological conditions or surgical implants that remain in the body. Each of these details can help paint a picture that allows investigators to make an identification. Some forensic anthropologists may perform facial reconstructions to help establish what the victim may have looked like, but "very few" professionals in the field do this work, the American Board of Forensic Anthropology reported. More commonly, a forensic anthropologist will work with a forensic artist to have an accurate reconstruction created, if needed.
RELATED: What Degree Do I Need to Be a Forensic Artist?
The work of professional forensic anthropologists can also help establish whether or not criminal cases will be pursued. Just because a body has been found doesn't always mean that foul play was involved. A forensic anthropologist may be able to distinguish between a murder and an accidental death or a death arising out of natural causes.
In criminal justice matters, forensic anthropologists don't only help investigators crack the case. They may also serve as expert witnesses for the prosecution. By presenting expert witness testimony in court, forensic anthropologists can establish the times and causes of death as well as the identity of the victim.
When Are Forensic Anthropologists Needed?
Not all matters of criminal justice require the assistance of a forensic anthropologist. In fact, most homicide and violent crime cases don't.
Identification of the victim can typically be made through other means. A friend or family member is typically able to identify the body through visual recognition. Otherwise, fingerprints or dental evidence can typically be used.
It's usually when these conventional methods of identifying human remains fail that the skills and expert testimony of a forensic anthropologist is needed. As such, cases that involve forensic anthropologists tend to be among the most gruesome cases law enforcement agencies handle. The skeletal remains may be incomplete. The body may be so badly decomposed, burned (with heat or with chemicals) or otherwise damaged that usual methods of identification can't be applied.
Employment of Forensic Anthropologists
Before you start applying to anthropology degree programs so you can work toward your goal to become a forensic anthropologist, it's helpful to know more about the forensic anthropologist career. Where do forensic anthropologists work? What sort of job outlook and earning potential can forensic anthropologists expect?
Where Do Forensic Anthropologists Work?
Most forensic anthropologists work in somewhat different capacities outside of law enforcement and forensic labs. For most people who become a forensic anthropologist, assisting with criminal justice casework isn't a full-time job but rather a side project anthropologists work on when they aren't fulfilling duties for other full-time job titles they hold. When they aren't out in the field inspecting crime scenes or analyzing the findings exhumed from them, forensic anthropologists are likely to be working in an academic setting, like a college or university, or in research of some kind.
RELATED: Is There a Language Requirement for Anthropology?
Among the forensic anthropologists who work in this field full-time, the offices of medical examiners and coroners are the most common employment sites. Museums, military facilities and forensic facilities may also employ forensic anthropologists. Some forensic anthropologists work for federal government agencies, such as the Federal Bureau of Investigations (FBI).
How does an aspiring forensic anthropologist secure employment? Often, by building out a reputation with their expertise. Creating connections in this highly specialized field, starting with the fieldwork and internships you complete during college, can help you begin to gain experience getting involved in criminal justice and, especially, criminal investigations. As you build your work experience, you are also establishing your reputation as a valuable and effective consultant with whom a law enforcement agency will want to collaborate as needed.
The Career Outlook for Forensic Anthropologists
Precisely because the criminal cases that don't require the help of forensic anthropologists vastly outnumber the criminal cases that do, you won't see a lot of posted job prospects for forensic anthropologists. It's difficult to accurately determine the (limited) number of job opportunities for forensic anthropologists or even how many forensic anthropologists are currently working in the United States.
Because forensic anthropologists often find work in other capacities, it's important to look at the job outlook of the anthropologist occupation as a whole. The United States Bureau of Labor Statistics (BLS) expects job opportunities for anthropologists and archeologists to grow by 7% between 2020 and 2030, putting the rate of job growth for anthropologists on par with that expected across all occupations.
Forensic Anthropology Salary
How much can a forensic anthropologist expect to earn? Salary.com put the national average base salary for forensic anthropologists at $57,429 per year as of 2022, with an average range of $48,966 to $66,736 per year. PayScale.com, on the other hand, reported an average forensic anthropologist salary of $63,717 per year. Keep in mind that many forensic anthropologists don't work full-time on casework – a factor that may affect how much they earn from their career in forensic anthropology and in general.
Among all types of anthropologists and archeologists, the median salary reported for 2021 was $61,910, according to the United States Bureau of Labor Statistics. Anthropologists working for the federal government, including forensic anthropologists employed by the FBI, reported earning a median wage of $80,910.
How to Become a Forensic Anthropologist
Forensic anthropologist is an occupation without a linear career path. While aspiring forensic anthropologists need to work their way up through the demanding education requirements for the specialized field, breaking into a role consulting with criminal justice agencies requires building professional connections and a reputation for working effectively with law enforcement personnel to solve cases that might otherwise go unresolved.
Earn a Bachelor's Degree
The first step in our step-by-step guide to becoming a forensic anthropologist is pursuing a college education. Students should begin applying to undergraduate degree programs during high school.
Forensic anthropology is a field that commonly requires an advanced degree. Before you can pursue a master's or doctoral degree, though, you need to finish your undergraduate degree.
Most aspiring forensic anthropologist students will pursue a bachelor's degree in anthropology directly. These undergraduate programs tend to cover human biology and all of the major branches of anthropology, including biological and physical anthropology, cultural anthropology and linguistic anthropology. Some undergraduate degree programs offer an anthropology major with a concentration in forensic anthropology.
Full-time students can earn a bachelor's degree in four years if enrolling straight out of high school or, if they already have an associate's degree, in as little as two years.
Students may also begin their studies in the field by pursuing degrees in forensic science, particularly when these degree programs offer concentration areas in forensic anthropology.
RELATED: What Can I Do With a Forensic Science Degree?
Pursue a Master's Degree
Your career options as an anthropologist will be extremely limited without earning at least a master's degree, according to the Bureau of Labor Statistics. To improve your opportunities in the field of anthropology, you should consider a graduate program.
Master's degrees in forensic anthropology commonly include coursework in biological anthropology, human anatomy, osteology, taphonomy and trauma analysis. Most master's degree programs include some focus on research, as well as field methods and procedures for crime scene investigation and human identification.
Consider earning a graduate degree to be a necessary step toward becoming a forensic anthropologist – unless, of course, you want to skip the master's degree entirely and apply straight to PhD programs after earning your bachelor's degree. Without going to graduate school, you will likely be limited to assistant roles or to working in related careers like forensic science technicians.
Go for Your Doctoral Degree
The job outlook for anthropology careers is best when you complete a doctoral program, not just a graduate degree. While a PhD program includes a considerable research focus, the curriculum also includes more advanced and specialized coursework in forensic and physical anthropology.
Pursue a Forensic Anthropology Certification
The American Board of Forensic Anthropology (ABFA), a professional organization in the field of forensic anthropology, offers the Certified Forensic Anthropologist credential to highly qualified candidates with a background in physical or biological anthropology and an interest in forensic applications of anthropology methods. A forensic anthropologist who acquires this credential is known as a Diplomate of the American Board of Forensic Anthropology (D-ABFA).
To become a Certified Forensic Anthropologist, you must complete a two-part board exam that includes both a written exam portion (in multiple-choice format) and a hands-on practical examination. Only candidates who hold a doctoral degree are permitted to seek certification, and candidates must submit letters of recommendation and examples of their work in the form of forensic anthropology case reports.
Maintaining D-ABFA certification in good standing requires recertifying every three years over the course of the forensic anthropologist's career. Additionally, Diplomates are held to high ethical and professional standards and must sign the ABFA's Ethical and Professional Standards statement each year.
Related Careers With a Background in Forensic Anthropology
The idea of working in forensic anthropology may be appealing, but the career isn't for everyone. The investment of time, money and hard work into graduate programs and even Ph.D. programs may be daunting, especially since casework is only a part-time focus for most forensic anthropologists. Even if you have a burning interest in becoming a forensic anthropologist, you might be less enthused about the notion of working primarily in academia.
If you're interested in the criminal investigations aspect of this field but aren't sure it's the right fit, consider pursuing one of the following job titles instead:
Medical examiner – because forensic anthropologists often work in a medical examiner's office
Forensic science technician or forensic scientist – because this profession, too, investigates forensic matters, by applying the techniques of the forensic sciences
Law enforcement officer, agent or detective – because their role is to investigate a crime or suspicious death
Forensic pathologist – because forensic pathologists possess the skills and knowledge of human biology to determine the cause of death when a body is found
RELATED: What Salary Can You Expect With a Master's Degree in Criminal Justice?
Practicing forensic anthropologists work alongside these and other professionals. It's possible to get your start in another forensic job role and then pursue an advanced degree in forensic or physical anthropology.
What to Know About Studying Forensic Anthropology and Forensic Science
Studying forensic anthropology at a school with a dedicated forensic anthropology center – also referred to as a "body farm," according to Forbes – can help students who are interested in this career to gain hands-on experience analyzing human remains. However, forensic anthropology isn't always offered as a distinct degree program, particularly at the undergraduate level of study.
Majoring in physical or biological anthropology or anthropology in general can also prepare you for work and research in this career field. If you are serious about putting your anthropology skills to use in forensics, you might benefit from pursuing additional studies in physical, forensic or biological anthropology, whether as a formal academic concentration or simply through selecting a strategic combination of electives.
Keeping Abreast of Development in Anthropology
Much of the field of anthropology pertains to the past – sometimes the very distant past. Even in the field of forensic anthropologists, the focus of the work may sometimes be figuring out what happened to a victim months, years or even decades ago. However, research and technological advancements in the fields of forensic science and anthropology are constantly moving forward.
To keep pace with these advances, investing in your own professional development is essential. A forensic anthropologist should regularly take advantage of continuing education and professional development programs and opportunities offered by the ABFA, the American Academy of Forensic Sciences or another professional organization.
Related Resources: