With a great majority of American high school graduates enrolling in colleges and universities each year, an undergraduate degree has become a standard credential for landing a job in the most lucrative career paths. Whether you are fresh out of high school, or a nontraditional adult student looking to further your education and position yourself to enter a rewarding and lucrative career by obtaining an undergraduate degree, choosing a field of study can be a difficult and daunting task. Before you enter into a degree program, it can be wise to look at salaries and career opportunities available for graduates of a particular degree.
This ranking features the undergraduate majors which are most likely to land graduates high paying entry level positions in rewarding and secure career paths. Not surprisingly, a majority of these degrees are in the science, technology, engineering, and mathematics (STEM) fields. According to the U. S. Department of Commerce, STEM occupations are growing at 17%, while other occupations are growing at 9.8%. STEM degree holders have a higher income even in non-STEM careers. Students seeking secure, lucrative, and rewarding employment, thus would do well to cultivate an interest in and pursue education in STEM fields.
The salaries of this ranking are provided by PayScale.com, the Bureau of Labor Statistics, and Salary.com. Jobs are listed in order of their early career salary. As is always the case, salaries and compensation packages depend on the individual company and location. In all cases, this list is just a starting point. Do your own research into the school of your choice.
1. Petroleum Engineer
Petroleum engineering is a field of engineering concerned with the activities related to the production of hydrocarbons, which can be either crude oil or natural gas. Because energy is a key component to people's everyday lives, the field of petroleum engineering is incredibly important to life as we know it. Petroleum engineers are able to address and solve important technology challenges that will lead to energy security and societal prosperity, so the position is in high demand. This challenging and rewarding field of engineering requires creative application of a wide spectrum of knowledge, including, but not limited to mathematics, physics, geology, and chemistry.
Worldwide energy demand is growing, and experts agree that oil and gas will continue to play an important role in the world's energy supply. The decision making for complex projects falls to a great extent upon petroleum engineers, providing them with a high degree of responsibility. Petroleum engineers play a variety of roles within the energy business. They design and monitor the drilling of exploratory and development wells used to locate and produce the oil and gas from the subsurface. They work with technologies that can describe the characteristics of rocks deep beneath the surface and detect the type of fluids contained in those rocks. They install and maintain the equipment that lifts fluids from subsurface reservoirs to the surface, and they design surface collection and treatment facilities to prepare produced hydrocarbons for delivery to a refinery or pipeline. In addition to these traditional petroleum engineering career choices, there are other emerging careers for petroleum engineering graduates in pollution clean up, underground waste disposal (including the subsurface injection of carbon dioxide to reduce atmospheric greenhouse gases), and hydrology.
Early career pay: $94,600
2. Physician Assistant Studies
A Physician Assistant is a nationally certified and state-licensed health care professional who practices and prescribes medicine in coordination with physicians and other providers. With the support of the delegating physician, PAs provide preventative healthcare as well as therapeutic and diagnostic services. Physician assistants take medical histories and update charts. They conduct physical examinations of patients and treat them. They order and interpret diagnostic tests so they can diagnose patients and initiate therapy. A PA also treats minor injuries such as sprains, lacerations, or simple fractures. This is an exciting time for PAs as they are being granted additional responsibilities due to physician shortages around the nation. Their increasing importance to the health care team is also being reflected in their salaries.
In order to work as a physician's assistant, individuals are required to complete formal training from an accredited university. It is possible to gain the necessary requirements for certification to work as a PA by completing a bachelor's degree though many pursuing this career path will go on to earn their master's as well. A PA curriculum is typically divided into two categories: coursework and practicum. Coursework includes topics in biochemistry, anatomy, pathology, pharmacology, physiology, and microbiology. Further study is comprised of classes in medical ethics, disease prevention, geriatrics, and home healthcare. In the practicum phase of most programs, students receive hands-on clinical training in a variety of areas, such as pediatrics, psychology, emergency care and medicine, obstetrics and gynecology, inpatient care, primary care medicine and surgery. Graduates may go on to work in a wide variety of settings as: clinical advisors, emergency room PAs, infection control specialists, medical practitioners, surgical assistants, and more.
Early career pay: $87,800
3. Metallurgic Engineering
Metallurgical Engineering is the science and technology of processing materials to extract, refine and recycle metals. These processes include the development and use of metals and alloys that have specific physical properties. It involves the study, innovation, design, implementation, and improvement of processes that transform mineral resources and metals into useful products. Metallurgical engineers work to meet the mineral and metal product needs of our modern civilization in an environmentally responsible way by designing processes and products that minimize waste, maximize energy efficiency, increase performance, and facilitate recycling.
A bachelor's degree in Metallurgical Engineering will provide broad training in engineering as well as the three basic branches of metallurgic engineering: mineral processing, extractive and physical metallurgy. Students will learn to apply technology in converting natural mineral resources into useful products for society. In order to learn to process and extract ores to concentrate, then refine their valuable components, students take courses in advanced chemistry; metallurgical process, modeling and control; pyrometallurgy, and hydrometallurgy. Upon graduation students will be prepared to work in industry, research, management and/or go on to graduate school.
Early career pay: $75,300
4. Marine Engineering and Naval Architecture
Marine engineers work with the propulsion engines and auxiliary equipment of boats, ships, submarines and offshore facilities, like oil rigs. The discipline focuses on researching and developing machines and systems to thrive in aquatic environments. The related discipline of naval architecture draws heavily upon the fields of engineering, mathematics and science and involves work in marine and offshore structure design, thermodynamics and ocean engineering practices. These disciplines are specialty areas that are not offered widely, but a few universities offer bachelor's and graduate programs for those who wish to become engineers and naval architects.
Entry-level positions in both marine engineering and naval architecture require a bachelor's degree. Coursework for the degree will likely include engineering analysis principles, fluid mechanics, marine structure, wave mechanics, naval architecture, ship dynamics and others. Bachelor Marine Engineering students often have the opportunity to participate in internships or work-study to gain valuable experience. Bachelor Marine Engineering careers include: marine equipment specialist, ship's engineer, hydrographic surveyor, ship design engineer, marine structural engineer, marine systems engineer and propulsion engineer.
Early career pay: $73,900
5. Computer Engineering
Computers have become a driving force behind many of today's technologies and are an integral part of many large systems that require sophisticated control, including automobiles, wireless communication technologies, interactive multimedia, medical instrumentation, telecommunication systems, and factory automation. Computer engineering involves the design and application of computer hardware and computer software and computer engineers must have detailed knowledge of both the physical components that implement a computer system, and computer programs that accomplish tasks through programmable steps in order to design, build and use complex information processing systems for a wide range of applications. Computer engineering is a dynamic and broadly interdisciplinary field that continues to experience rapid professional growth that impacts every area of human endeavor.
Computer engineering curriculum at the bachelor's level provides a balanced view of hardware, software, hardware-software tradeoffs, analysis, design and implementation techniques. Curriculum is typically designed to cover engineering aspects of both hardware and software—at a total computer systems perspective. A bachelor's in computer engineering provides students the freedom to enhance their knowledge in the broad range of topics that comprise computer engineering and equip themselves for highly rewarding and lucrative careers across all economic sectors in areas including artificial intelligence, computer architecture, computer design, operating systems and networks, robotics, software applications, and more.
Early career pay: $72,000
6. Mining Engineering
Mining engineering is an engineering discipline that applies science and technology to advance the efficiency of extraction of valuable mineral resources from the earth. Mining engineering is associated with many other disciplines, such as geology, mineral processing and metallurgy, geotechnical engineering and surveying. A mining engineer may manage any phase of mining operations – from exploration and discovery of the mineral resource, through feasibility study, mine design, development of plans, production and operations to mine closure.
A bachelor's in mining engineering degree program prepares students for an exciting career in a highly lucrative industry. These programs aim to train students to perform the various functions typically exercised by mining engineers: plan, design, operate, and close mines and coursework is selected to meet this goal. Introduction to mine planning, design, operations and closure occurs in the mining methods courses; introduction to detailed mine design is in underground and surface mine design courses; engineering sciences underlying the mine planning, design, operation and closure requirements are studied in several basic areas, including thermodynamics, electrical circuits, hydraulics, strength of materials, etc.; and the design experience is capped in the senior capstone design course: a mine feasibility study. While most bachelor's degrees in mining engineering follow similar curricula some offer students the opportunity to choose an area of emphasis which may boost their competitiveness on the job market post graduation. Areas of emphasis might include Quarry mining which focuses on issues specific to construction aggregates and query sectors of the mining industry, or mineral processing and extractive metallurgy which focuses on procession of minerals into salable commodities such as metals or chemical compounds.
Early career pay: $71,300
7. Chemical Engineering
Chemical engineering is one of the most broadly based engineering disciplines. Its field of practice covers the development, design, and control of processes and products that involve molecular change, both chemical and biological, and the operation of such processes. Because many of the products that sustain and improve life are produced by carefully designed and controlled molecular changes, the chemical engineer serves in a wide variety of industries. These industries range from chemical and energy companies to producers of all types of consumer and specialty products, pharmaceuticals, textiles, polymers, advanced materials, and solid-state and biomedical devices.
With a bachelor's degree in chemical engineering, you will be able to design safe, sustainable, and economical equipment for large-scale chemical or biological manufacturing plants. You won't be stuck in the lab, though. Chemical engineers frequently work to protect the environment by inventing cleaner technologies or modeling the environmental impacts of chemical processes. Careers are available in industry, government, consulting, and education. Areas of professional work include research and development, operations, technical service, product development, process and plant design, market analysis and development, process control, and pollution abatement.
Early career pay: $70,300
8. Nuclear Engineering
Nuclear engineering is the most integrated of the engineering disciplines. The many components of nuclear systems (medical imaging, nuclear fission reactors, ultrasensitive contraband detectors, and fusion reactors) must all be understood as well as how they relate to one another. Nuclear engineers must be experts in their primary field, as well as knowledgeable in other fields such as electronics, thermodynamics, physics, and materials science. The fundamentals of one science are often the same tools used in solving problems in the other disciplines.
An undergraduate degree in nuclear science and engineering develops the fundamentals of nuclear processes—their production, interactions, and radiation measurements. These studies bring the student all the way to the design phase of nuclear-based systems, stressing social, health, and energy and security impacts. Studies also incorporate computer methods, thermal-fluid engineering, and electronics—critical tools for a nuclear engineering career.
Early career pay: $69,000
9. Electrical Engineering
Electrical Engineering is a very broad, flexible major drawing on disciplines of hardware and software systems, information systems, and physical technology. Students in electrical engineering programs will learn about a range of state-of-the-art electronics and devices, signal processing, smart algorithms, and a range of their applications in modern technology and engage in building of sophisticated electrical systems.
Bachelor's degree programs majoring in electrical engineering are designed to educate students in the fundamentals of engineering, which are built upon a foundation of mathematics, science, communication, and the liberal arts. Graduates should be equipped to advance their knowledge while contributing professionally to a rapidly changing technology. Areas in which electrical engineers contribute significantly are communications, signal processing, networks and systems, electronics and integrated circuits, energy systems and renewable energy, fields, waves and electromagnetic systems, nanoelectronics and nanotechnology, and more. Typical career paths of graduates include design, development, management, consulting, teaching, and research. Many graduates seek further education in law, medicine, business, or engineering.
Early career pay: $68,600
10. Software Engineering
Computer software engineers apply the principles and techniques of computer science, engineering, and mathematical analysis to the design, development, testing, and evaluation of the software and the systems that enable computers to perform their many applications. Software engineers are involved in the design and development of many types of software, including software for operating systems and network distribution, and software for compilers. In programming, or coding, software engineers instruct a computer, line by line, how to perform a desired function. Software engineers must possess strong programming skills, but are often more concerned with developing algorithms and analyzing and solving programming problems than with actually writing code. Software engineers hold key positions in many industries—including medical, industrial, military, communications, aerospace, business, scientific, and general computing.
A bachelor's degree in software engineering provides students with a strong foundation in software engineering using a combination of classroom study, software development experience, and design projects. Programs will blend engineering principles, computing skills, project leadership, and software construction to provide students with a well-rounded, comprehensive understanding of the software engineering field and to prepare graduates to enter the workforce or pursue more advanced education. Software engineers are employed in most industries; however, most work in computer systems design and related services. Many computer software engineers also work for establishments in other industries, such as software publishers, government agencies, manufacturers of computers and related electronic equipment, financial institutions, insurance providers, and management of companies and enterprises.
Early career pay: $66,300
11. Materials Science and Engineering
Materials science and engineering focuses on the synthesis of materials and on processing materials into engineering products. In this discipline science and engineering aspects both play an equal part in work that is at the forefront of technology, applying physics, chemistry, and biology to compose new products—many of which have the potential to greatly improve quality of life. Innovations in materials science and engineering lead to improved materials and solutions to technological, societal, and environmental problems. Materials Science and Engineering is advancing biomaterials, ceramics, electronic materials, metals, and polymers that affect all engineering areas.
A bachelor's degree in materials science and engineering will prepare students to create and innovate products that touch our everyday lives: prostheses, automobiles, mountain bikes, computers, cell phones, and more. Programs are broad-based, encompassing a wide range of materials, and enable students to understand the scientific principles that govern the relationships among processing, structure, properties, and materials performance. Students should also learn how to utilize principles in the systematic design of new materials. Students explore a wide variety of materials—ranging in scale from the nano- to the macro—and will also take an active role in their development and production. The skills gained by students in a materials science and engineering degree open doors to careers in many sectors and position graduates at the forefront of many new technological developments.
Early career pay: $66,300
12. Systems Engineering
Systems engineering is concerned with the design, modeling and analysis of technological systems that employ people and machines, software and hardware, material and energy for such diverse purposes as communication, health care, transportation or manufacturing. It is a sub-discipline of industrial engineering focusing on the systems design of production and the enhancement of efficiency through the engineering of all parts of a process—people, machines, materials, information, and energy—to make a product or provide a service. Industrial engineers are employed in diverse work environments, including aerospace, health care, banking, manufacturing, defense, energy, technology, retail, and transportation.
Systems engineering curriculum curriculum provides students with design viewpoints and methodologies that emphasize system integration, and with subject matter and tools for modeling and analysis especially appropriate for large complex systems, e.g., probability and statistics, system theory, decision analysis, and simulation. Students are grounded in a background in calculus, statistics, computing, psychology, accounting and economics in order to develop the capacity for students to handle basic engineering problems. Core curriculum subjects typically include statistical methods and experimental design, linear programming and optimization, stochastic processes, work measurement and methods engineering, computer simulation, human factors engineering, manufacturing processes and inventory control. With their versatile skills, industrial and systems engineers can work in nearly any industry or organization, including government agencies and consulting firms.
Early career pay: $65,700
13. Aerospace Engineering
The field of aerospace engineering developed because of humanity's desire for aircraft systems for military, commercial, and civilian purposes; it was first called aeronautical engineering or aeronautics. When the space age began, it was natural for aeronautical engineers to participate in the development of spacecraft systems for space exploration. This branch of engineering became known as astronautical engineering or astronautics, and the combined field is called aerospace engineering or aeronautics and astronautics. Because of the diverse nature of the work, the aerospace engineer must have a basic knowledge of physics, mathematics, digital computation, and the various disciplines of aerospace engineering: aerodynamics and propulsion, structural mechanics, flight mechanics and orbital mechanics, and control. Because of their extensive education in fundamental disciplines, aerospace engineers can work in areas other than aerospace engineering and are employed in a wide range of careers.
The Bachelor of Science in Aerospace Engineering equips students with skills to solve even the most complex challenges in design, propulsion, and systems for aircraft and/or spacecraft. Aerospace engineers design, test, inspect, and manufacture aircraft, spacecraft, satellites, and missiles. Aerospace engineers may develop new technologies for use in aviation, defense systems, and spacecraft. They often specialize in areas such as aerodynamic fluid flow; structural design; guidance, navigation, and control; instrumentation and communication; robotics; and propulsion and combustion.
Early career pay: $65,300
14. Industrial Engineering
Industrial engineers design, analyze, and manage complex human-integrated systems such as manufacturing systems, supply chain networks, and service systems. These systems typically consist of a combination of people, information, material, and equipment. In such systems industrial engineers determine how to optimize the system for maximum efficiency, effectiveness, safety, etc. To achieve these objectives, an industrial engineer draws upon knowledge of mathematics, along with physical, engineering, management, and behavioral sciences to function as a problem-solver, innovator, designer, coordinator, and system integrator. Industrial engineers are employed in and apply their skills in an extremely wide range of organizations, including manufacturing industries, service industries, and governmental agencies.
Typically, bachelor's degrees in industrial engineering prepare graduates for careers in all phases of industrial engineering and enable them to perform both technical and managerial functions that require scientific and engineering backgrounds. By combining the study of science, mathematics, engineering fundamentals, design, and management principles, an industrial engineering education provides a unique background and a sound basis for lifelong career development in engineering practice, research, or management. Curriculum provides students with a broad scientific and engineering base and contain a sequence of courses in mathematics, physics, chemistry and the engineering sciences. These courses are accompanied by courses in manufacturing processes, facilities design, engineering statistics, engineering cost analysis, work analysis and design, operations research, process control, production system design, computer utilization, information systems, systems analysis, and industrial engineering design.
Early career pay: $64,400
15. Plastics Engineering
Plastics engineering involves the processing, design, development, and manufacture of plastics products. Plastics engineering encompasses plastics material and plastic machinery. Plastic Machinery is the general term for all types of machinery and devices used in the plastics processing industry. The nature of plastic materials poses unique challenges to an engineer. Mechanical properties of plastics are often difficult to quantify, and the plastics engineer has to design a product that meets certain specifications while keeping costs to a minimum. Other properties that the plastics engineer has to address include: outdoor weatherability, thermal properties such as upper use temperature, electrical properties, barrier properties, and resistance to chemical attack.
A bachelor's degree in plastics engineering focuses on plastics materials engineering and industrial plastics processing lab activities and engineering design projects to prepare students for career opportunities in materials science, product design, research and development, mold and/or tool design, failure analysis, process simulation, experimental design, manufacturing, and more. Typically, curriculum is based around math and science and plastics materials science and mechanical engineering principles. Students progress from foundations in mathematics through analysis and design, to in-depth study in heath transfer, fluid mechanic and design principles. Plastics engineers are in high demand in a wide variety of industries. Graduates will be ready to address global materials and processing issues as a process/project engineer, manufacturing engineer, or product design engineer.
Early career pay: $64,100
16. Mechanical Engineering
Mechanical engineering is a highly diversified profession. The mechanical engineer designs machines, devices, various products and control systems, and works with the generation, conversion, transmission, and utilization of mechanical and thermal power. Mechanical engineers are responsible for characterization, specification, and analysis of materials used in design and manufacturing. Manufacturing systems, robotics, electromechanical devices, and control systems are also the purview of the mechanical engineer. The work of mechanical engineers varies from general engineering to numerous, narrow specialties, as required by the wide variety of employers. These may include careers in: design, construction, controls, materials specification and evaluation, analysis of thermal systems, fluid and solid mechanics, manufacturing, plant engineering, research and development, and technical sales. Many mechanical engineers are promoted to management and administrative positions as well.
A bachelor's degree majoring in mechanical engineering is among the most versatile of engineering degrees and equips graduates to enjoy professional employment in industry, government, consulting, and research organizations. Mechanical engineers should possess a thorough understanding of engineering science as well as analytical and practical skills in one of many basic mechanical engineering specialties. Mechanical engineering curriculum typically consists of basic theory courses complemented by laboratory experiences in dynamic systems and controls, design, experimentation, fluid mechanics, heat transfer, manufacturing, and materials. Through the selection of elective courses students can hone their studies to interests in areas including air conditioning, automotive engineering, computer aided design, controls, energy conversion, internal combustion engines, manufacturing, materials, polymer processing, nondestructive evaluation, metallurgy, power generation, stress analysis, fluid mechanics, turbomachinery, and more.
Early career pay: $62,900
17. Manufacturing Engineering
Manufacturing engineers get involved on the ground level of the production of a variety of industrial and consumer goods and develop the expertise to see production through to completion. Good manufacturing engineers can determine how to make their company's products better, faster, safer and less expensive than competitors can. Their knowledge of process design, analysis, planning, supervision, manufacturing methods and equipment is used from start to finish. The location of every machine, the movement of each tool or part, the order of operation and the selection of the machines themselves are all decisions that manufacturing engineers make as part of the total production process.
Bachelor's degrees in manufacturing engineering provide students with knowledge and skills to identify and select materials based on production requirements and work closely with computer-aided design equipment. Students conduct time studies, complete cost estimates, utilize computer software to aid in solving manufacturing problems, formulate plant layout requirements, understand management control systems, justify and select quality equipment and automated systems and design a total product manufacturing system. Required courses in mathematics, engineering analysis and computer proficiency, and basic sciences establish a strong foundation for any career within the industry. Employment opportunities for manufacturing engineering graduates are available across the spectrum of industry. Entry-level position include manufacturing engineer, process engineer, production engineer, tool engineer, industrial engineer, and quality engineer.
Early career pay: $61,900
18. Bioengineering
Bioengineering is the application of concepts and methods of biology (and secondarily of physics, chemistry, mathematics, and computer science) to solve real-world problems related to life sciences or the application thereof, using engineering's own analytical and synthetic methodologies and also its traditional sensitivity to the cost and practicality of the solution(s) arrived at. In this context, while traditional engineering applies physical and mathematical sciences to analyze, design and manufacture inanimate tools, structures and processes, biological engineering uses primarily the rapidly developing body of knowledge known as molecular biology to study and advance applications of organisms and to create biotechnology. Bioengineers work in diverse areas of research from the growth of human cells on aortic roots, to the design implants using living and nonliving materials.
A Bachelor in Bioengineering is usually the minimum and often most common degree for a profession in bioengineering, though it is not uncommon for the bachelor's degree to serve as a launching pad into graduate studies. Through your classes and labs, you'll gain an extensive understanding of biology, biochemistry and physiology and will graduate with the capability to apply advanced mathematics to solve the ever-increasing problems that require engineering to mix with biology. Courses may involve study in EKG simulations, tissue engineering, medical technology, orthopedics, and more.
Early career pay: $61,600
19. Engineering Management
Engineering management is a specialized field of management concerned with the engineering sector and applies the practice of management to the practice of engineering. Engineering management is a career that brings together the technological problem-solving savvy of engineering and the organizational, administrative, and planning abilities of management in order to oversee the operational performance of complex engineering driven projects.
A bachelor's in engineering management degree program provides students with rigorous curricula designed to develop industrial engineering skills, knowledge and expertise, alongside knowledge of business and management techniques, strategies and concerns. Through the combination of business and management acumen with technical expertise, engineering management degrees are designed to play a key role in preparing the next generation of managers in the engineering sector. These degree programs are typically multidisciplinary and are designed to build theoretical and practical knowledge of all engineering fields and engineering mathematics, along with advanced project and personnel management knowledge and skills. These degrees will qualify professionals for a diverse array of jobs, including engineering project manager, senior lead analyst, cost systems analyst, construction management engineer, industrial management engineer, and more.
Early career pay: $61,500
20. Packaging Science and Engineering
Packaging science is a broad topic ranging from design conceptualization to product placement. All steps along the manufacturing process, and more, must be taken into account in the design of the package for any given product. Packaging is increasingly related to total marketing concepts. It has even greater dependence on new developments in materials and processes. Therefore, the industry requires management personnel with creativity and a strong background in business, engineering, and science. Package engineering includes industry-specific aspects of industrial engineering, marketing, materials science, industrial design and logistics. Packaging engineers must interact with research and development, manufacturing, marketing, graphic design, regulatory, purchasing, planning and so on. The package must sell and protect the product, while maintaining an efficient, cost-effective process cycle.
While not a commonly offered major program of study in the U.S. a handful of schools offer a bachelor's degree in packaging science that uniquely blends together biology, chemistry, and physics. Graduates of these programs are uniquely positioned to fill a special niche within industry. Since this is a very hands-on major, you'll get to work with package design and graphics, food and health care packaging and advanced materials. Packaging science majors first complete basic course work in science and math before going into the packaging design, materials, polymers and distribution portion of the curriculum. The packaging science major prepares students for employment in areas such as package development, sales, purchasing, structural design, production, research, and marketing.
Early career pay: $61,400
#21. Agricultural Engineering
Agricultural engineering is the engineering discipline that studies agricultural production and processing. Agricultural engineering combines the disciplines of mechanical, civil, electrical and chemical engineering principles with a knowledge of agricultural principles according to technological principles.Agricultural engineers use the latest technology to advance environmental issues and activities.
Students in a bachelor's degree program in agricultural engineering have the opportunity to study machine components and equipment, and test agricultural machinery to ensure safety and performance and providing leadership on water and environmental concerns. These programs provides a fundamental understanding of the natural, mathematical, and engineering sciences and how to apply this understanding to design devices and processes. Graduates are qualified for a wide range of careers in civil, mechanical, electrical, agricultural, environmental, and process engineering areas such as design, development, testing, process control, management, electronic communications, food processing, mechanical equipment, paper production, consultation, textiles, and government.
Early career pay: $61,200
#22. Architectural Engineering
Architectural Engineering is the implementation of engineering principles in building design. An architect's goal is to design a building, but an architectural engineering focuses on the building's systems including structural, lighting, electrical, heating, cooling, and others. Architectural engineers blend the fundamental principles of engineering with knowledge of all building systems.
A bachelor's degree in architectural engineering equips students with knowledge and skills to ensure the appropriate design of buildings to meet the needs of the people they serve, national and global economies, and to maintain environmental sustainability. Curriculum in architectural engineering is typically designed to meet these needs. It offers training in the fundamentals of engineering, with specialization in structural analysis and design, building energy and environments, building construction, and materials. Students are afforded the opportunity to attain competence in the structural design of resilient buildings, from high-rise office buildings to single-family homes, and from hospitals to schools. Courses in building energy and environments provide graduates with knowledge relevant to the design and operation of both energy efficient and healthy buildings. Students will also gain important knowledge related to sustainable construction practices, construction management, and modern building materials. With this foundation, students will have a head-start in the career field and be well prepared for a wide variety of job opportunities.
Early career pay: $61,200
23. Structural Engineering
Structural engineering is an engineering discipline dedicated to the understanding of the stability, strength and rigidity of built structures for buildings and nonbuilding structures. Structural engineers use their knowledge to develop designs and integrate their design with that of other designers, and to supervise construction of projects on site. They are also involved in the design of machinery and equipment for various uses where structural integrity affects functioning and safety. Structural engineering utilizes a number of relatively simple structural elements to build complex structural systems. For individuals that have always been passionate about building and designing things, structural engineering may be the perfect field in which to earn a bachelor's degree.
A bachelor's degree in structural engineering will prepare graduates for entry level positions in the field. Bachelor's programs will combine engineering basics with a more specific knowledge of building materials and structures. Coursework will typically include courses in topics such as critical thinking and communication, general chemistry, mechanics of materials, materials strength, structure analysis, engineering hydraulics, structural steel design and statics of engineering. Graduates will be prepared to work in in a number of private and public agencies that are responsible for the design of buildings, bridges, tunnels, playground equipment and other structures.
Early career pay: $60,800
24. Construction Engineering Management
Construction engineering management involves the application of technical and scientific knowledge to the processes involved with infrastructure construction projects. The construction engineering and management industry includes a variety of large general construction firms, small specialized contractors, materials suppliers, equipment manufacturers, and the design services of architects and engineers. Construction engineering managers are integral to the successful completion of construction projects. Over the course of his or her career, a construction engineering manager will likely work on and oversee a wide variety of projects including the design of drainage and sewage systems, building construction, or even larger infrastructure projects like developing highways or railroads.
Bachelor's degrees in construction engineering and management prepare graduates to pursue careers as estimators, field superintendents, construction schedulers, expediters, project managers, survey crew chiefs, materials technicians, architectural and civil draftspersons, and cost engineers. these degrees are designed to develop critical skills in three main areas: engineering, construction science, and management. In particular, the degree furthers students' knowledge in construction management, project controls, construction scheduling, construction cost estimating, bidding process, construction contract administration, specification writing, field operations, economics, construction law, business management, written and oral communications.
Early career pay: $60,500
#25. Health Informatics
Health Informatics is a term describing the acquiring, storing, retrieving and using of healthcare information to foster better collaboration among a patient's various healthcare providers. Health Informatics plays a critical role in the push toward healthcare reform. Health informatics is an evolving specialization that links information technology, communications and healthcare to improve the quality and safety of patient care. Health informatics combines the study of healthcare with information technology training and often managerial expertise. Those who major in health informatics thus are positioned with leadership abilities and administrative skills they need to excel in upper-level positions.
A bachelor's degree in health informatics degree will prepares students for careers as health information administrator, informatics analyst, systems data analyst, informatics nurse specialist and more. Health informatics specialists work in hospitals, clinics, home health agencies, government agencies, rehabilitation centers, health insurance companies, health maintenance organizations and other settings. Bachelor in Health Informatics degrees cover such subjects as electronic health records, healthcare data, health information technology, computer networks, databases, healthcare compliance and classification, health information law and regulations, medical terminology and more.
Early career pay: $60,500
26. Engineering Physics
Engineering Physics (also called Engineering Science) is a broad field that includes the study of the combined disciplines of physics, mathematics and engineering, particularly computer, nuclear, electrical, electronic, materials or mechanical engineering. By focusing on the scientific method as a rigorous basis, it seeks ways to apply, design and develop new solutions in engineering. Unlike traditional engineering disciplines, engineering science/physics is not necessarily confined to a particular branch of science, engineering or physics. Instead, engineering science/physics is meant to provide a more thorough grounding in applied physics. It is the discipline devoted to creating and optimizing engineering solutions through enhanced understanding and integrated application of mathematical, scientific, statistical, and engineering principles. The discipline is also meant for cross-functionality and bridges the gap between theoretical science and practical engineering with emphasis in research and development, design, and analysis.
An Engineering Physics major at the bachelor's level is designed for students who have an interest in and an aptitude for both engineering and physics and will provide students with a firm foundation in physics and mathematics, together with engineering design and problem-solving skills. Graduates of an Engineering Physics program will be equipped to tackle complex problems in multidisciplinary areas that are at the forefront of 21st Century technology, such as solid state devices, quantum optics and photonics, materials science, nanotechnology, electromechanical systems, energy systems, and any engineering field that requires a very solid background in physics. Because these programs emphasizes science, mathematics and engineering, students are well prepared to pursue graduate work in engineering, physics, or applied physics.
Early career pay: $60,400
27. Operations Management and Information Systems
A bachelor's degree in Operations Management and Information Systems lies at the intersection of technology, process, and people and provides students a solid foundation in the management of both business operations and information technology. Students learn to leverage knowledge of IT systems, operations management, and business fundamentals to design, improve, and manage business processes. Graduates of this degree will typically fill organizational roles that require them to solve business problems by identifying suitable process improvements and accompanying technological solutions. Graduates may work in major organizations where they define business requirements, identify and design suitable Information Technology-driven business solutions, and support the management complex.
Bachelor's degree in operations management and information systems curriculum is typically built around a range of business management topics, including quantitative analysis, operational design, system security and organizational behavior. Students learn how to manage inventory using database software, control multiple production processes, implement quality assurance measures and lead an operations department. Graduates can apply knowledge of IT and business functions to understand its applications in assessing, designing, and improving business processes. Graduates will find a wide range of employment opportunities upon entering the job market. Opportunities for employment include work as an inventory control manager, operations analyst, industrial production manager or purchasing manager.
Early career pay: $60,100
28. Economics and Mathematics
A Bachelor's degree with a major in economics and mathematics will prepare graduates will skills in statistics, problem solving, communication and public speaking, team collaboration. These programs combine mathematics, statistics, and economics to provide graduates with a foundation in quantitative methods of mathematics with applied sciences in order to solve real problems. In today's increasingly complicated international business world, such preparation will undoubtably prove to be a strong asset and will prepare graduates to directly enter the business world with high demand skills, or to go on to graduate study in economics or finance.
A degree in mathematical economics will equip graduates for the beginning of a career in operations research or actuarial science. Other potential occupations include economist, management accountant, bank examiner, market research analyst, financial analyst, marketing/sales manager, financial planner, claims examiner, investment manager, international trade specialist, real estate investor, and more.
Early career pay: $60,000
29. Statistics
Today, data are pervasive in the physical and biological sciences, technology, health care and business. Making valid conclusions, predictions and decisions based on data is statistics. Graduates with a bachelor's degree in statistics are equipped with the with fundamental knowledge and skills related to probability, mathematical statistics, data analysis, and statistical computing. With the recent rise of Big Data, Data Science, and Analytics, the demand for this set of skills has increased substantially. The degree is highly flexible and can lead to a career in business, industry or government and can do a wide variety of jobs, including: analysis of investment data in the banking industry, identification of patterns in transaction data for online sales, estimation of actuarial risk in insurance industry, analysis of political surveys, analysis of performance data in manufacturing, and more.
Statistics curricula at the bachelor's level typically consists of coursework providing essential instruction in statistical methods, applications, and theory. Students will develop a strong foundation in the methods of applied mathematics and data analysis while also taking courses in a wide variety of application areas. Coursework includes introductory through advanced courses in calculus, chemistry, physics, scientific computing, applied linear algebra, probability, and more. Students can often concentrate their studies in one of three areas of statistics: statistics in business, industry, government, and research; statistical computing and data science; and mathematical statistics.
Early career pay: $60,000
30. Fire Protection Engineering
Fire protection engineering professionals use science and technology to research the causes of fires and determine fire protection methods. Among their many job duties, fire and safety engineers recommend or design fire detection materials or equipment that will help protect life and property against fire, explosion and related hazards. In order to carry out this role, fire protection engineers might perform several of the following different job tasks including building inspection, advising of architects, planning to prevent damage from fire, wind, and water, managing installation and maintenance of fire protection systems, and more. From fire departments and government agencies to research labs and forensic investigations, fire and safety engineers enjoy a wide range of career opportunities in diverse organizations.
Bachelor's degrees in fire protection engineering are uncommon, and thus those who complete these programs will be well equipped to fill a niche in the job market. These programs will prepare students to you to use knowledge of fire prevention and suppression to design and recommend equipment to assist organizations in safeguarding life and property against fire, explosion and related hazards. Students will take courses in fire prevention, fire behavior & combustion, applied fire/safety analyses, building construction, fire protection systems, legal aspects of fire protection & safety, fire arson & explosion investigation, fire dynamics, emergency service resource management, and more. Graduates will go on to work in hospitals, colleges, insurance companies, and even the entertainment industry.
Early career pay: $58,800
31. Business and Information Technology
The integration of technology becomes more and more critical for the the success of businesses ever day. From small to large, private or public, for-profit businesses and non-profit institutions alike, technology holds together all successful, forward-thinking organizations and even the smallest hiccup in processing can result in millions of dollars of lost revenue. Students earning a bachelor's degree in IT management with a business emphasis will be prepared to fill a variety of in-demand roles, and will dramatically increase their earning potential, and improve opportunities for advancement in any organization.
A Bachelor's degree in Business and Information Technology will include coursework in key areas including management and leadership, business, networks and security, and information systems management. This degree will prepare students for career success in IT management roles that are vital for success in every industry. Graduates will be prepared to begin careers as information systems managers, IT project managers, IT security managers, IT directors, computer systems engineers, computer systems analysts, chief technology officers, chief information officers, and more.
Early career pay: $58,700
32. Physics
Physics is a natural science that uses mathematics to quantify changes in energy and matter. It involves the study of matter and its motion and behavior through space and time, along with related concepts such as energy and force. Industries employing physicists are many and varied and include aerospace and defense, education, energy, engineering, instrumentation, manufacturing, oil and gas, telecommunications, and more.
A Bachelor of Arts or Bachelor of Science in Physics covers the theoretical foundations and history of physics research. Programs also teach students to conduct physics research and analyze the results through lab experiments. Physics programs sometimes include specializations in a particular aspect of the field, like astrophysics, quantum mechanics, or biophysics. Classes in physics bachelor's degree programs cover topics in mathematics, statistics, scientific research methodology, and the natural sciences. Since research in physics is applicable to many fields, courses are often interdisciplinary. Students also complete hands-on laboratory experiments. The skills that students learn in a bachelor's degree in physics prepare them for careers in and out of scientific disciplines. Many graduates work in academia, while others choose careers in business, law or consulting.
Early career pay: $58,000
33. Industrial and Labor Relations
Labor relations specialists can be found in a wide variety of industries, including manufacturing companies, technical services, insurance firms and healthcare assistance organizations. Based upon the skills acquired, graduates may find employment as union leaders, human resources specialists, management consultants, training specialists, benefits managers, and more.
Individuals interested in developing expertise in solution-driven workplace management and conflict resolution may consider a BS degree in labor relations. This program prepares graduates to become labor specialists in a variety of industries. Bachelor's degrees in this discipline prepare students to become leaders in labor management. Often considered interdisciplinary, programs in labor relations teach students the use of analytical skills to assess workplace issues and interpersonal skills to ameliorate them. Students will delve into theories of human resources management, labor training, collective bargaining and conflict resolution. After completing their degree, students may go onto earn optional certification or a master's degree in labor relations. Curriculum will likely include courses in labor history, labor law, labor and American politics, industrial and organizational psychology, and globalization and labor.
Early career pay: $57,800
34. Civil Engineering
Civil engineers are engineers responsible for planning, designing, building, and managing civil structures including roads, buildings, airports, tunnels, dams, bridges, water supplies, and sewage systems—addressing the modern needs of a growing global population. They engineer sustainable solutions to deteriorating infrastructure, traffic congestion, society's energy needs, pollution, urban redevelopment, community planning, and risks posed by natural hazards such as floods and earthquakes. The field's contributions are evident in the designs of monuments such as the Hoover Dam, the Interstate Highway System, the Golden Gate Bridge, the Panama Canal, and the Empire State Building.
A bachelor's degree in civil engineering provides students the opportunity to obtain a broad background in mathematics and the physical sciences and their applications to all areas of civil engineering. The degree programs enable graduates to enter professional practice as an engineer or to continue studies in programs leading to advanced degrees. Programs are designed to offer depth in course material considered essential for all civil engineers, as well as flexibility in selecting elective courses that offer breadth of topic exposure. Students will study topics including construction engineering and management, environmental engineering, environmental hydraulics, geotechnical engineering, hydrology, materials, structural engineering and mechanics, transportation, and water resources planning and management.
Early career pay: $57,700
35. Applied Mathematics
Applied Mathematics is a major that provides graduates with a great deal of flexibility and equips them to enter careers from from biology, epidemiology, organic chemistry and other natural sciences to data analytics, business management science, marketing and even urban planning. Mathematicians are in especially high demand in Government labs, research offices and agencies, engineering research organizations, computer information and software firms,
aerospace and transportation equipment manufacturers, financial services and investment management firms, and chemical or pharmaceutical manufacturers.
With a bachelor's degree majoring in applied mathematics graduates will be equipped with commonly used statistical methods and techniques, and knowledge in mathematical modeling with cutting-edge software tools that let you visualize the models you're constructing and analyzing. Students typically specialize in one of three growing areas of interest, including statistical analysis, operations research, and dynamical modeling. In addition to mathematics, students will learn to utilize effective oral and written communication strategies in the construction, evaluation, and presentation of solutions to mathematical problems. The degree has broad reaching applications across sectors and will provide graduates with skills to pursue fulfilling and lucrative careers solving real world problems.
Early career pay: $57,600
36. Public Accounting
IMAGE SOURCE: Pixabay, public domain
Public accounting is an area of accounting in which professionals accounting firms serve clients such as businesses (retailers, manufacturers, service companies, etc.), individuals, nonprofits and governments through the provision of services including preparation, review, and auditing of financial statements; tax work including preparation of income tax returns, and estate and tax planning; consulting and advice involving accounting systems, mergers, and acquisitions; and more. Public accounting is a field that is rapidly evolving and with many of yesterday's accounting tasks being performed by advanced computing software, accountants today are expected to take on a variety of responsibilities that they have not been previously which include financial planning, analysis, forecasting, and more.
With a bachelor's degree in business administration or accountancy, students will be exposed to well balanced curricula that develops not only an understanding of basic accounting knowledge, but also the professional experience and cutting edge skills needed to become marketable job applicants. All graduates should be competent in areas of managerial accounting, cost accounting, auditing, financial accounting, accounting and information systems, international financial reporting standards, and generally accepted accounting principles. In addition to careers in public accounting, graduates of these bachelor's degree programs may go on to work as a corporate accountant; tax examiner, collector, or revenue agent; or an internal auditor.
Note that some, but not all bachelor's in accountancy programs are designed to fulfill the requirements for certification as a public accountant.
Early career pay: $57,500
37. Real Estate Finance
IMAGE SOURCE: Pixabay, public domain
Real Estate Finance is a field involving the analysis of the financial feasibility of real estate investment opportunities. It involves navigating real estate market participants, valuation fundamentals, determinants of real estate returns, the impact of leverage on real estate investments, and interactions between the real estate space market and the capital market. A career in this field requires knowledge of the real estate market and finances as well as familiarity with zoning and tax laws, insurance, and mortgages and banking. Graduates of real estate programs are highly sought after by employers for their negotiations, finance, and valuation skills. Careers as a real estate appraiser, assessor, broker or sales agent are common for graduates in this field.
Students in a bachelor's degree program in real estate finance learn to identify finance structures, valuation methods, underwriting methods, real estate financial calculations, and lease analysis. The degree will cover residential and commercial property management topics in relation to finance. Students learn real estate ownership forms, management agreements, financial reports, operating and capital budgets, and building code and law compliance requirements. A degree in real estate finance may require core course work in economics, finance, mathematics, statistics, computer science, English, and law. Specific course work might require business finance, asset-pricing models, real estate accounting and taxation, real estate economics and market analysis, and risk and portfolio management classes.
Early career pay: $57,500
38. Industrial Distribution
Industrial distribution applies mathematics, science, engineering technology, business, data processing, communications, quality, and supply chain management to the wholesaling and distribution of technological products. Industrial distribution specialists may work directly for electronic systems manufacturers, petrochemical corporations, materials processors, large construction contractors, large industrial product consumers or the wholesale distributors that service these industries.
A bachelor's degree in industrial distribution is a technically oriented major that prepares students for a career path that combines technical knowledge, engineering know-how, business savvy, great communication skills and leadership. Industrial distribution curricula typically develops these skills through study in applied engineering, business, communications, global logistics, informational technology, leadership, and human relations. This knowledge prepares graduates to develop effective relationships with executives, managers, engineers, scientists and craftsmen and positions the graduates to be a resource in areas like manufacturing, plant maintenance or construction operations. The industrial distribution graduate is able to apply specialized knowledge of operations, business, and product knowledge in order to provide system solutions.
Early career pay: $57,400
39. Actuarial Mathematics and Science
Actuarial science includes a number of interrelated subjects, including mathematics, probability theory, statistics, finance, economics, and computer science. It is a discipline that applies mathematical and statistical methods to assess risk in insurance, finance and other industries and professions. Actuaries are professionals who are qualified in this field through intense education and experience. These highly specialized professionals use their mathematical expertise, business intelligence, and computer skills to help companies assess risk and solve financial problems.
Historically, actuarial science used deterministic models in the construction of tables and premiums. The science has gone through revolutionary changes during the last 30 years due to the proliferation of high speed computers and the union of stochastic actuarial models with modern financial theory. Students of this discipline develop competence in mathematical theory, critical thinking, problem-solving, and statistical analysis through practical coursework, and learn to apply knowledge to solve real problems in the actuarial industry.
Early career pay: $56,400
40. Computer and Information Science
IMAGE SOURCE: Pixabay, public domain
Computer programs, software and networks are used daily to run business operations. We rely heavily on technology to help with everything from scheduling to problem solving to keeping us connected. The field of Computer and Information Sciences is built around the skills needed to develop computer software, customize programs, build and maintain networks, and manage information technology projects. Those who succeed in the field of Computer and Information Sciences are those with a passion for technology and a desire to learn about the role it plays both in business and everyday life. A background in computer programs and software along with mathematics are a good base for pursuing a degree in Computer and Information Sciences. Students should also be critical thinkers, creative, and have the ability to work in a team and multitask.
Bachelor's degrees in computer and information science can be earned in a wide variety of majors. Students interested in computer systems can major in Computer Information Systems, while those more interested in programming and development can choose a major in Computer Programming. Majors like Information Science, Computer Systems Analysis, Computer Science, Computer Software and Applications, Computer Systems Networking, and Information Technology well prepare students for working with computers and technology in businesses and organizations. Students pursuing any one of these majors will take classes in mathematics, computer science, programming, software, robotics, graphics, and more to provide a well-rounded introduction to the world of computers and information technology before delving into the coursework in their area of specialization.
Early career pay: $56,200
41. Finance and Investments
IMAGE SOURCE: Pixabay, public domain
The field of finance and investment deals with the study of investments and financial markets. It includes the dynamics of assets and liabilities over time under conditions of different degrees of uncertainty and risk. Finance can also be defined as the science of money management. Finance aims to price assets based on their risk level and their expected rate of return. Finance can be broken into three sub-categories: public finance, corporate finance and personal finance.
Undergraduate finance degree programs are relatively common, and some schools might also offer an investment major, minor or concentration.Individuals interested in specializing in investment should ensure that financial programs of interest offer enough classes in that niche to meet their career training goals. A bachelor's degree program will provide students with the critical-thinking and problem-solving skills necessary to secure a career in investment finance. General education and elective courses offer interdisciplinary perspective to complement the field of finance; therefore, if students aspire to work in a specific finance-related industry, such as marketing or merchandising, they are better equipped to tackle all aspects of their career. However, graduates who work in investment usually work in brokerage firms as security analysts or portfolio managers.
Early career pay: $55,200
42. International Business and Finance
IMAGE SOURCE: Pixabay, public domain
International business finance is business of managing money on a global scale and involves an understanding of global currencies, diplomacy and worldwide stock exchanges. With a degree in International business and finance, graduates can pursue a career with a multinational corporation, financial institution or consulting firm. Graduates may find employment internationally and will be especially well equipped through development of strong foreign language skills and a specialized area of finance.
Students interested in this field study various areas of finance, such as investments and corporate finance. A bachelor's degree will provide access to entry level positions in international business and will qualify for an array of leadership positions and other advanced roles in private, public, and nonprofit organizations, but many upper-level international management positions require and MBA or master's degree. Graduates will be ready to work across industries as a business analyst, human resources generalist, operations manager, or marketing specialist. In general, course work for a bachelor's degree in international business and finance includes management principles and practices including organizational leadership, people management, strategic planning, business-oriented computer applications, accounting, finance, information technology, and marketing. for preparation in working around the world, these degree will also add studies in areas such as international trade policies and practices, micro and macroeconomics, psychology, and public speaking.
Early career pay: $54,600
43. Geophysics
Geophysics is the branch of Earth science concerned with exploring and analyzing active processes of the Earth through physical measurement. Geophysics applies mathematical and physical principles to the study of the Earth and planets. It is concerned with the physical processes and physical properties of the Earth and its surrounding space environment, and the use of quantitative methods for their analysis. The term geophysics sometimes refers only to the geological applications: Earth's shape; its gravitational and magnetic fields; its internal structure and composition; its dynamics and their surface expression in plate tectonics, the generation of magmas, volcanism and rock formation. However, modern geophysics organizations use a broader definition that includes the water cycle including snow and ice; fluid dynamics of the oceans and the atmosphere; electricity and magnetism in the ionosphere and magnetosphere and solar-terrestrial relations; and analogous problems associated with the Moon and other planets.
Undergraduate programs in Geophysics are designed to provide a background of fundamentals in science, and courses to coordinate these fundamentals with principles of geophysics. Geophysics curriculum introduces the global properties of the Earth (gravity, magnetic field, crustal motions, interior dynamics) and the determination of near-surface and interior properties through the use of seismology, electromagnetics, potential fields, remote sensing, geodesy and GPS. At the bachelor's level, students gain a broad grounding in physical and mathematical fundamentals useful for future graduate study or for work in energy, natural resource or engineering industries. Students gain experience in the integrated application of geologic observations and geophysical measurements to the analysis of Earth science and related engineering problems using current, industry standard computational and GIS tools.
Early career pay: $54,100
44. Cognitive Science
Cognitive sciences study the construction of theories that explain human behaviour and intelligence. Their focus is to illustrate information processing mechanisms and their impact on the personality. The field of study also tries to understand other kinds of minds as those of animals, aliens, or artificial minds. Basic areas of interest include understanding the neurobiological processes in the brain, the study of human behaviour based on experimental methods from psychology and language, and analysing information on computational mechanisms, based on representations. The field of cognitive science has grown out of increasingly active interaction among psychology, linguistics, artificial intelligence, philosophy, and neuroscience. All of these fields share the goal of understanding intelligence. By combining these diverse perspectives, students of cognitive science are able to understand cognition at a deep level.
Students pursuing a bachelor's degree majoring in Cognitive Science will gain an interdisciplinary skillset drawing from psychology, computer science, and linguistics and develop an understanding of how to use computational tools such as computer simulations to develop and test claims about cognition. A cognitive science major is perfect preparation for students who plan to go to graduate programs in cognitive science, educational technology, artificial intelligence, instructional psychology, cognitive psychology, philosophy, or cognitive anthropology.
Early career pay: $54,000
45. Environmental Health and Safety Management
Environmental, Health and Safety professionals perform vital roles in the protection of America's workforce, the public, and the environment from injury, illness, and damage. Environmental Health and Safety professionals strive to identify, evaluate and eliminate or control hazards which expose people, property or the environment to danger or harm. In an era of technological and scientific advancement, environmental, health and safety management has become an incredibly challenging and rewarding career path.
Environmental health and safety bachelor's degree programs are interdisciplinary programs designed to provide students with relevant exposure to basic science, engineering, and behavioral science subjects, as well as a thorough introduction to environmental health, occupational safety, and industrial hygiene concepts. These programs prepare graduates for professional careers in fields including federal, state, local, and tribal governments; consulting; industry; and more. Opportunities for employment exist in manufacturing, production, health care, insurance, public safety, law enforcement, construction, public and private utilities, communication, and transportation industries. Coursework will include classes in industrial hygiene; waste minimization; toxicology; pollution control; risk assessment; science regarding the fate, transport, and effects of contaminants; workers' compensation; climate change; loss control; hazardous waste management; and more.
Early career pay: $51,900
46. Sales and Business Marketing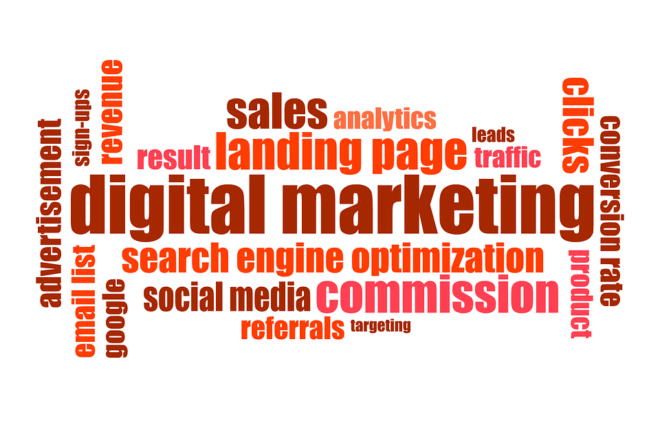 IMAGE SOURCE: Pixabay, public domain
Marketing is a subdivision of business that explores various methods and strategies for generating public interest in goods, services, organizations, and other valuable commodities. The profession is heavily entrenched in research; marketers must analyze sales data, customer reviews, economic trends, and other factors that affect consumer activity. Many marketers specialize in specific areas of the industry, such as public relations, brand management, web marketing, and social media. Most careers in marketing are attainable with a bachelor's degree.
A bachelor's degree in sales and marketing can prepare you for organizational and presentational roles in the field. Sales and marketing degrees can be offered through a variety of programs, including communication, mass communications, media, journalism or business. Typical coursework for these programs include operations management, marketing principles, Internet-based marketing, sales techniques, finance, sales management, account management, sales force development and persuasion. Many schools offer internship opportunities at a partner organization, business, firm or agency. Careers for graduates in this major are boundless and might include advertising, insurance sales, real estate brokers, sales engineers, sales managers, securities and financial services, travel agents, and many more.
Early career pay: $50,900
47. Government
Students majoring in government will engage in the systematic study of government and of political structures, processes, and policies. Government majors utilize quantitative, historical, and philosophical approaches. This diverse field encompasses American government, political theory, international relations, and comparative government. Through the development of writing, analytical and critical thinking skills, the government major will be prepared for jobs in and out of government. Government jobs exist at the federal, state and local levels. Relevant positions are also available in nonprofit organizations and the business sector. A major in government is a strong background for advanced study in a variety of fields, including law, political science, history, and public policy.
Students will explore the world's political systems, with emphasis on political economy, ethnic conflict, democratization, political corruption and state and nation building. Graduates will have developed persuasive communication and professional writing skills and understand various political ideologies, such as communism, socialism, fascism, liberalism and conservatism, and how they affect policies today. A multitude of career paths exist for graduates with a bachelor's degree in government including as policy analysts, campaign workers, lobbyists, political consultant, urban planner, intelligence officer fundraiser, journalists, public affairs specialists, research assistants, affirmative action agents, and much more.
Early career pay: $49,400
48. Japanese Language
The Japanese major provides a distinctive combination of analytical, interpersonal, translingual and transcultural competencies that make students sophisticated and engaged global citizens able to move between languages and cultures in a thoughtful and nuanced manner. The major offers language courses from beginning to advanced levels that develop the ability to read, write, listen and speak effectively in Japanese, as well as connect students with more specialized knowledge in their individual areas of interest, giving them the skills needed to further explore such topics in their own subsequent research or self-study outside the classroom. Students also come to develop an appreciation for contemporary Japanese social and cultural values through their engagement with the language. Content courses on Japanese literature and culture in English provide thematic breadth and historical depth to this understanding by familiarizing students with texts representing more than a millennium of writings including some of the globe's earliest and most distinguished literary works, and by honing their appreciation of the ways in which the translation and interpretations of these texts are shaped by historical, cultural, social, and linguistic forms of difference.
Because as a major, Japanese language is not narrowly focused on a specific career path, graduates of this major have a wide array of professional options. Some graduates go directly into graduate school; business and law schools are also possibilities. Some may go on to work as translators for exciting Japanese companies including Nintendo. Other careers could include, but are not limited to: business interpreter, cultural ambassador, legal interpreter, Japanese language teacher, and even working in law dealing specifically with Japanese immigrants.
Early career pay: $46,200
49. Genetics
Genetics is a sub-field within biology that is concerned with organism changes and trait transmissions. While typically considered a field of biology, it intersects frequently with many other life sciences and is strongly linked with the study of information systems. Geneticists study genes, including how they are inherited, mutated, activated, or inactivated. They often study the role that genes play in disease and health. Environmental geneticists specialize in studying the interactions between genes and environmental factors that lead to adverse health effects, disease, and aging. Most geneticists find employment as research staff at university laboratories, government agencies, and hospitals.
Bachelor's degree programs in genetics are science-intensive, and they prepare graduates for possible laboratory work. Genetics majors complete a core curriculum in biological sciences that includes classes in biology and biochemistry. Courses such as general chemistry, organic chemistry, physics, biostatistics, and calculus are also required. Genetics coursework will cover topics including biology of cells, bioinformatics and genomics, genetics of plants, evolution of molecules, prokaryotes and eukaryotes, genetic modeling and more. Additionally, undergraduate programs allow genetics majors to participate in supervised scholarly research.
Early career pay: $43,000
#50. East Asian Studies
The East Asian studies major is an interdisciplinary major with the primary purpose of introducing undergraduates to the knowledge, language skills, and research methods they will need to enter various specialized professional paths relating to China, Japan, and Korea, including but not limited to advanced academic research. The field includes the study of the region's culture, written language, history, and political institutions. East Asian Studies is located within the broader field of Area studies and is also interdisciplinary in character, incorporating elements of the social sciences (anthropology, economics, sociology, politics etc.) and humanities (literature, history, art, film, music, etc.), among others. East Asian studies majors usually choose a focus area, selected from among history, political science, or sociology, or they might also create an individualized focus area.
In addition to solid language training and content courses about the region, East Asian Studies majors will get training in the methods and theory of a particular academic discipline. Curriculum involves a wide range of courses designed to combine theory with real world application and practical skills that students can use on the job. Asian studies degrees are versatile because of their multiple potential specializations including language learning for translation, economic and trade relations, political developments, history, and more. Careers post graduation may include translator, foreign correspondent, foreign consultant, financial advisor for Asian markets, international marketing specialist, and more.
Early career pay: $42,300