The greatest discovery of my generation is that a human being can alter his life by altering his attitudes.― William James 
If you are looking to pursue a career as a counselor then you're in the right spot.  Counseling is an essential profession and one that is in greater demand than the average professions in the nation according to the Bureau of Labor Statistics. 
Socially speaking we need counselors as they provide an affordable alternative to psychologists and specialize in areas of growing concern like substance abuse and behavioral disorders, relationship issues, disordered eating patterns, and existential concerns.  
According to some of the leading scientists in the field of psychology, physical well being has improved over the centuries whereas mental well being has taken a decided turn for the worse. 
The pressures of work and family have contributed to this, connecting our lives to technology that robs our attention has contributed to this, and the global climate crisis has contributed to this decline.  
Addiction and dependency has skyrocketed, children are starting to become depressed and teen suicide is up.  Not to mention, the cost for private treatment is out of most people's reach. Counselors to the rescue!  And effective treatments such as cognitive behavioral therapy as well as mindfulness have shown to dramatically improve people's lives.  
There are a myriad of different types of counselors as well as ways for clients to access that treatment. School counselors as well as group therapy sessions, art and music therapy as well as somatic movement practices are just some of the types of treatment options available to individuals in need of support.  
If you're here chances are you know this and want to do something about it.  Counseling is an important profession and one that most people who do it describe as a type of calling.  It takes a special quality of person to become an effective counselor.  And to remain an effective counselor it takes a good paycheck and a healthy work-life balance.  This is where people who do caring professions can get stuck.  They find that in order to pay their bills and have something left over they have to work extra long hours, take on more cases than they may be comfortable with and maybe even take on an additional night or weekend job.  
If you're looking for the highest paying counseling profession then chances are you understand the importance of finding this balance.  You will thank yourself in the long-term and your clients will too.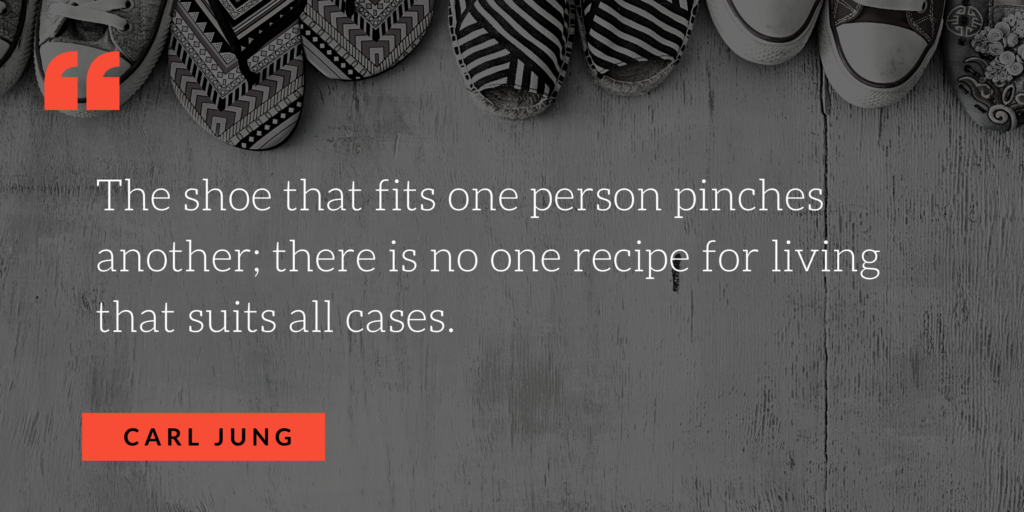 In this guide we're going to take a look at which counseling positions pay the best and some of the necessary steps required to obtain a high-paying job in counseling.  We'll also take a look at some of the ways you can augment your salary as a counselor that may not directly involve working with more clients.  
Before jumping in to jobs let's take a closer look at your background and what to consider before embarking on this rewarding career. 
Keep these questions and considerations in mind as you explore this resource:
So you're considering counseling- great!  Let's take a closer look at a few more things to consider before making the leap into a new career. 
Chances are you have experiences in your life that have led you to this point.  Why do you want to be a counselor?  Which experiences have expired you to get to this point? 
Much of counseling is about your soft skills that make the technical skills you will obtain during your degree translatable to a wide group of people. Do you have patience? Are you okay with troubleshooting?  How are you at "reading between the lines?"  Are you hardworking and willing to seek out best practices including furthering your education later in life? 
What do you do in tough situations?  Do you become quickly satiated with problems or are you able to withstand lengthy periods of time listening to and troubleshooting problems that cause people pain some of which may be painful to listen to and hear? 
Next consider your time. How much of it can you realistically devote to furthering your education. Is it open-ended as long as you're able to work part-time? Do you have more of a  finite timeline wherein you need to complete your degree before a certain date?  While most people want to jump into a new program it is always important to consider time as time and money for most people go hand-in-hand. 
What additional skills do you have?  Working as a counselor is not a single-faceted job. There is a lot that goes into counseling that is useful.  For example, good counselors record very good data.  Experience collecting data is useful.  Research is another great skill to have under your belt as there are new evidence-based therapies emerging all the time.  Perhaps you have some experience with advocacy. There are several populations who are under represented in the counseling space and it may be important that you spend time advocating for that group of people.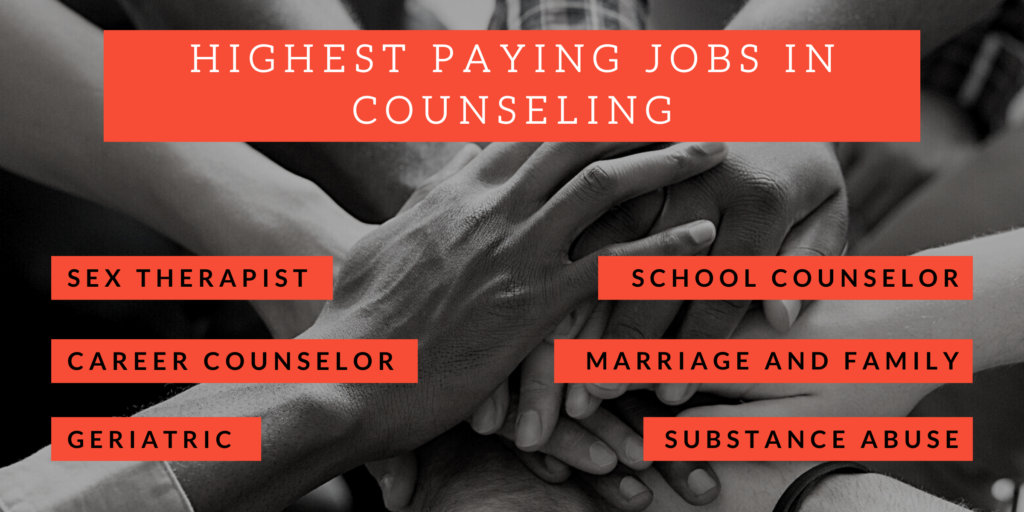 And finally ask yourself do I truly wish to be a counselor?  You can't forget the lengthy paperwork testing and heaviness that comes with the job.  Do you have what it takes to work in that capacity on a regular basis? 
Still there are several perks to counseling including flexible scheduling and a purpose-filled career. It turns out that purpose in one's career can lead to greater fulfillment in life and may even lead to a longer life.  
As you can see there is much to consider with regards to counseling and the counseling profession! 
OK, let's move on to some of the most lucrative careers you can get with a degree in counseling. 
DegreeQuery.com is an advertising-supported site. Featured or trusted partner programs and all school search, finder, or match results are for schools that compensate us. This compensation does not influence our school rankings, resource guides, or other editorially-independent information published on this site.
What are the Highest Paying Counseling Positions?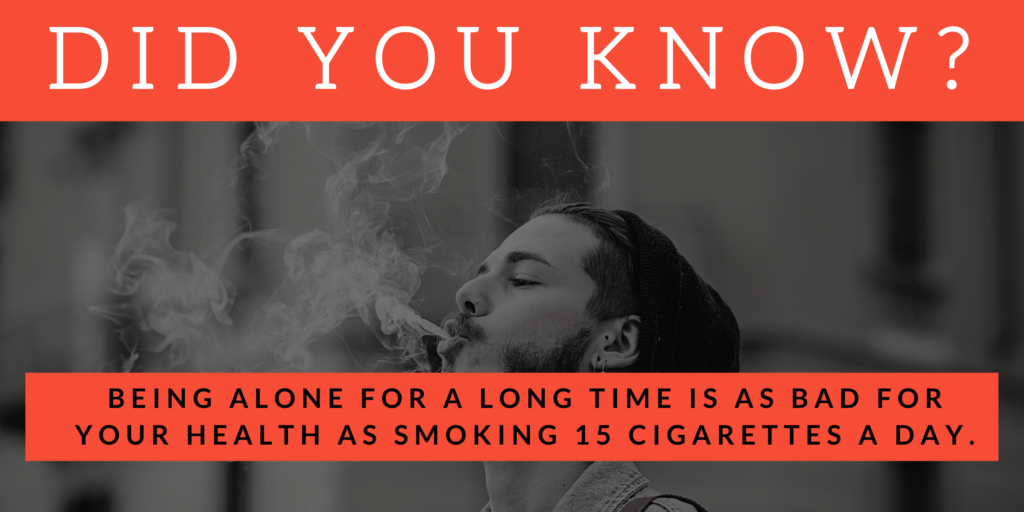 In this next section we'll take a look at some of the highest paying jobs in counseling. Even within a profession there is a wide range of pay as pay does increase with certain qualifications as well as with years of experience.  Let's take a look. 
School Counselor 
School counselors are essential as they help students develop both the social as well as the academic skills required to succeed.  Depending on your preferred age, school counsellors work to assist students looking to get into college, succeed academically, and navigate the difficulties associated with being a teen or youth.  Additionally, school counselors must also work with children and youth who have experienced trauma, are depressed or are simply struggling to fit in socially. The school counselor helps students to overcome both their social and behavioral problems through counseling sessions as well as educational sessions. According to the Bureau of Labor Statistics, school counselors earned a median salary of $57,040 as of 2019. 
Soft Skills
Leadership
Hard Working
Oral and Written Communication 
Interpersonal
Good Listener
Planning
Sex Therapist 
Sex therapy is becoming more common and is a form of therapy that works with individuals as well as couples who are looking to explore and change their sexual behaviors.  Many sex therapists work with physicians to address every aspect of what could be contributing to the client's needs for sex therapy.  Sex therapists are accepting of all sexual orientations so this is not the type of therapy that attempts to "cure someone of their homosexuality."  The majority of sex therapy is talk therapy.  Issues addressed in sex therapy may include: lack of desire, difficult with an orgasm, pain during sex, an inability to have penetration sex, erectile dysfunction, premature ejaculation and others.  As you can see the sex therapist often works with a patient to determine if the issues is physiological, psychological or both.  There is a vast range of what a sex therapist can make but the average salary is about $60,000 a year. Though some sex therapists make as much as $300,000 per year. 
Soft Skills
Communication
Problem Solving 
Interpersonal
Trustworthy 
Marriage and Family Counselor 
Marriage and family therapists help people to overcome relationship problems. The marriage and family therapist creates an atmosphere wherein couples feel comfortable to express themselves to their therapist and to their partner. The counselor guides a relationship through their rocky patch and helps them to use strategies and tools to change their patterns.  Over the years the need for marriage and family counselors has increased. The Bureau of Labor Statistics projects a 22% growth between 2018 and 2028 which is much faster than the national average which is 5%.  This will add over 12,000 new marriage counselor positions during that 10-year time.  The median salary for a marriage and family counselor is $49,610 a number that changes depending on level of education, location, and the number of years of experience. 
Soft Skills 
Oral and Written Communication
Interpersonal
Teaching 
Listening
Career Counselor 
Career counselors are typically employed in academic settings and help students to create and build their future careers.  Many career counselors work in community colleges as well as colleges. Part of the career counselor's responsibility is to help a student discover their own abilities and they do so with aptitude and achievement testing.  The career counselor will likely evaluate the student's educational background and determine where a student may need to gain additional skills and education in order to meet their career goals. The career counselor will likely help their client locate and apply for jobs in their field or may help a client to apply to the appropriate educational programs.  
Soft Skills
Interpersonal
Oral and Written Communication
Good at Listening 
Geriatric Counselor 
A geriatric counselor helps families with issues related to the aging process. Many people who are older have to cope with a significant amount of loss. The geriatric counselor helps the elderly transition from retirement to the end of their lives.  There is quite a lot of crossover between a physician and a geriatric counselor as a geriatric counselor often works with their clients who are experiencing health concerns as they affect the end of their lives.  This is not a position that can prescribe medication but rather a geriatric counselor works with patients to help them navigate their experiences through talk therapy and some education.  There is a salary range for a geriatric counselor which depends on the person's qualifications and years of experience.  Many geriatric counselors earn an average salary that ranges between $54,00 and $74,000 per year. 
Soft Skills 
Interpersonal Skills
Oral and Written Communication
Attention to Details
Great Listener 
Substance Abuse Counselor
It's 2020 and we have a lot of things going on in the world today.  Substance abuse is among the things that have steadily been on the rise.  For decades people across the nation have suffered with methamphetamine addictions, opiate addictions, alcohol abuse, cocaine addictions and more.  Substance abuse counselors it may come as no surprise are some of the most in-demand counselors out there. The Bureau of Labor Statistics projects a 22% increase in substance abuse counselors between 2018 and 2028. This means 68,000 new jobs.  A substance abuse counselor must first evaluate a client's need and assess their readiness to receive treatment.  The substance abuse counselor may create a treatment plan for the client as well as for their family.  A big part of a substance abuse counselor's job is to connect their clients with resources and services that can augment their lives including support groups. Finally, a substance abuse counselor identifies areas that may be barriers to recovery and counsels clients through those hurdles. 
Soft Skills
Oral and Written Communication
Leadership
Interpersonal
Patience
Open-Minded 
Other mental health positions that are lucrative: 
Social Worker 
Recreational Therapist 
Health Educator and Community Health Workers 
Mental Health Counselor 
Behavioral Disorder Counselor 
What Are the Highest Paying Counseling Degrees?
The highest paying degrees in mental health are psychiatry degrees as well as psychology PhD.  Those positions are different from counseling positions though there is some overlap.  For the purposes of this guide, we are going to look specifically at counselling degrees and the ones that lead to some of the highest paying counseling positions.  Let's take a look at those:
Master of Education With School Counseling Specialization 
The purpose of this degree is to prepare school counselors to meet the academic, psychological, and social needs of students in the K-12 school setting. These programs are typically longer than a standard master of education as they include additional material on school counseling. Additionally, these programs often require field experiences that may last for a semester or a couple of years.  Today's program includes  course material on multicultural counseling, crisis intervention strategies, assessment and research, as well as the ethics of practicing as a school counselor.  A number of these degrees include course material in group counseling, career and college counselling, childhood and adolescent trauma, developmental disabilities, psychopathology and treating children and adolescence, and other contemporary issues related to school counseling.  
Master's in Mental Health Counseling 
A master's in mental health counseling is a great choice for any individual looking to pursue a career in counseling. These programs prepare you to pursue licensure as a counselor who is qualified to reach clients of all ages. Mental health counseling includes assessment, practices, and relationship building. These courses will teach you about the theory and history of these programs as well as practical applications of the material.  Some of the more common courses that students take include counseling psychotherapy, ethics and legal issues, assessment in counseling, lifespan development, crisis trauma and disaster response, counseling addictive disorders, and more.  Look for programs that are accredited through the Masters in Psychology and Counseling Accreditation Council (MPCAC). 
Master of Science in Family Therapy 
To become a licensed marriage and family therapist (LMFT) you'll need a master's degree in couple and family counseling.  These degrees prepare counselors to work with clients in a variety of settings. The course material explains the history and theoretical bases for the practice of marriage and couples therapy. Students will examine what a family is and are challenged to restructure their thinking around what makes a family.  The MS in family therapy often includes courses and in psychopathology and diagnosis across the lifespan, contemporary and integrative theories of family counseling, premarital and marital counseling, human sexuality, substance abuse addiction and families, marriage and couple and family counseling skills, multicultural issues for counseling professionals, career counseling across the lifespan, group counseling, counseling techniques, and assessment techniques for individuals, couples, and families. 
PhD in Counseling and Psychology 
While a PhD is not necessary to initiate a career as a counselor, a PhD does typically mean a bump in salary.  Ask yourself what is your main goal as a counselor? Would you prefer to be a psychologist? Then you will want to consider a PhD in clinical psychology.  These degrees are typically 4-6 years in length and require research as well as clinical experience. Though much more schooling than a typical master's degree program a PhD or PsyD typically adds $30,000 to a person's annual salary!  
Here's a resource list from DegreeQuery to help set you up for success in a career in counseling. 
How Can We Help You Achieve Your Goals as a Highly Paid Counselor?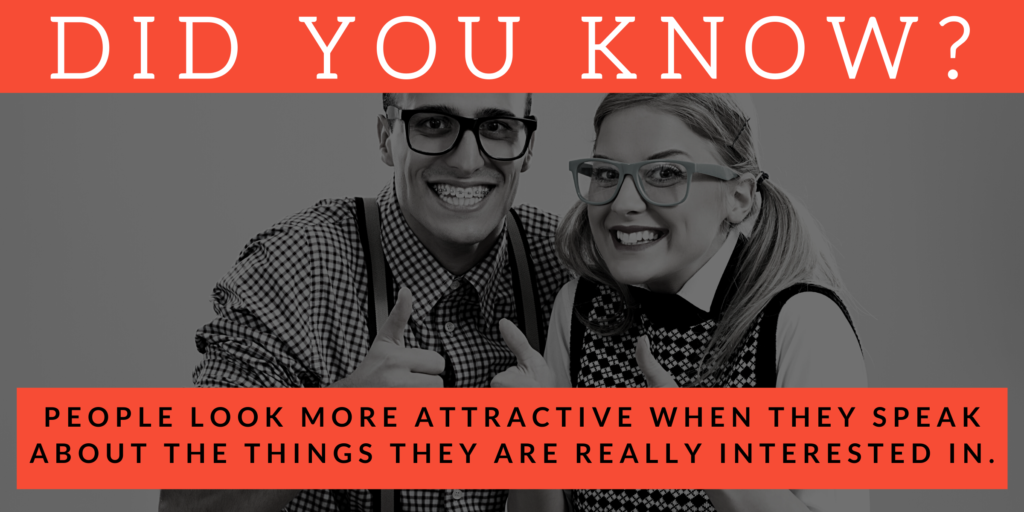 Here at Degree Query, we've created a variety of content to help you research and determine your career path.  We've answered common questions, provided in-depth guides about careers, ranked degrees on many metrics, ranked occupations, and much more. Here's some of the work we've done related to counseling careers and degrees:
Rankings For Counseling-Related Degree Programs
Guides On Counseling Degrees
Common Questions About Counseling Degrees
This is just part of the work we've created that discusses counseling and other business-related topics. We invite you to explore our homepage and search functions to better tailor the content that is right for your. 
Fast Facts About Lucrative Mental Health and Counseling Careers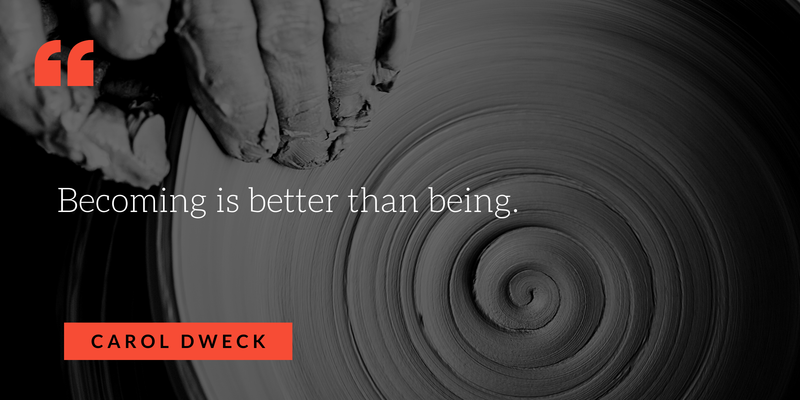 Before we go, let's take a look at some employment numbers from the U.S. Bureau of Labor Statistics on some of the most lucrative counseling positions:
Substance Abuse Counselor: In 2019 the median pay for these roles was $46,240 annually or $22.23 per hour.
There were 305,500 of these roles in 2018. This was expected to grow by 22% between 2018-28, creating 68,500 new jobs in the field which is much faster than the national average.
The typical entry-level education was a Bachelor's Degree. 
Psychiatrist: In 2019 the median annual pay for these positions was $220,430 or $105.98 per hour.
The typical entry-level education was a doctoral degree. Though not a counseling profession, this is the highest paid job in mental health as this is an MD who can prescribe medicine.
Psychologists: In 2019 the median pay for these workers was $80,370 annually, or $33.64 per hour.
There were 181,700 of these jobs in 2018. This was predicted to climb by 14% between 2018-28, creating 26,100 new roles in the field.
Training and Development Specialist: In 2019 the median annual pay for these positions was $61,210, or $29.43 per hour.
There were 306,400 of these jobs in 2018. This was expected to grow by 9% between 2018-28, with 28,900 new roles created. 
As you can say there is a wide range of jobs that are related to counseling.  With the growing need in counselors and social workers you are likely to gain employment.  We hope you were able to find what you were looking for in our guide.  
Good luck in your career as a mental health professional!