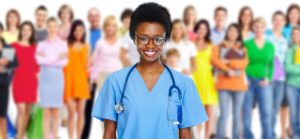 Social workers and public health workers share the same overarching goal: helping others. The education and emphasis of their work, however, is often different. Let's examine the similarities and differences between the two professions.
DegreeQuery.com is an advertising-supported site. Featured or trusted partner programs and all school search, finder, or match results are for schools that compensate us. This compensation does not influence our school rankings, resource guides, or other editorially-independent information published on this site.
Education
The MPH Degree
People who work in public health often receive a Masters in Public Health degree (MPH). The MPH is generally completed in two years with an early concentration in coursework and later focuses on research and practical experience. Study in public health concentrates on the design and administration of public health policy, analyzing health research and the communication skills used to manage projects and educate the public. A specialization is encouraged to further career training. The main areas of specialization within public health are biostatistics, epidemiology (i.e., the study of disease), environmental health, health policy & administration, and social & behavioral sciences.
The MPH should not be confused with the Masters of Science in Public Health (MSPH), which prepares people for a life in academia and research rather than practical work. There are no licensure requirements in the field of public health, although one can obtain a Certified in Public Health (CPH) credential when they pass an exam after five years of qualifying work in public health. This credential expresses a breadth of knowledge and experience in the field.
The MSW Degree
The Masters in Social Work degree is also usually accomplished in two years. There is required coursework and an increased emphasis on fieldwork. For comparison, someone in a social work program will likely be required to do more practical work than someone receiving the MPH. Coursework focuses on human social development, social science research, and the design and administration of social welfare programs. As with the MPH degree, specialization is necessary for career training. There are generally three major areas of specialization: clinical work, macro social work, and advanced generalist (i.e., non-clinical social work).
Unlike the MPH, many social workers go on to obtain licensure. A state license is required for a social worker to perform clinical work, such as becoming a psychotherapist. Clinical licensure requires an individual to perform clinical work under supervision and then pass an exam. Social workers may also receive a license as an advanced generalist, which requires two years of post-masters work under supervision in a non-clinical setting plus passing an exam.
What They Do and Where They Work
Both public health and social workers focus on addressing societal problems and helping those in need. Although there may be considerable overlap between the two, they usually attack their professions from different sides of the same coin. Their job duties will largely depend on their areas of specialization.
Public Health
Public health work has an emphasis on macro-level issues. They will rarely have direct interaction with people whose interests they serve. These are the people that are dispatched to deal with environmental crises, such as devastating hurricanes and outbreaks of infectious disease. Less exciting job duties may include educating the public about health issues and examining public health tendencies. Their major responsibilities lie in the area of prevention and intervention on a global level. Public health workers may become biostatisticians, epidemiologists, environmental scientists, and health and safety engineers. They may conduct research or aid in the creation of health policy. It is common to find them working in government agencies, state health departments, hospitals, and universities.
Social Work
Social workers typically work directly with clients. This work may include connecting clients with services, such as housing, nutritional assistance, healthcare, vocational training, and appropriate mental health providers. Social workers often have jobs as caseworkers, in which they are responsible for the welfare of specific people or families. It is common for social workers to work in local government, hospitals, and community agencies. In addition, many social workers are trained clinicians who offer psychotherapy as part of a mental health agency or in private practice. Social workers usually work on the micro-level, aiding individuals and families within the community.
The exception is macro social work, which can have overlap with public health. Macro social work involves improving social welfare systems, managing social policy initiatives, and funding and developing social work programs, possibly as part of the federal or state government.
Salary
As with all professions, there is a wide range of salaries depending on the specific job and experience. However, here is generally what you can expect for a job with an MPH or MSW degree: people with an MPH make an average annual income between $38,180 and $74,120. Social workers make an average of almost $50,000 a year. Of course, that increases if you are licensed. An LCSW, for instance, makes an average salary of almost $57,000.
The Integration of Public Health and Social Work
It appears that social work and public health have complementary roles within the same system. For example, during a natural disaster, public health workers may organize aid and measure the spread of disease whereas a social worker would be on the front lines providing counseling and a direct path to necessary services. In many cases, however, their roles are blurred as social workers may take on what is considered traditional public health roles and vice versa.
The MSW/MPH
The overlap between the two professions has spurred the creation of a joint MSW/MPH degree. The integration of social work and public health is a natural marriage built upon the mutual desire to help people deal with difficult issues. Individuals with a joint degree are a valuable asset, as they understand development and intervention at micro and macro levels.
As of 2017, there were 43 joint MSW/MPH degree programs. These programs involve coursework from both disciplines with fieldwork in the area of public health social work. The degree will take longer to complete (usually an additional year), as the individual must complete requirements that fulfill both degrees. Professionals with a joint degree are more marketable due to their ability to access both social work and public health opportunities. In addition, the joint degree likely gives them a leg up in supervisory roles and increased pay.
What Can You Do With an MSW/MPH?
On a practical level, individuals with a joint degree have the ability to bridge the gap between research and practice. They can study the trends and implement interventions at the same time. Let's look at an example of a job that may be appropriate for someone with the MSW/MPH joint degree: the disaster response leader.
As a disaster response leader, you need to be able to recognize the theoretical problems people face in a disaster situation and be able to mobilize different agencies. At the same time, you need to organize a multitude of moving parts and possess an understanding of the obstacles people may encounter on the ground when implementing interventions. These are skills someone who is both a public health worker and a social worker may possess.
The Value of Public Health and Social Workers
Public health and social workers are indispensable parts of our workforce. They are truly motivated by a desire to serve and help others. They often take on difficult situations with little respect for their well-being and may not receive the gratitude they deserve. It takes a special person with a selfless disposition to do the job well. At the same time, it can be an exciting and rewarding profession. It is always nice to know you are making a difference in the world. The earth would be a lesser place without them.
MS Broudy
December 2019
More Articles of Interest: