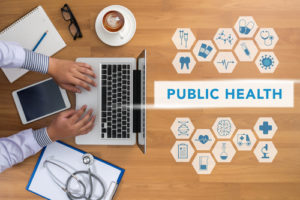 The public health field is a rather extensive and unique area of study, providing countless professional job options for those who seek an opportunity helping others. Public health employs a multidisciplinary approach to the health care field and combines diverse academic areas. These are just some of the reasons why people select a Master of Public Health degree for career opportunities.
DegreeQuery.com is an advertising-supported site. Featured or trusted partner programs and all school search, finder, or match results are for schools that compensate us. This compensation does not influence our school rankings, resource guides, or other editorially-independent information published on this site.
What is a public health major?
A Master of Public Health (MPH) is a graduate-level degree program that emphasizes the everyday aspects of public health. Educational program designs prepare students for a role in promoting community awareness related to communicable diseases, violence prevention, injury prevention, and other issues that affect the health and safety of its citizens. Research typically is not a primary focus in most MPH programs, so a student desiring a career as a researcher or professor of public health must look for a Master of Science in Public Health (MSPH) degree program instead.
The core curriculum for an MPH Program usually includes courses to provide a foundation for the professional in public health knowledge and the science of public health, as well as factors related to human health. All MPH graduates must demonstrate public health competencies associated with the critical disciplines within public health (social and behavioral determinants of health, biological sciences, biostatistics, management sciences, epidemiology, demography, public health problem-solving, computer applications, environmental health, and public health policy) as well as other emerging areas within public health.
Best MPH programs
According to US News & World Report, some of the best campus-based and online MPH programs can be obtained through these top five universities.
Master's in public health career opportunities
Many individuals are looking to expand the base of knowledge to increase their career opportunities and earning potential. The field of public health offers these seekers both of these options and more. Many people with an MPH go on to work as epidemiologists, educators, health care administrators, biostatisticians, policy advisors, researchers, and congressional staffers. This desirable trait of extreme variety within the professional field of public health also provides areas of upward mobility. There are specific facts to keep in mind when considering a career in public health.
Job Opportunities– There are documented and forecasted shortages of epidemiologists, public health nurses, public health physicians, educators, and administrators. It is projected that job opportunities within health care (including public health) will grow 14 percent from 2018 to 2028. This is much faster than the average for all occupations in the United States. This growth will add about 1.9 million new jobs over the next ten years.
Job Security– There is a growing need for public health workers in every sector, and this is anticipated to continue growing in the future. Nearly all graduates find employment directly following college, and the unemployment rate for public health professionals continues to remain low despite the increased awareness of the benefits of public health programs. With this increase in public awareness, MHP educated individuals will be in even higher demand.
Earning Potential– According to the US Bureau of Labor and Statistics, the earning potential of an individual with a Master of Public Health (MPH) Degree ranges from $78,500 for a Public Health Professor, to $89,000 for a Biostatistician, and $100,000 for a Public Health Administrator. Other areas of employment also offer career opportunities that are difficult to predict potential earnings (i.e., public health policy).
Individuals who obtain an MPH will benefit from a combination of multiple disciplines within the health care arena. They have countless possibilities for career paths with an abundance of jobs available and the potential for upward mobility in their chosen specialty. For many, knowing that they are making a substantial impact on the community can be the most rewarding motivation to study for a Master of Public Health degree.
Tracy Everhart
Master of Science (M.S.), Complementary Alternative Medicine| American College of Healthcare Sciences
Master of Science (M.S.), Nursing| Yale University
Bachelor of Science (B.S.), Microbiology| Hampshire College
October 2019
More Articles of Interest: