There are sources that state the difference is in how the respective college refers to their degree. This opinion gives the impression the two are synonymous. Other sources state that the Master of Science (MSPH) is an academic degree. Some schools consider the Master of Public Health (MPH) to be a professional degree. The difference in an academic degree and a professional degree is in its application. The purpose of the last degree is to apply it directly to your line of work. In this case, it is a public health setting. Individuals with an academic degree typically use their knowledge to research or education.
We will profile the curricula from randomly selected schools for both degrees. The intent is to determine if there is a difference in the coursework. Do the classes support the premise that one of these degrees favors research versus practical application?
With any master's program, you require a bachelor's degree, preferably with a foundation of science courses. This knowledge is advantageous, since both master's degrees may have biology, epidemiology, and the study of diseases. You may encounter a lab course, along with biostatistics.
Master of Public Health
The MPH offers areas to specialize. There is a general program for those who want to pursue a career in management locally, nationally, or globally. The curriculum will have at least one course devoted to leadership and management. The topics covered are strategic planning, budgeting, project development, and organizational management. Other classes explore the social aspects of public health, such as community organizing, social innovation, welfare, public policy, and health care financing.
Louisiana State University (LSU) offers an MPH with a choice of five concentrations. First, you complete twenty-one credit hours of core courses before choosing one of the following:
Behavioral and Community Health Sciences
Biostatistics
Environmental and Occupational Health Sciences
Epidemiology
Health Policy and Systems Management
Epidemiology is the study of disease. This science studies the causes, risks, prevention, control, and treatment of disease. Therefore, this choice is research-oriented. In other words, the epidemiology concentration is an academic degree within an MPH that is reportedly a professional degree. This example is one instance that defies the principle that the MSPH leans towards an educational or research application. Furthermore, it seems evident that the MPH and MSPH both have options to conduct a scientific study.
There are MSPH programs that, by one school's admission, may interest students contemplating a doctorate or research positions in a private corporation, academia, government, and research institution. One example is the University of Miami whose required courses include many of those in the MPH degree. The specialty classes involve medical biostatics, disease prevention, epidemiology, and public health administration. The final phase includes clinical trials and research methods.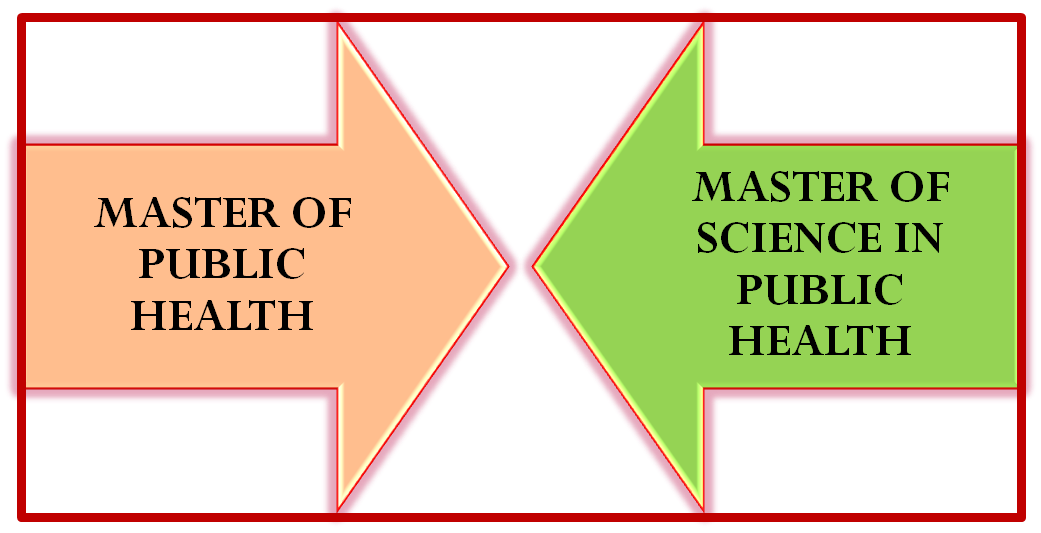 Choices
There seem to be more concentrations in an MPH program than the MSPH. The University of Michigan's School of Public Health provides an example of the diversity of specialties in their master's degree. You may choose to specialize in:
Biostatistics: For students who have an aptitude for statistics. Biostatisticians analyze and interpret health data to complement medical research.
Environmental Health Sciences: You explores topics such as sustainability, industrial hygiene, occupational epidemiology, and toxicology. There are also concentrations of these within this specialty.
Epidemiology: This concentration may suit those who excel in chemistry and biology as these sciences relate to the scientific analysis of diseases across populations.
Health Management and Policy: This concentration might appeal to individuals whose personality strives to lead and manage public health programs.
Nutritional Sciences: In addition to studying public health policy, the courses entail biostatistics, nutrition, biological contaminants, and chemical hazards.
To further illustrate the point of choices in an MPH program, the University of South Carolina offers a concentration in Physical Activity and Public Health. Students who believe that activity is a panacea may look into this area of specialization. The coursework covers issues about the health benefits of exercise, as well as how to implement and initiate programs within a community. Graduates will have the knowledge to work for school boards, a state's Department of Health, and as a health educator at a university's wellness program.
A final example of the variety in MPH programs is a concentration in Veterinary Public Health (VPH) at The Ohio State University. An option for animal lovers who do not need a Doctor of Veterinary Medicine (DVM). The study plan focuses on the premise that infectious disease is transferrable from animals to humans. Rabies, salmonella, Lyme disease, and E.coli are well-known examples. This specialty explores the role of veterinary epidemiology and its influence on human and animal health. The key word in a VPH degree is zoonotic, which means a disease common to animals that are infectious to humans.
More than 250 infectious diseases are transmissible from animals to humans.
Additional Resources:
What is a Bachelor's Degree in Public Health?
What Jobs are in-demand with a Degree in Public Health?
What is the difference in a Bachelor of Arts and Bachelor of Science in Public Health?