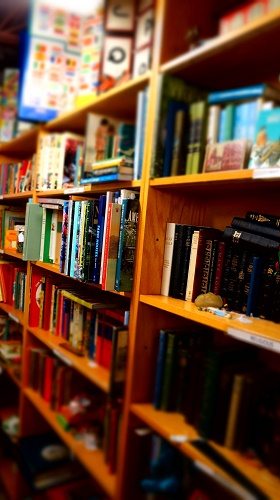 IMAGE SOURCE: Pixabay, public domain.
If you're interested in a career helping people locate information, then it's worth taking a look at the specialties you could choose to study in a graduate library sciences degree program. The field of library and information science is surprisingly broad. As a graduate library science student, you can select a specialty in an area of interest, a form of information or a type of work environment. The specialty you pick could very well determine the path of your future career.
DegreeQuery.com is an advertising-supported site. Featured or trusted partner programs and all school search, finder, or match results are for schools that compensate us. This compensation does not influence our school rankings, resource guides, or other editorially-independent information published on this site.
The Most Popular Specialties in Library Science
Some library and information science specialties are so popular that U.S. News & World Report has ranked the best master's degree programs in each of these concentrations. Among these specialties commonly found at a number of top-performing schools are:
Archives and Preservation
Digital Librarianship
Health Librarianship
Information Systems
Law Librarianship
School Library Media
Services for Children and Youth
Of course, these common specialty tracks aren't the only academic options available to graduate library science students. Some schools offer rarer – but to the right student, more valuable – specialty options in less saturated niches. Specializations at some of the top library science graduate schools include:
Archives and Records Management
African Studies Librarianship
Art Librarianship
Chemical Information
Data Science
Digital Humanities
Front End Development
Human Computer Interaction
Information Architecture
Information Economics for Management
Information Analysis and Retrieval
Information Technology Leadership
Library Technology Management
Music Librarianship
Rare Books and Manuscripts Librarianship
Social Computing
Informatics and Design and Technology
Some top master's in library science degree programs even offer a self-designed option that allows students to tailor their education to their unique interests and career goals. A program that offers you the chance to handpick the classes you take in accordance with what material will provide the most value can help you make the most of your master's in library science degree.
The Importance of Choosing the Right Specialty
You may think that one master's of library and information science degree is equivalent to another, regardless of specialty. However, this choice can impact your career prospects significantly. For many library and information services positions, you need specialized knowledge in order to succeed in helping library users find the data they need. In fact, in certain employment settings, you must even attain a special certificate to get and keep a library and information services job, the American Library Association (ALA) reported.
For example, a student who completes a general graduate degree program in library science won't know enough about legal resources to oversee a law library. If you aspire to work in a public school library or media center, you must typically hold either a separate degree in education or a certificate in school media, according to the ALA. Students who want to work in a specialized type of library, like an art or music library, can set themselves apart from the competition by showing prospective employers that they already have these specialty skills.
How much the specialty you study in a graduate library science program matters depends on your career interests. If you have a strong preference for a particular type of employer or employment setting, then you want to choose a specialty that will help you reach your goals. Otherwise, a more versatile specialty or even a general master's degree program in library science could be a better choice for you. Ultimately, it comes down to which you value more – the flexibility of general skills or the niche knowledge of a specialty.