If a career solving crimes by delving into the psyche of perpetrators sounds exciting, you might be interested in becoming a criminal profiler. Jobs in and adjacent to criminal profiling are investigative careers that require a high level of education and training. Working as a criminal profiler may not match the expectations set by crime television shows and movies, but there are jobs out there for people who want to apply the principles of psychology to the investigation of criminal behavior.
What Is Criminal Profiling?
Criminal profiling refers to the application of psychological principles and practices to crime analysis, most often to develop a psychological "profile" that can be used to help police officers and detectives identify and apprehend the right suspect. An unknown offender profile consists of characteristics that might be used to narrow down a list of potential suspects.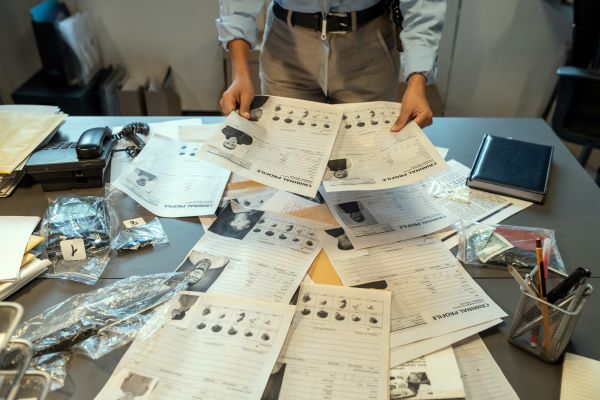 What Does a Criminal Profile Include?
The profile put together by a criminal profiler might include characteristics like the following:
Criminal history
Age
Sex/gender and sexual orientation
Race or ethnicity
Occupation
Education
Geographic location
Personality traits
Criminal history
Lifestyle
Life experiences, including past trauma, offenses or victimhood
Marital status or family status
Social life
Schedule
Emotional or psychological state or needs
The characteristics that comprise each individual criminal profile are unique. Not all offender profiles constructed will include the same types of data.
Criminal Profiling as an Investigative Strategy
Criminal profiling isn't a job duty so much as it is an investigative strategy or technique. Despite what you may have heard on television or in movies, the Federal Bureau of Investigation (FBI) refers to criminal profiling primarily as part of the larger practice of "criminal investigative analysis."
RELATED: Exciting Jobs: The Top 15 Jobs for Adrenaline Seekers
The investigative techniques of FBI criminal investigative analysis that most closely resemble criminal profiling include what the Bureau calls "behavioral investigative strategies" and, of course, the "construction of an unknown offender profile." However, the practice of criminal investigative analysis also encompasses the use of interrogation and interviewing skills, threat assessment services, strategies for investigation and media communications, analyses of crimes and critical incidents and expert testimony services in criminal prosecution court proceedings.
RELATED: What Degree Do I Need to Be a Crime Analyst?    
Profiling by Other Names
Outside of television shows and movies, offender profiling is more commonly known by other names. In fact, the FBI doesn't even employ workers under the title of "profiler," the United States Bureau of Labor Statistics (BLS) reported in 2003
Criminal profiling is an interdisciplinary area that makes the intersection of psychology and law enforcement, according to the American Psychological Association (APA). In addition to criminal or offender profiling and criminal investigative analysis, you might also hear this field and its practitioners referred to in the following terms:
Investigative psychology/investigative psychologist
Forensic psychology/forensic psychologist
Crime action profiling/crime action profiler
Behavioral analysis/behavioral analyst
Crime analysis/crime analyst or criminal investigative analyst
Criminal investigation/criminal investigator or detective
Intelligence research/intelligence research specialist
Special agent or supervisory special agent
Crisis intervention specialist
Given the range of job titles in this field, as well as the variety of work environments, criminal profiler salaries vary considerably. While PayScale.com reported an average criminal profiler salary of $50,696, Salary.com put this number at a considerably higher annual wage, $68,477. For manager criminal profiler roles, ZipRecruiter.com reported a national average salary of $87,927.
RELATED: Highest Paying Degrees in Criminal Justice  – Majors & Careers  
What Do Criminal Profilers Do?
How exactly do criminal profilers actually go about constructing a profile of an unknown offender? Contrary to what popular television shows and movies might have you believe, criminal profilers don't base their profiles on intuition or "hunches." Rather, a good criminal profiler builds the profile of an unknown offender based on their analysis of complex data drawn from both crime scene analysis specific to this crime and knowledge of patterns and precedents drawn from other crimes.
How criminals with similar modus operandi (MOs) perform on personality assessments, for example, can help criminal profilers better understand why the perpetrator committed the crime and what led up to or followed the crime. This knowledge, in turn, can help criminal investigators perform a risk assessment to determine when or if – or how – the offender will strike again, as well as reconstruct the timeline of the crime.
Criminal profilers play an important role in some investigations, but not all criminal investigations. Profiles are more useful for understanding criminal minds in certain types of matters of violent crime than others. The techniques criminal profilers employ are particularly valuable in cases involving rapists, murderers, arsonists and offenders who use violence to take hostages or who threaten violence against one or more people, the U.S. Department of Justice reported.
A common misconception is that all law enforcement agencies need to solve a crime is a profile of the unknown offender. Profiling "is not a substitute for skilled detective work," the U.S. Department of Justice reported. Profilers must obtain training and experience in all aspects of investigation and develop the analytical skills needed to conduct full investigations during which they may apply the principles required to build offender profiles as well as use other investigative techniques.
Law Enforcement Agencies and More: Where Do Criminal Profilers Work?
Because their focus is on crime scene analysis and developing a deeper understanding of the minds of perpetrators, criminal profilers typically work for law enforcement agencies in some capacity. Profilers most famously work for federal agencies, like the Federal Bureau of Investigation (FBI) and the National Security Administration (NSA).
RELATED: What Degree Should I Get to Join the FBI?
Profilers may also work for larger local law enforcement agencies. In addition to serving as in-house employees, criminal investigators who specialize in constructing unknown offender profiles may also work for themselves, providing their investigative services to law enforcement agencies and attorneys.
If you're serious about becoming a criminal profiler, you should set your sights on a career with the FBI's Behavioral Analysis Unit in Quantico, Virginia. First established in 1972 as the Behavioral Science Unit (BSU), the BAU encompasses the groups of FBI experts working within the National Center for the Analysis of Violent Crime (NCAVC). These units, which are most closely related to the job of FBI criminal profiler, are divided according to specific areas of focus. These areas of focus include cybercrime, arson and bombing, white-collar crime, threats of violence and violent crimes – like murder, kidnapping, rape and serial sexual homicide – against adults or children.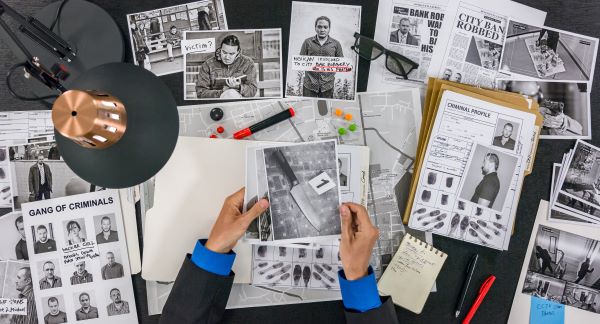 How to Become a Criminal Profiler
The criminal investigative analysts who put together offender profiles need formal education, on-the-job training, years of work experience and potentially professional certification.
1. Pursue a Bachelor's Degree
A high school diploma may be sufficient for some jobs in law enforcement and criminal justice, but criminal profilers need more. Preparing for this role begins with earning a bachelor's degree, most commonly in a field like criminal justice or psychology.
2. Gain Work Experience in Law Enforcement and Criminal Investigation
Criminal profiler isn't a job you can realistically expect to attain straight out of college. To become a criminal profiler, you need considerable work experience.
For example, to become an FBI criminal profiler – officially known as a Behavioral Analysis Unit (BAU) agent – you typically need at least seven to ten years of work experience as an FBI agent, the Bureau reported. It's not uncommon for criminal profilers to have seven to fifteen years of experience serving in investigative roles, including the time they spend working in criminal investigation in a local law enforcement agency, a state law enforcement agency or a military criminal investigation division.
If you have your heart set on becoming a criminal profiler, you need to look at both long-term and short-term career goals. Apply for entry-level law enforcement roles like police officer. Within local police departments, outstanding officers  eventually advance to police detective or criminal investigator. This process will include undergoing background checks, physical fitness testing and law enforcement academy training. Criminal investigators who want to become a criminal profiler can develop their skills in criminal investigative analysis and acquire the work experience they need to join a federal law enforcement intelligence agency.
Although you might not need a college education for an entry-level police officer role at a local police department, having a college degree can help you achieve promotion to detective status (and will certainly help you move into an FBI special agent role once you have the extensive investigative experience needed for this level of career advancement). Joining the FBI requires you to undergo additional FBI training on top of the law enforcement training you completed earlier on in your career.
As the field of criminal investigation analysis evolves, so do the methods profilers can use to better understand criminal behavior. Ongoing training can help profilers cultivate knowledge of geographic profiling, crime typologies, risk assessment and other aspects of criminal investigation.
3. Consider Going to Graduate School
Investigators who develop the skills needed for profiling often pursue a higher level of education. A master's degree or even a doctoral degree in an area related to criminal justice or psychology can enhance your skills and your career prospects.
RELATED: Will a Master's Degree Make Me Look More Attractive to the FBI?
4. Pursue Specialized Training in Behavioral Science and Analysis
To work in the BAU, you need more specialized training than you receive in either your initial academy training or through the FBI academy for new hires. FBI Forensic Behavioral Consultant Mary Ellen O'Toole, PhD, reported that the training process for new transfers to the FBI BAU includes years of working under an experienced agent.
5. Seek Certification
One way to demonstrate your capabilities as an analyst of human behavior is to seek the Board Certified Assistant Behavior Analyst (BCaBA) or Board Certified Behavior Analyst (BCBA) credential from the Behavior Analyst Certification Board, Inc. (BACB).
Do You Need an Advanced Degree to Become a Criminal Profiler?
An advanced education may not be strictly required for profilers in all instances, but all profilers can benefit from gaining a deeper knowledge of psychology and criminal justice.
What level of advanced degree you need to become a criminal profiler depends on exactly what you want to do in this field. A master's degree in an area like psychology or criminal justice is often sufficient to prepare you for a field role as a Special Agent with a federal or state law enforcement agency, Maryville University reported.
RELATED: What Salary Can You Expect With a Master's Degree in Criminal Justice?
Profilers with the job title of forensic psychologists, on the other hand, typically need a doctorate degree, Forbes reported. Forensic psychologists aren't as involved in constructing unknown offender profiles as they are in assessing the psychological states and needs of criminal defendants, inmates and victims and testifying on these matters. However, they also provide psychological therapy to inmates and conduct research into the factors that drive criminal behavior, which helps criminal profilers better identify relevant data, recognize patterns and make meaningful inferences from the evidence available.
RELATED: What Degree Do I Need to Be a Psychologist?
The Best Majors and Programs of Study for Aspiring Criminal Profilers
Although the FBI and other law enforcement agencies don't recruit exclusively students with certain academic backgrounds, most aspiring criminal profilers and investigators pursue degrees in one of two major areas: criminal justice or psychology.
Criminal Justice
Criminal justice is the field that pertains to the criminal justice system, including criminal procedure and investigation. Because a criminal justice program teaches students the ins and outs of the criminal justice system, this major is popular not only among students who want to become a criminal profiler but also among aspiring criminal investigators and police officers.
RELATED: What Classes Will I Take in a Criminal Justice Degree?
If you're interested in working in crime scene investigation, you might major in the related but distinct area of forensic science. Students of forensic sciences programs study the life and physical sciences and how to apply scientific concepts, methods and techniques for forensic purposes, such as analyzing the evidence acquired from crime scenes. Students should know that even after earning a degree in forensic sciences, developing the skills for crime scene evidence analysis requires on-the-job training at real crime scenes and in crime labs– especially if you want to build expertise in an area of specialty like ballistics, bloodstain pattern analysis or serology and DNA analysis.
RELATED: How Do I Become a Forensic Firearms & Ballistics Expert?
Psychology
Psychology is the study of the mind, thinking and human behavior. What better way to become an expert on the behavior patterns of convicted criminals and the inner workings of criminal minds than studying the principles and methods of psychology?
RELATED: How Long Does It Take to Become a Psychologist?
At the undergraduate level, most psychology degree programs are general in nature. Even a general psychology program can help students develop their analytical skills and gain foundational knowledge of the concepts and practices used in the field of psychology.
Several colleges and universities now offer degree programs or concentrations in forensic psychology. These programs often encompass both general and specialized studies in psychology as well as coursework in criminal justice.
For example, the online bachelor's degree program in forensic psychology at Maryville University includes core psychology courses in social psychology, normal human development, abnormal psychology, biological psychology, forensic psychology and psychological tests and measurement. Students also complete classes in criminal law and procedure, the criminal justice system, criminological theory, criminal behavior, police psychology and criminal investigation methods and evidence handling procedures.
RELATED: What Is the Difference Between Careers in Behavior Analysis and Psychology?
The forensic concentration at Southern New Hampshire University includes required courses in both forensic psychology (psychology as it applies to the courtroom and the criminal justice system) and criminal psychology (how psychosocial environments affect criminals and motivate criminal behavior). Students then choose from electives in areas like the sociology of crime and violence, social psychology and counseling processes and techniques.
In the Bachelor of Science in Forensic Psychology program at Embry-Riddle Aeronautical University, students complete a course specific to Personality and Profiling, along with required courses in forensic psychology, criminality, abnormal psychology, physiological psychology, the psychology of deception detection and investigative methodology and forensic science.
Even if you can't earn a bachelor's degree or formal academic concentration in forensic psychology specifically at your school, you may be able to tailor your study of human behavior patterns to fit your interests in criminal offender profiling. You might, for example, minor in criminal justice, participate in research projects that pertain to forensic pathology or look for internship opportunities in criminal justice settings.
Related Resources:
What Are Some Job Titles I Could Look at Being Qualified for With a Criminal Justice Associate's Degree?
50 Top Criminal Justice Degree Scholarships
Top 10 Graduate Degree Programs in Criminal Justice
For Further Reading: