If you think you want to be a math teacher, you are probably thinking of majoring in mathematics education in college. There are steps that you can take even before you finish high school that will help you succeed in earning your Bachelor of Science or Bachelor of Arts degree in Mathematics Education and working as a middle school or high school math teacher. Aspiring math educators should focus on excelling in their high school math classes, taking college preparatory coursework in their other subjects and looking for options such as tutoring jobs and mentoring programs that can offer experience working with children.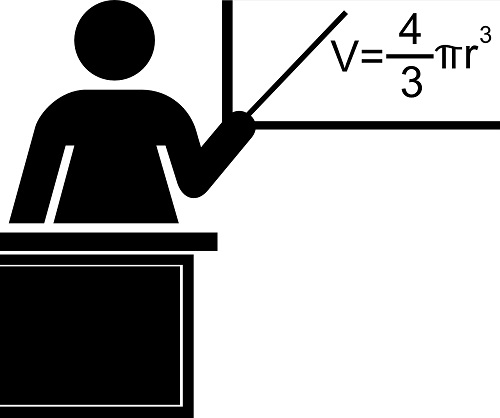 IMAGE SOURCE: Pixabay, public domain
Take Extra Math Classes
Often, a mathematics education major is offered through a college's Department of Mathematics and Statistics or a similar department. This program of study requires students to focus on both the education component of learning to teach and the math component of developing a strong background in mathematics. Naturally, this means your college curriculum will include substantial coursework in mathematics. Often, aspiring math teachers will take classes such as intermediate algebra, linear algebra, abstract algebra, college geometry, analytical geometry, calculus, discrete mathematics and probability and statistics.
Some of this math coursework can be complex. Taking classes in algebra, geometry, calculus, trigonometry and statistics during high school can help you develop a solid understanding of the basics of these branches of mathematics. Since math is so closely related to computers, completing an introductory course in computer science or computer programming can also be beneficial. Some math majors find a great deal of value in taking honors or Advanced Placement (AP) math courses in high school to prepare for the more demanding work of a college education.
Other required math courses are designed for future educators, with course titles such as Probability and Statistics for Teachers, Discrete Mathematics for Teachers, Mathematical Modeling and Problem-Solving for Teachers and Teaching and Learning of High School Math.
Complete a College Prep Curriculum in All of Your Subjects
Math may be your best subject, but your other subjects still count. Not only do you need to get good grades in all of your classes to make sure that you can get into your first choice schools, but you also need to know the foundations of English, science, history and other subjects so that you will do well in your studies at the college level. Math education majors still need to complete their school's general education requirements, which include studies in a broad range of subjects.
Not every class needs to be an honors or AP course, especially if taking that intense workload would lower your grades, restrict your opportunities for extracurricular activities or result in you feeling stressed and overwhelmed. However, if you plan to go to college, regardless of your intended major, you should take college preparatory classes in whatever subjects are offered.
You might be surprised what high school coursework can help in your college studies. At some colleges, for example, students may need to become proficient in a foreign language. Taking language courses in high school can help you meet this requirement.
Gain Experience in Education or Working With Kids
If math studies make up half of your core courses as a math education major, courses in teaching and education make up the other half. Both middle school teachers and high school teachers typically must complete a semester of student-teaching experience as part of their undergraduate curriculum, the United States Bureau of Labor Statistics (BLS) reported. Mathematics education majors must also dedicate a good chunk of their studies to education courses, such as Motivation and Classroom Management, Language, Literacy and Learning in the Content Areas, Educational and Multicultural Foundations and Education of Students with Disabilities.
Classes on teaching are uncommon in high schools, so you might think that there isn't much you can do to prepare for these courses. However, there are plenty of less formal things you can do to start training for a teaching career. Many high schools offer a club or extracurricular activity for aspiring teachers, such as Future Teachers of America, that can help you learn about the educator profession and start developing your skills. You can also look for other ways to get involved with youth. Does your high school offer mentoring programs that would offer you the chance to work directly with elementary or middle school students? Alternatively, you could use your strong math skills to tutor fellow high school students, simultaneously gaining experience in teaching math concepts and working with your intended age group. Even informal experience, such as helping friends who struggle with their math coursework to better understand the material, can prove valuable for an aspiring math teacher.
At some colleges, mathematics education programs are dual degree programs, with students completing two separate sets of curricula in math and education instead of one single major.
Additional Resources
How Do I Prepare for a Mathematics Degree While in High School?
How Do I Prepare for a Statistics Degree While in High School?
How Do I Prepare for an Actuarial Science Degree While in High School?