If you enjoy hands-on work with computers and other technological devices, a career as a computer technician may be right for you. You don't need a degree to get started in an entry-level computer tech role, but having any level of degree in a field related to computers or information technology can be valuable, especially as you look to advance your career.
What Do Computer Technicians Do?
What can you expect from computer technician jobs? Generally speaking, computer support specialists, or computer technicians, provide technical assistance in the use of different aspects of computer technology and devices. Computer technicians may focus on setting up and maintaining computer networks or on assisting users with technical problems.
Some of the most important job duties for computer technicians include setting up computers, configuring operating systems, training users, maintaining and repairing equipment and providing technical assistance with computer problems.
RELATED: What Degree Do I Need to Be an Information Technology Specialist?
Set Up Computer Systems
Technical knowledge is needed for the optimal setup of computers and wireless networks. Successful computer techs have plenty of technical skills that they keep growing over the years through continuing education.
Setting up a new computer or computer network encompasses installing and connecting both computer hardware and software.
Computer hardware refers to the physical components of a computer system, such as the computer tower, monitor, network security devices, printers and computer networking equipment like routers and modems.
Computer software refers to the programs that allow users to perform their computing tasks, including operating systems, web browsers, database programs, word processing programs and industry-specific programs for storing, analyzing, organizing and reporting data.
Both hardware and software elements of computer technology are important for functional computing. Without the specific hardware, there would be no physical device on which to perform computing tasks. Without software, the hardware wouldn't be functional, allowing the worker to achieve the goals with which the computer is supposed to assist.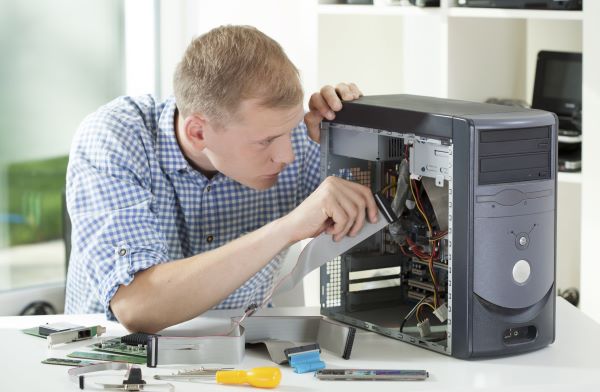 Setting up a computer system may encompass tasks like network design for reliably and securely connecting individual computers to each other, the Internet and cloud computing services. Alternatively, a computer technician may be called upon to add new computers and devices to existing networks as new employees join a company's team.
Configure Operating Systems
Operating systems are the software programs that support basic computing functions. Without an operating system, a computer couldn't run any other software applications to schedule tasks, process commands or perform other duties required by the user. The reason computer technicians perform this work is because configuring, or adjusting the settings of, an operating system is critical for optimal performance.
Train Users to Correctly Use Computers and Devices
One way to reduce the number of technical issues a user will encounter is to provide them with training. Computer technicians might walk a user who encounters problems through an informal training session or teach a more comprehensive training class for a group of users who are learning to use a new program or who have encountered repeated technical problems.
Perform Computer Maintenance and Repairs
Computer servicing is an important part of the computer technician career. Performing regular, proactive maintenance can keep machine breakdowns, security and storage space issues and other major technical difficulties from occurring. When routine maintenance inspections or technical complaints bring to the computer technician's attention faulty equipment, promptly repairing or replacing the problematic hardware or uninstalling and reinstalling a troublesome software application can prevent a bigger issue.
RELATED: Do Many Tech Support Jobs Involve A Lot of Traveling?
Document and Troubleshoot Computer Problems
No matter how well a computer network is designed, how thoroughly it is maintained, or how well its usage is explained to users, technical problems will sometimes arise. Technical updates, security incidents and the need for new functionalities can all contribute to the development of technical issues. Computer technicians explore and resolve problems brought to them by computer users. Often, part of the process of addressing technical difficulties is documenting and describing the problem for future reference.
How to Become a Computer Technician
Computer technician jobs are not highly regulated. For entry-level jobs in the field, you may be able to snag a role with no formal education in computers and only a "knack" for setting up and troubleshooting technological hardware and software.
RELATED: What are Some Common Questions in an Interview for Tech Support?
Why, then, would an aspiring computer technician seek further education? Although formal education may not be strictly required to become a computer technician, your prospects for career advancement will be limited if you have no formal coursework or proof of professional skills in computer technology. If you want to do more than basic tech support, you should pursue additional qualifications. These qualifications can range from a college degree or non-degree computer technician program to professional certifications.
Suppose you want to move into supervisory positions or pursue a post that involves more technical job duties than basic troubleshooting work. You're going to need more than the minimum level of education to accomplish this career move.
Becoming a Computer Technician With Only a High School Diploma
Some computer technician positions are available to applicants with no education beyond a high school diploma. If you are thinking about working as a computer technician, it's a good idea to take some basic computer science and programming coursework as a high school student so you can start developing your skills. You will learn much of the technical knowledge you need to become a computer support technician through on-the-job training.
The computer technician jobs posted with no formal education requirements are most commonly help-desk technician roles. Sometimes called computer user support specialists, help-desk technicians provide basic technical and troubleshooting help to computer users in non-information technology (IT) roles.
In other words, your job in this position would be to help people with limited technical knowledge to deal with technical issues that arise. This job is important since computers now have a place in almost every job and industry, but it can also be frustrating – especially when user errors cause or contribute to the problem.
RELATED: What is the Hardest Thing About Working in Tech Support?
Earning an Associate's Degree for Computer Tech Jobs
Having at least some college education is common for computer support specialists. Generally, network support specialists are more likely to need an associate's degree, the United States Bureau of Labor Statistics (BLS) reported. User support specialists are more likely to have some college coursework under their belts but no formal degree, according to the BLS.
RELATED: How Long Does It Take to Get an Associate Degree?
An associate's degree often fits the bill for students seeking a quick entry into a career as a computer technician. Full-time students can successfully complete an associate's degree program in as little as two years. Associate degree programs typically consist of 60 credits of college-level courses that cover both major-specific coursework and general education classes. Associate's degree programs are offered out of community colleges and junior colleges, where tuition costs tend to be cheaper compared to two years of study at four-year colleges and universities.
Pursuing a Bachelor's Degree to Work as a Computer Technician
You will have more employment opportunities in the computer tech field with a bachelor's degree than you would have with only an associate's degree or with just a high school diploma.
Specifically, jobs for computer network support specialists and jobs with major software companies are more likely to prefer or even require that candidates hold a bachelor's degree, according to the United States Bureau of Labor Statistics. Having a bachelor's degree will also allow aspiring computer technicians to work in more technical areas of computer technology and support, including network administration, computer systems administration, network security analysis and software development.
Bachelor's degrees are commonly referred to as four-year degrees – although taking longer than four years to complete the curriculum isn't unusual – and require twice as many credits as an associate's degree. Students in a four-year degree program generally have more opportunities to take higher-level and specialized courses compared to students in an associate's degree program in the same major.
Going to Graduate School for Computer Technology
The higher you want to rise in the field of computer technology, the more important your education becomes.
At first glance, a master's degree in computer technology may seem like overkill when you can become a computer technician with as little formal education as a high school diploma. However, you might want to consider going to graduate school – eventually – if you want more from your career in the long term.
How might you become a computer and information systems manager? Computer and information systems managers often start their careers in entry-level roles, such as computer technician, before moving up to lower-level and mid-level management positions in the computer support services or IT department. From there, they continue to build up their reputation. Often, aspiring computer and information managers do this through a combination of acquiring years of work experience handling increasingly challenging job duties, going back to school for a more advanced degree and acquiring certifications that demonstrate their professional skills.
Eventually, ambitious computer technology professionals can work their way up to IT director and IT project manager roles and potentially even C-suite positions like chief information officer (CIO) and chief technology officer (CTO) jobs. A graduate degree isn't strictly required for computer and information systems management roles, but having one can be beneficial.
Seeking Certifications in the Computer Industry
Advancing your education through college degree programs isn't the only way computer techs improve their job marketability. Hands-on technical skills are more important than academic achievement if you want to become a computer support specialist. Certifications show that you have the hands-on skills needed for a variety of computer technician roles. To acquire certification, you may need to complete training classes or modules, and you will have to pass a certification exam.
Numerous companies and professional organizations offer professional certifications that are relevant to the computer industry. The Computing Technology Industry Association (CompTIA), for example, offers multiple certifications in core areas like information technology fundamentals, computer networking and security, as well as infrastructure, cybersecurity, data analytics and cloud computing, including the COMPTIA Network+ certification. Many computer technicians and specialists pursue certifications in multiple areas to build out a breadth of depth of areas of technical expertise.
RELATED: What Is the Benefit of a Degree in Cybersecurity vs. Network Security?
Certifications as Continuing Education in the Computer Industry
No matter how much education you have in the computer field, continuing your education is an essential part of working in this area. After all, technology is constantly evolving and advancing. What are the best practices in network security and server administration during the year you graduate may not be a few years (or decades) later.
Certificate Programs vs. Certification
Don't confuse a certificate program with a certification. A certificate program is a formal program of study that culminates in a certificate rather than a full-fledged degree in computer technology. Certificate programs are offered through colleges at the undergraduate or graduate level and generally cover a smaller and more focused curriculum compared to what students would find in a degree program. Unlike a certificate program, certification isn't offered directly through a school and usually doesn't require candidates to attend class or complete a sequence or series of courses. Instead, professional credentials are awarded based on passing a certification exam.
The difference between a certificate program and a certification is made more complicated because some certificate programs, like the computer technician certificate program at the California Institute of Arts & Technology, prepare professionals to take a particular certification exam.
The Best Computer Technician Degrees
What majors do the best computer specialists choose? While some community colleges and technical schools offer specific computer technician degrees, most computer support specialists don't approach the career having completed a computer technician program specifically. Computer techs may major in any computer-related field of study in college.
Computer Engineering
Students who are interested in the design and development of computer-based solutions may be interested in the study of computer engineering. This program will cover the fundamentals of engineering design as well as studies in programming languages, digital circuits, microprocessors, algorithms and computer networks.
Computer Engineering Technology
Computer engineering technology is related to – but different from – computer engineering. Technicians and technologists support an engineer's work in designing solutions and carry out an engineer's plans, but they aren't personally responsible for design work. Students of a computer engineering design program will take classes in computer architecture, network applications and Visual Basic programming applications for computer technology.
Electrical Engineering
Computer engineering is a subfield of electrical and electronics engineering, so students wouldn't be wrong to major in this broader engineering discipline. An electrical engineering major will take classes in digital circuit design, electronics, signals and systems, engineering computations, processor and microprocessor systems and electromagnetic fields and waves.
Electrical Engineering Technology
Students seeking a college degree in electrical engineering technology will study applied circuits, routing and switching, controls and instrumentation, electrical troubleshooting and power and energy technologies. The more computer-focused coursework in their curriculum may include studies in platforms and network technologies and object-oriented programming.
Computer Information Technology
Information technology is the field that focuses on the use of computers to store, organize, retrieve and analyze data – in other words, information. Coursework in an IT program may include IT fundamentals, computer systems architecture, database systems, networks and networking, information system security, data organization, systems analysis and design, software development and mobile development. Students may also take classes in IT management and project management.
Computer Science
Computer science, the scientific study of computers and computing technology, encompasses everything from computational theory to the practical design of software, hardware, systems and algorithms. Computer science majors study computer systems, operating systems, data structures, databases, software engineering principles and methods, data mining, machine learning, logic structures, communications and networking and discrete mathematics. Programming is an important part of working with computers, so students in this program can expect to take multiple courses in general programming fundamentals, comparative programming languages and web programming.
Computer Information Systems
If you're torn between a program in IT and a program in computer science, consider going to college for computer information systems. This interdisciplinary program encompasses a breadth of concepts and practices in the application of technology to business needs, so it draws heavily from both of these fields. Coursework in a computer information systems program might include studies in IT fundamentals, computer software and hardware, networks and network security, database systems, programming, web design and switching, routing and wireless technology.
Business Management and Administration
If you're as interested in leadership responsibilities as you are in technical responsibilities, consider pursuing a Bachelor of Business Administration (BBA) or Master of Business Administration (MBA) degree. Through this curriculum, you will have the opportunity to develop your business skills and knowledge across an array of areas of business, including management and leadership, finance, accounting, business strategy, marketing and human resources.
RELATED: Will Having a Sales Background Help Me Find a Job if I Have the Technical Knowledge in Tech Support?   
Many colleges and universities now offer MBA programs specifically in tech-focused areas like computer science, information technology, information security management or cybersecurity. These programs are excellent for students who want to keep building on the foundational skills they already have in computer technology while also developing the skills for business leadership roles.
Related Resources:
What Degree Do I Need to Become a Computer Hardware Engineer?
What Is the Difference Between a Degree in Computer Hardware Engineering and a Degree in Electronics Engineering?
25 Best Online Associate's of IT Degree Programs
The 20 Best Online Masters in Computer Science Degree Programs
Which Degree Is Best for a Software Engineer?
How Advanced a Degree Do I Need to Work in Cryptography?
For Further Reading: 
What Degree Do I Need to Be a Policy Analyst?