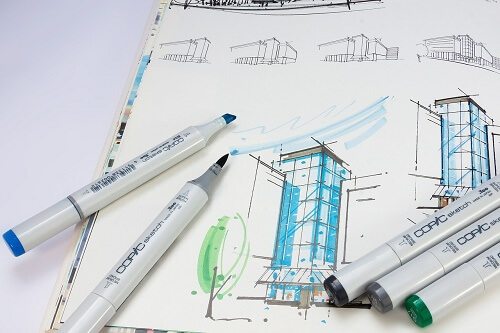 IMAGE SOURCE: Pixabay, public domain
Overview
Architects are the professionals who design and plan the construction of buildings. They design the homes and apartment buildings people live in and the offices where they work. Without architects, we wouldn't have stores, restaurants, skyscrapers or school buildings.
First, architects discuss the purpose of the building or structure with clients. They determine the specifications for the project and create conceptual and scaled designs of the building by hand and with the use of computer-aided design and drafting (CADD) and building information modeling (BIM) software. Architects don't just design the appearance of the building, but they also designate locations for practical requirements such as electrical systems, plumbing, and heating and air conditioning systems. They must also ensure that their designs meet requirements like local building codes, fire regulations and zoning laws.
Architects determine what equipment is necessary for completing the work, how much of various materials will be required and how much time the construction process will take. Once the final plans are complete and the client has approved them, the architect may play a part in hiring contractors and establishing contracts. Though they aren't involved in the actual construction work, architects often visit the building site during construction to check that the work is on schedule and that the contractors are correctly following the plans.
Education
Success as an architect requires a unique combination of skills in art and design and engineering as well as in sketching by hand and using CADD computer software. Aspiring architects should begin their path into the career by pursuing a Bachelor of Architecture degree in a program accredited by the National Architectural Accrediting Board. These programs typically take five years rather than the usual four years required for an undergraduate degree in other areas of study, but they expose students to valuable study in a variety of academic fields. Important subjects of study include architectural theory, building design, the history of architecture, construction methods and technology and CADD. They also develop a solid background in mathematics, liberal arts and physical sciences. Particularly important in any Bachelor of Architecture program is the time students spend in the design studio, actually drawing and building models of their building designs.
Upon earning their degree, aspiring architects must spend at least three years gaining hands-on experience as paid interns. In these positions, they research building codes and draft project specifications. They may also have the opportunity to assist with project design, including document preparation, model building and creating CADD drawings. After gaining sufficient experience as required by their state, interns can take the Architect Registration Exam and attain their licenses.
Employment
Architects earn a median salary of $73,090 per year, according to the United States Bureau of Labor statistics. They also enjoy a positive job outlook. The BLS expects career opportunities to grow by 17 percent over a ten-year period, faster than the 11 percent job growth expected across all occupations. The career has appeared on multiple best jobs lists, including U.S. News & World Report's best creative jobs list, best STEM jobs list and 100 best jobs list. Many architects find the work rewarding, especially when their designs turn into buildings that people use for work, recreation and going about their daily lives.
Conclusion
Architects conceptualize and plan the construction of buildings of all types. They design for both aesthetics and practicality and use a combination of design, engineering, hand and computer skills to create buildings that are functional and visually appealing.
Related Resources: