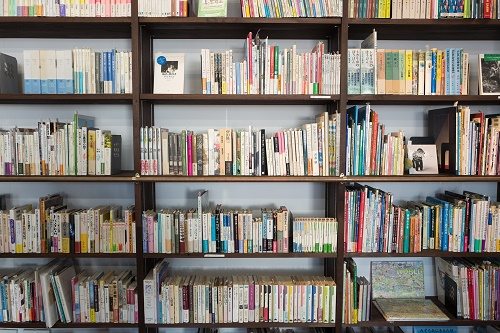 IMAGE SOURCE: Pixabay, public domain.
If you're interested in the field of library and information science, you might wonder what kind of job opportunities exist for students who earn a degree in this subject. A master's degree is necessary for many jobs, but due to the expense, time and effort of earning a graduate degree, many students are wary that they might not be able to find a job with their education.
Careers With a Master's in Library and Information Science Degree
If you earn a master's degree in library and information science, the most obvious career path available to you is becoming a librarian. Most people who study library science at the graduate level find employment in public libraries, school libraries or academic libraries on college campuses, according to the University of Tennessee, Knoxville. After all, these locations are the places where the most people will go to look for information, so they have the greatest need for a library and information science student's skills.
However, the competition for librarian jobs is strong. Opportunities for librarians will increase at a slower than average rate of just two percent over a decade, according to the United States Bureau of Labor Statistics (BLS).
Fortunately, there are other jobs which would allow you to put your research and organization skills to work. In fact, you might be surprised at how many different roles you could get with your master's degree in library and information science, if you are as creative and resourceful in your job search as you are in your work. In fact, the School of Information Studies at Syracuse University published a list of more than 60 jobs for library and information science students that don't include "librarian" in the title. These roles range from creative project manager to data officer and research coordinator to business information specialist. Any role that places a strong emphasis on research, organization, managing data and technology and coordinating resources and services could be a perfect fit for a candidate with a graduate-level library science degree.
Making the Most of Your Library and Information Science Career Options
Besides being flexible about your job title, how can you improve your career opportunities with a master's degree in library and information science? For one thing, you can make sure the program you choose is well respected and has earned accreditation from the American Library Association. For the best job prospects, you should consider studying at one of the top library science graduate schools in the United States.
There are other things you can do to make yourself a more marketable job candidate. Work experience is vital, so try to find work as a support staff member of a library or other research professional, or complete a relevant internship opportunity. You can also embrace evolving technology, as its growing role in research means that employers are seeking candidates who have plenty of experience and knowledge using technology to find information, according to the BLS. Additionally, carefully choosing a specialty to study can help you prepare for niche librarian roles.
While library and information science isn't seeing the kind of rapid job growth found in industries like healthcare and computer technology, you can still get a rewarding job with a graduate library science degree. Whether you want to be a librarian or use your education in information research for another career path, you can help yourself succeed by selecting a top-performing program, gaining valuable work experience and paying special attention to study opportunities in technology.
Additional Resources: