"To the optimist, the glass is half full. To the pessimist, it is half empty. To the Engineer, the glass is twice as big as it needs to be." -Unknown
If you're here, you probably know it's time to create new opportunities in your career through education. You want to earn a new degree and pursue a rewarding and lucrative career. It can be overwhelming, but you eat elephants one bite at a time. You're here on Degree Query, researching to decide what's best for you. Congrats! You're doing the right thing.
Science, Technology, Engineering, and Mathematics (STEM) careers are becoming more critical in the modern world, with opportunities and compensation growing along with that importance. Engineers are tasked with solving technical problems created by commercial or societal needs. They do so by applying mathematics and science principles, striving to design solutions that are efficient, economical, and, some would say, elegant.


Because engineering attracts such versatile people, engineers end up in all lines of work. In America, some of our most famous engineers are President Herbert Hoover, General Douglas Macarthur, astronauts Buzz Aldrin, and Neil Armstrong, General Electric CEO Jack Welch, Harley-Davidson founder William Harley, Dallas Cowboys quarterback Roger Staubach, Jeff Bezos of Amazon, and Bill Nye the Science Guy. As you can see, their engineering acumen took them many different places.
Engineering has a long history, with credit being given to vital pioneers in many cultures: Imhotep, designer of the Pyramid of Djoser (the first of the famous Egyptian pyramids); the Greek inventor Archimedes, who created a method of calculating an object's volume using submersion as well as an eponymous "screw" that enabled irrigation utilizing a mechanism that made the water go up it; Ismail al-Jazari, the Chief Engineer of the Artuqids in the Middle East and published a book in 1206 titled "The Book of Knowledge of Ingenious Mechanical Devices" that included 100 mechanical devices which he invented.
The history and evolution of engineering is the history of human progress. Engineers are pushing the horizons of what is possible and making improvements in technology that pay dividends to everyone. In the modern world, there are considered to be five primary disciplines of engineering:
Chemical Engineering: applies the principles of chemistry, biology, physics to the processing of chemicals, and the creation of fuel, food, plastics, and much more.
Civil Engineering: work primarily in design and construction for both the private and public sectors. Infrastructure like roads, levees, airports, bridges, tunnels, and buildings all fall under their purview.
Computer Engineering blends computer science and electrical engineering. This field works on the hardware that composes computers and makes them more powerful and more efficient and creates the software that operates on the machines.
Electrical Engineering: design, study, and manufacture of circuitry, power generation, and storage, navigation, communication. Foundational to technological growth.
Mechanical Engineering: utilizes physics to create machines like aircraft, compressors, robotics, even nanotechnology.
Within these broad categorizations are many specializations and overlapping areas that can be pursued to quite lucrative ends. Things like problem-solving can be extremely satisfying, and the blend of office, laboratory, and fieldwork offers a lot of flexibility that some people may prefer or prioritize. It sure doesn't hurt that, according to Glassdoor, that an engineer with less than two years of experience makes an average of $67,000 per year, calculated across all disciplines from a survey they conducted with nearly 60,000 respondents.
Questions and Considerations 
With all of the degrees and career paths available to you, why choose Engineering? Why should you continue perusing this page on Degree Query instead of looking through our materials on the fields of Criminal Justice or Healthcare? Well, if the following apply to you, then engineering may be a great match:
Your favorite toy growing up was something like Legos or Lincoln Logs
A curiosity to understand how things work
Logical thinking or analytical skills are a strong suit
Working in a collaborative, team-based environment is a plus
You enjoy project-based tasks
It is exciting to learn new things
You often wonder if there are better ways to do things
The challenge of breaking down and explain complex problems isn't intimidating
You are comfortable working with technology
Seamlessly switch between interacting with corporate bosses and technician/laborer employees
These are just a few of the engineering interests and talents that suggest you'd thrive in the field. Hopefully, that list made you feel more comfortable with the idea that you could be a successful engineer. But you still have questions? Let's run through some FAQs.
What is the difference between scientists and engineers? Scientists primarily research to further the extent of human knowledge in a particular field. Engineers take those insights and apply them to social problems. Both must have a strong understanding of scientific and mathematical fundamentals.
How much schooling do you need to become an engineer? At a minimum, a Bachelor's degree. Some go on to earn graduate degrees or Ph.D., as well as other certifications and credentials.
Can I transition to different careers from engineering? Many engineers function as team leaders or work closely with other company divisions, so business management is a standard move. Additionally, because of the education overlap, someone with an engineering background could transition into healthcare or more research-based science work.
What are some specialties beyond Chemical, Civil, Computer, Electrical, and Mechanical engineering? There are a ton. Aerospace, Agricultural, Biomedical, Structural, Control Systems, Environmental, Fire Protection, Geotechnical, Industrial, Manufacturing, Mining, Nuclear, Petroleum, Sanitary, and Traffic.
What type of problems do engineers work on? Water purification, decrease emissions, faster internet connection, improve fuel efficiency.
DegreeQuery.com is an advertising-supported site. Featured or trusted partner programs and all school search, finder, or match results are for schools that compensate us. This compensation does not influence our school rankings, resource guides, or other editorially-independent information published on this site.
What are the Highest Paying Jobs in Engineering?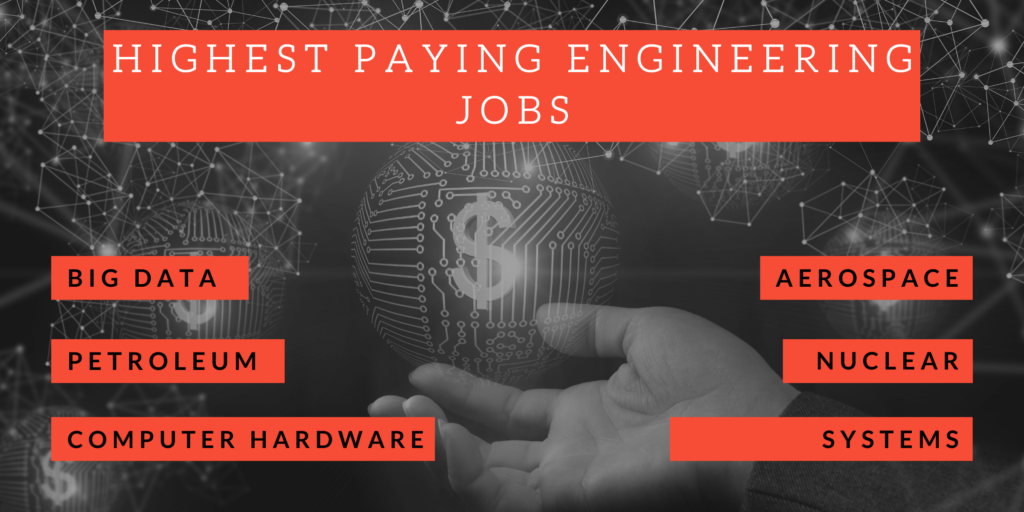 As you plan what degree you want, it is essential to look at the profession's pinnacle and figure out what you are building towards. The top 10 paying roles for engineers, according to the Bureau of Labor Statistics, are:
Petroleum Engineer: The 2019 median pay was $137,00 per year. Concentrated in Texas, the Gulf Coast area, and Alaska, they work on-site, extracting and processing natural gas and crude oil at drilling sites, or in offices doing logistics, planning, and design.
Computer Hardware Engineer: This role pays a median salary of $117,000 annually as of 2019. The work is very research and development focused, trying to design more powerful and more efficient components to create computer components and systems. This work is mainly in laboratories.
Aerospace Engineer: With $116,500 being the median salary in 2019, these people are paid handsomely. Quite literally rocket science, these engineers create, test, and maintain planes, spaceships, satellites, and military weaponry. Often roles are more manufacturing-related, but some require a security clearance.
Nuclear Engineer: Well compensated at a median wage of $113,000 per year, but the stakes are high. This field is not growing as much as other engineering specialties but creating, containing, and directing radioactive energy towards productive ends is their focus.
Chemical Engineer: the reported median pay in 2019 was $108,000 annually. Often working in manufacturing, pharmaceuticals, and food processing, it requires a balanced background in math, biology, physics, and chemistry. They usually work in laboratories, refineries, industrial plants, or offices.
Electrical Engineer: clocking in at $101,000 per year as the median salary, Electrical Engineers need a strong background in physics to perform their responsibilities. The more common industries that hire them are telecommunications, manufacturing, and research/development.
Biomedical Engineer: the median Engineer collects $91,000 each year. They use knowledge of the sciences and engineering principles to try and solve medical issues or improve medical procedures by creating new equipment. Most work in hospitals or with research institutions.
Health and Safety Engineers: these lifesavers earn a median of $91,000, and primarily operate out of offices, with visits to worksites. Their role is to save lives, minimize damage, and reduce costs while ensuring that all health and safety regulations are carried out. This is for construction, manufacturing environments, and making sure that consumer products are reliable.
Mining and Geological Engineers: these ground-bound performers get paid a median amount of $91,000 annually. These engineers either work on-site at mines as supervisors, controlling the operation and maintenance of machinery or in offices for oil and gas extraction companies.
Mechanical Engineer: bringing in $88,000 as the median annual salary, these creators usually work in manufacturing and research/development. They predominantly work in office spaces, but visit problematic worksites or to examine faulty equipment.
We'll delve further into stats on some of these roles in the conclusion of this guide.
While many more roles in engineering exist, and there are high earners in each field, these are the collections with the highest median salaries as of 2019. If you want to transition into one of these roles, you should plan in reverse. Try to figure out what you want, then what steps are necessary to get there. If you change or readjust your goals on the way, that's fine. So long as you're working towards a degree in engineering or another field, you'll be taking tangible steps towards a new career and future.
Now let's look at the different degree levels in engineering:
What are the Available Degrees in Engineering?
Being an engineer sounds pretty good! Well paid, exciting work, respected profession. But how do you become one? The bare minimum is getting a Bachelor's degree. You can start with an Associate's degree and transfer into a 4-year program if that is what makes the most sense for you in terms of finances or flexibility. Still, to be considered for any real engineering job, you need that Baccalaureate.
Stevens Institute of Technology in New Jersey offers nine Engineering degrees, including specific programs in Biomedical and Chemical engineering, explicitly differentiating them from Biology, Chemistry, or Chemical Biology programs. Additionally, Computer Engineering was a separate and distinct major from the rest of the computer science department.
At Colorado School of Mines, 12 of their 15 undergraduate degree offerings have engineering in the title. The engineering specializations are:
    Chemical Engineering
    Civil Engineering
    Electrical Engineering
    Engineering
    Engineering Physics
    Environmental Engineering
    Geological Engineering
    Geophysical Engineering
    Mechanical Engineering
    Metallurgical and Materials Engineering
    Mining Engineering
    Petroleum Engineering
These options are indicative of your degree options within engineering. These are two very competitive universities that offer tightly focused degrees. This shows that if you have a long term goal of becoming a particular type of Engineer, you should choose the specific degree to match the job you want. That will help you be a more competitive applicant for those roles.
In addition to a Bachelor's Degree, there is a significant licensing certification comprised of two tests. To become a licensed "Professional Engineer," you will need to pass the "Fundamentals of Engineering Exam" and become what is nicknamed an Engineer-in-training. After working for four years, you will have to give the "Principles and Practice of Engineering" exam. This will qualify you for licensing with your state as a Professional Engineer.
Beyond that, you may also choose to pursue a Master's degree or Ph.D. in engineering. Master's degrees can increase your earning power by making you more of an expert in a specific field or making you more qualified and competitive in promotions to higher roles in your firm or company. A typical Master's degree takes two years, and you research the direction of a university faculty member. It is sort of a temporary research middle-management position.
Ph.D.'s can also do that, but take more time and tend to be more academic and research-based. The amount of time is variable because it depends on how long it takes to conduct your original research, acquire data, and present/defend your results. Usually, Ph.D. candidates receive a stipend from their university while the degree is in progress. Pursuing a Ph.D. is the right choice if you want to become a tenured professor or seek a government research position.
Let's look at the work we've done to help you find an engineering degree:
How Can We Help You Find an Engineering Degree?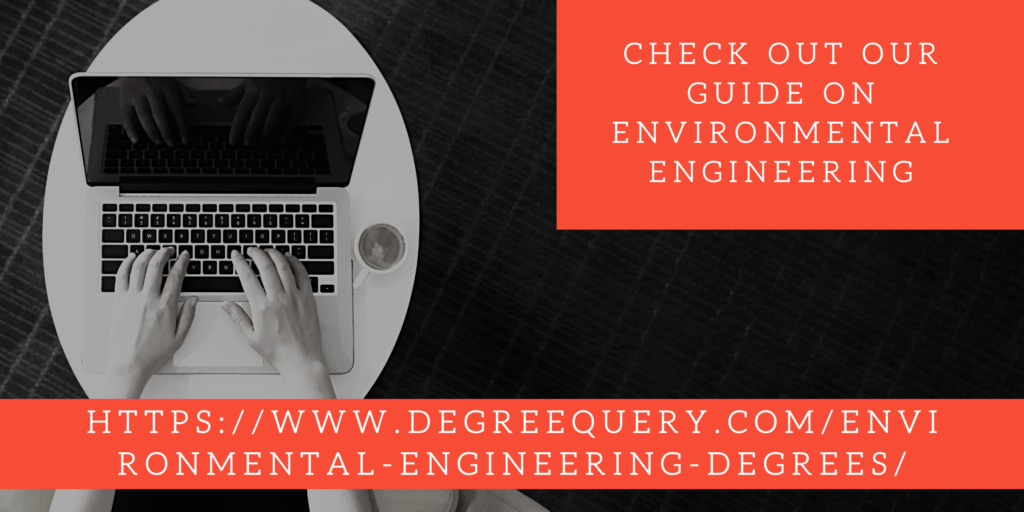 Here at Degree Query, we've created numerous resources to help you decide if a degree and a career is right for you, what it will take to get there, and what your options are. We've answered common questions, ranked jobs and degrees, and written guides like this one, among other resources. Some of the work we've done that applies to engineering includes:
Common Questions on Engineering Degrees
What Is the Difference Between a Petroleum Engineer and a Chemical Engineer?
How much Science is in an Environmental Engineering Degree?
What is a Bachelor's Degree in Environmental Engineering?
What is the Difference between a Degree in Environmental Science and Environmental Engineering?
What are the Fastest Schools for a Master's Degree in Environmental Engineering?
What Are the Highest Paying Jobs in Engineering?
What Are the Easiest Degrees to Get in Engineering?
What Is the Benefit of a Chemical Engineering Degree Vs. a Chemistry Degree?
What Is the Benefit of a Mechanical Engineering Degree Vs. a Materials Engineering Degree?
Which Degree Is Best for a Software Engineer?
What Degree Do You Need to Be a Biomedical Engineer?
Engineering Degree Guides
What Can I Do With An Engineering Degree?
What Can I Do With a Civil Engineering Degree?
What Can I Do With a Mechanical Engineering Degree?
What Can I Do With a Chemical Engineering Degree?
What Can I Do With an Aeronautical or Manufacturing Engineering Degree?
What Can I Do With an Electrical Engineering Degree?
What Can I Do With a Nuclear Engineering Degree?
What Can I Do With an Environmental Engineering Degree?
What Can I Do With a Biomedical Engineering Degree?
Engineering Degree Rankings
Top 25 Fastest Online Doctorate Degrees
The 20 Best Online Master's in Aeronautical and Manufacturing Engineering Degrees
Top 10 Highest Paying Engineering Careers
100 Most Affordable Online Colleges & Degrees 2019
50 Best Online Degrees for 2019
Top 25 Tuition-Free Colleges & Universities
Exciting Jobs: The Top 15 Jobs for Adrenaline Seekers
These are just some of the resources we've created that apply to engineering. With any discipline (but especially engineering), if you enter terms into our search bar, you'll receive the entire wealth of the applicable content we've produced.
If you find any program or school through our content that you're interested in, reach out to them directly. By contacting their support staff, you can gain invaluable information. You might ask about curriculum details, learn how to refine your application, and perhaps gain an ally in your search for the best program for you.
We're almost through but before we finish, let's look at pay and employment projections in engineering:
Fast Facts About Lucrative Engineering Degrees
If you've made it here, you've proven you can ingest a lot of content about engineering. That's a first step towards proving you can be successful in an engineering program, and eventually, a career in the field.
As you've learned, engineering starts with a simple mission: designing solutions to pressing problems. From there, it expands into clearly divided subsets and requires many technical competencies and practices. However, this guide is focused on the most lucrative positions in engineering. So let's explore some stats about the top-paying roles in the field. All of the following information came from the U.S. Bureau of Labor Statistics:
Petroleum Engineers:
2019 median annual wage of $137,720, or $66.21 per hour.
33,500 jobs in 2018, predicted for a 3% growth between 2018-28, creating 900 new jobs.
The top 10% of people in these roles earned over $208,000 in 2019.
Computer Hardware Engineers:
2019 median annual pay of $117,220 or $56.36 per hour.
64,400 jobs in 2018, with an expected growth of 6% between 2018-28, creating 4,000 new jobs.
The top 10% of workers in these jobs earned over $185,240 in 2019.
Aerospace Engineers:
2019 median annual pay of $116,500 or $56,01 per hour.
67,200 jobs in 2018, with a predicted growth of 2% between 2018-28, leading to 1,100 new roles.
The top 10% of people in these positions made more than $166,620 in 2019.
Nuclear Engineers:
2019 median annual pay of $113,460 or $54,55 per hour.
There were 17,700 of these jobs in 2018, with a -1% expected growth between 2018-28, meaning 100 fewer jobs.
The top 10% of workers in these roles made more than $179,430 in 2019.
Chemical Engineers:
2019 median annual pay of $108,770 or $52.30 per hour.
33,900 positions in 2018, with a 6% expected growth between 2018-28, creating 2,100 new jobs.
The top 10% of people in these positions made over $176,090 in 2019.
Electrical and Electronics Engineers:
2019 median annual pay of $101,250 or $48.68 per hour
There were 330,300 of these jobs in 2018, with a 2% expected growth between 2018-28, meaning 8,000 new positions.
The top 10% of workers in these jobs made over $155,880 in 2019.
These are just some of the most lucrative engineering positions, as measured by BLS. There are many other high-paying, stable careers in the field that qualified applicants can access.
We hope this guide helped you determine whether engineering is right for you. If so, we urge you to use our content effectively to find the best engineering degree to meet and exceed your goals. If not, definitely peruse the rest of our content and look at other disciplines that appeal to you.
You have a blueprint in front of you, and many other components of it are available on Degree Query. The rest is up to you. Take it one step at a time, organizing and planning your journey will bring it to fruition. You've got this! Best of luck!
For Further Reading:
Top 10 Paying Jobs With an Associate's Degree