For most people, gender is such a basic and fundamental aspect of identity, that it goes unnoticed and unquestioned much of the time. And yet there is really no aspect of our lives where gender identity and social constructs don't play a role. Gender is complicated, too. On the inside, few people comfortably fit the traditional gender roles defined by our society, and many more do not fit either of the traditional binary male/female identities. On the outside, our genders impact our lives within the workforce, family systems, marketplace, and political sphere.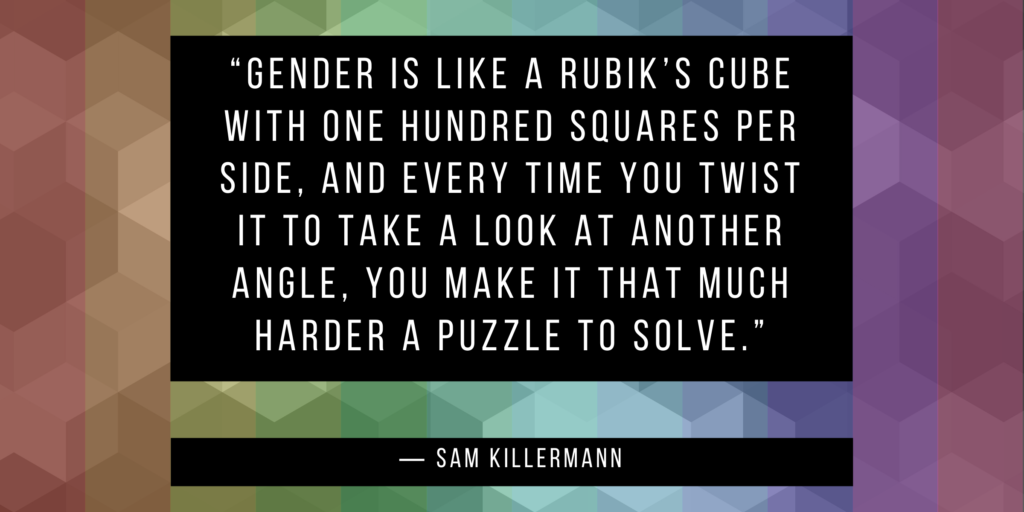 If you think critically about the role of gender in politics, culture, psychology, media, and more, you're ready to consider diving deeper into the world of gender studies. Gender studies is a field dedicated to considering and analyzing how we think of gender in terms of history, society, and culture. This degree has a range of applications in the field of gender research, advocacy, and social justice, as well as some surprising applications in an unrelated field.
Jump To:
What is Gender Studies?
There are plenty of different definitions for the term, but Gender Studies can be broadly defined as the interdisciplinary analytic study of gender identity and gendered representation. Gender studies also covers the analysis of how gender categories and concepts interact with other markers of identity, such as:
ethnicity
race
class
disability
religion
sexuality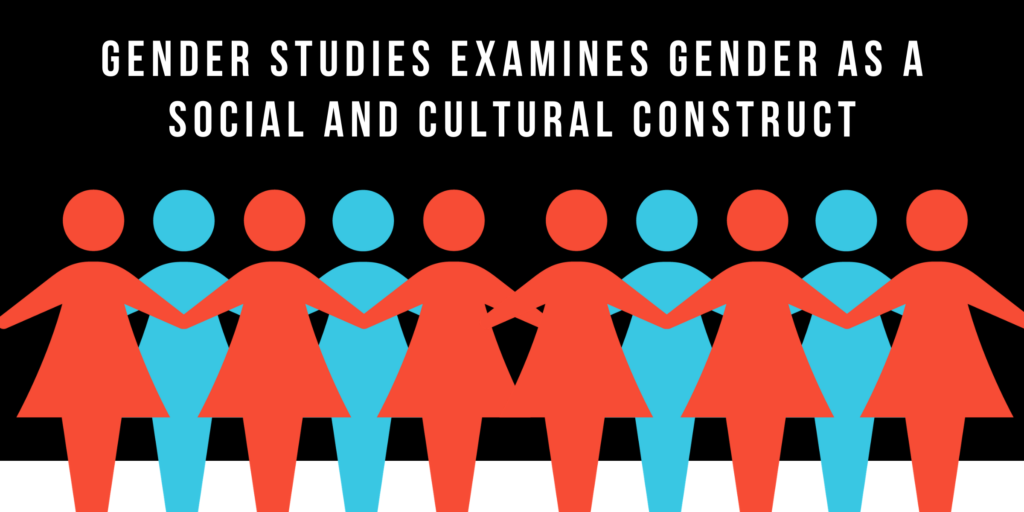 Gender studies is also about how gender perceptions and identities show up in fields across the range of human activities, whether this means representations in cinema or fields of scientific research. Gender studies looks at the impact and interplay of gender in fields like:
literature
history
art
language
sociology
law
medicine
psychology
public health
geography
political science
anthropology
media studies
As an area of academic study, Gender Studies is considered a social science. The social sciences are those fields of study that relate to people and the relationships between them. Some of the other social sciences are:
Social sciences are part of the broader academic category of liberal arts. Other liberal arts include History, Literature, Mathematics, and Philosophy. Social sciences are not technical fields like engineering or chemistry, but social scientists do conduct research using the traditional scientific method by gathering data in the field or in a lab, design and conduct experiments, and analyze their findings. They may read scholarly journals, historical documents, experimentation, statistical analysis, or population data to conduct research. In addition to these quantitative methods of research, gender studies scholars also use qualitative methods to gather non-numerical data, such as case study and phenomenological observation. They may also work on social critiques and theories and share these with the non-academic public.
What is the Difference Between Women's Studies and Gender Studies?
Both women's studies and gender studies address topics in feminism, critical theory of gender, and questions of representation. Many people use the terms interchangeably, and the terms used can differ based on the university, school of thought, or time period in question. With this confusion and conflation, many people have a hard time distinguishing the difference between Women's Studies and Gender Studies.
Gender studies is closely related to women's studies. The first women's studies classes in America were taught at 1969 at Cornell University. With the growing influence of the still-new
the National Women's Liberation Movement, interest in women's studies grew, and the first women's studies degrees were awarded in 1970 at San Diego State College (now called San Diego State University).
In the last 20 years, interest in men's studies and queer studies has led to academic scholarship, classes and certificates/degrees in each of these areas. As a result, many schools have re-branded their women's studies departments as departments of gender studies, schools of gender and sexuality, or similar titles all aimed at being inclusive and comprehensive. Gender studies programs also usually include some coursework in the fields of Men's Studies and/or queer studies. Some schools also offer separate degrees or certificates in these distinct but overlapping disciplines.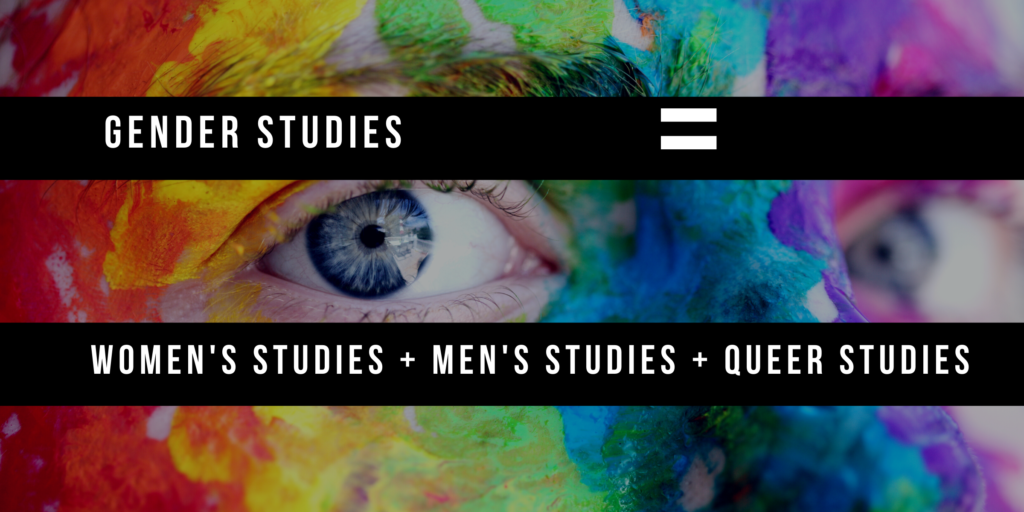 Women's Studies
Women's studies is the oldest branch of gender studies, dating back to the re-examination of history from the female perspective which was associated with the women's suffrage movement. Women's studies involves academic study of the history, literature, sociology, and psychology of this and other societies based on the experiences, roles, and achievements of women. Feminist thought, history, and theory are an important part of women's studies, but form just one of many social movements taught in a women's studies program.
Men's Studies
In our society, masculinity has historically been treated as the social and cultural default perspective, with male-directed entertainment, values, and politics treated as the norm. Men's studies aims to look critically at the construction of masculinity in our society and around the world. Men's studies is, like women's studies, an interdisciplinary academic discipline related to the study of society, history, politics, psychology, and culture, though this field is based on the perspective of men. Men's studies involves the study of men, masculinity, and gender. Like women's studies, men's studies frequently covers feminist theory and thought, men's history and social history, men's health, and men's fiction.
Queer Studies
Since LGBTQ civil rights, social perspectives, and cultural contributions have gained greater visibility, formal inquiry into queer studies/ (or "LGBTQ studies", or "sexual diversity studies") has gained ground in academics. Queer studies is the study of lesbian, gay, bisexual, transgender, intersex, asexual, and other topics that fall in the purview of diverse sexualities. The field originated in the study of LGBTQ history and literary theory, and has since expanded to also include topics such as the sociology, psychology, biology, sociology, anthropology, and ethics of queer people and identities.
Of the above disciplines, it's most common to see degrees offered in women's studies and in gender studies. In general, there's a lot of overlap between these fields, since they look critically and analytically at many of the same and interrelated topics in gender and sexuality. That means that in a men's studies program, you can expect to cover women's studies classes, and in a women's studies program, you can expect to cover queer studies topics.
What Classes Will I take for a Degree in Gender Studies?
A women's studies or gender studies degree is not about providing technical training for a specific career, but about cultivating knowledge and developing expertise. This means that the curriculum for a gender studies degree tends to vary a great deal from school to school. As noted above, a gender studies degree usually covers topics in men's studies, women's studies, and queer studies, and applies these perspectives to areas like history, sociology, psychology, and political science. Every school varies in which of these perspectives and disciplines they choose to emphasize the most.
In general, some of the classes you're likely to encounter when pursuing a degree in gender studies include course titles like:
Introduction to Women's And Gender Studies
Feminist Thought
Research and Action
Race, Ethnicity, Class and Gender
Discrimination in American Society
Women Writers
Race, Gender and Sexuality in Media
History of LGBTQ Civil Rights
History of Women in the U.S.
Human Sexuality
Mod Families and Social Inequalities
Feminist Ethnography
Most students who pursue a degree in gender studies or women's studies have a particular area of scholarship that interests them, whether it's preventing domestic violence, international women's economic issues, or the representation of masculinity in Hollywood. For this reason, women's studies and gender studies degree programs usually include courses dedicated to fieldwork, research, internships, and independent study. This type of course, directed by student interest, usually takes place in the second half of a degree program, once students have developed an understanding of the fundamentals of the field. Internships, independent study, and other student-directed courses allow gender studies majors to deepen their understanding and experience in a particular aspect of the field.
What Can I do with a Bachelor's in Gender Studies?
A bachelor's in Gender Studies is the lowest degree offered in this field; associate's degrees are generally not offered. A bachelor's in gender studies is the most common degree in the discipline; it provides a strong foundation in the field, and has wide career applicability. A bachelor's degree is a four-year degree, typically consisting of 120 credits, which works out to 40 courses. If you're looking to finish your bachelor's in gender studies faster, you can seek out an accelerated bachelor's program, which compresses the same number of credits into a shorter time frame, often as little as three years. An accelerated bachelor's degree program can save you money and allow you to enter the workforce sooner.
As we've observed above, gender studies and women's studies fall into the academic category of liberal arts. Degrees in technical and professional disciplines like engineering or nursing are usually offered as a bachelor of science degree (BS), and have a curriculum that's entirely focused on classes directly related to the field. But degrees in the liberal arts are usually offered as bachelor of arts degrees (BAs). The goal of a BA is to produce a graduate who is knowledgeable about the world and has skills in communication, problem-solving, and critical thinking, as well as knowledge about their major subject. To achieve this gial, the curriculum for a BA is designed to include a high number of general education requirements, classes distributed across a range of disciplines. About one-third to one-half of the credits required for a BA in genre studies are likely to be general education requirements. So in addition to women's studies or gender studies classes, you can expect to take courses such as:
Geology
Art History
Mathematics
American Studies
Economics
Biology
Political Science
Foreign Language
Many students who pursue a bachelor's in gender studies or women's studies opt for a dual major, which allows them to receive a second BA in another (usually related) field. Developing expertise in a second field greatly improves your career options, especially if your second major and your focus within your gender studies program coursework, internship, or research are in complementary areas. Great majors to pair with a major in gender or women's studies include:
Journalism
Communications
Public Health
Psychology
Education
Criminal Justice
Legal Studies
A bachelor's in women's studies or gender studies will show employers that you have a solid understanding of critical issues affecting today's diverse workforce and citizens, from pay gaps to family structures. You'll also have demonstrated skills in problem solving, communication, and analysis, which have applications in many fields. With a BA in gender studies, you'll be eligible for entry-level employment in roles like:
public relations assistant
market researcher
sexual violence prevention counselor
women's health advocate
LGBTQ youth counselor
Many people with a bachelor's in gender studies go on to earn a master's degree in a different field. There are many master's-level careers where bachelor's-level knowledge of gender diversity and social justice will be an asset. Common master's degrees for graduates with a bachelor's in women's or gender studies include:
social work
law
public health
mental health counseling
business management
What Can I Do with a Master's in Gender Studies?
If you are committed to teaching and research in the field of women's studies and gender studies, you may wish to consider a master's degree in this field. A master's degree is the first level of graduate degree, and requires two years of full-time coursework to complete. This works out to 36 to 54 semester-long credits or 60 to 90 quarter-long credits, for a total of between 12 and 18 graduate-level classes. If you'd like to speed up your pace of completion, look for a accelerated master's degree program. It's not necessary to hold a bachelor's degree in gender studies to earn a master's in this field (though it helps!), and graduates who hold a bachelor's in a related field like sociology, psychology, or political science can also apply.
At the master's level, a degree in gender studies does not include any general education credits, but focuses instead on conceptual, theoretical, methodological and pedagogical training. Classes are highly rigorous, and include advanced topics like Feminist Research and Methods in the Social Sciences; History of American Sexualities; and Gender, Race, and Culture in Health Care. Most master's in gender studies programs require that students complete a research-based thesis project in their final year. Some schools offer this highly interdisciplinary master's degree as a dual master's in gender studies and a related topic like sociology.
With a master's degree in gender studies, you'll be eligible for higher-level positions in some of the same fields as those discussed above. Potential positions with this degree include:
sexual wellness educator
LGBTQ advocate
diversity coordinator
nonprofit manager
You'll also have the critical thinking, communication, and problem-solving skills required for jobs outside of the gender studies field, such as:
media specialist
PR manager
editor
fundraiser
policy assistant
human resource specialist
Today, it can make sense to plan for career flexibility. The Bureau of Labor Statistics reports that as of 2018, the average worker switches jobs 10-15 times in their career, with an average of 12 job switches per person.
What Can I Do with a PhD in Gender Studies?
It's possible to teach at the college level and conduct research as a master's-level professional. But the reality is that these jobs are few and far between, and it's most common for jobs in academia and research to go to those with a PhD. If you dream of a future teaching gender studies as a university professor or conducting meaningful research in the field (or both), you'll want to earn a PhD in gender studies.
A PhD in gender studies is the most advanced degree available, and, like all PhDs, earning one is designed to be a long and difficult process that only the most dedicated and ambitious will complete. The process of earning a PhD generally takes between 3-7 years of full-time work. To earn a PhD in gender studies, you'll need to complete graduate-level coursework and research, write, and defend a dissertation. A dissertation is an original work of scholarly research in a highly specialized topic within the field of gender studies that has not yet been addressed in the current literature. To complete your gender studies dissertation, you'll work with a doctoral advisor to select an original topic, survey current literature, conduct original research, analyze your findings, and write your dissertation. You'll then need to formally defend your dissertation before a panel of experts and publish your findings. Most PhD candidates work as doctoral fellows, performing teaching and research assistance while working towards this terminal degree.
With a PhD in women's studies or gender studies, you'll be eligible for the roles in nonprofits and private business discussed above. But the primary reason to earn a PhD in gender studies is to teach as a tenure-professor. As a university professor, you'll teach and mentor students, perform administrative duties within an academic department, and regularly conduct research which will be published in peer-review journals.
What Jobs Can I Get with a Degree in Gender Studies?
A degree in gender studies does not lead graduates directly into a particular job in the way that an MBA or nursing degree does. Like all liberal arts degrees, a degree in gender studies shows broad knowledge about the world and develops skills in critical thinking, written and oral communication, and problem-solving. And like all social science degrees, a gender studies degree offers training in observation, research, and analysis from both a qualitative and quantitative standpoint. These skills can be useful in a variety of fields, whether governmental, private, or non-profit.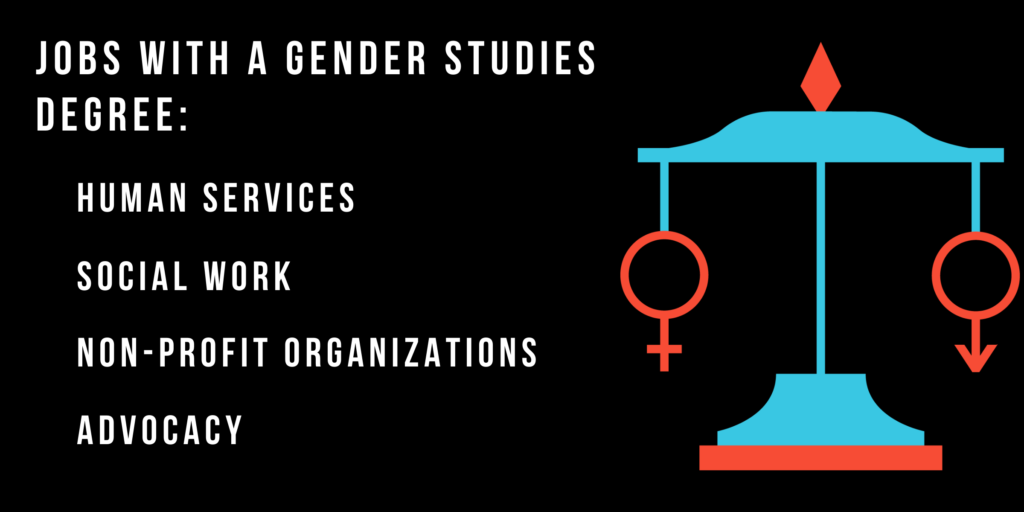 A gender studies degree also provides specific skill development in understanding and addressing issues related to diversity, inequality, social justice, and both personal and systemic oppression. Gender studies degree holders also understand the complex interplay between categories like ethnicity, race, class, gender, and sexuality, and how these are shaped by history, politics, economics, and other factors.
Many people with degrees in gender studies go on to hold jobs directly relate to the field. These may include roles such as sexual violence prevention, gender studies instruction, women's studies research, civil rights advocacy, or LGBTQ lobbying. Because of the strong social justice angle of gender studies, many graduates with a degree in this field go on to work for (or found) a nonprofit.
The institutions of today cannot afford to ignore the importance of gender and sexuality to people, whether as voters, consumers, or employees. Politicians, voters, schools, healthcare providers, and others are seeking to better understand the importance of gender in their policies and practices. And legislation and legal action related to gender inequity, sexual harassment, and LGBTQ civil rights is on the rise. This means that the demand is rising for experts on the issues of gender and sexuality in fields such as law, health care, teaching, counseling, advocacy, lobbying, social work, and government service. Roles such as diversity officer for a private firm or lawyer specializing in Title Nine suits fall into this category.
It's also possible to put your applied skills to work in a role that's not directly related to gender studies. Some jobs are well-suited for people with research and analysis skills, such as market researcher and journalist. Others can make use of your writing and presentation skills, such as editor or media specialist.
Today's workers can expect to change jobs many times over the course of their careers. The Bureau of Labor Statistics reports that today's workers, as of 2018, changed jobs an average of 12 times during their careers. With this job market in mind, it can make sense to consider a flexible degree like gender studies.
Further Reading: