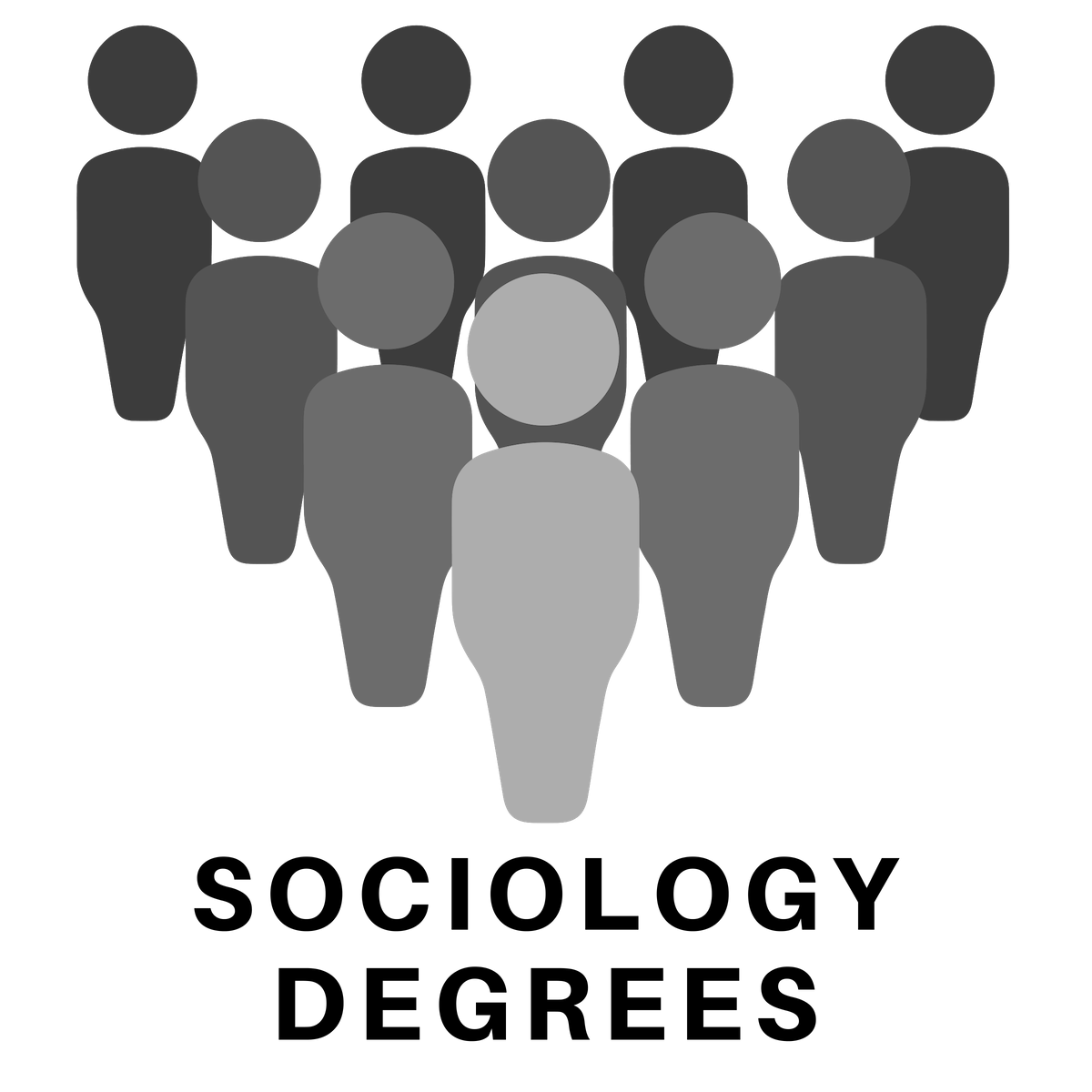 "The function of sociology, as of every science, is to reveal that which is hidden."

-Pierre Bourdieu

Featured Programs
What brings people together in thriving, stable communities? What causes social upheavals and what happens when communities break apart? What influences our personal choices like financial activity, professions, and romantic partners, and what consequences to these decisions have on our lives and those of others around us? What causes some people to commit crimes and others to abide by the law? If you like asking the big, big questions about cultures, communities and about humanity, then sociology is the field for you.
Sociology is a powerful tool that people use to examine and explain important matters that pertain to our communities, our personal lives, and to civilization as a whole. As we go about our daily lives, it can be difficult to see the broader social forces that shape our choices, behavior, and opinions. But we don't live our lives in a vacuum; we are in constant contact with other people and social systems. In fact, largely invisible forces like the labor market, laws, gender norms, social class, climate, racial privilege and bias, and access to resources all shape our lives in powerful ways.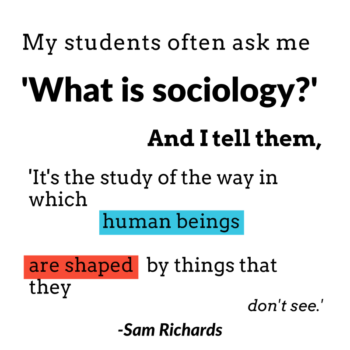 Sociologists examine and these complex systems and examine how they shape the lives of individuals. They consider age, race, gender, culture, and class as lenses for viewing interactions. They look at large groups like countries and civilizations, as well as small groups like families and classrooms. Sociology is a fascinating, broad, and interdisciplinary academic field that provides powerful insights into how and why people behave the way they do.
If you're intrigued by asking questions about society, and the role of the individual in it, you may be considering a degree in sociology. Naturally, this raises its own questions: "What kinds of sociology degrees are there?" "Can I Earn a Sociology Degree Online?" "What jobs can I get with a sociology degree?" and perhaps "Is a sociology degree a good fit for me?" Our thoroughly researched and up-to-date guide to sociology degrees addresses these and related topics about sociology degrees, to provide you with a thorough understanding of this fascinating academic field.
What is Sociology?
Sociology is defined as the field of study focused on the structure, development, and functioning of human society, both historically and in contemporary times. In short, sociologists study human society. But, of course, political scientists, anthropologists, historians, and even some psychologists also examine society. What sets sociology apart is that sociologists look at human interactions and how they shape groups and civilizations.
Some of the issues sociologists examine include:
patterns of social relationships
social interaction
popular culture
subcultures
individual interactions (micro-sociology)
systems of social structure (macro-sociology)
In looking at societies and cultures, sociologists usually try to bring in different perspectives and areas of focus. These include:
social stratification
class
religion
gender
race
law
social mobility
sexual orientation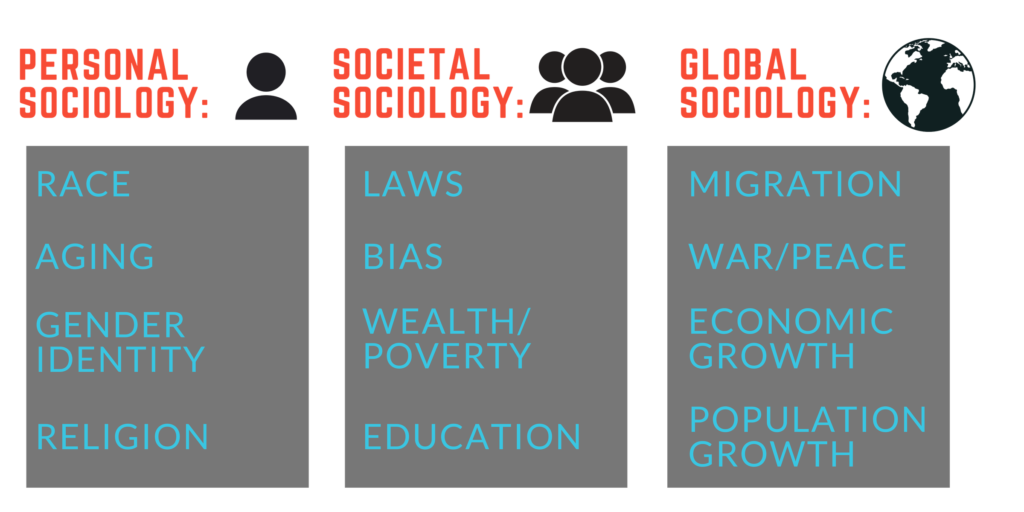 Sociologists look at problems and situations that occur on a number of levels, from small to large. At the personal level of sociology, they might study the impacts of race, gender, or family of origin on a person's individual life. At the societal level of sociology, they might study the influence of crime and law, education, population changes, and industry on a whole society. At the global level of sociology, sociologists might ask how worldwide issues like war and peace, climate change, and economic development impact humanity as a whole.
It's also important to understand that sociology encompasses many fields. Because many factors drive human interactions, sociology is a highly interdisciplinary area of study. If you pursue a sociology degree, you can expect to cover studies in academic fields like philosophy, political science, anthropology, linguistics, archaeology and psychology.
What do Sociologists Examine?
Sociology doesn't just pose the big questions- it answers them. Of course, it's extremely difficult to parse out complicated issues like the role of race in the workplace, which have plenty of layers and lots of case-by-case differences. To tackle these tough questions, people who practice sociology use both qualitative and quantitative methods. They gather information by observing groups in real life or in videotaped interactions, conducting surveys, reviewing census results, interpreting historical documents, running interviews, and conducting laboratory trials.
Qualitative methods include approaches like case studies, which seek to describe instances of an issue through observations. Quantitative methods include empirical approaches like gathering and analyzing statistics.
From the information generated in sociology research, it is possible to develop a deeper understanding of social processes in the modern world, and how they shape individual choices and lives. Armed with this insight, people can make more effective personal and professional choices.
How is Sociology Applied?
As you consider the types of questions sociology poses and seeks to answer, you may be wondering if this is a purely academic field. Actually, sociology has quite a few real-world applications. The information about social interactions uncovered by sociology research has a number of broad applications in fields like:
politics
education
public policy
law
business
social services
international affairs
cultural resources
So who cares about research generated in sociology? Anyone who has a stake in solving society's problems benefits from understanding them more clearly. That includes social workers, legislators, nonprofits, public health entities, community health advocates, and criminal law and social justice organizations. And because research generated through sociology studies also reveals insights about human interactions at the individual and group level, it's also relevant to people with a stake in understanding human behavior, along with its causes and consequences. That includes professionals in the worlds of business, marketing, education, and communications, among many others.
What Sociology Degrees are There?
Michelle Obama. Dan Akyroyd. Cardinal Theodore McCarrick. Ronal Regan. Cory Booker. Martin Luther King Jr. What do these very different public figures all have in common? They each hold a degree in sociology. Sociology degrees develop creative thinking, powerful communication, and a broad humanist perspective that can lead to careers- potentially influential ones- in a wide range of areas.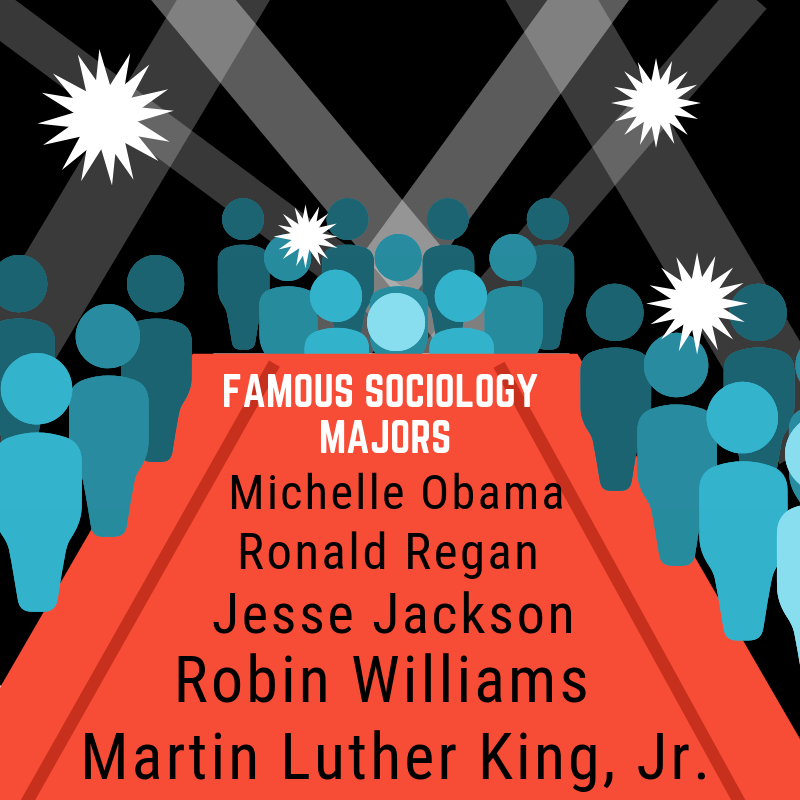 For those interested in the field, there are sociology degrees available at every level, from associate's degrees in sociology all the way up to a sociology PhD. If you're driven to think critically about society and to uncover the patterns and forces at play within it, a sociology degree may be a good fit. To decide which credential to pursue, you'll first want to consider the value of a sociology degree.
A sociology degree is not a professional or applied degree. That is, it's not focused on training students to execute specific career-focused skills in the workplace. Rather, a sociology degree program is an interdisciplinary program that develops critical thinking and analytical strength. In a sociology degree program, you'll learn to formulate important research questions, develop research tools to address them, gather and analyze information, and apply your findings to real-world issues.
With a sociology degree, you'll be prepared to contribute to the world's body of information and insights about social concerns. You'll also develop skills that have a wide range of professional applications across industries, from education to health. These include deep critical thinking, clear and creative communication, a broad perspective, effective solving of complex problems, rigorous research and analysis, and logical thought.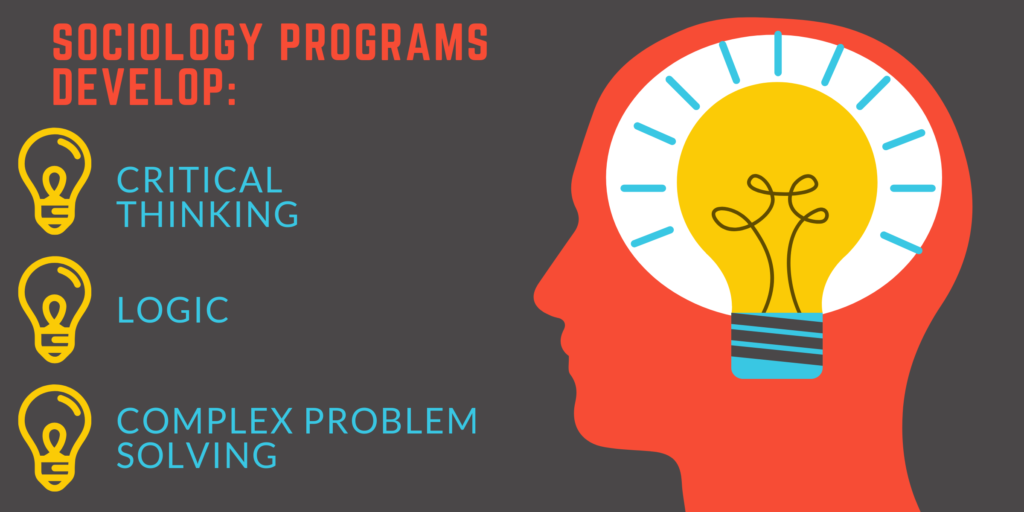 What Can I Do With an Associate's in Sociology?
An associate's degree in sociology is the most easily achievable entry point for the field. This degree can teach you the basics of sociology, fill out liberal arts core classes, and prepare you to pursue a four-year degree at a later point.
An associate's degree in Sociology typically takes two years to earn on a full time basis.
Most of the classes you'll take for an associate's in sociology will be liberal arts courses. These classes in science, math, and the humanities will give you a broad cultural literacy and a foundation in communication and critical thinking. Liberal arts core classes may include:
Art History
Modern Literature
World History
Psychology
Math
In addition to these core classes, you'll probably take about four foundation-level classes in sociology, such as basic statistics, introduction to sociology, and deviant behavior. Your total requirements for an associate's in sociology will typically amount to 60 credits.
So what can you do with an associate's in sociology? This degree will give you some college background, making you more qualified for positions that involve understanding people's behavior and community issues. Examples include retail management and substance abuse education.
Once you've earned an associate's in sociology, you can also go on to earn a four-year degree by transferring your credits toward a bachelor's program. Many people who follow this route earn their associate's in sociology at an affordable community college, then go on to earn a bachelor's in sociology by completing the remaining two years of study at a (more expensive) four-year college or university. If you plan to follow this degree path, be sure to choose an accredited school and research in advance whether your credits will be fully transferable. Many community colleges actually hold "articulation agreements" with other colleges (such as local state schools) which will allow you to seamlessly apply your sociology associate's coursework towards a sociology bachelor's.
What Can I Do With a Bachelor's in Sociology?
A bachelor's in sociology takes four years to earn on a full-time basis, and provides a comprehensive understanding of this field. A bachelor's in sociology is the most popular degree level for this academic discipline. To earn a bachelor's in sociology, you'll usually need a total of 120 credits, with courses divided between liberal arts core classes and classes in the sociology discipline. Sociology classes at this degree typically level include courses titles like:
Medical Sociology
Substance Use Problems
Aging Policies and Services
Population Trends and Policy
Crime and Justice
Sociological Theory
Health, Illness and Society
Environmental Sociology
Urban and Rural Sociology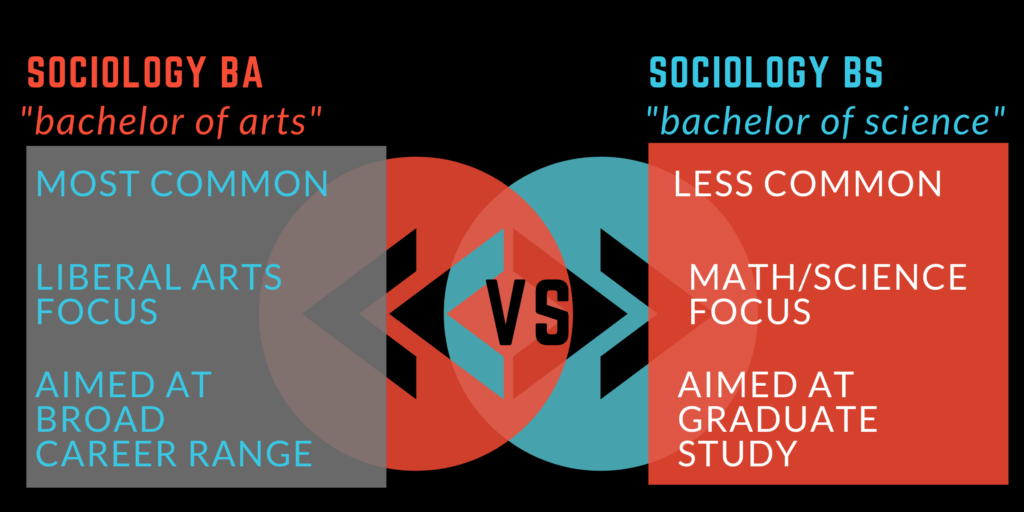 It's important to note that there are two types of bachelors' in sociology: a bachelor of arts (BA) and a bachelor of science (BS). A bachelor of arts in sociology is rooted in the liberal arts and is designed to produce well-rounded graduates who can enter a number of professional fields. This is the most common type of bachelor's in sociology awarded. The other type is a bachelor of science in sociology, which has a strong focus on empirical research. For this type of sociology degree, students take fewer liberal arts classes and more courses in math and science, such as statistics and clinical psychology.
What can you do with a bachelor's in sociology? Lots. A bachelor of arts can qualify you for positions that require critical thinking and research, such as journalism, consumer research, and criminal justice roles. A bachelor of science, on the other hand, is generally aimed at those who plan to go on to put their empirical research skills to use in pursuing a masters or PhD in sociology.
What Can I Do With a Master's in Sociology?
A master's in sociology is a graduate level degree which typically takes two years to earn on a full-time basis. To pursue this advanced degree, students will need to hold a bachelor's degree in sociology or a related field, such as psychology or criminal justice. The curriculum for a master's in sociology usually consists of 30-36 credits.
For this graduate sociology degree, you can expect to take advanced classes, with titles like:
Statistical Research Methods
Leadership and Social Justice
Social Statistics
Diversity and Society
In addition, you'll need to complete a capstone project or thesis to earn a master's in sociology. This gives you the opportunity to synthesize your in-class learning and complete original research or a hands-on project in the field. Several of your courses in your final year of master's classes will be devoted to your capstone. You may also complete experiential learning through an internship or practicum in the field.
What can you do with a master's in sociology? With this level of expertise, you'll be well-positioned to serve in social service jobs such as guidance counselor, social worker, or public policy maker. You'll also be able to take on roles teaching sociology at the college level.
What Can I Do With a PhD in Sociology?
A doctorate, or PhD, in sociology is the highest degree offered in the field. Relatively few people go on to earn this terminal degree, making it a relatively unique credential. To earn a PhD, you'll need a bachelor's degree and a master's in sociology. A PhD requires students to complete foundational graduate level classes, then go on to conduct, defend, and publish original research. PhD students work closely with a thesis advisor, who guides them in their research.
The process of earning a PhD is notoriously long and difficult. Finding a niche topic that has not already been explored, designing and conducing studies, analyzing research findings, writing an entire book on the subject, defending the thesis before an expert panel, and potentially publishing in a peer-reviewed journal all add up to a challenging academic course. It can take between 4 to 7 years to earn a PhD in sociology, depending on your pace of work. While pursuing a PhD, many students also work as research associates or associate instructors.
So what can you do with a PhD in sociology, once this long process is complete? This degree is almost always applied towards teaching positions in colleges and universities. A PhD in Sociology is a basic requirement for tenure-track professorship positions. While teaching undergraduate and graduate students, you can also expect to conduct and publish research in the field of sociology.
Can I Earn a Degree in Sociology Online?
While most people choose to attend on-campus classes, it's entirely possible to earn a degree in sociology online. Online degrees are a popular choice for those who are looking to balance work or family obligations with higher education. With online sociology classes, you can avoid a time-consuming commute. In almost all cases, you can also complete the majority of course content on your own schedule, whether through pre-recorded lectures, message board posts, online text readings, interactive class modules, or some combination of these.
Most online sociology programs aim to develop student relationships with their peers and instructors by also including interactive class components, such as live chats and group assignments. Many programs, especially at the master's level, also require students to meet on campus periodically for live immersions, such as a weekend intensive.
What Jobs Can I Get with a Sociology Degree?
A sociology degree can lead to a number of high-paying and stimulating positions in the private, public, and nonprofit sectors. As we've seen above, the positions available vary by degree level, and positions associated with greater authority and income open up with ore advanced degrees.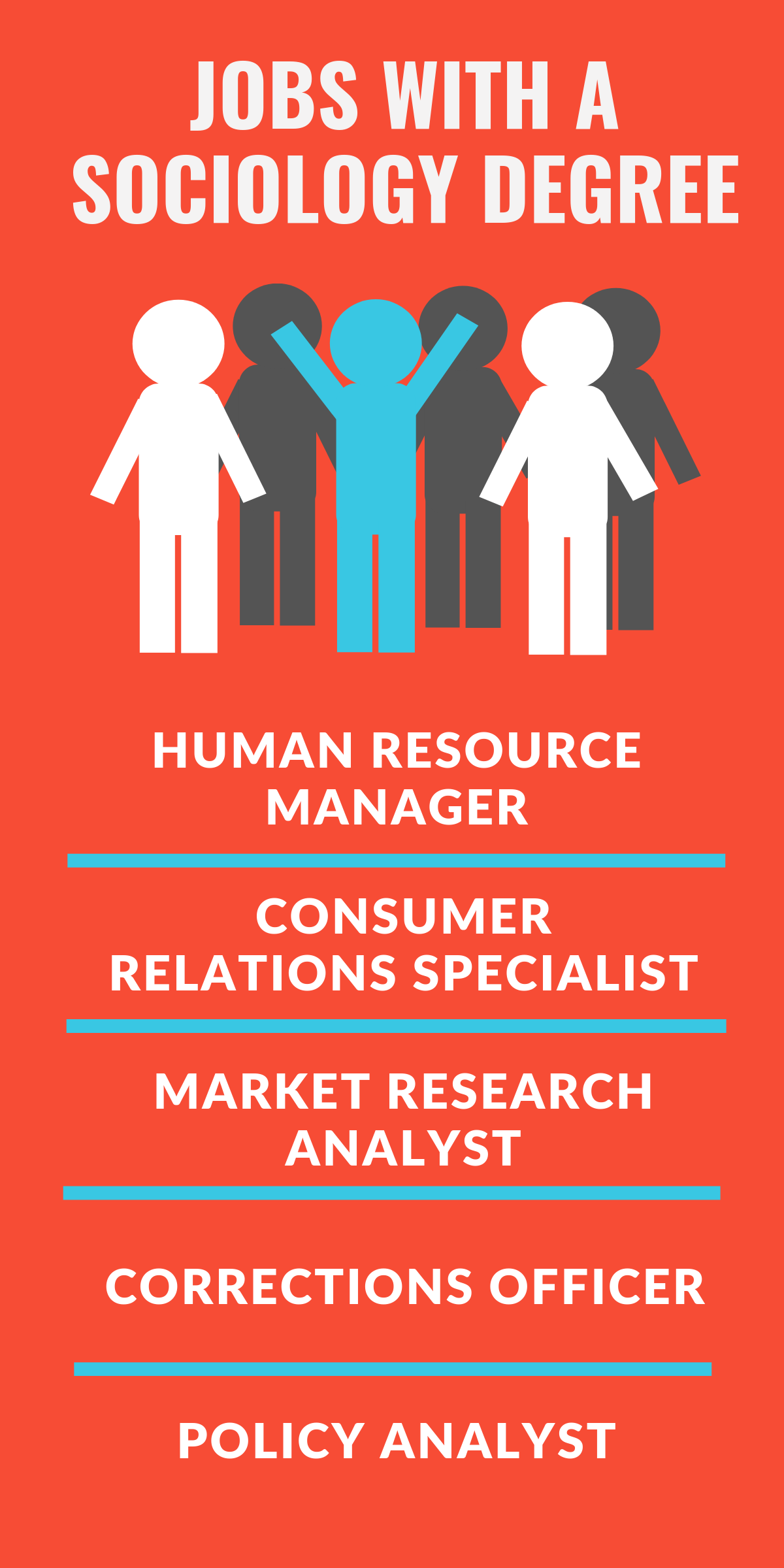 One of the best qualities of a sociology degree is its flexibility. In a sociology degree program, you'll develop skills like communication, research, critical thinking, and problem solving, which can apply to management and research positions in a variety of settings. You'll also develop a deep understanding of individual, communities, and social systems, which is an asset for work in institutional settings, such as government entities, school districts and hospital settings.
You can use this degree as a foundation to enter related fields like law, criminal justice, politics, public policy, social welfare, public policy, journalism, or business. If you find that your passion lies specifically in sociology, you can pursue an advanced degree and conduct research and sociology instruction professionally.
Is a Sociology Degree a Good Fit for Me?
A sociology degree is not the right fit for everyone. Those drawn to the field of sociology tend to have a unique blend of skills and interests, including a natural curiosity about society, the ability to see the big picture, analytical insight, critical thinking, and logical yet creative thinking.
Many people feel that the lack of a defined career path with a sociology degree is a drawback, as it requires degree holders to help potential employers understand how the skills achieved through a sociology program translate to the workplace. On the other hand, many people who hold a degree in sociology enjoy the professional flexibility of this degree, which develops skills that have applications in a variety of jobs in both the private and public sectors.
Further Reading: