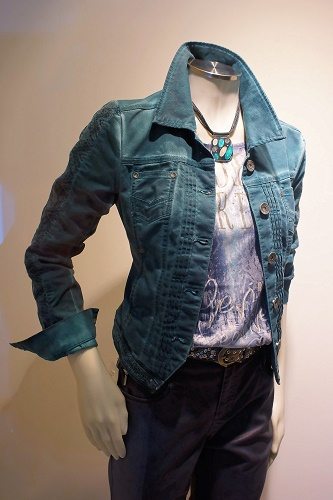 IMAGE SOURCE: Pixabay, public domain.
Overview
In the field of fashion design, art is something you wear, not something you hang on a wall. Fashion designers make their living by creating the clothing items people wear. They choose the look, feel, fabric, color and details of apparel ranging from everyday jeans and t-shirts to formal gowns and tuxedos. Fashion designers work on clothing, but they also create the designs for accessories, footwear and even costumes for films and live theatre.
A fashion designer must be familiar with current fashion trends as well as classic looks. These professionals need to figure out what clothing consumers will buy and develop these pieces from sketched designs into finished articles of clothing. This process includes not only drawing the initial designs, but figuring out how to make them a reality. A fashion designer is responsible for using computer programs to make visual representations of their designs.
Once the design is complete, the fashion designer needs to choose the details that will make the article of clothing unique. These details include the fabric, colors, patterns and embellishments, the United States Bureau of Labor Statistics (BLS) reported. Making physical prototypes or samples of the clothing helps the designer to fine-tune the designer. The fashion designer must develop the instructions that manufacturers will use to produce the apparel for retail sales.
Education
If you want to work in fashion design, you should start by pursuing a bachelor's degree in either fashion design or fashion merchandising, according to the BLS. These programs include coursework in art and design, textiles and fabrics and computer-aided design (CAD) technology. While a formal education in fashion design is important, developing a compelling portfolio might be even more vital. The portfolio is how prospective employers will judge a fashion designer's skills and creativity.
A good portion of a fashion designer's education happens outside the classroom. An internship experience or work experience in the role of assistant designer can help aspiring fashion designers build their portfolios. These opportunities can also help aspiring designers learn the logistics of how clothing and accessories are made.
Employment
Fashion designers make a median wage of $63,670 annually, according to the BLS. Designers who work in apparel manufacturing and management make the most, while those who work in specialized design services earn the lowest salaries. Fashion design is one occupation in which the industry in which you work can make a big difference in pay, the BLS reported. The difference in median salary between the lowest paying and highest paying industry for fashion designers is more than $20,000 per year.
Fashion design is a competitive field. The BLS predicts job opportunities for fashion designers as a whole to increase by only three percent over the next decade, though it anticipates fashion design jobs in wholesale apparel specifically to grow by 17 percent. If you want to be a fashion designer, you'll need more than your passion. Having a fashion design degree, experience working in the industry and a portfolio that stands out from the crowd can help you break into the field, the BLS reported.
Conclusion
With a four-year degree, some industry experience and a striking portfolio, you could take your first step into the world of fashion. Fashion designer is one creative career that won't require you to be a starving artist – so go ahead and follow your passion.