If you've been wondering "what degree do you need to be an interior designer?", it's time to start looking at interior designing degree programs. Becoming an interior designer requires a bachelor's degree. Naturally, a degree specific to the interior design field will cover the most relevant coursework and best prepare you for the process of securing a state license to work in this occupation.
What Degree Do I Need to Become an Interior Designer?
Before we discuss the education needed to be an interior designer, let's review what an interior designer is and what the job entails.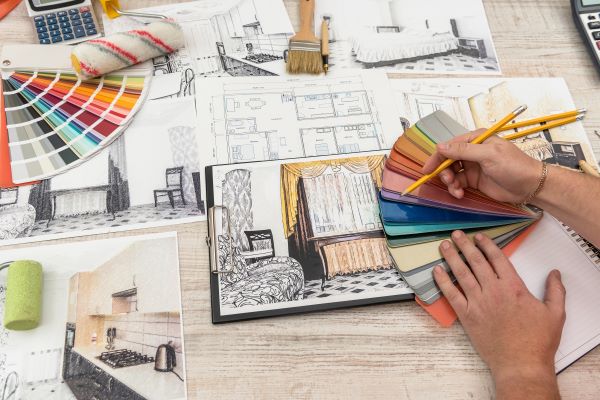 What Is an Interior Designer?
In residential, public and commercial structures, it's often in the interior spaces where people live, work and do business. Interior designers are the professionals who design these inside spaces to be functional, aesthetically pleasing and safe.
Interior design encompasses the planning and design of both commercial buildings and residential spaces. This work goes beyond just choosing decor. That's the job of an interior decorator, which is a separate occupation.
RELATED: Do I Need a Degree to Be an Interior Decorator?
To succeed in the interior design industry, the skills needed range from creativity and communication skills to technical skills using computer software to develop and draft your design ideas.
Why Do You Need a College Education to Become an Interior Designer?
If you want to prepare for a career in interior design, at least some amount of college education is pretty much essential. Most firms expect the interior designers they hire to be fully qualified and, if needed, able to acquire a license.
You will have a hard time finding employment as an interior designer without taking any college coursework. Even interior design assistant roles sometimes require a college degree, typically at the associate's level.
There are two main reasons for interior design degree requirements. First of all, aspiring interior designers need an education to develop the skills and knowledge required for this work. Second of all, having an interior designer degree gives professionals in this field the ability to prove their knowledge and skills so that they can become licensed or attain other professional certifications.
In some states, interior designers must be licensed before they officially hold this job title. A college degree is typically part of the eligibility requirements for getting a license. Often, you also need to acquire a couple of additional years of supervised work experience before you can attain a license.
Strictly speaking, it's not impossible to become an interior designer with no degree–in some cases, anyway. For this to work, you would have to live in a state that allows unlicensed designers to practice. Otherwise, you could get in trouble for using the job title "interior designer" or even for performing interior design work under a different job title.
RELATED: Can I Become an Interior Designer Without a Degree?
Additionally, your employment options may be limited. Many design firms won't consider applicants without a college education–even if your interior design portfolio is exceptional–when the majority of candidates have a degree. You may have to settle for a job with a less well-known design firm or be self-employed.
There are financial benefits of going to school for an interior designer degree, as well. Earning a degree is also important for your financial future. Interior designers with a college degree made over $15,000 more per year than those without one in 2019, according to trade magazine Architectural Digest.
What Degree Do You Need to Be an Interior Designer?
You need to go to college if you want to become an interior designer. The next question is: what degree for interior design?
The Level of Degree Required to Work in Interior Design
The most common level of education for interior designers is a bachelor's degree, according to O*NET. Among industry experts surveyed, 86% responded that a bachelor's degree was the level of education required for a new hire.
One in ten respondents recommended that new interior designers have an associate's degree. The next most commonly recommended level of education is a post-baccalaureate certificate.
Generally, the fastest you can get started working as an interior designer is two years. This possibility assumes that you (1) pursue only an associate's degree and (2) work in a state where licenses are not required.
Most interior designers opt to pursue a higher level of education. In this case, you're looking at four, five or more years of study. For a bachelor's degree, you need four years of full-time study. A master's degree will take an additional year or two years of study beyond a bachelor's degree.
The Importance of Choosing an Interior Design Major
When prospective students ask "What degree do you need for interior design?", they aren't only questioning the level of study required. They are also likely asking what field of study they should pursue as aspiring interior designers.
Technically speaking, you can become an interior designer with a bachelor's degree in "any field," the United States Bureau of Labor Statistics (BLS) reported. Most students interested in interior design jobs choose a fine arts major of some kind, according to the Bureau of Labor Statistics.
Still, when aspiring interior designers ask us "what education is needed to become an interior designer?", we recommend an interior designing degree. Unlike degree programs in the fine arts more generally, an interior designing degree covers areas of specialized importance for completing an interior design project from start to finish. Other fine arts and studio art programs may help you cultivate design skills more generally. However, these programs won't touch upon the specifics of interior architecture, construction methods and lighting design. Specialized programs that award interior design degrees will cover these subjects and more.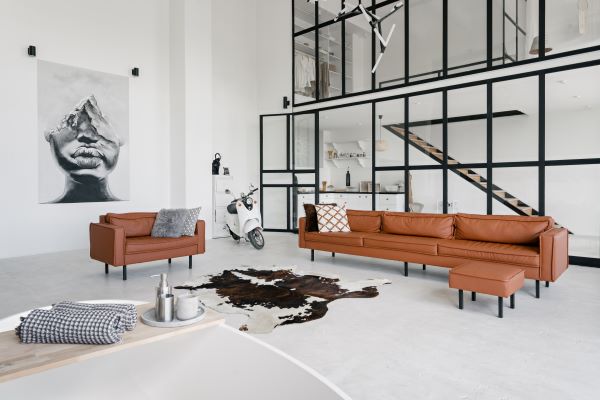 An Emphasis on Accreditation
It's no coincidence that many of the best interior design schools are accredited by a third party in the industry. Accreditation is valuable because it verifies that the accredited interior design schools meet quality standards set by an outside organization.
Prioritizing accredited interior design school programs won't limit your school search too much. Hundreds of design schools are accredited.
The National Association of Schools of Art and Design accredits more than 360 postsecondary colleges, universities, and independent institutes that have programs in art and design.
Around 180 professional-level interior design programs are Accredited by the Council for Interior Design Accreditation (CIDA), the BLS reported.
Additionally, close to 100 colleges and universities are affiliated–though not "accredited," strictly speaking–with the National Kitchen & Bath Association. The programs affiliated with the National Kitchen & Bath Association include certificate and associate degree programs as well as bachelor's degree programs that focus on kitchen and bath design.
An interior designing degree is a requirement for licensure or registration in some states, the BLS reported. In addition to earning a relevant degree, interior designers may have to possess a minimum number of years of full-time work experience. To get licensed, interior designers may also have to earn a passing score on a test like the National Council for Interior Design Qualification (NCIDQ) Exam.
The Education Needed to Be an Interior Designer
After you have begun researching what degrees do you need to be an interior designer, it's time to take your own needs, career goals and interests into consideration. Are you willing to go straight for your bachelor's degree? Would you prefer to pursue an associate's degree first and then gain some assistant-level work experience in the industry? Or are you in it for the long haul, willing to pursue a post-baccalaureate certificate or a master's degree?
Whatever level of college education and career preparation you choose to pursue in interior design, here's what you can expect from your schooling.
Associate's Degrees in Interior Design
Let's start with the two-year interior design degree programs offered at the associate's level. These programs can take the form of either an Associate of Arts degree or an Associate of Applied Science degree.
Generally, Associate of Arts degrees are intended as stepping stones to interior design bachelor's degrees. Associate of Applied Science programs are meant to prepare students for professional industry standards. As such, the curricula of associate's degree programs in interior design differ considerably depending on the type of program you choose.
An Associate of Arts degree for aspiring interior designers is likely to devote more of the curriculum to general education requirements. However, the curriculum will also include introductory coursework in areas like the following:
Design and construction
Construction materials and methods
The basics of computer-aided design (CAD)
Drawing
Three-dimensional design
The history of architecture and interiors
Many of the classes you take in pursuit of an Associate of Arts degree in interior design are lower-division courses. Still, you might complete some more advanced coursework. You might, for example, take a class in advanced presentation techniques.
This program is intended to serve as the foundation for further interior design study at the baccalaureate level. However, students will still get to practice their skills through a sequence of design studio courses as they work toward their associate's degree.
In an applied science program, you might take coursework in more focused areas of interior design study. For example, you might focus on residential design specifically in one course. Commercial design might be the basis of another course. In yet another class, you might delve into the use of textiles and finishes.
You might spend less of your curriculum on liberal arts and science courses and more of your studies on your chosen major. However, this difference can vary from one college to another.
Bachelor's Degrees in Interior Design
A bachelor's degree in any subject may be sufficient to attain an interior designer job. That's assuming, however, that the student takes some design-related courses.
However, students who are serious about the career path should take an accredited course in interior design specifically. A curriculum dedicated to this discipline will better prepare them for the demands of an interior design career. Students at the bachelor's degree level may consider a Bachelor of Arts, Bachelor of Fine Arts or Bachelor of Science in interior design. Either of these programs of study will cover the basic foundations, concepts and methods of general interior design work.
At the bachelor's level, degree programs in interior design should include courses in the following:
Space planning
Interior design methods and materials
Sustainable design
Building systems
Detailing
Courses in design principles, philosophy of interior design, lighting and color theory are among the classes students are more likely to expect to take in this major. Other courses may be less creative and more academically demanding than you might expect. Examples of these courses include building codes for an interior environment and the history of architectural interiors.
A lot of the practical skills interior design majors develop come from taking classes in the technical side of the field. For example, aspiring interior designers learn the techniques of sketching and architectural drawing by hand. They also take computer-based courses to learn the skills for computer-aided design for building information modeling, digital architectural drawings and digital presentation techniques.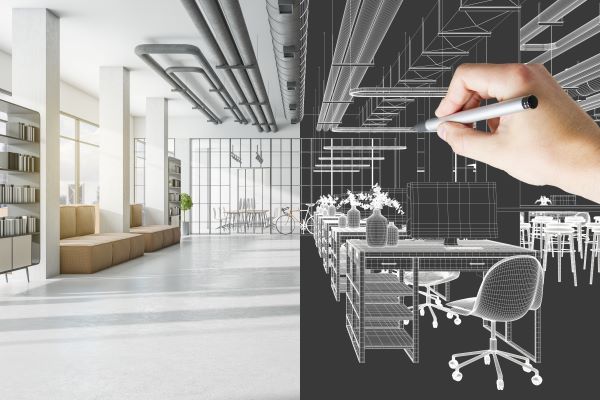 An internship is an important part of many undergraduate interior design programs because it allows students to gain experience in the real world rather than just in the classroom. An internship also offers students the ability to develop industry connections with fellow designers, which serve as valuable resources when it's time to look for employment after college.
Design studio courses are also an important part of the curriculum for interior design majors. Through these classes, students get to gain skills in every part of the process, from concept development to fully fleshed-out designs. They also use these courses to start building their interior design portfolio.
Post-Baccalaureate Certificates in Interior Design
If you already have a bachelor's degree and you want to further your education, consider a post-baccalaureate certificate. Some post-baccalaureate certificate programs in interior design are specialized in areas like sustainable design or kitchen and bath design.
Certificate programs are usually shorter than programs that award a full degree. This allows you to finish your education and begin reaping the benefits faster.
Studying Interior Design at the Master's Level
If so few interior designers actually have a master's degree, why would an aspiring professional in this field consider earning one? Often, master's degrees in interior design are intended for career changers. If your bachelor's degree and work experience are in another field, a master's can provide the interior design education you need for a career switch.
In other instances, experienced interior designers are seeking an advanced degree to move into leadership, research or academic job roles.
You may need to prove your artistic ability with sketches and other work to gain acceptance into a design program, according to the BLS.
Working in Interior Design
Of course, the reason you're asking "what degree do you need to be a interior designer" isn't just out of curiosity. You're interested in the interior design career.
Interior designers are responsible for planning the functionality and appearance of indoor spaces in homes, public buildings and commercial structures. Before they begin a design, interior designers must understand the client's goals and the purpose and requirements of the process, according to the BLS. They must choose design elements that will fit well with how the space is intended to be used and how people will move within that space.
Interior designers create preliminary sketches and plans that consider the functionality of the room, such as the electrical layout. They determine the right colors, furniture, paint or wallpaper, flooring, lighting fixtures, plumbing fixtures and materials to achieve the design concept and use computer software to create final design plans.
Planning is only part of the work of interior designers. They must also manage the timeline and cost to make sure the project can be completed on time and within budget. Interior designers make sure that the right materials are ordered and installed correctly. They also make sure that the client is happy with the results.
Interior design is important for a wide variety of fixtures, rooms, structures and purposes. Still, specialization in the career is common. Some interior designers specialize in a specific type of fixture, like lighting. Others focus on certain types of rooms, such as kitchens and bathrooms. Still other specialties of interior design involve purposes like environmental sustainability or universal accessibility.
Interior designers earned a median salary of $60,340 in 2021, according to the BLS. The 13% of interior designers who work in industries like architectural and engineering services have the highest earning potential, with a median annual salary of $63,210.
Next most lucrative is the wholesale trade industry. This industry employed just 4% of interior designers and paid a median wage of $61,820 in 2021. One in four interior designers worked in the industry of specialized design services, which paid a median wage of $58,840. Furniture stores, which employed 7% of the occupation, paid a median salary of just $48,790 per year as of 2021.
As of 2021, nearly one-third of all interior designers were self-employed, according to the BLS.
The job outlook for this profession is somewhat disappointing. In 2021, the BLS expected job opportunities in all occupations to grow by 5%, on average, between 2021 and 2031. For interior designers, though, the BLS predicted that there would be little change in employment opportunities during this timeframe, with a projected growth rate of 1%. The BLS projected only 800 new jobs during this period.
While interior designer isn't one of the job roles in which statistically significant declines are expected, slow growth is expected to characterize the next decade of development in this occupation. Most job openings in this field won't be additional opportunities. Rather, most job postings will be vacancies left by interior designers who retire or change careers.
Even though the field of interior design isn't flourishing right now, the BLS expected there to be approximately 8,200 vacant positions for interior designers per year between 2021 and 2031.
What to Look for in Degrees for Interior Design
The next step toward your career after researching the question of "What education do you need to be an interior designer?" is starting your school search.
To narrow down your college search, you may need to focus on a few factors. You might prioritize interior design courses known for technical competency training or for internships and job placements. Perhaps you're interested in a program that concentrates on the business side of the industry, especially if your career goals include launching your own design firm.
Other factors that prospective students consider include geographic location, the availability of online courses and accreditation.
RELATED: Is an Online Degree in Interior Design Seen the Same by Employees and Clients as an On-Campus Degree?
Technical Competencies in Interior Design
People who confuse the roles of interior designer and interior decorator may be surprised to discover how important technical competency is in this profession. A big part of the job is creating visual representations through hand-drawn sketches and CAD drawings and diagrams.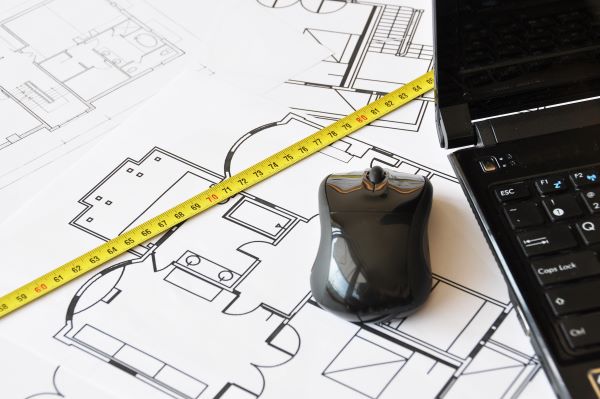 Some of the most widely used CAD software programs in the industry include Autodesk AutoCAD and Autodesk Revit. A school that emphasizes the development of computer-aided design skills and these in-demand software programs specifically will help you acquire the competencies employers are seeking.
Internships and Opportunities to Gain Experience
Perhaps the most important aspect of an interior design degree program is the opportunity to put to work the skills and knowledge you gain and develop an impressive portfolio. Ideally, the school you choose will make design studio courses a priority early on in your studies. Opportunities for internships and other types of field experience are also particularly valuable in this major.
Design isn't something you can fully develop competency in simply by reading textbooks and handing in assignments. Potential employers in this field aren't likely to be especially interested in your grade point average or even necessarily in the curriculum you completed. More so, they will be interested in the portfolio you put together based on your work in the design studio and as an intern.
Accreditation of Interior Design Degrees
Accreditation is another thing to look for when choosing an interior design degree program. Different organizations accredit different types of programs, including:
Accreditation demonstrates that your interior design program meets high standards established by a third party in the industry. Choosing an accredited school may also streamline the process of achieving professional certification or licenses, and prospective employers may prefer job applicants whose degrees came from an accredited institution.
Choosing an Interior Design Program
Deciding on a school for interior design isn't easy. The interior design education requirements are only part of your decision. There are hundreds of interior design degrees and design schools out there to consider, as well as a variety of factors that can influence what you want from an interior design school.
From an academic perspective, any accredited or otherwise reputable interior design degree program at the bachelor's level is sufficient to put you on the path to becoming an interior designer. Beyond that, it's a matter of finding the right fit for your personal and career goals, interests, strengths and preferences.
Related Resources:
What Are Some Areas of Concentration in Interior Design?
What Is an Interior Designing Degree?
Where Are the Best Paying Jobs With a Degree in Interior Design?
What Is the Difference Between a Degree in Interior Design and Interior Architecture?