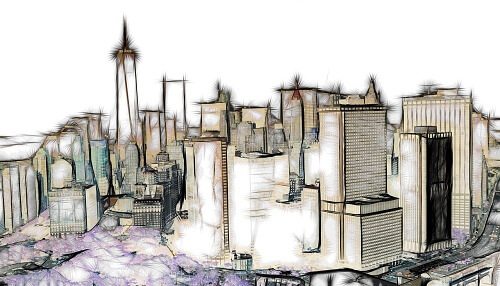 IMAGE SOURCE: Pixabay, public domain
Overview
You already know that architects design buildings, but you might not be aware that different types of architects develop specialized skills in creating different types of buildings. While a residential architect plans homes, commercial architects develop business properties of all kinds.  Business offices, malls, factories, hospitals, airports, train stations, sports arenas, hotels and leisure facilities are just a few examples of the wide range of structures commercial architects design, according to The Houston Chronicle.
To succeed in commercial architecture, professionals must develop skills beyond their technical, design and architectural abilities. They must serve as a liaison with clients, communicating the requirements, plans, budgets, schedules, specifications and progress to those without an architecture background. As project managers, commercial architects help these clients retain contractors to do the work and oversee those contractors. They make sure the work is done on time, without going over budget, and they handle any problems that arise. Of course, they must have the strong design skills to create drawings and models of the project. Commercial architects also face unique challenges, like making sure that large structures have the infrastructure to safely and efficiently handle the volume of people using the building for business purposes.
Education
For aspiring commercial architects, five years of college education is standard. Students must attend one of the 120+ programs that have earned accreditation from the National Architectural Accrediting Board, The Houston Chronicle reported. Otherwise, graduates may find that they're unable to attain professional licenses in 35 states, the United States Bureau of Labor Statistics (BLS) reported.
As they cultivate a well-rounded education, students in accredited bachelor's degree programs in architecture will study mathematics, liberal arts and physical sciences. Their coursework in architecture will include introductory through advanced studies in subjects such as:
Architectural history and theory
Building design
Computer-aided design and drafting (CADD)
Construction methods and materials
Professional practices
Structures and structural systems
Technology
For architectural students, only part of their learning takes place in the classroom. Much of their education and skills development happens in the design studio, according to the BLS. Here, aspiring architects sharpen the skills they learn in the classroom through practice, creating technical drawings and 3D models of building designs. While there's not a separate degree path for students to pursue if they plan to work in commercial rather than residential architecture, their work in the design studio and other hands-on work opportunities, like internships, can allow them to begin building their specialized skills in designing commercial structures.
Their work in the design studio prepares students for the next stage of their journey into an architect career, a three-year paid internship. As they gain practical experience through on-the-job training, interns at architectural firms work on designs, documents, drawings, models and research. By the end of their internship, candidates are qualified – and, hopefully, prepared – to pass the seven-part Architect Registration Examination typically required to attain a state license and officially become an architect.
Employment
Architects as a whole earn a median salary of $73,090 per year, the BLS reported. The profession is expected to experience a faster than average growth rate of 17 percent over just a decade. Commercial architects will be particularly in-demand as aging infrastructure of educational institutions requires significant renovations of school buildings and as a greater demand for health services calls for more hospitals and medical facilities, according to the BLS. 
Conclusion
Commercial architects are the ones who design buildings like schools, shopping centers, business offices and entertainment venues – some of the most exciting architecture projects around.