With the latest transgenic technology, scientists can alter the genetic material that makes up plants, animals and even humans. This exciting field offers unique opportunities to make the world a better place, solving problems that include food scarcity, health concerns and environmental conservation. If you have been wondering how to become a genetic engineer, you will need at least a bachelor's degree in a field related to biology or engineering.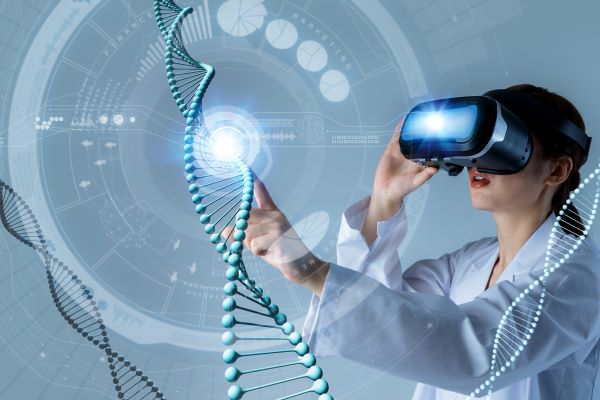 What Do Genetic Engineers Do?
Genetic engineer is a type of biological and biomedical engineer. Biological engineering means applying the principles and practices of work in engineering design to the biological sciences, or the sciences concerned with life and living organisms.
RELATED: Highest Paying Jobs With a Biology Degree – Degrees in Biology – Majors & Careers
Bioengineers and biomedical engineers either use biology in their development of solutions to real-world problems or aim to solve problems related to biological sciences – or both. Some genetic engineers conduct independent research, serving as principal investigator of the project and securing grant funding from external sources.
RELATED: What Is the Difference Between a Chemical Engineering Degree and a Biomedical Engineering Degree?
Genetic engineers, specifically, use engineering principles to change the genetic makeup of living organisms. Examples of the work of a genetic engineer include:
Genetic Engineering's Role in Agriculture
A genetic engineer's work in agriculture may focus on altering the genetic makeup of food crops and livestock to make them better able to survive harsh conditions, grow larger or provide enhanced nutrition.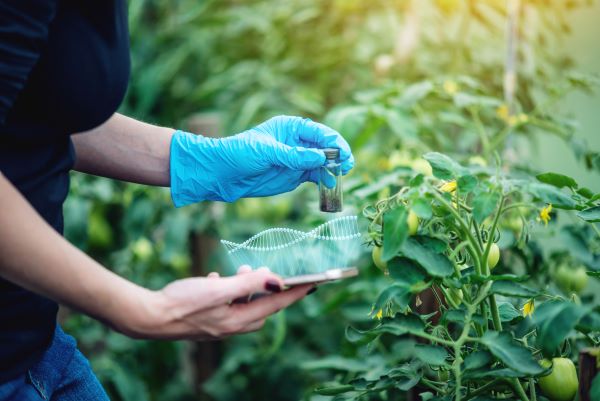 Engineering Work and Research in Pharmaceutical and Medical Genetics
The human body is made up of genes – units of DNA sequences – which means that the human body can also be genetically modified. A genetic engineer who applies their work to the area of human health may work in the development of gene therapy. Gene therapy is the manipulation and modification of cells to treat genetic disorders, often by replacing defective (or missing) cells with cells that function correctly.
Genetic engineers also bring innovation to the pharmaceutical industry. Through genetic modification, they can produce therapeutic interventions such as cancer treatments and insulin for the treatment of diabetes.
Work in Genetic Engineering and Environmental Conservation
Environmental concerns are plentiful, ranging from species facing extinction to pollution. A genetic engineer may play a role in addressing many of these issues. For example, genetic modification may hold the key to preserving biodiversity and effectively cleaning up or even preventing contamination that comes from pollution and oil spills.
Much of the work in genetic engineering aims to improve upon organisms' genetic makeup – to make crops and livestock hardier and humans healthier, for example. However, keeping ecosystems balanced may require managing or even eradicating invasive species through genetic engineering.
>
Generally, genetic engineers use a technology called recombinant deoxyribonucleic acid, or rDNA, the United States Bureau of Labor Statistics (BLS) reported. Recombinant DNA technology involves using laboratory techniques and equipment, along with enzymes, to isolate, manipulate and combine genetic material from different sources into purposeful new creations.
Where Do Genetic Engineers Work?
Genetic engineers work in a variety of fields and settings. Any industry or work environment that relates to the use of biological science to manipulate genetic information may have a need for genetic engineers.
RELATED: Top 50 Degrees For Changing The World
Genetic engineers who work with crops or livestock will often find work in the food industry or the agricultural industry. Those with interests in gene therapy and medical applications of human genetics may find employment in healthcare organizations and pharmaceutical companies.
Genetic engineers may be hired by private industry research labs to perform applied research or by nonprofit or academic research institutions to conduct basic or applied research. Even forensic labs, where forensic scientists run DNA tests related to legal cases that range from paternity disputes to assaults, rely on the science of genetics and may hold potential job opportunities for an aspiring genetic engineer.
Genetic engineers who work for academic institutions – colleges and universities – perform a combination of teaching duties and research work. Federal government agencies such as the U.S. Department of Agriculture (USDA) Agricultural Research Service (ARS), the National Cancer Institute, the National Institutes of Health, the Environmental Protection Agency and the Centers for Disease Control and Prevention also employ genetic engineers.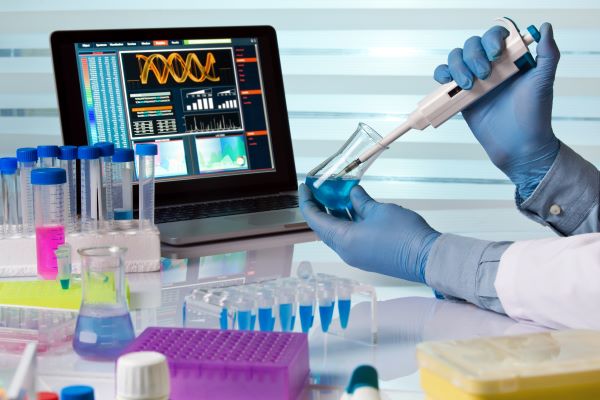 How Much Money Do Genetic Engineers Make?
Engineers, including genetic engineers, have serious earning potential. The typical genetic engineer will earn nearly twice the annual earnings amount reported for all occupations.
For genetic engineers specifically, Salary.com reported an average salary of $88,058 for 2022. Earning potential is somewhat lower for genetic engineers than for the bioengineer and biomedical engineering occupation as a whole. For bioengineers and biomedical engineers of all kinds, the Bureau of Labor Statistics (BLS) reported a median salary of $97,410 and an average salary of $101,020 for 2021.
Generally, bioengineers and genetic engineers earn more money working in industry research roles than in healthcare or academia. Having an advanced degree can also boost your earning potential as a genetic engineer.
How to Become a Genetic Engineer
If you want to become a genetic engineer, you need to make education a priority. All branches of engineering are STEM (science, technology, engineering and mathematics) fields that require you to develop a strong understanding of scientific methods of research inquiry, as well as technical skills using laboratory equipment to study and modify genetic information.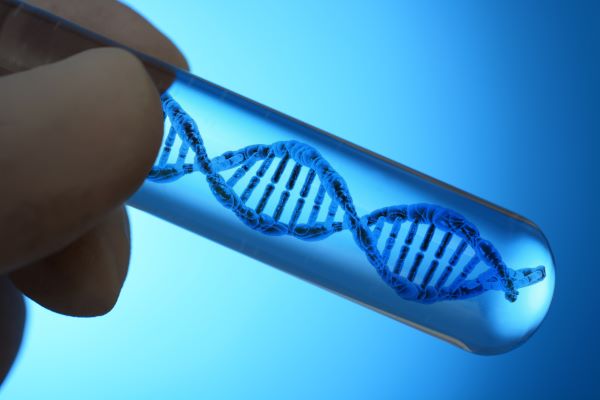 Here's a step-by-step guide to getting into the genetic engineer career path.
1. Earn a Bachelor's Degree.
Your first step toward becoming a genetic engineer is earning your undergraduate degree. Aspiring genetic engineers may choose from several possible majors, but they should pick a program of study that covers scientific methods and concepts, engineering design principles or both.
2. Gain Experience in Genetic Engineering Work Applications.
Once you have finished your bachelor's degree, you're ready to seek out entry-level genetic engineer career opportunities. Of course, you could opt to go straight to grad school instead and wait to join the workforce until after earning advanced degrees.
Exactly what your first genetic engineer job will entail depends not only on your level of education but also on your area of interest. Generally, you will start out your career in a position that has fewer, less complex job responsibilities and work your way up to handling more complex tasks.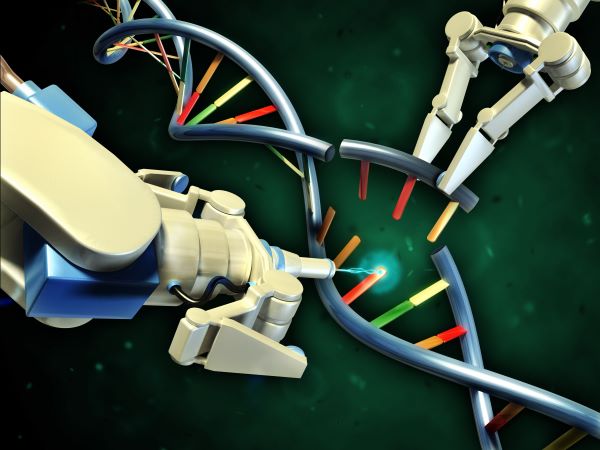 3. Consider Going to Graduate School.
If you go straight to work after finishing your undergraduate studies, there may come a point when you can't move up in your career without pursuing an advanced degree.
In particular, genetic engineers are likely to need advanced degrees if they want to lead a research team, conduct independent research or work in academia. Even if a graduate degree is not strictly required for promotion, many employers prefer genetic engineers in high-level roles to have an advanced level of education.
Depending on your goals and interests, you might pursue a master's degree or a doctorate or professional degree of some kind.
4. Establish Membership With a Professional Engineering Organization.
Although not required, becoming a member of a professional organization can offer several benefits to genetic engineers.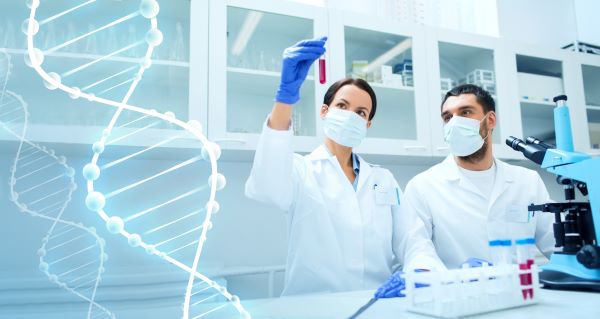 Professional Organizations for Genetic Engineers
Which organization you join will depend on your interests within the field of genetic engineering. For example, you might join the Biomedical Engineering Society (BMES) if your interests pertain to genetic illnesses and pharmaceutical interventions. The American Association of Family and Consumer Sciences (AAFCS) may be a more relevant organization for those with an interest in the genetic engineering of consumer products, including food crops.
Advocacy-minded genetic engineers may wish to get involved with the Center for Genetics and Society (CGS), a nonprofit social justice organization, or the American Institute for Biological Sciences (AIBS), a nonprofit public policy organization.
Being part of a professional organization doesn't just look good on your resume or C.V. Through your membership, you can access opportunities for continuing education. In a field like genetic engineering, where technology and research are constantly evolving and advancing, you must keep on top of the latest innovations and equipment to be able to work effectively throughout your career. The networking opportunities available through these organizations can also help you identify collaborators for your research efforts.
What Level of Degree Do You Need to Become a Genetic Engineer?
A college education that covers coursework in biology and engineering principles is necessary for genetic engineers, but not all genetic engineering roles require the same level of education. You might find work in this field with a bachelor's, master's or doctoral degree.
RELATED: What Degree Do You Need to Be a Biomedical Engineer?
Bachelor's Degree
For entry-level positions in genetic engineering, a bachelor's degree will suffice. In fact, 53% of industry experts surveyed said that a bachelor's degree is the level of education a new hire needs for the career, according to O*NET.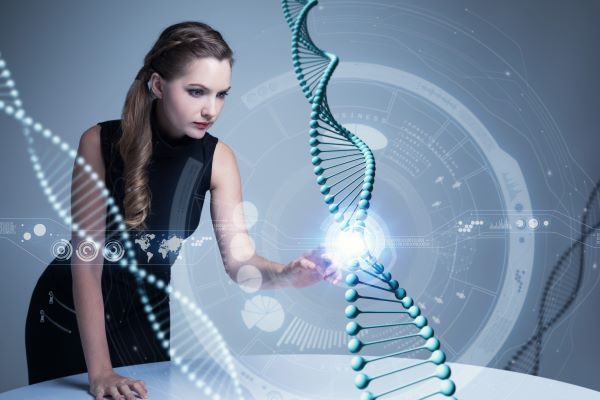 t typically takes at least four years of full-time study to complete the curriculum of a bachelor's degree program, which encompasses at least 120 credits of coursework at the college level.
Bachelor's degree programs in relevant programs of study typically include basic coursework in the life and physical sciences, major coursework specific to your field and general education coursework to equip you with a well-rounded education.
Master's Degree
Genetic engineering isn't one of those career paths where your job prospects without a graduate degree are dismal. You can qualify for a lot of entry-level careers and even some more advanced positions in genetic engineering with only an undergraduate education. Still, 30% of industry experts listed a master's degree as the level of education needed to work in the field.
These graduate-level degrees typically consist of at least 30 credits of graduate-level coursework. Most graduate students will take two years or longer to earn their master's degrees in genetic engineering. Some master's programs are offered en route to a doctorate, while others are standalone programs.
Research, including a master's thesis, is also part of the typical master's degree program in science fields. Some genetic engineers pursue master's degrees in management for clinical research lab work, instead of or in addition to traditional master's programs in science or engineering.
Generally, students at the master's degree level are able to specialize in their education and research more than they could at the bachelor's degree level, where the focus is on building students' knowledge of the fundamentals of the field.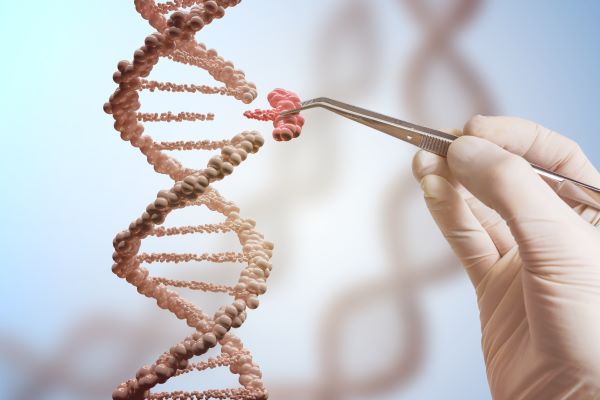 Doctoral Degree
A doctorate is less common in genetic engineering than in other science and engineering occupations. Still, nearly 7% of industry experts said that a doctoral degree is required for a genetic engineering career, according to O*NET. If you want to work at a college or university or serve as the principal investigator or a senior scientist in a research lab, your career path may include earning a doctorate or professional degree.
A genetic engineer has some options regarding their doctoral studies. A traditional research-focused doctorate is the Doctor of Philosophy, or PhD. This degree will prepare you for most high-level research roles in the field of genetic engineering. Earning a PhD requires a genetic engineer to complete research and write a dissertation.
Some genetic engineers who are interested in applications in human genetics may choose to go to medical school instead of seeking a PhD. Whether they earn a Doctor of Medicine (MD) degree from an allopathic medical school or a Doctor of Osteopathic (DO) degree from an osteopathic medical school, they are developing the clinical expertise to provide patient care.
The Best Majors for a Career in Genetic Engineering
There's no one right major to choose if you want to become a genetic engineer. People approach careers in genetic engineering from several different majors within the STEM fields. Generally, you want to be sure to take plenty of courses in biology and related areas, including organic chemistry and biochemistry, if you want to work in the field of genetic engineering.
Genetic Engineering and Biotechnology
Programs in genetic engineering are still somewhat rare, especially at the undergraduate level. ABET, the Accreditation Board for Engineering and Technology, doesn't even offer a list of program criteria that degree program curricula must meet to become accredited as genetic engineering programs (although the organization does accredit bioengineering and biomedical engineering programs).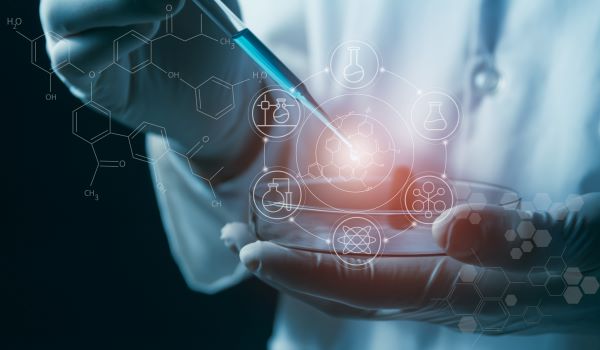 Still, specialized genetic engineering programs do exist. Degree programs in genetic engineering and biotechnology typically include studies in molecular genetics, microbiology, biotechnology and bioengineering.
Bioengineering and Biomedical Engineering
If you're really interested in approaching the field from an engineer's perspective, consider majoring in bioengineering or biomedical engineering. This interdisciplinary field allows you to build knowledge not only of the principles and techniques of genetic engineering but also of other aspects of engineering in the life sciences. In a bioengineering curriculum, you will likely find classes in biomaterials, bioengineering methods, biomechanics, general engineering principles and engineering principles of physiological systems.
Genetics and Molecular Genetics
Studying genetics, the field of biology that focuses on inherited properties, is one way to prepare for a career as a genetic engineer. In a degree program in genetics, you should expect to study cell biology, molecular biology, microbiology, organismal biology, ecology, evolution, developmental biology, molecular genetics and biochemistry.
Biology or Molecular Biology
A more general area of study for aspiring genetic engineers is biology. To become a genetic engineer, you must have a strong understanding of the principles of biology, which a major in general or molecular biology will help you achieve.
In a biology or molecular biology program, you will study areas like organismal biology, cell biology, cell structure, molecular biology, genomes, ecology, evolution, biochemistry and genetics. Students who major in general biology or molecular biology may also have the option to use elective courses such as human biology, human anatomy, clinical microbiology and genomics in medicine to build an area of focus.
Biophysics and Biochemistry
Genetic engineering is an interdisciplinary field that combines principles of biology, chemistry and physics along with the engineering approach of designing and developing solutions to problems. Some students major in biophysics, the field that combines biology with physics, or biochemistry, the field that blends biology and chemistry.
RELATED: What Degree Does a Genetics Nurse Need?
Gaining Work Experience in Genetic Engineering
It's not enough to just attend class if you want to succeed in this hands-on field. Look for ways to gain valuable experience even as an undergraduate student, such as an internship or co-op experience, extra design studio courses and involvement in faculty research labs.
The Qualities of the Best Genetic Engineers
Prospective students often wonder how to become a genetic engineer, but they should also think about the qualities they need to succeed in this occupation.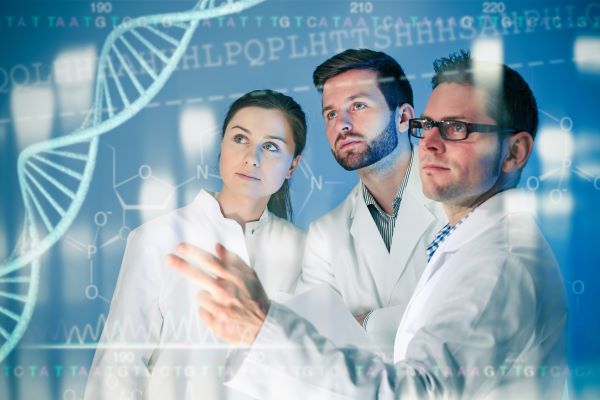 A career in genetic engineering will involve complex problem-solving and a great deal of critical thinking. Excellent mathematical skills are required to perform scientific and engineering calculations correctly.
Computer skills are important for this highly technical career. A successful engineer needs to have computer skills in the use of everything from word processing software programs and photo imaging software programs to computer-aided design (CAD) software and programming for statistical analysis software.
A big part of what it takes to become a genetic engineer is learning the technical skills needed to use spectrometers, lasers, dynamic light scattering equipment, binocular light compound microscopes and similar laboratory equipment in research applications. However, soft skills like communication skills also matter for those interested in becoming a genetic engineer – particularly in roles in which you work directly with human patients.
Additional Resources: 
Top 50 Highest Paying Master's Degrees
Are There Programs Where I Take My Master's and Ph.D. in Biology Simultaneously?
What Does an Epidemiologist Do Daily?
Do American Schools Accept the IELTS For International Graduate Students in Biology? 
Do People Planning to Attend Med School Often Have a Master's in Biology?
How Important Are GRE Scores for a Master's in Biology?
If I Am an International Student, How Much Should I Score on My TOEFL to Get Into a Competitive Biology Master's Program? 

What Degree Do You Need to Be a Biomedical Engineer?