Are you interested in artifacts or artwork? Does the notion of spending your workdays negotiating the sale and acquisition of artifacts and planning exhibits intrigue you rather than boring or intimidating you? A career working as a curator, or museum director, could be in your future.
If you want to become a museum curator, acquiring higher education is critical. Curators need extensive knowledge of the subject area for which they compile collections. Most curators hold an advanced degree, although it may be possible to attain curator jobs at smaller institutions with only a bachelor's degree.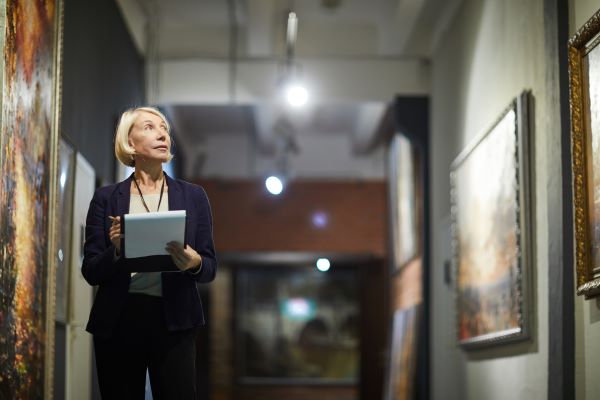 What Does a Museum Curator Do?
The job title may suggest that the primary duty of curators is to curate – in other words, to select, acquire, bring together, organize and display – collections and exhibits of artifacts. These artifacts may be historical collections, art produced by internationally famous or up-and-coming local artists or any other type of artifacts that could be displayed in an institution's permanent or temporary exhibits. According to the United States Bureau of Labor Statistics (BLS), this work encompasses everything from researching the potential acquisition of artifacts and collections to negotiating sales or exchanges of these artifacts, safely and carefully storing purchased artifacts, authenticating items once they are delivered, categorizing the artifacts and putting them on exhibit in the museum's collection.
RELATED: Are There Any Good Professional Organizations to Join as an Art or Art History Major?
Acquiring and exhibiting artifacts isn't a curator's only job duty. Curators serve as museum directors in several respects. A museum curator may handle all types of business and administrative duties needed to keep the institution running, growing and hopefully attracting new visitors and donors. Museum curators may be involved in planning public or exclusive events and developing both in-house educational programs and educational outreach programs. At organizations that boast strong research programs, the museum curator might be responsible for overseeing research activities.
In many ways, a curator serves as the public face of museums or art institutions. The curator may appear in media coverage of the museum or as the representative of the museum at professional conferences and civic events.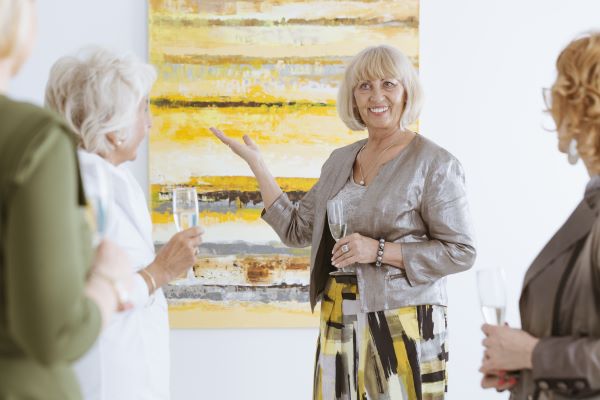 The American Alliance of Museums Curators Committee includes among a curator's core competencies planning and caring for collections, developing exhibits and engaging in object research, applied research and scholarly research. Through both informal and formal education and outreach programs, museum curators participate in their communities.
Curator is a relatively small occupation. There were only 12,900 curators working in the United States in 2021, according to the United States Bureau of Labor Statistics (BLS), which includes curator, along with archivist, in the larger museum workers occupation. Museums employed 37% of curators, archivists and museum workers as of 2021, while the government employed another 24% of these workers and the educational services industry employed 18% of the occupational group.
The average salary for curators in 2021 was $63,880 per year, the United States Bureau of Labor Statistics (BLS) reported, while the midpoint, or median, salary was slightly lower at $60,110.
Where Do Curators Work?
Curators may find work in any institution that needs a subject-matter expert with the skills to choose, acquire, care for and display a collection of some sort. Most curators work for museums of some sort, with art museums and history museums being among the most common. Curators also work for art galleries, zoos, botanical gardens and similar types of environments.
RELATED: What is My Career Path as an Art Major? What Kind of Job Would I be Able to Get?
Large museums may employ multiple curators, each of whom is highly educated and focuses on curating different types of artwork or artifacts. In small museums, one curator may be responsible for curating the entire museum's collection. Smaller museums are also less likely to require the level of advanced education – typically, a master's degree or a doctorate – that large institutions require, instead being willing to hire museum curators with only undergraduate degrees.
What Level of Curator Degree Do I Need?
Generally speaking, you need an advanced degree if you're planning to pursue a museum curator career.
According to O*NET, the most popular response industry experts gave to the question of what level of education a new hire needs to work as a curator was a master's degree, followed by a doctorate. Even the third most popular answer, which just 8% of respondents chose, reported a post-baccalaureate certificate as the required level of education.
In addition to your formal degree, you may need to first gain experience working in a history or art museum setting before you can get hired. Museum directors may begin their careers volunteering at a museum and then advance to lower-level paid positions like museum technicians before they acquire enough experience to become a museum curator.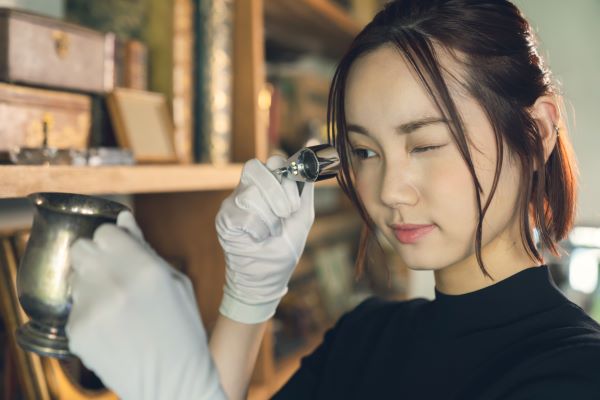 Even when the subject of your collections is ancient, it's crucial to keep learning about new developments in research and methods of outreach and education if you want to become a museum curator. Continuing education opportunities for museum curators often include formal courses, professional conferences and more.
Bachelor's Degree
Although a bachelor's degree is unlikely to be enough to qualify you for museum curator roles in most institutions, earning one is necessary before you can move on to your Master of Science (MS) or Master of Arts (MA) degree. Generally, a bachelor's degree program in any subject includes at least 120 credits of undergraduate-level college coursework, about one-third to one-half of which consists of general education coursework. Often, students benefit from completing internships that allow them to gain some real-world experience in their field of study.
Master's Degree
For most museum curators, going to graduate school is necessary. O*NET listed a master's degree as the number-one most common level of education recommended for curators, with 44% of respondents selecting this answer. Full-time students can typically complete this graduate degree program, which usually includes a thesis requirement, in 18 months to two years.
RELATED: What Career Opportunities Do I Have, Other Than Teaching, With a Master's in History?
Students who aren't ready to commit to a master's degree program just yet can advance their education through a graduate certificate program. A graduate certificate usually requires significantly fewer courses than a full-fledged master's program, so you can complete your graduate certificate faster than your MA or MS.
Doctoral Degree
According to O*NET, 35% of industry experts said a doctorate was necessary for new hires to work as museum curators. Even though a doctorate is not the most popular level of education for museum curators, it may make sense to consider earning a PhD or another doctorate, especially if you want to be responsible for conducting special research projects. Earning your doctorate often requires you to complete original research in your field and write a dissertation that expresses your findings.
The Best Majors for Museum Curators
As you work to become a museum curator, you need to choose the right major. Depending on what sort of collections you would like to procure, some of the college majors you might consider include art history, fine arts, museum studies, history, anthropology and business.
Art History
Art history is a major that seems made for aspiring museum curators. Students of art history typically study art from numerous periods of history, including ancient art, medieval art, renaissance art and modern art. Elective courses can be used to study a preferred period of art history in greater detail.
RELATED: What Kind of Jobs or Career Path with a Degree in Art History Will I Find?
Fine Arts
You may think of work in an art museum as better suited for those who are enthralled with the work of artists of the past than artists in their own right. However, many museum curators have a background in fine arts or studio arts rather than art history.
This reality isn't only because finding a steady, stable job with a fine arts degree is challenging. In fact, working as an art curator is a valuable experience even if your first love is to create your own art, not painstakingly compile selections of others' artwork. Your skills as an artist can make you a successful curator, and the abilities you develop working as a curator can help you better manage your own career as an artist.
RELATED: What Jobs Can I Get With a Bachelor of Fine Arts Degree?
A curated collection of art, specifically, should be carefully compiled and creatively and thoughtfully presented. When you're creating a collection of art or artifacts, you want to select items that represent the breadth and variety of the category – whether that category is the work of a single artist, an art movement, a period of history or a type of specimen. You want each artifact in your collection to bring something unique to the exhibit, yet you also want to create a cohesive collection that tells a story or makes a point.
Finally, the presentation of exhibits matters almost as much as their contents. How you organize artifacts, the information and context you provide about them and even the lighting and the use of interior space are, all together, what make up the composition of the exhibit. Thinking about the museum's collection in the same creative, art- and design-inspired ways as artists think about which of their own works to include in art shows is valuable for putting together collections that are meaningful and beautiful.
Museum Studies
A degree in the museum field is the perfect fit for an aspiring museum curator or director. Through these interdisciplinary and often highly customizable programs of study, which usually include a museum internship of some kind that allows them to gain real-world experience, students develop skills in areas like grant writing, planning fundraising events and campaigns, event planning, workshops and educational programming for all ages and written and verbal communication.
Students in master of museum studies degree programs develop knowledge of museums and society, the history and theory of museums, the theory and practice of museum learning, collaborative exhibition and art and inclusion. Coursework covering creative and cognitive development and the museum audience and evaluation helps students better understand the museum visitor experience.
Through coursework in museum management and areas like museum graphic principles, branding and marketing principles and community and outreach, students develop the skills to address the business aspects of the job. Often, these programs include regular trips to major local museums, guest lectures by established museum industry workers and opportunities for internships, collaboration and networking.
Although museum studies is a clearly relevant curator degree, it still isn't the most common course of study for museum curators. These specialized degree programs are comparably rare. Fewer than 860 students all across the United States earned a degree in museum studies in 2020, Data USA reported.
History
If historical artifacts, rather than artwork as an aspiring museum curator, are what hold your interest, an option to consider is a degree in history. Students of history often develop the extensive knowledge of a particular aspect of history – such as a time period or topic – that, as museum curators, can be used to research and compile historical collections.
RELATED: What Are Some Career Opportunities for Me With a Degree in History?
Aside from learning the details of historical figures and events, studying history equips students with skills in historical methods, research, critical and analytical thinking and communication.
Anthropology
Anthropology and the related field of archaeology go hand-in-hand with the study of history and historical artifacts. Anthropology is the scientific and systematic study of human culture, both now and throughout history. Archaeology is the study of human cultures throughout history performed by analyzing the artifacts and physical remains found in, and often excavated from, historical sites.
RELATED: What Are Some Specific Jobs Where an Anthropology Degree Is Helpful and Useful?
Other Subject Areas
Although history and art museums are among the most common institutions that employ curators, the types of collections that can be acquired and exhibited aren't limited to traditional artwork and historical items. Planning and procuring the collections for more specialized exhibits may require the skills of curators with specialized backgrounds.
Animal curators at zoos and aquariums are more likely to have a degree in zoology or biology. Having a background in botany is ideal if you're curating the (living) collection in a botanical garden of rare plants. A library of music or performing arts might seek curators who are themselves musical composers or performing musicians.
The more narrowly focused a collection is, the more specialized knowledge of the subject the curator must have. For example, according to the Bureau of Labor Statistics, it's not unusual for a major natural history museum to employ separate curators to plan and procure collections involving different types of animals, such as mammals, birds and fish.
Business Administration
Although museum curators must be experts in the subject of the exhibitions they put together, they also need strong business skills. It's not a bad idea for someone who is hoping to become a museum curator to pursue some level of education – such as a minor, certificate, second major or master's degree – in the field of business administration. Studying business offers numerous benefits for an aspiring museum curator, including developing a grasp of the principles and practices of marketing, fundraising, public relations, business communications and organizational leadership.
Attaining a career as a museum curator isn't easy, requiring an advanced education and considerable knowledge of the types of collections you will be curating. However, museum curators who truly love their field may feel that the work they do is more than a career – it's a calling to contribute to the collection of artifacts that represents the field and to bring knowledge to their community and attention to their institution.