A variety of career paths are open to students with art history degrees. While some choose to stay on-point by becoming a museum curator, others will discover that the skills they honed in pursuit of their degree will serve them well in other occupations. With emphases on research, analysis, attention to detail, communication and cultural awareness, graduates from art history programs are well suited for all of the following career paths in addition to many others.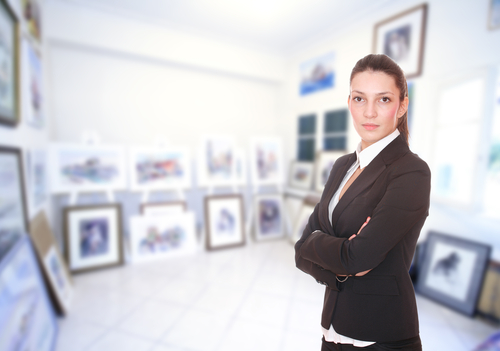 Curator for a Museum or Gallery
These positions frequently are the ultimate goal for art history majors. Curators who are employed by museums or galleries oversee the organization's collections of art and historic items. Frequently, their duties involve public service activities.
People pursue a career as a curator for the opportunity to acquire and exhibit thought-provoking and memorable collections according to the Association of Museum Art Curators. They may be responsible for choosing themes for exhibits and the overall design of displays. Promotional duties may include attendance at civic events and meetings as a representative of the institution. As supervisors, curators may be in charge of staff members in the curatorial and technical departments.
Curators may oversee all of the collections for a gallery or museum. Alternatively, they may specialize in one collection for a larger institution. The U.S. Bureau of Labor Statistics estimates the median pay for curators at $48,400 per year. This is attractive remuneration in connection with a job about which most people are extremely passionate.
Art Conservationist
Whether ancient or modern, artwork of all descriptions requires protection from the elements and the environment in which they are kept or displayed. It is the job of the conservationist to preserve and maintain priceless items with significant historic and cultural value.
Conservationists may find that they have a broad array of responsibilities. These may include authenticating and appraising artwork as well as creating and managing systems to preserve records in connection with the art. Frequently, conservators must use a technology involving chemical testing, x-rays, microscopes and a variety of laboratory equipment to examine the artwork. This helps to determine the authenticity and condition of the piece while also suggesting how best to preserve it.
The work of the conservator may involve a great deal of research, which often must be documented. Then, they treat the pieces to minimize deterioration. It may even be possible to return a piece of art to its original state. A master's degree in conservation and an internship generally are required to obtain entry-level positions in this field.
Appraiser
Appraisers may work for auction houses, insurance companies or private firms. It is their responsibility to determine the value and authenticity of works of art. This may include identifying any flaws that the artist didn't purposefully include which may affect the overall worth of the piece.
Many appraisers also perform evaluations of the market for particular pieces of artwork. This may include researching the selling price for other pieces by the artist, the demand for work by the artist and the estimated value of the piece over the long run.
It is essential that art appraisers be thorough and accurate as well as have excellent research skills. Their work is relied upon by insurers, buyers, artists, art dealers, auction houses and museums. A bachelor's degree is required for entry-level employment, and the median salary for appraisers is $60,287.
Representation and Management of Artists
Individuals who have an affinity for art and business may love the opportunity to combine these strengths in one job. The representative for an artist has a critical responsibility to get the creative talent the exposure and recognition that they deserve. Essentially, the representative, who is sometimes called an agent, is responsible for the artist's business interests. These may include acquiring commissions for new works, pursuing sales, negotiating licensing deals, arranging for exhibitions in galleries and lining up teaching opportunities. No specific degree program prepares individuals to be artists' agents. However, an academic background in art history and business is an excellent place to start.
Art Consultant
Working as an art consultant allows you to help people to create a certain atmosphere in their business or residence. Art consultants are hired to choose and acquire pieces that will enhance the space in which they are displayed. Sometimes, that art is merely decorative. Other times, it is necessary to capture a certain mood or atmosphere. Still, other jobs may require that the consultant chooses art that will be a wise investment for the buyer. Most art consultants not only have one or more degrees in art history but also have years of experience working for museums, auction houses and galleries. Some consultants still work at these institutions while others are freelancers.
Whether you have an interest in the preservation of art or prefer to market it to the public, you have many choices. An art history degree program helps you to acquire many useful professional skills while also providing rare insights into culture and history, all of which will serve you well in any career.
Related Resources:
What Can I Do With An Art History Degree?