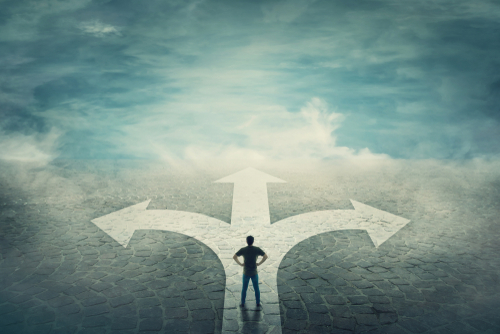 Art majors can pursue many different career paths and obtain a wide variety of jobs. Many of these command good salaries and will not doom an art major to becoming a proverbial starving artist. The following overview will hopefully help anyone determine their options for what career path and jobs to pursue with an art degree.
Art Degree Specializations
The first thing a student should do in determining his or her career path as an art major should be to consider the different types of art and degrees offered. Some colleges offer more specialized degrees than others, with art schools offering the widest variety. Students should take an assortment of classes when first entering college to determine or solidify their choice of major.
Fine Arts
A fine arts degree focuses on studio art creation and is sometimes called a degree in studio art. This can include any kind of fine art such as drawing, painting, sculpting, ceramics and textiles. Students pursuing this degree will complete a lot of studio hours where they gain hands-on experience in making art. This is the most effective way to become a better artist, as practice is key. It will also provide students with work they can display in their professional portfolios upon graduation as they look for a job.
Art Education
Students who are interested in educating others about the arts should consider pursuing an art education degree. As its name implies, this degree includes training both in a wide variety of art topics as well as on the subject of teaching. Students learn the basic principles of being an effective teacher, such as creating good lesson plans, conveying information in an easy to understand manner, and working with students of different needs and abilities. Most students will participate in a student teaching program at the end of their coursework.
Art History
Like art education degrees, art history degrees combine the study of art with the study of history. Students will learn about the history of artistic themes and movements, as well as specific famous artists and artworks. This degree primarily provides students with the means to work in a museum or art gallery, but they can also work for law enforcement regarding art, like management or representation for artists, as art appraisers and in other positions.
Graphic Design
Graphic design is considered a commercial art degree and while it has similarities to fine art, it is a wholly separate discipline. Graphic designers focus on the use of text, colors, images and layouts to sell a commercial product, highlight a brand or promote an organization. Common projects include logos, advertisements and other marketing materials, according to the Houston Chronicle. Students can become graphic designers with an art degree but degrees in graphic design are more targeted and widely offered.
Art Therapy
Art therapy is a new and emerging field that focuses on using the arts to provide therapeutic benefits to patients. The evidence for its effectiveness is strong and there are more job opportunities as an art therapist than ever before. A small number of schools offer a degree in this subject although that number is growing. Students who attend a school that does not offer an art therapy degree program can combine an art degree with a psychology degree to start a career in this field.
What Jobs Are Available?
Once a student has graduated or is preparing to graduate with an art degree, he or she is going to start wondering what kind of job they will be able to get with their educational background and skillset.
Art Teacher
Students can become art teachers by pursuing a couple of different degree paths. They can get a degree specifically in art education, a double major in art and education or an art degree while going through teacher training. Nearly every state allows individuals to become teachers if they have a bachelor's degree in the subject in which they wish to teach and go through the required training to become certified as a teacher. Positions in higher education will require graduate degrees.
Art Director
The highest-paid job in the arts is generally considered to be art directors. According to the Bureau of Labor Statistics, they make an average of $92,780 annually, with potential for a six-figure salary. These professionals oversee all aspects of artistic projects and the creative vision that guides them to take shape. Examples of projects art directors may work on include film and television productions, magazines, materials for a marketing campaign and other publications. Graduates with an art degree will typically need several years of experience working in the field before moving up into this position.
Animator Or Multimedia Artist
Another career path for an artist is to become an animator. Animators create both drawings and 3D images in motion for film and video game productions. They also create special effects used in movies. An art degree is a good starting point, though students will also need a strong portfolio of work to be considered for most jobs. Animators need to be proficient in digital art and tech-savvy to use the software commonly used in the industry, which often changes.
Museum Or Gallery Curator
This is a common career path for any art major. According to The Balance, this is often a good career choice for an art history major as their background in understanding art as well as conservation and restoration practices makes them suited to the role. There is often strong competition for these jobs but students can give themselves an advantage by completing an internship and specializing in a particular niche.
Artist
Finally, some students who pursue art degrees simply want to work as artists. This is typically on a self-employed basis but artists may be employed by art firms to produce commissioned art as well. Fine artists can sell their art at craft shows and online. They can use tools such as Patreon to monetize a devoted following and use sites such as DeviantArt, YouTube and their websites to showcase their work.
Earning an art degree opens up several career opportunities, in which graduates can choose between based on their interests and abilities. All of the art major career paths outlined above are valid choices.
Related Resources:
What Can I Do With An Art History Degree?
What Degree Do I Need to Be a Curator?